Your upcoming film Save Yourself - in a few words, what is it about?
It's five women on a road trip that end up crossing paths with a mad scientist and, well, bad things happen.
Regarding Save Yourself is about a group of people travelling to a film festival to present their movie - any of it based on your personal experiences or anecdotes you've heard?
I've never crossed paths with a mad scientist, but the original idea for this film came during a 20 hour road trip from Toronto, Ontario, Canada to Muskogee, Oklahoma, USA. Somewhere in the midwest we were stopped at a rest area in the middle of the night and it was pretty creepy. So I just started brain storming right there and the story was born. The remainder of the drive was spent bouncing ideas back and forth with Chris Cull, who I also wrote SICK with.
(Other) sources of inspiration when writing Save Yourself? And what can you tell us about your co-writers and the writing process?
My inspiration, for the most part, really just came from that trip. It was the perfect combination of everything to create this idea. I was inspired by the look of the States we were driving through, the condition of the I 70 and I 44 highways, the places we stopped at, the music, the food, I was just inspired by everything around me. There were actually a couple of women, from Oklahoma and Texas, that were at the festival and they inspired some of the characters too. The different dynamics of the main women. If that trip didn't happen exactly how it happened Save Yourself might have never happened.
It was great working with Chris Cull on the story since, having worked together many times already, we knew how each other ticked. We knew right away we didn't want the women crossing paths with backwoods, redneck Hillbillies since that has been done so many times before. From The Hills Have Eyes to Wrong Turn, it's stuff we have seen and I wanted to take things in a different direction.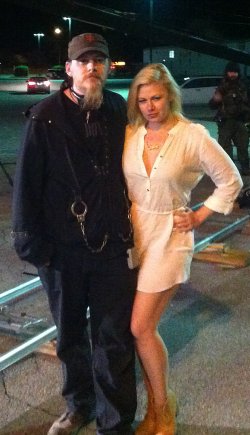 Ryan with Jessica Cameron
Bringing Mitch Lackie in to the writing process was definitely an added bonus. Having never worked together before, Mitch forced me to challenge myself and every single thought I had for the story and characters. He comes from the editing world having worked on films like American Psycho and Cube Zero, so he definitely knows horror. It was a great process having a fresh pair of eyes go through what was already there and then he and I bounced back and forth with different ideas, taking turns writing scenes. We really wanted to elevate every detail of the story. We challenged each other a lot and we were definitely coming at the story and the film as a whole from two different sides, but within all that chaos, I feel a great story came out of it. Even one of our executive producers, Pino Halili, had a lot of involvement in the back and forth. We all just really wanted to make the film stand out.
How would you describe your film's approach to horror (as in atmosphere vs all-out gore, suspense vs sudden shocks and the like)?
I love blood and gore, but I don't think horror is defined by it. You need the foundation before you can furnish the house.
And the foundation of horror is about the building of suspense and the atmosphere. Getting the audience engulfed in the world and the story and caring about the characters.
And that was the approach for Save Yourself. I would rather create something that has a lasting overall feeling long after you finish watching it, than something with a few jump scares or moments of gore. Sure we still have some great blood and gore and sudden shock moments, but all of that is secondary to the overall story unfolding.

So for the gore hounds out there, they will still be happy. When we show some gore we go all out, and gore should never be any other way, but I think real horror fans know the deal. Body count films and torture porn are all about the gore and seeing the death toll climb, in the bloodiest way possible. But Save Yourself isn't that kind of horror. It is fun, it is bloody and it is very sexy, but overall the horror element is within the suspense and the drama.
Do talk about your film's general look and feel for a bit?
I think the word tossed around the most for it is "sexy." It's very sexy and slick looking. And I'm not just talking about the leads being five attractive women. I'm talking about the movement to all the shots. There is lots of jib shots and dolly shots and the cinematography flows so fluidly through this film. My cinematographer is Michael Jari Davidson, who I also worked on SICK with. So we already knew each other's style. We came into this one already having a strong amount of trust in what each other is doing, which is important.
As every filmmaker knows, what is more important than the camera you use is the glass (lenses) you use. The executive producers, Allen Ormerod and Pino Halili as well as myself and Mr. Davidson had many conversations about the look and references to other films. It was pretty much known from the start that we were going to shoot this film with anamorphic lenses, but even then we really wanted to go old school classic cinematography. The two anamorphic lens method, shot primarily on the 40mm workhorse with the 75mm for close ups, was employed to give the film visual cohesion.
Genre faves Jessica Cameron [Jessica Cameron interview - click here] and Tristan Risk [Tristan Risk interview - click here] are playing two of the leads in Save Yourself - so why exactly them, and how did you get them? And what was your collaboration like?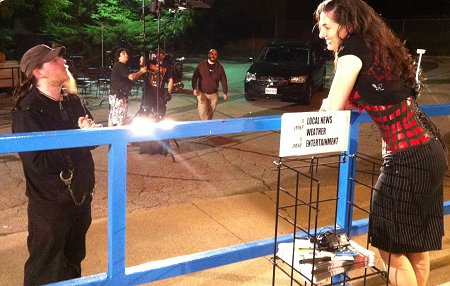 Ryan with Tristan Risk
Jessica has actually been attached to the film for the past two years. She's a good friend so after a couple drafts I contacted her and let her know that I have this character that I want her play. I told her, the film is still in the early stages and I had no idea when we would get to camera but it had to be her and I'd probably just scrap the whole project if she said no because this was a perfect film for us to do together. Luckily she didn't say no. She absolutely loved the story and the character and she was onboard. She actually isn't just acting in it but she came onboard a while back in a producing capacity as well. So she worked with producer Emma Jean Sutherland and Executive Producers Allen Ormerod and Pino Halili to give me everything I needed to make this film happen.
As for why exactly Jessica? Honestly if any director listens to her scream, they'd hire her in a heartbeat. As a horror filmmaker I have heard a lot of actors scream. And a lot are really good, but with Jess it's an art. But beyond that, she is just a morbid horror fan, like myself and we actually want to work on many projects together. Save Yourself is just the first of many for us. Working with her was really just fun and relaxed. Maybe it was because she had been attached to the film for so long and knew every aspect of the production, even all the lensing and everything, but it was really just so easy and fun to work with her and bring her character to life.
With Tristan Risk, Jessica actually suggested her to the rest of us while we were looking at options and I had recently shown my wife the film American Mary and we were talking about the character of Beatrice and how, for us, she really stole the show. Great film overall, but there was something about Tristan's character that really stood out. Immediately I was like, 'yes, call her! I want her.'
Working with Tristan was amazing. We knew how each other thought because outside of film we have a lot of similar interests and tastes. Music, art, novels, whatever. It was just really easy to talk to her about the vision in my head and no matter how obscure of a reference I gave her, she knew it.
What can you tell us about the rest of your key cast and crew, and why exactly these people?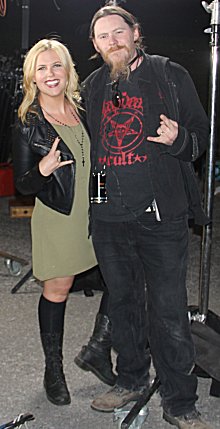 Ryan with Tianna Nori
Tianna Nori [Tianna Nori interview - click here] is the first name I need to mention here. She is such a solid actor and it was an honor to have her a part of this film as the character of Sasha. I first met Tianna at the auditions, but it was because she was brought in to read lines with all the people auditioning. That day we saw over 80 women come in and read and after a while I just knew that Tianna was right for it. It was a total gut feeling, but I just knew that Tianna was perfect. We made her come in to the callbacks so the producers could see exactly what I saw and during that same time we all went to see her in the film Clean Break, by fellow local horror filmmaker, Tricia Lee [Tricia Lee interview - click here], which was premiering at the Blood In The Snow Canadian Film Festival. And we knew she was right for this film. Tianna's approach was a very method one. It was pure art being able to work with her during prep creating the character. She trusted me with what I was wanting to do and she made it easy for me to trust her to run with it.
The whole key cast is amazing. And I could talk for hours just about all of them. But this film really is an ensemble cast and the acting is only as good as it is because there were no weak links. Everyone was perfect and fed off of each other. The indie Canadian acting God, Ry Barrett, who has so much experience and intelligence in the industry really did an amazing job as the evil mad scientist. I wanted to challenge him with a character that he has never done before. And I definitely saw a side of him I never saw before too. And his wife, played by Elma Begovic was a great match for him. Caleigh LeGrand, Sydney Kondruss, Lara Mrkoci, were all amazing as well. When they all got into character, they were 100% in character. There really was no weak link in the group. Marcus Haccius, Victoria Lord, Bea Santos, Margaret Jeronimo, Mike Donis, they were all hard working passionate people who give a damn about their art.
And I do consider myself extremely blessed to have Bobbie Phillips in the film as well. She was the first female Crow (Talon) in The Crow: Stairway To Heaven, she was also in Wes Craven's Carnival Of Souls and even Showgirls. Bobbie is just a great, giving woman. And her presence is so slick. The way she walks, her delivery, even how she kicks (and yes she does kick in this film) is all done with a very stylized swagger to it. You can't take your eyes off her. I had so much fun working with her.
But as much as I praise all my actors, it's also about having the right crew. You need to surround yourself with the best and I did. The executive producers I teamed up with, Allen Ormerod and Pino Halili, have so much knowledge and experience in the business and were able to contribute so much, while at the same time always willing to let me and my team do what we need to do. They come from the post production side of the business and I have worked with them for many years. They always put 100% into what they do and every time I have worked with them, they have helped me be better.
Emma Jean Sutherland was another Godsend on this production. She really was the unsung hero. We were all only able to do our job because she did her job. She's the master behind the curtain making sure that myself, cinematographer Michael Davidson, 1st AD Charles Smith and the rest of our team, had what we needed to create magic.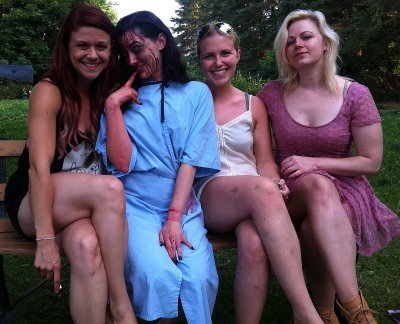 Caleigh Le Grand, Tristan Risk, Tianna Nori, Jessica Cameron
A few words about the shoot as such, and the on-set atmosphere?
Whether you shoot for 12 days, 12 weeks or even 12 months, there will always be issues that arise. It's a very fast paced environment. There may be conflicts with weather, locations, changes in schedules, so many things can arise, the list really goes on. But what makes a good shoot is when the team is able to face every issue head on and keep moving forward productively. And that is what happened here. It was a great team and anything that got in our way, we attacked as a team and came out on top. So it really was a great shoot because of the people I had in my corner. And I couldn't have pulled this off without them.
The on set atmosphere was amazing. People were happy to be apart of this project because we all know we have something different here. Something fun and intense. Tristan Risk and Caleigh LeGrand were so playful on set, it made the late nights or the long days fun. But when it was time to work, everyone put their game face on and kicked ass.
Any idea when and where the film might be released onto the general public yet?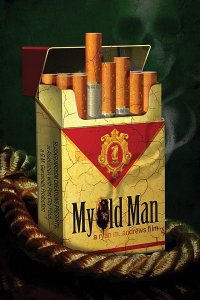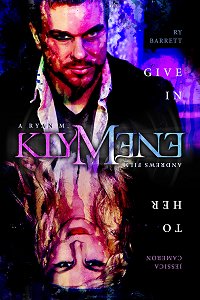 Feeling lucky ?
Want to
search
any of my partnershops yourself
for more, better results ?

The links below
will take you
just there!!!

Find Ryan M. Andrews
at the amazons ...

amazon.com

amazon.co.uk

amazon.de
Looking for imports ?
Find Ryan M. Andrews here ...
Something naughty ?
(Must be over 18 to go there !)

We'll probably hit the film festival circuit next year before we do any distribution, but it's hard to say at this point when all of that will begin. Just stay connected through social media to keep up to date on everything.
Any future projects beyond Save Yourself you'd like to share?
Not that they are future projects, but I always do shorts between all my features. I just love to create. And shorts are like my practice between features, just to stay in shape. Athletes practice between games. So do I. Between SICK and Save Yourself I did two shorts, My Old Man and Klymene. Both of these shorts, though still in the dark, thriller, horror realm, are more art house and experimental in their delivery.
My Old Man is an atmospheric noir story where Canadian genre fave Robert Nolan [Robert Nolan interview - click here] plays a bizarre old man, and Klymene is like a one act Shakespearean tragedy about what goes on inside the mind of an artist. The anger and frustration that fuels the desire. It stars Ry Barrett, Jessica Cameron [Jessica Cameron interview - click here] and Sandra DaCosta [Sandra DaCosta interview - click here]. Definitely something different from me, but still within the realm of the macabre.
Both of these films are playing festivals this year.
Your/your movie's website, Facebook, whatever else?
I'm on Facebook and Twitter:
@RyanMAndrews1
https://www.facebook.com/DirectorRyanMAndrews?ref_type=bookmark
Also you can keep up on all things Save Yourself on our Facebook page
https://www.facebook.com/SaveYourselfMovie?ref_type=bookmark
and our website
@SaveYourselfMVE
Anything else you're dying to mention and I have merely forgotten to ask?
I just want to spread some love for my fellow Canadian genre filmmakers. While everyone waits for Save Yourself, there is so many other great films coming out of this country. Canadian horror is something else. Black Fawn Films has recently released their film AntiSocial, which is out on DVD, and their latest film, The Drownsman directed by Chad Archibald, just hit the festivals. As mentioned earlier, Tricia Lee's [Tricia Lee interview - click here] film Clean Break is out, as is her new film Silent Retreat. Karen Lam has a dark little film called Evangeline, which is a personal fave. Gabriel Carrer's In The House Of Flies is out now. And yes, even my 80's slasher homage Black Eve is out. The list goes on. I am really proud to be part of the Canadian Horror scene. We have great stories here and we have great actors here as well. We're like a best kept secret, but I don't think it should be secret anymore. You want to see some fun, original and entertaining horror films. We've got them.
And for those wondering, now that SICK is finished playing festivals, it will be coming out soon. So keep a look out for that one as well.
Thanks for the interview!
Thank you.