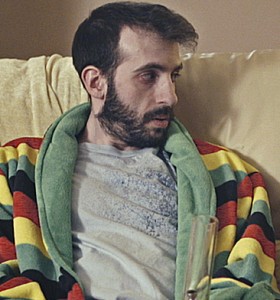 Courtesy of R&F Entertainment
Your new movie Maturing Youth - in a few words, what is it about, and what can you tell us about your character in it?
Itís a funky sort of coming of age story about a freeloading pot-addled loafer, Roger, who is ambushed by his ex-girlfriend, with toddler in tow. She pulls a Maury Povich on him and then leaves the boys to their own devices. Roger then must grapple with how to confront this new responsibility, a word and practice he completely deplores. Barring the title, I donít want to give too much away, but letís just say Roger and Junior have sweet sides, too.
What did you draw upon to bring your character to life? And to what extent can you actually identify with the situation he finds himself in?
I am very proud to say that the Roger you see on the poster and the guy playing him are diametrically opposed: this was really satisfying character work for me as an actor. I was really fortunate, though, to have a lot of inspirational material provided to me by our writer/director Divoni [Divoni Simon interview - click here]. He asked me to study the classic stoner flick The Big Lebowski and created a music playlist for me (as a matter of fact, for each cast member and their character!) that Roger would listen to, which included artists like Bob Marley (of course), Cypress Hill, Bob Dylan, Sir Mix-a-Lot, and others. Beyond that, I had to look within myself, past the parts I hope shine out. Iím no saint. Iíve been lazy. I sure can shirk responsibility. But combine that with definitely not ready for fatherhood and Roger is what you get.
Itís funny, though - Rogerís mom and my parents have all moved to Florida, leaving us to live in the houses weíve grown up in! But my mom doesnít just send me checks willy-nilly, like Rogerís, so the buck stops there!
How did you get involved with the project in the first place?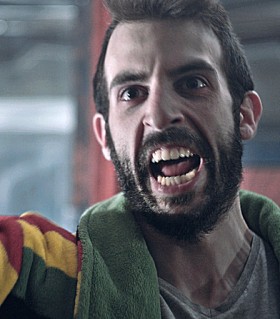 Courtesy of R&F Entertainment
The good old fashioned way for a self-represented actor. I found the breakdown on Backstage.com, submitted, and auditioned.
What can you tell us about your director Divoni Simon [Divoni Simon interview - click here], and what was your collaboration like?
Divoni is utterly fascinating to me. He is enamored by film and learns from absorbing the details of what he has seen. Much or even all of his knowledge of film is self-taught. Thatís inspirational. And working with him was super collaborative. While he naturally had a very specific vision of who Roger is and how he behaves, Divoni was absolutely open to ideas that the cast and I came up with - Maturing Youth would be very different if you substituted any single one of us.
What can you tell us about the shoot as such, and the on-set atmosphere?
Holy smokes, it was like a marathon! We had 2 and a half days to shoot the 48 pager. I knew we were going to have to move fast, but since shooing other material later on, I can only now appreciate that we moved with efficiency at lightning speed. And yet, for all the hustle and bustle, even with changing-plans due to inclement weather, there was still an air of excitement and kindness all the time. It really felt communal. Here we were, all coming together to make a movie. I wasnít much of an athlete as a kid, but this really felt like being on a winning team. Our producer, Chase Michael Pallante [Chase Michael Pallante interview - click here], really knows how to run a tight ship and keep things organized, which was pivotal in making it all come together in the limited time we had at location.
Any future projects you'd like to share?
Sure! In September I begin rehearsals for a dual-role track in the world premiere of Suddenly, a play being produced by Live Source Theatre Group, which weíll perform Oct. 5-20, 2018 at HERE Arts Center in SoHo. Itís an adaptation of a 1954 film by the same title, starring Frank Sinatra, about an attempted presidential assassination that rocks a small town. I canít wait to dig in!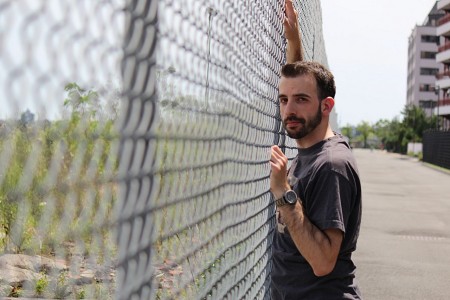 Photography by Bryant Jager
Courtesy of R&F Entertainment
What got you into acting in the first place, and did you receive any formal training on the subject?
I was that guy in high school that was in every musical they did (and yes, I still love to sing). Then in college, I focused more on long-form improv comedy with my group The Dog Day Players until reunited with the theatre senior year. An encouraging heart-to-heart with one of the theater professionals that was brought in to work on a show with us led to my decision to pull the trigger and commit to being an actor. Sometimes, a little unsolicited external validation is all it takes to tip the scales. The next year, I enrolled in the full program at The Maggie Flanigan Studio and trained to be a professional actor. Maturing Youth was actually my first audition post-completion, so I think I might have learned a thing or two! Thanks Charlie and Karen!
What can you tell us about your filmwork prior to Maturing Youth?
Iím proud to say that Maturing Youth is my on screen debut! And soon after I began another indie-lead role in the horror feature Dwellers. More recently I assistant directed (among other things) Joaquin & Luke, a feature written by and starring Maturing Youthís own Terry Keene (Dr. Riccard)! It has just entered post-production, so give it a few months before you really start googling!
How would you describe yourself as an actor, and some of the techniques you use to bring your characters to life?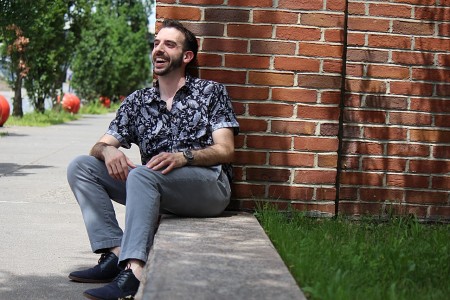 Photography by Bryant Jager
Courtesy of R&F Entertainment
Itís interesting. On one hand, I like to be the funny man and generate the laughs, and on the other, I love diving in as deep as I can for the full dramatic truth of my character. Maybe thatís what attracted me to Roger. But no matter who or what Iím working on, I take the work very seriously. Thatís the most important thing to me: The Work. This appreciation was instilled in me at MFS, which taught me the Meisner Technique. Itís probably not possible to use solely one technique, unless youíre in full agreement with all other actors on the project, but I do what I know at home and bring it to the room (the audition, rehearsal, set/stage). Then magic bridges everyoneís ideas into a, hopefully cohesive, piece of art.
One thing I do, and I think all actors must, is people-watch. You canít create character behavior by just being yourself in the role. You must steal/borrow/replicate behavior that you have witnessed: a lilt, a gait, the way someone smokes (Hi Roger!), or how they handle stress or express joy. Itís all different for each of us, so I catalogue it and draw on that. Thatís the fun of acting!
Actors (and indeed actresses) who inspire you?
Steve Carell, Viola Davis, Lin-Manuel Miranda, Cate Blanchett, Robin Williams, Meryl Streep, Bryan Cranston, Tatiana Maslany, Ian McKellan, Glenn Close. And Robin Williams again.
Your favourite movies?
Mrs. Doubtfire.
... and of course, films you really deplore?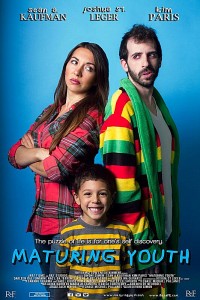 Feeling lucky ?
Want to
search
any of my partnershops yourself
for more, better results ?

The links below
will take you
just there!!!


After working hard on this film and other productions, I will probably NEVER talk down another work! I always look for the positive. But I will say that itís always a shame when the film version of a book doesnít live up to the source material.
Your website, Facebook, whatever else?
Website: www.SeanA.Kaufman.com
Facebook: @seanzie91
Instagram: @seanzie91
Twitter: @seanzie91tweets
Film's official website: www.MATURINGYOUTH.com
Maturing Youth Facebook: @maturingyouthfilm
Maturing Youth Instagram: @maturingyouthfilm
#maturingyouth #rfentertainment
Please feel free to follow if youíre reading this!
Anything else you're dying to mention and I have merely forgotten to ask?
I really miss my dogs! Hutch (a boxer) and Maggie (an American Staffie) moved to Florida with my parents this past December and life has been pretty colorless without them. Never underestimate how utterly fulfilling the unconditional love of a dog is.
Thanks for the interview!