Your short M is for Matchmaker - in a few words, what is it about?
An insecure guy visits a Matchmaker in hopes of finding the "right woman"...
Please watch M is for Matchmaker and vote for it (via Facebook-likes) here: http://26th.abcsofdeathpart2.com/entry/m-is-for-matchmaker/
The ABCs of Death - what do you find so appealing about the series you want to be a part of it?
Sean: I love that it's open to such creativity and interpretation. You're only limited by your imagination and the type of story you like to tell. My wife (Tiffany) read about the contest and kept telling me we should shoot a film and enter. After telling her I didn't think we had the time, the idea just came to me - so, I called her back five minutes later and said, "Here's the story, and your eyes are going to be two different colors because the punchline at the end is going to be..."
As for the series itself, I was talking to Marcel Sarmiento about another project and saw his ABC's of Death 1 segment D is for Dogfight and thought it was just about the coolest short I had ever seen.
Now how did the project fall together in the first place, and Tiffany, what convinced you to produce the short together with Dustin Lowry [Dustin Lowry interview - click here]?
Sean: Tiffany is a natural producer with great contacts and people skills, so it was easy for her to take reins and put things together. Once we decided to do it, I called Dustin (who had worked on our other projects) and said, "Tiff and I are doing this, do you want to help produce?" We did this for very little money, but the people we brought on were excited about doing it. Originally, I was going to shoot it myself, but Sebastian Kunnappilly offered to fly Duane Humeyestewa out on his own dime. We had worked with Duane before and were ecstatic to have him shoot for us. We offered Sebastian a producer credit for what he did and he graciously refused the title.
Is any of M is for Matchmaker's derived from your experience with actual matchmakers, and your take on matchmaking services as such? And (other) inspirations for M is for Matchmaker?
Sean: I have two family members who have found their spouses with an online matchmaking service, but if I recall, there were some horror stories before they found their perfect matches. In reality, I was purposely thinking of an "M"-word that had nothing to do with death (inherently). Once the word "Matchmaker" came to me, the story came together in about 2 seconds.
Sean, how would you describe your directorial approach to your subject at hand?
Sean: I saw this as a very pulpy, dark comedy - and since I planned to cram a lot of story into three minutes, I knew it had to move quickly. Tiffany is an amazing actress and I love writing for her, so once I knew her character would be the narrative force for the short, it was just a matter of building around the visual persona for her that I'd come up with. As for pacing, I re-wrote the script several times in an effort to get the dialogue down to the absolute minimum, while still retaining the beats that I wanted. I also wrote with Sebastian Kunnappilly in mind for his role, which I knew he would nail. Once we thought of Felissa Rose for the second date, I rewrote that part to give her more lines because I knew she would knock that part out of the park.
Tiffany, what can you tell us about your character in M is for Matchmaker, and to what extent could you identify with her? And since you're also producing, did you actually pick that specific character yourself or was it written for you?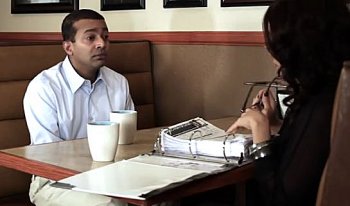 Sebastian Kunnappilly and Tiffany Shepis
Tiffany: My Character in M is for Matchmaker is kind of a gypsy, trashy, fun one. When I read Sean's script for our little short I fell in love with her. The fact that the audience is supposed to believe she is just from some low-rent matchmaking service and then you find out she's much, much more is pretty freaking awesome. As far as identifying with her in real life, I'm always trying to "hook-up" our single friends, usually without any luck at all. I think that's where it ends though since contrary to modern belief I'm not an "actual" crazy person. LOL.
Did I pick the character myself... NO I did not pick my own character. It helps that I'm married to the writer/director in that I will always have a job, but sadly I don't think he trusts my instincts for the parts I would want to play... obviously I was hoping for the busty blonde role - Sean did not agree ;)
Was the dialogue actually fully scripted or rather improvised?
Sean: It was fully scripted and what we shot is virtually word for word with the script.
What can you tell us about the rest of your cast, and why exactly these people?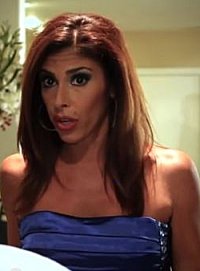 Felissa Rose

Feeling lucky ?
Want to
search
any of my partnershops yourself
for more, better results ?

The links below
will take you
just there!!!

Find M is for Matchmaker
at the amazons ...

amazon.com

amazon.co.uk

amazon.de
Looking for imports ?
Find M is for Matchmaker here ...
Something naughty ?
(Must be over 18 to go there !)

Sebastian had worked on The Frankenstein Syndrome with us, where he played a East Indian scientist with an accent. In reality, Sebastian is as American as apple pie and I always wanted to get him into a part that was different than his The Frankenstein Syndrome character. Annabelle (first date) was engaged to our 1st AC/SteadyCam operator Aaron Neal Trout, so when we saw her, we quickly cast her. Felissa and Tiffany have been friends for years and she has an amazing larger-than-life personality. We asked if she'd come out to Arizona to do it and we were stoked when she happily agreed. Danielle Lowry, who did a terrific job as the waitress, is Dustin's wife and we're always asking her to appear in these kind of things. My cousin Leah Andersen and local veteran actor Michael Harrelson [Michael Harrelson interview - click here] agreed to come out graciously as featured extras. I should also acknowledge Champ, the dog - he did that for us in one take.
Do talk about the actual shoot for a bit, and the on-set atmosphere!
Sean: We shot for three long nights and the majority of our crew worked for free. Duane Humeyestewa came all the way from Austin, TX to DP. Aaron Neal Trout and Daniel Kim were local, but still made major commitments. Everyone was great. When Tiffany wasn't shooting, she did a terrific job of keeping people fed and the morale up. I had boarded a lot of shots for each scene, and we were able to get every shot (and then some). That's only possible if people are giving it their all, and luckily, we had that.
Any future projects beyond M is for Mayhem you'd like to share?
We'd love to do this as a feature or a series, I think our devious Matchmaker would make for a terrific reccurring character...
Your/your movie's website, Facebook, whatever else?
We need all the "likes" we can get: http://26th.abcsofdeathpart2.com/entry/m-is-for-matchmaker/
Thanks for the interview!
Thank you, Mike!