Your upcoming film Scarlet Samurai: Incarnation (previously Terminal Descent: Curse of the Jiang Shi) - in a few words, what is it about, and what can you tell us about your character in it?
A few words? Action, Adventure & Horror! The film is about 3 failing archeology students accompanied by their professorís T.A. and a photographer. They go on a mandatory exploration in order to not get expelled from school due to low grade point average. Ikari (played by Tara Cardinal [Tara Cardinal interview - click here]) leads the expedition, but later finds out the building that they are exploring, the Buffalo Central Terminal, is cursed by Asian monsters ruled by a summoned Jiang Shi (me). Only one hero can slay these demons with a sword, blessed by a monk charmed with positive chi, Feng (also played by Tara Cardinal) The Scarlet Samurai!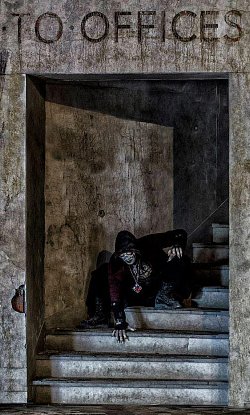 The Jiang Shi is an old mythological Asian monster that is a combination of a Zombie, Vampire and demon that loves to consume the life force of all living things and gets stronger and more intelligent the longer it lives. It loves to rape its victims and overall is one bad ass cold killer that has no limits! It is a great villain that hasnít been tapped into the film market much so I am glad I am able to portray it for this movie.
As far as I know, you're not only acting and doing the stunt coordination on Scarlet Samurai: Incarnation but are also editing it, doing the visual effects and producing it. Could you at all talk about your very various contributions to the project, and how did you first become involved with the project to begin with?
I became involved when Tara was showing me other movie projects she had done before becoming a superstar that she is today. Saw the original title Terminal Descent and got the whole story behind it. Apparently it was a well shot film but went through post-production hell and never really got to finish. The original cut was horrible so I decided to take a go at it since I saw great potential in it. Turned in the first rough cut, did two test trailers and boom! Reignited the cast and crew to support the finalization of this film! I was surprised by the reaction and from there I became a full time producer of this film doing whatever it takes to make it one bad ass movie!
As far as I know, you do all of your acting/fighting in Scarlet Samurai: Incarnation fully cloaked and masked - what kind of a challenge was that for you, especially when doing the stunts and fight scenes?
Very challenging, I couldnít see well so I relied on my team and instincts to prevent any major accidents. There was a point where I gave up and told Tara to really hit me, which is like 90% of the movie. So now people canít complain the fighting hits are fake or staged because I really did get hit.
From what I know, you are using a long forgotten Vietnamese style of martial arts to bring Jiang Shi to life - could you at all elaborate on that?
Iíve studied a bit over 20 different martial arts styles including weaponry since I was 5 years old. But none of them had something that related more to the ground than the Vietnamese Martial Arts that is long forgotten, taught to me by my father, who is an incredible martial artist.
It is a style that requires a lot of flexibility to plant all four limbs on the ground and fight without fully standing up, always crouched and ready to pounce. Sadly due to time conflicts I wasnít able to fully show the art at its best, hopefully in the sequel or another movie project people will be able to see the uniqueness and complexity of the Vietnamese style Martial Arts.
What can you tell us about your directors David R. Williams [David R. Williams interview - click here] and Tara Cardinal [Tara Cardinal interview - click here], and what was your collaboration with him like?
David Williams is an amazing man! He started this whole project and got us all the recourses we needed to make the film as cool as it can be. Very fun, open minded and nice guy!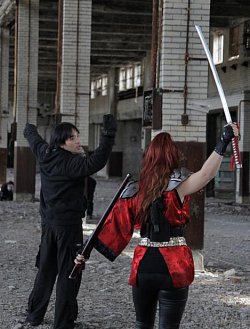 Sean Wyn, Tara Cardinal
Tara is one amazing woman! She is like the female version of Stan Lee and George Lucas! Always planning new ideas and working hard to get the vision she wants and made this movie go beyond its original outcome. We work together a lot; I am like her Steve Ditko or sidekick, doing most of the heavy work as sheís doing the paperwork. It is a great collaboration as we always top each otherís ideas. I donít think anyone can be as cool as she is!
Since you seem to be deeply involved with post-production of the movie: Any idea when Scarlet Samurai: Incarnation will be released onto the general public yet?
I canít comment on that yet until we have a for sure confirmation from our distributors.
With Tara Cardinal [Tara Cardinal interview - click here], one of Scarlet Samurai's showrunners (and one of your martial arts students, if my information is correct), you have also worked on what's probably her dream project, Legend of the Red Reaper - so you just have to talk about your involvement with that movie for a bit?
Legend of the Red Reaper is another project that went through post-production hell that I felt shouldnít have been a problem to finish. I became involved when the rough cut had some badly cut action scenes. So I came in and fixed it along with the ending of the film with Tara sitting beside me guiding me to ensure it follows her vision. I was also the Stunt Coordinator for some of the reshoots.
How did you at all get into making movies in the first place?
I loved the process of movie making all my life but never really got to show it or build upon it until Tara came along and advertised for me. Iím a really shy guy who rarely shows off, but Tara felt I am a valuable team member because of how well we work together especially when I train her in martial arts. From there I am now getting notice from a lot of filmmakers who want to work with me on producing some great action scenes, fight scenes to stunts. Choreography and coordinating has always been my forte.
Any other films of yours/future projects you'd like to talk about?
I am currently finishing Spreading Darkness as stunt coordinator working along side Eric Roberts, Tara Cardinal, James Duval, John Savage & a bunch of other top actors. Directed by Josh Eisenstadt and written by Aaron Pope.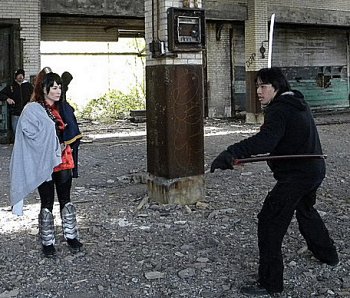 Tara Cardinal, Sean Wyn
Much more than an actor, stunt coordinator or whatever, you are of course a martial arts instructor - so would you like to talk about that aspect of your career for a bit, and what got you into martial arts to begin with?
I got into Martial Arts when I was 5 years old. My dadís side of the family are all professional Martial Artists that trained in the old school ways. Martial arts have been a big part of my whole life. But what really got me into it was: 1) I got bullied a lot in school, 2) Dad forced me into it. 3) Jackie Chan, he made me love Martial Arts. He is an amazing man who is not only funny but really knows how to make Martial Arts look beyond amazing on screen. I like his approach more due to the fact that he keeps it grounded with logic and correct physics most of the time and not acting like a superhuman.
How would you describe yourself as a stunt coordinator, and what level of experience do you expect from your stunt(wo)men?
Respect and trust is the biggest, But I expect everyone I work with to keep it professional with an open mind and lock away their pride and ego when working with me.
Any martial artists, stunt coordinators, fighters, actors, whatever, who inspire you?
Jackie Chan, a man who comes to near death in every movie he makes and always goes home injured but comes back the next day to continue filming. He is my inspiration as both a film maker and a Martial Artist.
Your favourite movies?
Pretty much every Jackie Chan movie, you should see my collection! But I am also a huge comic book fan so you will see my Marvel Heroes collection mixed in with amazing classics such as Tron, Indiana Jones, the original Star Wars and Back to the Future.
... and of course, films you really deplore?
I wonít list it but I do have a list.
Your/your movie's website, Facebook, whatever else?
http://www.facebook.com/ScarletSamuraiIncarnation

Feeling lucky ?
Want to
search
any of my partnershops yourself
for more, better results ?

The links below
will take you
just there!!!

Find Sean Wyn
at the amazons ...

amazon.com

amazon.co.uk

amazon.de
Looking for imports ?
Find Sean Wyn here ...
Something naughty ?
(Must be over 18 to go there !)

Anything else you are dying to mention and I have merely forgotten to ask?
I have always been a very resourceful kind of guy, growing up in a broken family and not having everything. So I kind of taught myself to never give up on learning new things, so from there I was able to build my own computers, fix almost any electronics and be able to master computer software programs and sewing to maintain my wants. I also grew up left handed, watching great movies and loving to create art. So from there I continued to study art and filmmaking on the side. I just love that feeling of telling a story through a screen to change your perspective in life. That is why I was able to do a lot for both Scarlet Samurai: Incarnation and Legend of the Red Reaper and I hope it will show when the films release.
The overall goal for Scarlet Samurai: Incarnation that I am aiming for is to not follow the trend of typical horror or action. Instead create something new, tap into something different so that the movie has more of an Indiana Jones feel mixed in with Asian mythology, horror and martial arts but with a twist. To be able to feel good after watching the film and be blown away with an unexpected ending. This is something I wish more films would do, which is lacking in most movies nowadays sadly. So I hope people will love the movie once itís done.
Thanks for the interview!
Thank you! It was fun!