Your upcoming film Scarlet Samurai: Incarnation aka Terminal Descent: Curse of the Jiang Shi - how did you approach your character, and how much of you can we find in Ikari?
This is a project that shot a while ago, but had to be re-imagined due to the FedEx-scandal. When we shot this movie, it as at a really low point in my life. I'd lost a lot - my house was going into foreclosure because I dipped into my personal funds to save Legend of the Red Reaper, my boyfriend took off when the $$ and the jobs ran out. I'd moved to be closer to him, and suddenly I found myself completely alone. Fortunately, I got plucked to take this leading role, along with some really great actors, especially (Justin Irwin and Patricia Dunn who were both in Legend of the Red Reaper!) and flown up to Buffalo NY. So, a lot of the vulnerability and fight you see in Ikari is what I was going through at the time.
How did you get hooked up with the project in the first place? And how did you become a producer on this?
The usual way. There was a casting, I submitted for it. I flew, I performed, I didn't screw it up too badly.
I wouldn't call myself a producer on this. I'm just pitching in to get it done. Not a lot of actors take responsibility for their projects. They show up to set, yak while the director is attempting to get a vision on screen, and sit back and wait for the fame and glory. When this project ran into problems, I offered to help. That's all. Sean Wyn is doing the lion's share of the work [Sean Wyn interview - click here].
We also have Parish (son of Black Eyed Peas' "Taboo") doing the score for us. This is his second feature film - his first was Legend of the Red Reaper :)
As far as I know, Terminal Descent: Curse of the Jiang Shi has already gone well into post when it hit a sudden need for funds - could you explain, and what can you tell us about your fundraising efforts?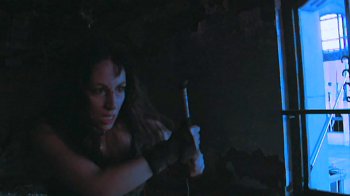 Yes - we were done, wrapped, finished, in post - DONE. As Sean was editing the movie I kept asking him - why didn't you use this shot, or that shot? He had no idea what I was I talking about. So I sat down with him and went through the raw files - it turns out he was missing ALL of the B camera. Of course, he wouldn't have known that because he wasn't there to know there were other shots. I got on the horn and tracked it down. None of the other editors seemed to have ANY footage (which I found a little odd - in fact I'm not really sure how producer Sean-Michael Argo [Sean Michael Argo interview - click here] tracked down the A camera footage, really). David Williams, the director dug up the source tapes and shipped them to me. Marked as such, via FedEx. When I got the tapes in LA, stuck them into my drive, they were all scrambled. We couldn't salvage a frame of footage. We immediately contacted FedEx and inquired about the (really low!) insurance claim.
They didn't respond for two weeks. In fact, it wasn't until I started posting on Facebook about it that I got any response AT ALL. So I started posting on Facebook. Finally, our case fell into the hands of a lovely lady in the claims department, but it was clear HER higher ups were making her jump through hoops. About a month into this claim, I got a request to send the tapes to Utah? A week after that, they wanted receipts for the whole film.
Finally, 6 weeks later, they cut a check. Sadly by that point, everything had to be rushed. Everything cost double. Flights jumped up, people were no longer available to film, and it was IMPOSSIBLE to reshoot the missing scenes - the location had changed, actors cut their hair, moved, became involved in other projects. Props and wardrobe that had long been wrapped had to be BUILT now, to match previous scenes. It became a logistic nightmare.
After running the rough cut by several test audiences (we were all too close to the project to see what it IS, only what it was meant to be) we got some great feedback about how to reimagine the story and the characters. What started out as a group of Urban Explorers became college students. We brought in Christian Boeving (who's worked with me on Zombie Massacre and Legend of the Red Reaper to play an Indiana Jones type professor who sends them on the expedition because they're all failing.
We specified the monsters. Since the majority of what we lost was the footage of the monsters (which is the easiest to reshoot) we were able to reach a little higher and bring in Jeff Farley who works on A list films - we collaborated on a project a few years back called The Many Doors of Albert Whale. He took my vision for a Jiang Shi - a terrifying undead monster that's part zombie/part vampire that sucks Chi instead of blood - and put his own stamp on it - it's scary!!!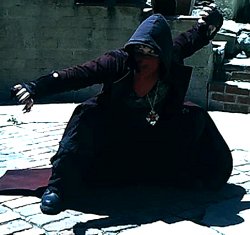 Sean Wyn
The big difference, was that Ikari ended up with a twin sister. Since we couldn't match the location and the monsters and we were missing a HUGE chunk of the action, we added in a twin sister to come save the group. My twin, Feng, is a martial artist who trains in Samurai swords. She doesn't go to the terminal because she's competing all weekend. But she keeps having these visions. She's not sure if they're sent by Buddha or her deceased father (the family is part Japanese, part Chinese and half Jewish), but she knows her sister is in trouble, and rushes off, sword in hand, to save them.
Besides you, Terminal Descent: Curse of the Jiang Shi stars three other martial artists - Sean Wyn [Sean Wyn interview - click here], Sean Michael Argo [Sean Michael Argo interview - click here] and Patricia Dunn. So what can you tell us about the action in the movie - and how much fun was it to film/fight with these guys?
Well, I'll be doing the majority of my stunts on this next round of shooting this weekend in NY. However, I've been training with Sean Wyn (he's also a fairly famous martial arts instructor here in LA - he trains the stars - and me!). Patricia's action is pretty cool. The guys she worked with took a good beating, and so did she! She's got her demo reel on line, you should check it out - she's really good. Of course I met her on Legend of the Red Reaper, and she was so good, I wrote in an extra scene for her as well.
A few words about your director David Williams [David R. Williams interview - click here], and what was your collaboration like?
David is a dream to work with. No ego, all about getting the work done, very focused. He's not just a director, he's a producer as well. He's also got a pretty sick mind! (I say that with a heart full of love!) I'm a little more PG 13 - and he's NC17 - so we're constantly balancing each other out in the blood/guts/horror department. It's been a REALLY good collaboration. I'd definitely do this again.
Although, I would like to point out, I wouldn't do this for any other project. I've been contacted by a bunch of producers asking me to save their films, or make Kickstarter campaigns. In general, I'm opposed to that. If you don't have the money to make a movie, OR the fan base to support a movie, don't make it. And please don't contact me to write, produce, or kickstart your movie. I won't do it. This project was special because it was finished.
You just have to talk about your location, the Buffalo Central Terminal, for a bit!
Yeah - it was built in the early 1900s and began it's descent on par with the decline of the US railway system. When you step into the main ticketing area - it's HUGE - you can imagine what it used to be like. I imagine it bustling with people. If I close my eyes long enough, I can feel the rush of busy people brushing past me - enroute to very important meetings, rendezvous, affairs, and such! I love that.
The terminal is majestic. It's 17 stories high and it must be about a mile long (give or take!). It deserves a big budget movie to put it back on the map. Special interest groups have been struggling to restore the building - which as you can see by the photos and trailer are in various states of decline. It's been pillaged, raped, and needs a whole lot of love to get back to where it used to be! There's a part of me that identifies a lot with that building. And I want to save it.
At least by making a movie that exposes it to the world a little more, we can help facilitate the great work that the restoration society is doing now.
What can you tell us about the actual shoot and the on-set atmosphere?
Awesome! From the first shoot in Buffalo, to the pick up shots in LA with DeeDee Bigelow [DeeDee Bigelow interview - click here], Maria Olsen, Adrienne Camille and Christian Boeving (plus a GREAT crew!!) and now to the new people swooping in to save the day on the NEW Buffalo shoot (we start this Saturday!) It's been one brand of awesome after another.
As far as I know, Terminal Descent: Curse of the Jiang Shi has already got a release date ...
Hm... yeah, I don't know how that works. We have a distribution deal, but it's going to be up to the individual territories when they release it. I don't know why IMDb makes you put that in, when no one knows when a movie is going to be released until it's done.

Feeling lucky ?
Want to
search
any of my partnershops yourself
for more, better results ?

The links below
will take you
just there!!!

Find Tara Cardinal
at the amazons ...

amazon.com

amazon.co.uk

amazon.de
Looking for imports ?
Find Tara Cardinal here ...
Something naughty ?
(Must be over 18 to go there !)

Any future projects you'd like to share?
Yes! The new trailer for Zombie Massacre just went live!
www.youtube.com/watch?v=uNq6CpFUf9I
Your/your movies website, Facebook, Kickstarter, whatever else?
www.kickstarter.com/projects/110553007/join-the-adventure-terminal-descent-the-movie/posts/322690
www.facebook.com/taracardinal - I have a personal page, so please subscribe. I'm maxed out on friends!
Anything else you are dying to mention and I have merely forgotten to ask?
Just please send people over to the Kickstarter page - we only have a few days left, and we're in production. What we don't get from crowdfunding is coming out of my pocket!
www.kickstarter.com/projects/110553007/join-the-adventure-terminal-descent-the-movie/posts/322690
Thanks for the interview!