Your new movie Dacryphilia + Hematolagnia - in a few words, what is it about?
It's mostly meant to be open to your interpretation, even though I knew exactly what every shot meant in my eyes during post production. So, let's just say, it's about a girl struggling with a sickness that's inside her, and how she experiences this sickness in both her life, and after her death
For those of us uninitiated, could you explain what the words "dacryphilia" and "hematolagnia" actually mean? And why do these two words make the perfect title for your movie?
Here's a direct definition of each meaning: Dacryphilia is a form of paraphilia in which one is aroused by tears or sobbing. Hematolagnia is a sexual fetish for blood which evokes arousal when present on the fetishist's sexual partner. It is often accompanied by licking or drinking blood through bloodletting or biting.
On the surface level this title deals with these things obviously and clearly in the film. But really it's about much more than that.
For me, Dacryphilia + Hematolagnia was an meditation on death and mortality - would you at all agree, and could you elaborate on that?
I suppose. I was focused more on how I treated her paraphilias, which was as a sickness; there's an immense and overwhelming guilt involved, and she's on a spiritual quest to fight it. Her illness operates as a drug, so we witness her reality of the abuse of it, as well as the hallucinations in her head when on it, plus the shame and guilt of trying to fight off her addiction.
(Other) sources of inspiration when dreaming up Dacryphilia + Hematolagnia?
Basically I was asked to do a segment for this upcoming anthology called Philia, so the original intention was to come up with something just instantly and get it done and submitted, so I wasn't really thinking at the time, co-director Lilith Singson and I just went and filmed the scene pretty quickly. But it was in editing that I surely grew inspiration. I was the most depressed that I'd ever been. I've always suffered with depression, but for the first time I was really thinking about suicide. Not really contemplating doing it, I just basically was somewhat comforted with the dreams and ideas of doing it. I, for the first time, really imagined it, like it was actually happening. And, like a drug, I somehow felt better. Well, maybe not better, but it relieved the tension for a moment each time. And during this time period, I was having to force myself in front of the computer to edit the film, because I didn't want to edit, I didn't want to do anything but die. Luckily it was just a short film or else I might not have survived the post-production process. This was a month ago. I feel better now that it's over. But I think that pain, those thoughts of just ripping my arms open and letting the blood pour out of me and cover the floor in the color of my anguish, well, that was the biggest inspiration of all for this film.
Dacryphilia + Hematolagnia is a film that's very associative in approach - so to what extent was everything pre-planned, to what extent improvised on set?
The opening scene in chapter one, which you see throughout the first chapter and then at the end of it; that was totally planned. But originally that was supposed to be the full segment, just about 2-3 minutes of a pretty simple and single act of a blood fetish. But when I was editing it I thought about adding some shots from another film I'm doing with Lilith, called Red Oedipal. And then once I started adding to it, I couldn't stop. I have endless hours of footage from Red Oedipal so it was a monster of time and work to sort though it all so quickly, but I felt like I had a much more artsy, meaningful, spiritual, emotional, bloody and ambiguous approach that I could take with the segment, let alone enhance it visually so much more. As far as anything improvised on the Red Oedipal set for that footage, well, that's a whole other story that goes back almost 2 years as we've been filming that movie for that long. It's been a combination of shooting things/locations/people as we find them, experimenting tremendously with practical effects (fires, rain, fog, blood, make up, etc), planning certain things, and so on.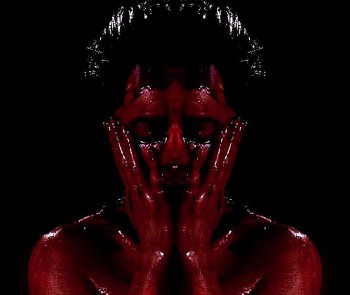 Do talk about the film's look and feel for a bit!
That was the hardest part, tweaking the colors. My computer's 10 years old now, and with certain formats it works very fast, but with the DSRL footage it really hiccups and lags (even though I've used footage from superior cameras and it played smoothly). And since I'm not technical enough to figure out ways of making a computer run faster nor do I have money to afford updated equipment, I was massively overwhelmed with the slow speeds in trying to achieve the looks. It was endless trial and error, tweaking various colors and contrasts, and then having to wait around for each one to render to see clearly what it looked like in motion (I tried hundreds of looks), so it was super tasking. And it was also incredibly hard to be subjective after looking at thousands of variations of the same basic things, I kept having to take hours to days off at a time to gain perspective. I tweaked a lot to make the blood look darker and the backgrounds more solid black, the rain to pop more, whilst trying to achieve a more filmic look the best that I could.
During filming (for the Red Oedipal footage) we were trying and experimenting with so many things in regards to the rain and fire. We put some kind of metal tray behind Lilith and started a fire on that. For other footage not used in this short we had used gun powder in one scene, so it was these quick bursts of flames that set off around here while she walked through a set of trees in a backyard which looked like a forest, meanwhile with fog machines going off around her to create the illusion that she's walking through a forest fire (hence the actual burnt down forest that you see in Dacryphilia + Hematolagnia). For the rain, we got very little tries as it was absolutely freezing, and getting the girls to not shiver to death was anything but easy. It would happen very quickly, and rarely did it look like rain (it usually looked like what it was; a hose hitting them). I got only a few good seconds, which is then how I came up with ideas for duplicating the images when it showed Lilith. When it shows Lilly she's solo because that time it looked pretty good. Lilith was doing the rain, as was I, though my hose ruined part of the shoot while Lilith got it perfectly. When I had shot Lilith's rain sequence I believe it was just me, so I had the camera on a tripod while I stood to the side to try and work the rain. We tried using up to three hoses at once and had bought various nozzles to try it with, though ultimately the best look came from using just the one hose that Lilith used on Lilly, and I believe she didn't even use a nozzle. I think she just put her finger over it or something. In both cases the camera was on a tripod so nobody could actually watch the monitor, and we had to cover the camera up as best as possible to not get wet, as well. Also figuring out how to light it was interesting. The best way was by using one single main light on the right side of the actress, and a very small filler light on the lower left side. We attempted the rain on one day and had a whole production set up, with much more professional lights surrounding Lilith, and a dolly and everything, yet you could hardly even see the rain. And we spent hours setting that up with a huge carload of equipment. But all in all, it was just putting up one simple light which worked best. But trying to keep the water off the lights and cables was another headache.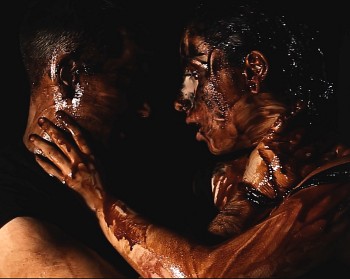 For some of the fog sequences we set it up in the garage. And for the burnt down forest, well that fire happened just behind Lilith's home in 2017, so we quickly shot there once the fire was out. It looked perfect at blue hour but that gave us just about 20 actual good minutes a day (maybe it was only 10 minutes, as there were so many trees surrounding her, it definitely felt more like 3-5 minutes during filming), so we went back there multiple times throughout the months to try and get enough footage. For this particular short it seemed to suit it to make that portion black and white. The darkness of the forest against Lilith as she's perfectly lit, given shooting at just that right time of the evening, worked so well.
What can you tell us about your co-director Lilith Singson, and what was your collaboration like?
Her grandma and my mom have been best friends for like 30 years, so I've known of her forever, but never really got to know her until she started living near me around Christmas of 2016. At that time she was 15 and posing as a boy (she had moved out of state for about 8 years or so). I thought that that would be interesting to film, her experiences of being transgender, so we started filming This Girl, This Boy, which is what that's basically about (though fictionalized). And shortly after we also started shooting Red Oedipal. A few months later she came out as being a girl (as in decided to let people know that she was actually a girl posing as a boy), in which case she became more gender fluid but eventually she crossed back over into being simply a CIS girl (her biological state). This was all basically documented in a way in the film. At the beginning of 2018 she had to move in with me since she didn't have a place to live anymore so it made filming certain things a bit easier though it was the downfall of us having a good relationship, both as friends and creatively. So, that part has been a living hell. For the most part our collaboration is a nightmare, constant fighting. Now it's like the set of Blade: Trinity; leaving notes on each other's doors instead of real communication. It's some of the most stressful filming situations I've ever been in. But hey, they say with great pain comes great art. She was actually crying during some of those shots as we were really in the middle of fighting (though she learned how to master fake crying super well during our productions - she's outperformed real actors with expensive training in some scenes). This has happened multiple times, so I try to suck it up and hit record and capture it. Though it usually pisses her off, but she gets pissed if I miss the chance to capture it, too. So! Hopefully people end up liking the rest of our work, though. I think she has an amazing look for the camera, and her own eye behind it. She doesn't seem to take any interest in acting but she's had more acting offers since she started making films with me than I've had my entire fucking life, so maybe she should try it. But perhaps something behind the camera will suit her. She's very creative in many ways. I think she's still exploring her options. If we could ever begin to start getting along again I think we could have made a great team artistically, but at this point that might be a bit far-fetched and way too hopeful. It was never supposed to be more than a few days of filming though, and we've been at it for two years now. So, maybe just the length of time involved has been our biggest enemy.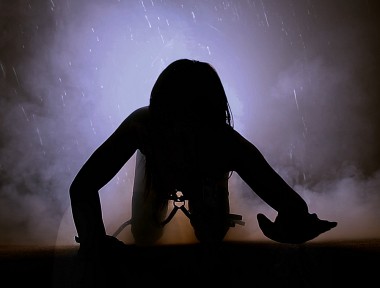 Do talk about your cast, and why exactly these people?
Basically that just leaves Lilly. And well, it's because she showed! Haha. Actors never show up nor even agree anymore to do my films. It seems to be an epidemic. I've been hearing this more and more from lots of filmmakers. I think due to sites like YouTube that filmmaking has sadly lost most of it's meaning. I used to put a casting notice up and get 500 submissions. Now I gotta post 500 times to get 1 submission (but I've been banned from all of the casting sites now anyways, so I have to just find people off the streets or use referrals, friends, etc). Very challenging and sad times for independent film. Most people would rather just sit in their rooms and become 'Instafamous' or some YouTuber. Like that crap means a goddamn thing, but whatever, eventually people will see how they failed to give the right things attention.
But yeah, Lilly showed! And was willing to put in the work. Plus, I just love her look. I got so many ideas I could use her in. Like Lilith, she's a bit of a chameleon. She could play so many things. And, like Lilith, she's got so much pain in her. I think Lilith tries to suppress it but lets it pour out (in some cases fight out) here and there, whereas Lilly suppresses it all, and it just creates this layer, this lightly disguised sort of mask that pulls right over her face while still leaving the true and vulnerable her open, in a very intriguing way. A lot of actors in indie films just aren't interesting to watch. They're basic, they're boring, there's just nothing to their faces. With Lilly and Lilith, that couldn't be more the opposite. If I were watching people as they performed whatever kind of mundane activities by themselves, they're the types of people I would feel compelled to watch. Put them in a scene with anything more than that, it only gets better.
A few words about the shoot as such, and the on-set atmosphere?
I think I've covered most of it aside from working with Lilly. She's very quiet, and very hard to read. It makes her very cooperative and easy to get the shots, but I could never tell if she was okay. If she was too cold, if she was having fun, if she didn't know what to do. She's just super quiet. Not really shy, just silent. Like how she holds in her pain, she literally would hold in everything. But it works for them camera.
The $64 question of course, where can your movie be seen?
It will be released in this anthology called Philia, by the makers of Phobia. Phobia was released by Artsploitation, one of my favorite indie distributors, so I'm really hoping they take Philia as well. So, we'll see!
Anything you can tell us about audience and critical reception of Dacryphilia + Hematolagnia yet?
No audience yet as it's just been completed and awaiting release, it's just got some critical response. Mostly good, though a very harsh one by one critic who seemed to just have it in for me. He was well aware of who I was and my work and clearly is not a fan. So, you can't really win those people over, like ever. Otherwise it's received amazing comparisons to Clive Barker, Kenneth Anger, Dario Argento - actually all filmmakers I don't much care for or whose films I'm not too familiar with as I'm not really into horror films myself. I prefer Terrence Malick, i.e., the golden and blue hour footage that consists of most of my films of late. But I know those are all great comparisons, so I'll take them.
Any future projects you'd like to share?
I'll be starring in a new film next month, it's based on a character I created for two separate trilogies (if you're familiar with my films you probably can figure that one out). Somebody else will be directing it, and it will be like an actual movie this time, not amateur found footage. Then the same producer will produce a film that I'll be directing this fall. Plus I'm still working on a shit ton of films: The Owl in Echo Park, Ted Bundy Had a Son, Red Oedipal, God Got Ill (the feature from the Paper Kids footage), American Virgins, the anthology which includes my 80's short Guerrilla called Awesomely Righteous & Radical, and This Girl, This Boy.

Feeling lucky ?
Want to
search
any of my partnershops yourself
for more, better results ?

The links below
will take you
just there!!!


Your/your movie's website, Facebook, whatever else?
https://vimeo.com/shaneryanfilms
https://www.facebook.com/MadSinCinema/
https://twitter.com/ShaneRyanFilms
https://www.instagram.com/madsincinema/
Anything else you're dying to mention and I have merely forgotten to ask?
Nope, think we covered a lot.
Thanks for the interview!
Thank you!