Your new movie Fetish Factory - in a few words, what is it about?
Itís set in a newly post-apocalyptic Hollywood and it pits gorgeous burlesque-dancing fetish queens against a pack of eye-popping male zombies. Itís a serious drama with deep sociopolitical undertones. Iím preparing my Academy Awards acceptance speech even as we speak.
How did you happen to come upon Lony Ruhman's story the film is based on or was it written especially for the movie? And what was your collaboration like?
Lony Ruhmann is a producer who develops specific projects with Jennifer Blanc-Biehn, who is married to the famous sci-fi actor Michael Biehn. The three of them are producing partners. Lony also had the bones of an idea, which was presented to me along with a few others. This was the one that appealed to me the most. Lonyís original pitch was called Sleaze Factory and he envisioned it being very gritty and shot in black and white. He specifically stated he wanted the action to be ďserious and not goofy.Ē Whoops! I definitely took it in another direction, but it wasnít out of disobedience. Itís just that with my adoration of 60s and 70s fun-loving European grindhouse aesthetics, the movie took on a life of its own. Itís saturated with colors and there are plenty of laughs. I do hope Lony doesnít mind! People who have seen it dig it, so I guess he canít be too irked.
Basic question: Why did you choose a burlesque club as the setting of your story?
Burlesque is booming in L.A. Just about any night of the week, and always on weekends, you can find all kinds of cool burlesque shows going on. I love to go see them. They are so much fun and you can tell how happy the girls are, strutting their stuff and coming up with creative acts to showcase their talents. So, I thought setting Fetish Factory in a place of joy and celebration Ė rather than, say, a strip club which can sometimes have an air of desperation or emptiness Ė would offset the zombie mayhem nicely.
(Other) sources of inspiration when scripting Fetish Factory?
Anyone who sees it will immediately know what a fan I am of the classic bombshells Ė Bettie Page, Jayne Mansfield, Rosie the Riveter, and Suzie Wong are all represented. Diane Ayala Goldner, who plays the owner of the Fetish Factory, she came up with her look (flowing dark locks with silver streaks) as an homage to the legendary Zorita. Before I was born, my mom was a cheesecake pinup model and she appeared in several ďnudie cutieĒ magazines, so I guess you could say a love and respect for those babes of yore is in my blood.
With Fetish Factory's lead character being a movie buff and you having written about movies quite a bit over the years - to what extent can you identify with her, and was she in any way based on you?
Sheís not based on me specifically, sheís more of a shout-out to geek girls everywhere. Carrie Keagan, who plays Bettie to perfection, is a huge horror movie buff and so I knew she would be totally believable spouting out all that Tarantino-level trivia. The fact that sheís a lot cuter in a bullet bra than Tarantino makes it that much better!
Fetish Factory most certainly has a comedic edge to it - so do talk about your movie's brand of humour for a bit!
My brand of humor is a quite winky and droll, so it was really fun to go back and look at videos of vintage-era vaudeville and burlesque emcees as research. Our mistress of ceremonies tells a lot of ribald jokes laced with cheeky double entendre as she introduces each act. So, it was a blast to write that. Bettie has a ventriloquist act thatís got a lot of silly and sweet sexual banter between her and her dummy, Victor.
You also have to talk about the violent bits in your movie, and how were they achieved?
Two of our actors who play zombies, Benjamin Easterday and Aaron Kai, had stunt coordinating experience, so that helped a lot. Being a low-budget production working on a practical set (a private residence which just happens to have a stage in the living room) we couldnít go too crazy. Aaron plays a kung-fu zombie, so thereís an element of kitsch to the violence. But I wanted there to be a believable element of danger, and thatís where the incredible makeups by Vincent J. Guastini, Mayera Abeita, and Michelle Sfarzo come in. Itís not a bloodbath by any means but when people are hurt, it looks painful.
What can you tell us about your overall directorial approach to your story at hand?
As the writer, I am pretty specific about what I want from the actors. The fact that itís a low-budget project and we had only five days to shoot it means you canít play around and adlib and indulge the actors in more than a few takes. Wherever possible, I cast actors on their preexisting strengths. For instance, Chase Williamson has a certain guy-next-door likability he brings to every role. I expected that, and he brought it without me having to do anything extra. But there were some scenes that were improvised Ė mainly the ďplaytimeĒ montage with the girls and their clients. I will say the atmosphere on set was very relaxed and everyone pulled together to make things happen. There were no divas.
Do talk about your key cast, and why exactly these people?
Part of what I said about casting people to their natural personalities and building on that, but also they had to look the part. Carrie Keagan is known for her light blonde hair, but we put that Bettie Page wig on her and damn if she isnít a dead ringer for the pinup queen! Jennifer Blanc is a very experienced actress and she has the ability to make every line of dialogue sound like itís something she could say. Her comedic timing and inflection is spot-on. I wanted to cast Diane against type Ė sheís been in a lot of horror movies, but Iíd never seen her as glamourous as she really can be.
I talked about Chase, who I loved in John Dies at the End. The male clients who go to the club to frolic with the girls had to be likable. I didnít want them to be creepy. They are a bit skeevy, but they are lovable skeeves! Jesse Merlin is someone I knew from his work in musical theater. He played Dr. Hill in Re-Animator the Musical, and was hilarious in Silence! The Musical, and Tonya & Nancy: The Rock Opera. Ruben Pla is another actor I had known for years and always wanted to work with. Heís so fun, and it comes across onscreen. The other two fetish-fellas, Steve Wastell and Daniel Quinn, I did not know before. Jen, doing her thing as a producer, brought them on. I met Steve at the table read and was so happy with his take on the character of the Flasher. I had an actor drop out one day before we started shooting (thanks a lot!) but it was a blessing in disguise because Daniel was hilarious as Footman. I didnít meet him until we were on the set, shooting his role. He really threw himself into the role, toes-first. Great guy. Sadly, he died last summer and never got to see how much his performance enhanced the movie.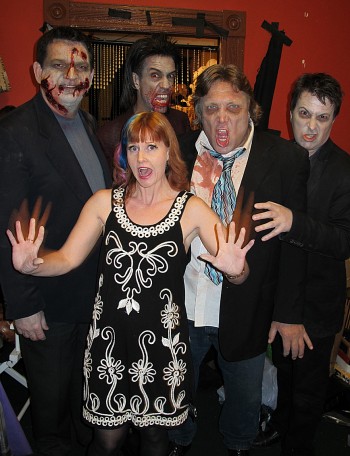 A few words about the shoot as such, and the on-set atmosphere?
We shot everything in one location, the Horace P. Dibble House, which is a historic landmark. It also just happened to be a working burly-q establishment. So, we had the stage, the dressing room, and everything we needed right there. We enhanced the sets, but very little extra pizzazz was needed. The place was oozing with kitsch, which I think really comes across in the film. Ours is the only feature film to have been shot there, and it may be the last since it was damaged by fire last year. I feel lucky we got to film so much of it, inside and out.
The $64 question of course, where can your movie be seen?
Wait. Who gets the $64? You for asking or me for answering? Well, letís figure that out later. Fetish Factory has been submitted to a few select festivals for 2017, so fingers are crossed. We are also actively seeking distribution so Iím hoping itíll be everywhere on VOD soon. It is a crowd movie, thoughÖ I feel like seeing Fetish Factory by yourself is on par with watching Rocky Horror home alone, but thatís the world now. If people want to watch it on their phones, Iíll be happy! Who knows, maybe the famous grindhouse theater here in L.A., The New Beverly, will play it someday just for fun.
You have recently also produced the movie The Fiancť - so what's that one about?
Itís a crazy clash of genres Ė I say itís like Married to the Mob meets The Legend of Boggy Creek! Dallas Valdez plays a man who falls in love with a mafia daughter, played by Carrie Keagan. While he tries to impress her father by getting into the illegal family biz, she is bitten by Bigfoot. Bigfoot, who is played by the wonderful creature actor Douglas Tait, has a virus, which infects the bride-to-be, but doesnít kill her. She becomes a vicious killer and goes after her fiancť.
To what extent were you involved with the actual shoot?
I helped with the casting of Carrie and Doug, and I brought on another producer whom I love to work with, Kate Rees Davies. As for hands-on stuff, I was out there freezing my tookus off in the Topanga Canyon winter during our late-night shoots and I was also called into action to play a mysterious mob moll (with no lines, thank goodness Ė the director Mark Michaels, knows how to cast to strengths, too!).
Again, where can the movie be seen?
Iím very happy to say itís streaming on Amazon Prime, iTunes, YouTube, Vudu, and Google Play. The DVD will be on Amazon in January, I believe.
Any other current and future projects you'd like to talk about?
I have another feature that I wrote and directed for Blanc-Biehn, called Good Family Times. Itís a home invasion thriller with a supernatural twist. Itís in post-production now, and I donít know when it will be released. I have a cat-and-mouse psychological thriller called Psycho Therapy debuting in 2017. We wrapped it a couple of months ago. Itís a short, but itís got a ton of impact thanks to the kickass leads. Brooke Lewis from Killer Rack shows that sheís got some serious dramatic acting chops, and then Ricky Dean Logan from Freddyís Dead: The Final Nightmare totally kills it! I canít wait for everyone see it. Itís my homage to De Palma.
As far as I know, you entered the filmworld as a journalist and only eventually got into filmmaking - so do talk about that process, and did you receive any formal training as a filmmaker?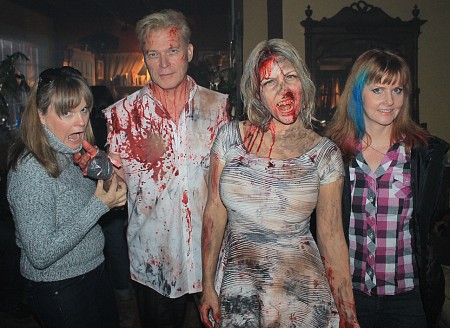 The Fiancť
Yes, thatís right. I have been a movie reviewer and entertainment journalist since 2002. I worked for the SyFy Channel, Horror.com, Fangoria, and many more, as a freelancer. Iíve always loved movies, especially horror, but I did not grow up thinking Iíd ever be making them. As a wish for creative fulfilment, I directed a short film inspired by Edgar Allen Poe, starring Ogre from Skinny Puppy, whom Iíd met on the set of Repo! The Genetic Opera. One thing led to another, and I did some music videos. I still hadnít planned on making any features, until Jennifer Blanc and Lony Ruhmann saw my work and opened that door to me. Iím so grateful. I love filmmaking.
What can you tell us about your filmwork prior to Fetish Factory and The Fiancť?
The short films I did were arty and experimental Ė my take on Annabel Lee was a romantic dreamscape, while my next one, The Night Plays Tricks, was a Maya Deren-inspired exploration of love and loss based on a Bob Dylan song. The music videos I did were fun and didnít have any horror elements in them at all. I really want to be Jean-Luc Godard when I grow up!
Now going through your filmography, one can't help but notice that you work mostly in horror - so is that a genre at all dear to you, and why (not)?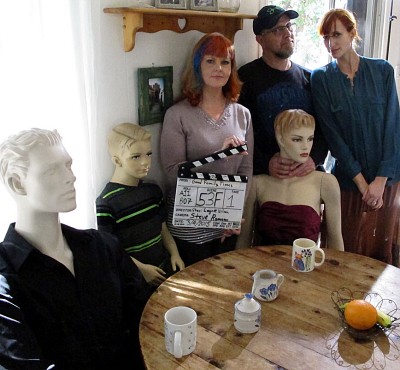 Good Family Times
Absolutely. My dad showed me The Pit and the Pendulum when I was about four years old, and my mom showed me The Exorcist when I was about seven or eight. Hey, wait a minuteÖ! I actually was scared, but not traumatized. Those two totally different movies showed me early on what a broad and vast genre horror is. I like it all, from the Val Lewton black and whites to the wildly colorful films by HťlŤne Cattet and Bruno Forzani. When I hosted the talk shows This Week in Horror and Inside Horror, I got to meet so many amazing directors, writers and actors. Roger Corman [Roger Corman bio - click here] was one of our guests, and I had a chance to show him a clip from my Annabel Lee short Ė since he directed the very best Poe adaptations ever made [click here], I was nervous but eager to know his thoughts. When he said that I captured the essence of the poem, you can only imagine how I felt. So yes, the horror genre is very dear to me.
How would you describe yourself as a director?
Thatís hard for me to answer but since all the actors Iíve worked with are still speaking to me, I guess Iím OK. Since I am not an actor and my productions so far have been more about story than character, I wouldnít say Iím an ďactorís director.Ē I cast actors who I know will fit the roles. I do have specific ideas about how the lines should be delivered and whatnot, but Iím pretty flexible. Iím more focused on the look of the movie, the composition of the shots, lighting and stuff like that.
Filmmakers who inspire you?
Oooh. How much time have you got? Iím going to leave a bunch out, but hereís some off the top of my head: I already mentioned Corman and Godard (hey, thereís two names you donít see strung together very often), but I also love Agnes Varda, Billy Wilder, The Coen Bros., Dario Argento, the Soska Twins [Soska Twins interview - click here], Ken Russell, Madonna (so sue me: I dug Filth & Wisdom and W.E.), and David Fincher. As far as favorite filmmakers who inspire me so much that I envy their work, Iíd have to say Roman Polanski, Gaspar Noe, Nicolas Winding Refn, and Lars Von Trier. I do wish there was a female filmmaker in that last bit, butÖ there arenít many who have a large body of work to draw from.
Your favourite movies?
OK, any horror fan will say The Omen, The Shining, A Nightmare on Elm Street, and all that. So here are some genre-bending, dark-hearted relatively recent films I love: Cafť De Flore, The Duke of Burgundy, Enter the Void, The Neon Demon, The Monster, and Antichrist.
... and of course, films you really deplore?
Deplore is such a strong word, Mike! There are some movies that the horror community has embraced that I just didnít connect with. I donít hate It Follows, but I couldnít connect and fast forwarded through some of it. I also got bored with Bone Tomahawk and much as I love Kurt Russell, Patrick Wilson and Richard Jenkins, my eyelids were like anvils after about a half an hour. Maybe Iíll give it another try. Oftentimes my mood affects my enjoyment of films.
Your/your movies' website, Facebook, whatever else?
https://www.facebook.com/StaciWilson/

Feeling lucky ?
Want to
search
any of my partnershops yourself
for more, better results ?

The links below
will take you
just there!!!


Anything else you're dying to mention and I have merely forgotten to ask?
I have some horror novels and a guide to ghost movies on Amazon Kindle. Critics have compared my writing to Shakespeare, Dickens, Tolstoy, and Hemingway. OK, thatís not trueÖ but where else can you find a sexy paranormal mystery about identical twin rockĎníroll vampires roaming the streets of L.A. in 1972 for a buck ninety-nine?
Thanks for the interview!