Your new movie Killer Piñata - in a few words, what is it about?
It's the heartwarming story of a piñata that is sick of seeing his kind abused by humanity for sport, so he decides to give them a taste of their own medicine.
How did the project fall together in the first place?
There are two events that lead to Killer Piñata. First, Jenn, Paul, and I own a company that has nothing to do with filmmaking. And when we started the company, we decided that, instead of playing the radio or Spotify, we would put on bad movies from Netflix and Amazon. Our rule was that it couldn't have more than two stars. So it was this Mystery Science Theater 3000 existence, where these terrible horror films were constantly on loop. Well, maybe terrible to mainstream audiences, we sincerely enjoyed a lot of them. But then we ran out. Within a year, we literally watched every terrible horror film on both platforms, so we decided it was time to make our own.
The other event occurred in the fall of 2013, when I was at the Austin Film Festival. I was talking to Leigh Whannell (I don't know Leigh personally, we were at the bar and struck up a conversation). And we both admitted that we were interested in trying to make a micro budget film, just to see what would happen. When we were in film school, you didn't have all these great digital toys, and we wondered what would happen if you took a couple of grand and threw it into a film. Killer Piñata was the perfect mix to attempt that.
What were your inspirations when writing Killer Piñata, and what can you tell us about your co-writer Megan Macmanus and her collaboration with her?
Definitely Charles Band's Full Moon or Empire films. I love Puppet Master, I love Dolls, these great tiny creature features with David Allen's wonderful stop motion animation. But I also liked that Band created this comic-book-company-as-movie-studio. Dollman, Demonic Toys, Oblivion, they're really fun movies. I also liked the Vestron stuff like Dolly Dearest and Ticks, just low budget straight-to-video horror fare. So Killer Piñata was a way for me to scratch that creative itch, to make a film like the ones I grew up on.
Megan I've known for about 12 years. She's an incredibly accomplished comedy writer, who is now also working on YA novels. She was a semi finalist for the Nicholl Fellowship, which is incredibly difficult to do. We've wanted to work together on something forever, and threw a couple of ideas around over the years, but because we write such different things, it was hard to find that project. When Killer Piñata came up, it was the perfect marriage. Working with her is a joy. It's fun to read Megan's writing, I always enjoy whatever new thing she's worked up.
What can you tell us about Killer Piñata's brand of humour?
It's a little South Park. Inappropriate, over the top. With something like this, we knew we had to go big, bold, and bawdy. But we also didn't shy away from the long-form joke, which we set up the entire film, and then pay off in a brutal, bloody way in our third act.
Having covered humour, you also have to say a few words about Killer Piñata's approach to horror - and how hard was it to make the titular piñata even remotely menacing?
Impossible, haha. You really can't make the Killer Piñata menacing, because he's small and adorable. And we made a decision, particularly with the party scene, that we wanted the audience to feel bad for him. We wanted them to understand his motivations. So we were put in a position that we had to create true tension outside of Killer Piñata himself. That would be the sequence where the lights go out in the house, Martin in the backyard, in the final act when Lindsay and Scott are hunting Killer Piñata, etc. We used the absence of Killer Piñata to create tension. And then on some of it, we went full Peter Jackson and delivered the gore, to show that he was a real threat. He's incredibly strong and ruthless (and perverted), so ripping things off is not a problem for him.
Do talk about your directorial approach to your story at hand?
Old school, haha. We had a less-than-tiny-budget, so I knew that we would have zero time for prep or rehearsals. I think we did great with the time that we had, but generally I would have about 10 minutes to work out the scene with the actors, and basically the first take was always a rehearsal take. I knew from the beginning that 98% of Killer Piñata's stuff would be practical effects, so I spent a lot of time figuring out every shot I would need to successfully hide the puppeteer, or shoot around the practical gore effects, which were filmed six months after principal photography ended. But those were exciting challenges to me.
What can you tell us about your cast, and why exactly these people?
One of the best casts I've ever worked with. We cast for three days in Chicago, and saw A LOT of actors. Many of them were great. One of the amazing things about making films in Chicago is you have this incredible bench of theater talent, so they're bringing these skills to your set. It was such a good turnout, that if we didn't get the people we wanted, we had 2-3 back up options that were also fantastic. That's how good we had it during the audition process. And two of them - Nate Bryan, who played Chad, and Joette Waters, who played The Shopkeeper, completely changed how the characters were originally written. Their take was the better take, so we cast them and formed the characters around what they came up with. Eliza-Jane Morris was the only actress we cast before our fundraising began, and I think Lindsay Ashcroft was next. And they were a great start to the process. Billy Chengary, who plays Scott, we almost didn't audition, because he came through on the last day, and I just felt we already had some good options for Scott. Jenn Kunkel, the producer, made the case that we should see him, and I'm glad she did. Every day, they came in prepared. Off book, ready to work, and that kept our days on time. As a group, they just instantly got what we were doing, and it made my job much easier, because they all had the sense of timing that Killer Piñata needed.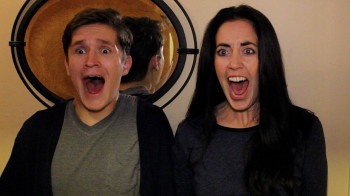 A few words about the shoot as such, and the on-set atmosphere?
One of the best experiences I've had, either on a film I've directed or just worked on. It was tough, because we were shooting a feature in 8 days. And not only that, Jenn, Paul, and myself were the primary crew. We were shooting, catering, recording sound, and after it was all done, we'd start prep for the next day. Again, we didn't really have a pre-production period, so pre-production was done one day at a time, with Jenn and I cleaning up the set (which is her actual house), then running out to get what we needed the next day in order to start shooting again in the morning. Add to that the difficulties of operating the puppet, with the gore, with the limited stunts - and by the end, by day 8, we were all pretty raw. I love working with Jenn and Paul, they're invaluable collaborators for me. They bring so much to each production, they have great ideas, they're very supportive. I just couldn't ask for a better situation.
Anything you can tell us about audience and critical reception of Killer Piñata?
We've been thrilled with the reception. Our biggest concern was that people wouldn't get that we were in on the joke. Or they would think that we were making fun of micro budget horror. This was a movie made by people who love these kind of movies. We had a sold out premiere in Chicago, and to hear them laughing and screaming makes all the work worth it. Some critics have said that it's a little slow in the beginning, and I do agree that we could have changed the first 20 minutes or so. In hindsight, I should have opened with a big, bloody kill - which would have bought me more time for character development. But noted, and we'll definitely work around that on Killer Piñata 2. Overall though, I couldn't be happier with our reviews. I mean, again, we made this movie for $2500 and shot it in 8 days. The fact that people are digging it, that they get it, is dreams-come-true territory.
Any future projects you'd like to share?
We're working on short film that we're shooting in June called Eyelash. Then we're setting our sights on the next features. Killer Piñata 2 is definitely on deck, Megan and I are working on the script now, and we're really holding ourselves accountable to make it next level. We've had some early discussions with LC Films on that, as they've been an invaluable partner for Killer Piñata's release. And then later this year, we're going to start working on Welshgate, which is the script that brought me to the Austin Film Festival. There have been a couple of attempts to make it by other producers, but the financing just never came together. So we're going to take a stab at it.
What got you into filmmaking in the first place, and did you receive any formal training on the subject?
I was always into film and comicbooks. As a kid, my dad would get mad at me because I could remember box office opening numbers, but not math. I would just spend my weekends watching movies, mostly horror, and reading Fangoria. I started making movies when I was 10 or 12. Like most kids, I just used our home video camera. Because there was no such thing as the internet (calm down everyone, it was 1990, I'm not a dinosaur), I had to teach myself everything. I remember the first actual screenplay I found was Bugsy, because the local Waldenbooks was selling it. So I studied Bugsy to learn how to write screenplays. In high school, I made four features, then went to study film at the college of Santa Fe, where, ironically, I got in trouble for making movies. So I did receive education in filmmaking, but I've also just always made movies. I took a little break between 2005-2009, but I can't stop. If I'm not writing a screenplay, or making a film, or making a comicbook, I'm just not happy.
What can you tell us about your filmwork prior to Killer Piñata?
Kind of a mix of things. I worked on SyFy Channel original movies for a while as a post production coordinator. My first movie was actually Puppet Master Vs. Demonic Toys. Unfortunately, I came in after that was pretty much done. I tried to do what I could, but it was already locked. I also got to work with Bruce Campbell on two films - Man With The Screaming Brain and Alien Apocalypse, so that was a dream come true. We spent a couple of years trying to get Welshgate off the ground, but I was only on as writer at that point. And then a few other things I was brought on as a hired writer that died in the financing process, which was a bummer, but that's how it goes. I made a couple of small features in my early 20s, Grindhouse probably being the most notable one.
How would you describe yourself as a director?
Good question. I'm not sure how to answer that. I guess my goal for each film is to be entertaining and clear. I'm a big fan of working out your shots and edits so the spacial relationship in the scene is clear in each scene. I hate shaky cam and frenzied editing. I try to find the movie in the shooting, in the camera placement and pacing, not in the edit, so I spend a lot of time thinking about how to structure each scene to achieve that goal. I also like the challenge of trying to bring new things to the audience. I'm a horror fan, and I still watch a lot of horror movies, so I know how stale it can get sometimes. The animated sequence in Killer Piñata came from that yearning. I don't want my movies to look like other horror movies. And even if I fail, I failed trying to do something different.
Filmmakers who inspire you?
Wes Craven, always Wes. His early work was so courageous, it just had this rare honesty, which is what makes some of it hard to watch. John Carpenter, the best horror shooter there ever was. Each of his films is a masterclass. Peter Jackson, Sam Raimi, Vittorio De Sica, Paul Thomas Anderson, Charlie Chaplin (City Lights!). Of the new guys, I love what James Wan is doing. Just incredible stuff. Another emerging director is Jill Sixx Gevargizian, who made this short called The Stylist. Jill is incredible, and I can't wait to see what she drums up next. Keep an eye on her.
Your favourite movies?
My favorite movie of all time is actually There Will Be Blood. I think it sums up the American ambition to go from getting the paycheck to become the one signing the paycheck. The Thing is my favorite horror film. It has no equal, in my opinion. Nightmare on Elm Street is what made me want to make horror films. Bicycle Thieves, Dick Tracy, The Deer Hunter, The Fly, May, Saving Private Ryan, Edward Scissorhands, Halloween, Bride of Chucky, I Saw The Devil, the list could go on and on, haha.
... and of course, films you really deplore?
The only movies I really deplore are the ones made just for the money. All films want to make money, of course, so we can make more. But I'm talking about those romantic comedies from the late 90s/early 2000s, many of the horror remakes/reboots. And it's not that I'm against remakes. Two of my favorite films are remakes. But those filmmakers wanted to remake them. I'll take a disaster of a film if you can see the filmmakers had their heart into it. And as Kubrick said, you learn just as much from the bad ones as you do the good ones. So it's never a waste of time.

Feeling lucky ?
Want to
search
any of my partnershops yourself
for more, better results ?

The links below
will take you
just there!!!


Your/your movie's website, Facebook, whatever else?
Facebook:
https://www.facebook.com/angrymule/
https://www.facebook.com/KillerPinataMovie/
Twitter:
https://twitter.com/AngryMuleProd
Anything else you're dying to mention and I have merely forgotten to ask?
I wanted to give a special shout out to Dark Alley SPFX, who created the two big gory moments at the end, and advised us on the rest. A lot of effects houses wanted nothing to do with Killer Piñata, due to the nature of the effects, and Alex and his team were a total save. And thank you for spreading the word about Killer Piñata. Jenn, Paul, and I really appreciate it.
Thanks for the interview!