Your new movie Five Minute Rush - in a few words, what is it about?
Five Minute Rush is a story about control, deception, and power. Our story takes place in a war-torn city, run by corrupt politicians, government agencies, and criminals alike. It's a world where nobody can be trusted, and every moment is a struggle to survive.
What were your sources of inspiration when writing Five Minute Rush?
Good question. This actually goes back along way to when I was in my early twenties. Back then, I was running with the wrong crowd, and living a VERY different lifestyle. It eventually landed me in a position where I was brutally attacked by a group of six people, and it nearly cost me my life.
I've carried these scars for such a long time, and when then idea came to me it was the perfect opportunity to vent, and finally let it all go in a creative way. I took that experience and created a fictional world, and characters within it. Long story short, I know EXACTLY how it feels to be in that chair.
Five Minute Rush is a quite action-heavy movie - so do talk about the stunt-work in your film for a bit!
It was an insane amount of work. We started on the choreography six weeks prior to the shoot. Technically there were no stunts, it was all actor action. It took a lot of practice, dedication, and patience. Each of the actors did all their own stuff, myself included, and we all worked very hard to achieve the performance level required to pull this off. Tanay Genco Ulgen was our fight choreographer, he did and amazing job with the action design, helping me bring what was on the page to the screen. There were also a couple sequences that we put together on the fly that really beefed things up.
There's also quite a bit of violence in Five Minute Rush - so what can you tell us about your movie's bloody bits, and how were they achieved? And was there ever a line you refused to cross?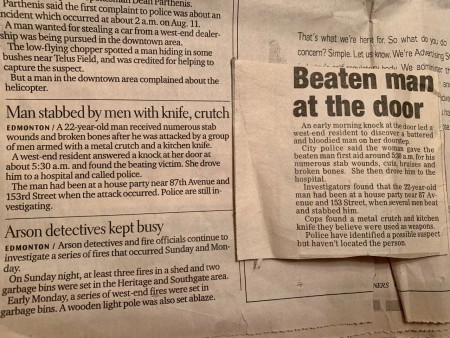 When it came to the blood effects, we started planning our designs early in pre production. As an indie film, we were trying to cut costs without loosing any integrity, and we felt the best way to do that was to combine both practical and digital effects. Dallas Harvey and his team over at Vancouver FX studio worked alongside me to conceptualize, plan, and execute all the rigs for all our practical gags. Once we got to post, Simon Mills over at Trickbox Studios came in and gave it all the digital finesse. Which brought it to another level. It was great team effort that really paid off in the end. As for ever crossing any so called "lines"... my take on it is this - life isn't censored, and art shouldn't be either. If you want realism, you really have to lay it down as it is. These types of criminals will hurt you in all the right ways. They have no boundaries, and show no remorse. This is a dark piece, and it is full of violence. It's not for everyone. Sadly, this is also the world we live in. Most people turn their back to that thought, and pretend like these things don't happen out there. They do. I'm a realist, and I feel every story deserves the truth.
What can you tell us about your overall directorial approach to your story at hand?
I wanted to create a dark and gritty world, where all hope is gone. The setting of this story was very important to me, and I really wanted to fill it with characters who had a lot of weight. I knew that drawing raw intelligent performances from the actors was going to be a major pillar in the foundation, alongside the action. When it came to the action sequences, I wanted the audience to feel the impact of every hit. It took a lot of planning and effort to achieve this. Prep was the ultimate approach. Cramming a feature's worth of action into a 30 minute film was definitely no easy task. I had a very specific vision, and I stuck with my gut.
You also play the lead in Five Minute Rush - so do talk about your character for a bit, what did you draw upon to bring him to life, and did you write him with yourself in mind from the get-go?
Yes. I wrote the character I wanted to play. I felt that with this piece I could show many aspects of my talents, and showcase them in a manner in which I could be extremely proud of. As actors, we don't always get the opportunity to play the parts we really want. So this was the perfect time to do so.
Bringing Baden Vasco to life was quite a journey... from building my body up over several months, to manifesting the raw emotion needed to play the part. I tapped in to all the anger and rage I had inside from what happened to me all those years ago. That along with the loss of several friends and family that have passed over the years. I allowed myself to dwell in it. There was a certain level of intensity that needed to be generated, and felt by the audience as they witnessed the narrative unfold.
Do talk about the rest of your cast, and why exactly these people?
We saw an incredible amount of talent while casting for this project. It's always interesting to see what each actor auditioning brings to the role. We had several actors completely nail my perception of the character and what I had in mind. When Thomas Newman, who plays Stavros Zane, walked into the room, I knew I had my guy after he delivered his first few lines. A flawless audition. We were all completely blown away. The detective roles played by Artine Brown, and Bruce Blain were also bang on. Not only did they each have the look I was going for, but they also had the chops to back it up. The role of Captain Wells was written with Larry Hamm in mind. I had worked with Larry on a previous indie feature and he really stuck in my mind as I developed the character. When I was looking for an actress to play Vasco's wife, I needed a woman with specific qualities - warmth, passion, and the ability to win the audience over with a single smile. Andrea Stefancikova had all these qualities and played them with such conviction. And let's not for get about Lee Tomaschefski - who played Vasco's sister Jessica. Her scene was particularly disturbing, and man did she nail it! Each of the other actors involved in the action sequences were chosen for their talents as well as their physical abilities. They were all so dedicated, professional, and an absolute pleasure to work with. I feel the exact same way about the ENTIRE cast.
What can you tell us about the shoot as such, and the on-set atmosphere?
Long hours, and a complete lack of sleep. LOL. The hardest stretch was the five days spent shooting the action sequences in the warehouse. We were constantly racing the clock, and despite the many trials and tribulations that came up during the shoot, we always found a way to keep moving forward. I would describe our overall on set atmosphere as - exciting and energetic. Everyone always showed up ready and eager to work. As stressful as the shoot was at times, we always managed to have fun. We sort of became this big family, and I still stay in touch with many of them today.
I'd also like to add my 5 favourite things about the movie here:
1 - The camera work. Cliff Hokanson is an amazing DOP, and his skill set really helped capture the highly subjective moments needed to tell this story effectively.
2 - The sound design. Alex Macia, and Matthew Cameron did an amazing job. Josh Eckberg mixed and mastered it beautifully.
3 -The performances. Everybody killed it!
4 - I would have to say the editing. Darryl Ahye, Trevor Mirosh and I really put the time in cutting this together to flow the way it did.
5 - Definitely the score. Sam Hulick and Alexandre Cote really captured the essence of this film. In every nuance. Those two are pure genius!
The $64-question of course, where can your movie be seen?
Well, since our festival run, the film has just been released online for all to enjoy. It's currently streaming on Instagram TV, Facebook, and Vimeo.
Anything you can tell us about audience and critical reception of Five Minute Rush?
Despite all the violence, we have actually received very positive feedback. I think everyone who sees it can get a sense off all the hard work that went into this. My favourite part has to be attending the different festivals, observing the audience, and watching them twist and turn in their seats during the fight scenes. It's an incredible feeling to see it have that kind of an impact. Of course you're always going to get the odd hater. But you know what they say... hater's gonna hate! LOL!
Any future projects you'd like to share?
Funny you should ask... this film was shot to be used as a pitch piece. I didn't have the budget to do a feature, so I worked with what I had. I set out to make a hard hitting, action packed short that would grab people's attention. Since the completion of Five Minute Rush I have written it into both a TV series adaption and a feature film. I wanted to explore all avenues, so I created a show bible and pitch deck for each, which was a crazy amount of work. I've entitled the new works In Deadlock. There is way more action, and so many new and interesting characters that interweave several storylines. With all this now completed, the project have recently begun its pitching phase. Aside from that I am diving back into a feature comedy I wrote a few years ago about sex. It called The Morning After The Night Before, and I 'm really looking forward to seeing this one come alive.
As far as I know, you entered the filmworld as an actor first - so what got you into acting, and did you receive any formal training on the subject?
Acting has always been a passion of mine. In 2005, I moved from Edmonton to Vancouver to attend acting school. I left behind everything and everyone I knew. It was a leap of faith. I knew in my heart that if I stayed there I probably end up dead, or worse. A year later I graduated from the full time acting for film and television program at Vancouver film school. There, I also took writing for feature film analysis. After that I got an agent and started auditioning and working. I still continue to train periodically, there are some really great coaches in this city.
What made you pick up writing and directing eventually?
I've been writing stories and making little movies ever since I was a kid. I remember when we got out first family video camera, my brothers and I would film all sorts skits and movies. It's something I've always wanted to do. Nothing like a near death experience to wake you up, and go after the things you want.
Do talk about your filmwork prior to Five Minute Rush, in whatever position?
I've worked as an actor on many different films and television shows. I enjoy working on independent films as well. Every job is different, and you get to meet and work with some pretty extraordinary people in this industry. I've written and directed a few other projects of my own before this one as well . I'm always trying to find new ways to grow and stretch as an artist, and I will continue to do so.
How would you describe yourself as an actor, a writer, and as a director?
Ambitious, driven, and humble.
Actors, filmmakers, writers, whoever else who inspire you?

Feeling lucky ?
Want to
search
any of my partnershops yourself
for more, better results ?

The links below
will take you
just there!!!


There are so many people that inspire me. Just off the top of my head... Christian Bale, James McAvoy, Robert Downey jr, Tom Hardy, Christopher Nolan, Quentin Tarantino, David Fincher, Matthew Vaughn, the Coen Brothers, Oliver Stone, Paul Haggis, Robert Rodriguez, and the list goes on...
Your/your movie's website, Facebook, whatever else?
IMDb: https://www.imdb.com/title/tt5206870
Facebook page for the film: https://www.facebook.com/5minuterush
Instagram: https://www.instagram.com/stevebaran/
Vimeo link to the film: https://vimeo.com/339907493
Thanks for the interview!