Tell everyone a little about yourself to begin with?

My name is Tiffany Apan and I am coming to you live from my living room! :D
I just got back from a public appearance Monster Mania Con 7 the other day, so bear with me if I seem a little out of it :P
I am an actress/singer who does some modeling. I've done theatre and musical theatre and I got my break in film in the Troma distributed film, Meat For Satan's Ice Box which is currently out on DVD. I have some new and exciting film projects coming out this year including Winslowe Asylum with Dark Wind Woods Films, Heavy Mental with Silver Bullet Pictures, LaFemme Bond with Pinpoint Productions, Slashers Gone Wild with World Parody Productions, and Revenge Sweet Revenge with Life or Death Productions. I am also a classically trained singer and I currently have a maxi CD entitled Porcelain Doll released with Morbid Curiosity Shop and I am at work with a record label on my full length album, Everlasting Element. I also model for Zombie Apparel Clothing, Screaming Bean Cafe, Morbid Curiosity Shop, Bastards of Horror, and I work with a small network of photographers for my photos.

Did you pick up acting as you went along or did you study it in school?

Acting and performing is something I have done since I was a child. I studied throughout junior high and high school and performed with theatre and opera companies around town and regionally as well as in school. It was also my major in college and I learned both theatrical and film acting.

Why horror film predominately?

While I was doing theatre, I did some work as an extra in a few films. Then I had the oppertunity to work with an acting coach who works with George Romero and Tom Savini. I ended up getting my breakthrough role into film with the Troma distributed film, Meat For Satan's Ice Box which is currently on DVD. I began getting offers for more horror films after that.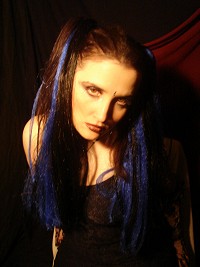 Do you consider yourself a scream queen then?

I have had a couple of references of me being a scream queen by the media and I suppose I am carving a niche for myself amongst the horror and scream queens being in horror films, but I wouldn't necessarily describe myself as only being a scream queen as I also am exploring other areas of the entertaintment industry as well. I love horror and want to continue to do horror film but I am also embarking on a music career and doing some projects that are unique but aren't considered horror films. I even like my horror films and my roles in them to be different from the last and I have taken to choosing roles carefully. I guess it depends on how you define a scream queen since one person's impression of a scream queen may be different from another's.

Have you considered other ventures in film such as directing or producing?

YES. As a matter of fact, I am co writing a scene in my upcoming film, Revenge Sweet Revenge. I also am providing music for LaFemme Bond and another film called The Gore Orphanage.

You are also into music?

Yes, I am a classically trained singer and I began my career in opera and musical theatre at a young age. I had the privelege and honor of being trained vocally by a woman who sang at the Metropolitan Opera and was also part of the company. I recently began embarking on a recording career with my inspirations being Sarah Brightman, Enigma, Loreena McKennit, Nightwish, Queensryche, Dream Theatre, and Lacuna Coil to only name a few. I recently released a maxi CD entitled Porcelain Doll with the Morbid Curiosity Shop and I am at work on my full length album, Everlasting Element.
What have been some of your films? Tell about the titles and the plots?

Feeling lucky ?
Want to
search
any of my partnershops yourself
for more, better results ?

The links below
will take you
just there!!!

Find Tiffany Apan
at the amazons ...

amazon.com

amazon.co.uk

amazon.de
Looking for imports ?
Find Tiffany Apan here ...
Something naughty ?
(Must be over 18 to go there !)

Meat For Satan's Ice Box is currently out on DVD with Troma. I also have Revenge Sweet Revenge almost completed and it will be out this year. Other films coming out this year are Winslowe Asylum, Heavy Mental, and Slashers Gone Wild. Meat For Satan's Ice Box is the craziest film I probably ever will do! I play Janet Cavatelli and my character gets killed within the first 20 minutes. Revenge Sweet Revenge is a psychological thriller and I play Claudia, an apprentice to a mental patient and apprentice to a serial killer. My character is Sadie Rae in Winslowe Asylum and it is sort of a Romeo and Juliet in the asylum with an old classic horror twist to it. I will play a chick thug named Candy in Heavy Mental which is a heavy metal themed horror comedy. In Slashers Gone Wild, I host the DVD segments in the tradition of Faces of Death. Finally, in LaFemme Bond (international title Bitch Bond) which is a James Bond satire and features a female version of James Bond, I play an assassin!

Are these available online?

Meat For Satan's Ice Box is available at http://www.troma.com and my website http://www.dropdeadbeauty.com.
Revenge Sweet Revenge will be available on the Life or Death Productions site as well as my website very soon.
Some links to the other films until they are released are:
Heavy Mental - http://www.silverbulletpictures.com
Winslowe Asylum - http://www.darkwindwoods.com
LaFemme Bond/Bitch Bond - http://www.bitchbondthemovie.com and
Slashers Gone Wild - http://www.myspace.com/slashersgonewild

What about yourself? Do you have a webpage or myspace?

Yes ... my official website is http://www.dropdeadbeauty.com however beginning in March, it will be http://www.tiffany-apan.com.
My myspace page is http://www.myspace.com/dropdeadbeauty2. I also have music links at http://www.myspace.com/tiffanyapanmusic and http://www.numberonemusic.com/tiffanyapan.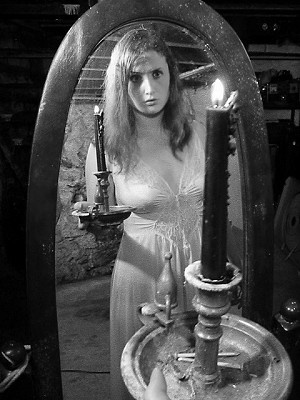 Are you still planning to work on Windsor Asylum in Ohio this year?

YES! That is one of my most exciting projects yet!

What can you say about the plot?

It is in the tradition of the old classic horror films of Vincent Price, Alfred Hitchcock, and Lon Chaney. It is a historical film that takes place in the early 20th century during the white plague when the asylums were jam packed and it's about the brutal and inhumane manners in which the patients were treated. My character is a patient with a very twisted plot. It is very Romeo and Juliet in the Asylum.

Gossip is they plan to shoot this in black and white, except for the blood?

Yes, from what I understand, it will be shot in a sepia tone and the blood in the film will be the only thing that is of a distinctive color.

Any other projects upcoming?

A film that is written and produced by Robyn Griggs entitled The Tourists inspired by The Twilight Zone. I also am working on scheduling public appearances and music gigs. There is also my music and some more tentative film projects.

Do you plan to make it to any of the film fests or conventions this year or next?

Well, I just returned home from Monster Mania 7 in Cherry Hill, New Jersey. I will be going back to Monster Mania 8 in May of 2007 which is also in Cherry Hill, NJ. I will also be appearing at Cinema Wasteland in Strongsville, Ohio with Dark Wind Woods Films. Those are the only confirmed ones so far. I will be adding more as the tentative ones are confirmed. Check my website and myspace for details on appearances and music gigs!

A lot of readers on this page are located in Europe. Have your films made it over there yet?

Meat for Satan's Ice Box premiered in Cannes and is distributed through Troma there. LaFemme Bond will be released in Europe under the title Bitch Bond. The others will be released and will be able to be ordered over the internet internationally.

Aside from yourself, what other women are worth keeping an eye on in indy cinema that you know of?

Lennox Miller and Elske McCain [Elske McCain interview - click here] are on the rise (we all did an interivew segment on Deadpit Radio which can be heard at http://www.deadpit.com in their Decemeber 15th files). Joni Gomez, Monique Dupree, Brenna Lee Roth, Heather Lucas, and Amanda Fire are ones who come directly to mind right now.

And actors?

Tony Slade and Trent Haaga are two of my faves!

What about directors?

Greg Laudermilt, Kipp Poe, Al Griffith, and Rob Avery are ones to watch out for!

Not to start any envy, but do you have any favorite actresses or directors you prefer to work with?

I don't know about favorites as each film company and director is different and each has pros and cons. But I am really looking forward to working with Dark Wind Woods Films on Winslowe Asylum.

Have you ever had any negative experience so bad you will never work for a certain individual again?

I won't mention names, but unfortunatly I have run into a couple people who have tried to pull fast ones on me and were not honest about the project being worked on. I had suspicions of a company of people I thought I could trust attempting to do things behind my back and sell my photos or film footage in a way that I did not agree to nor signed contracts to do so. I've been in situations where I was only shown scenes and not the entire script. For all I know, you could be shooting a porno. That is why it is SO important for anyone in the industry to make sure all their Ts are crossed and I's are dotted. Upon committing to a project, make sure to recieve a copy of the finished script and ALWAYS read your release forms and contracts before you sign them and if need be, get a second opinion!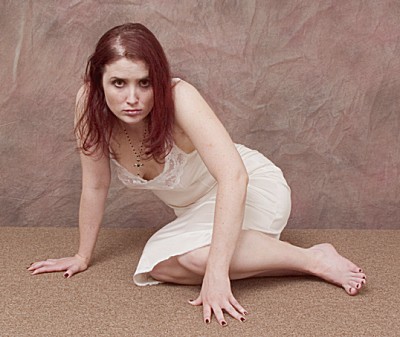 How do you prepare yourself for a role or get into a character?

I read the entire script and I just read my lines aloud and get a feel for the character. I also ask the director for a brief character description and research any personality quirks or lifestyles of my characters. I make goals for my character in accordance with her lifestyle and personality and sometimes even draw on personal experiences.

Do you have a problem memorizing lines?

Usually, I'm pretty good with memorizing. But I have my off moments, especially if I'm extremely busy or stress piles up.

Any odd stories to tell that we have missed or may have never heard?

After a long day of a public appearance at Monster Mania 6, a few of us decided to go out to eat. We came accross this restaraunt that looked good, so we went on in. I think we were the youngest clientele in the restaurant as the clientele seemed to be 65 and over. There was even stewed prunes on the menu with prune juice and prune danish ... prune everything! But they did have good food and it remains a joke to this day. We even went back to the restaraunt this past weekend after Monster Mania 7, but alas all the prunes were off the menu except for prune danish!

Future plans?

To take every element of my career right now and infuse it into one big career that I can just sit back and enjoy. Maybe concentrate more on music in the future with film being a side project.

Interests away from film?

I love charity work that is concentrated in cancer research and animal/wildlife and environment preservation. I also like hanging out with friends, going to coffee shops, going to a club, the usual stuff!

Closing comments?

Thanks for the interview and stay tuned for my films and music!
Thank you for the interview!