Your latest film is Jessicka Rabid. Could you tell us the film's plot in a few phrases?
Jessicka is a mentally disabled,child-like woman who is abused by her dysfunctional white trash family. After being bitten by the family dog, she gets revenge on those who torment her.
In the film, you play Jessicka, a rather demanding role - how do you approach a character like this?
Since Jessicka is essentially treated like the family pet, I actually used my dog for much inspiration. Also, due to the fact that Jessicka doesn't talk, I used my experience with my autistic daughter to help in developing her characteristics and behavior.
Jessicka Rabid is a rather unsettling film. What made you not only play the lead but also produce the picture?
I did it because I was tired of other people trying to control me. I figured if I could get the money, I could use my experience from other projects to make my own movie, so that is basically what I did.
How did you get in touch with the project in the first place?
Matthew Reel and I were trying to figure out what movie we should make. I came up with the title of Jessicka Rabid, because that was a name I had been using online for a while, and I figured if I didn't use it, somebody else would. I gave him the title, told him to write a script that could be shot at my house, and to make her a female serial killer. I went away for a couple of weeks, and left him at my home to dog and house sit. When I returned, he had written the script. I had originally opted to pay for the whole thing myself. During one of the early photo shoots with Jessicka swinging the axe, I pulled some muscles which put me out of work for several weeks. Instead of pushing back production, I managed to find an investor to help with the initial costs.
Who did come up with the retro-look of the film, and why?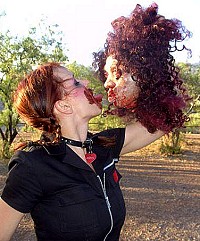 Jessicka Rabid
Matt's older work actually had the same look, even before the movie Grindhouse came out. I think that Matt is ahead of the curve.
The film has been described as "arthouse meets grindhouse" - would you like to comment on that?
I think that words like arthouse and grindhouse and torture porn are easy terms for reviewers to use when trying to define something outside of the mainstream.
When and where will the film be available?
We are currently working on getting the movie out as soon as possible, without sacrificing quality.
Recently, you have also been in Splatter Movie: The Director's Cut, directed by and starring Amy Lynn Best. A few words about that one?
Splatter Movie was a truly enjoyable experience. I had barely made it to the set on time, due to the fact that I had won an auditon on The Search for the Next Elvira reality show at the last minute. So I had to fly straight from the Queen Mary to the Splatter Movie set with no sleep or shower! Considering the circumstances, I had a great time.
You are also in the upcoming Amateur Porn Star Killer 3D by Shane Ryan [Shane Ryan interview - click here] - what can you tell us about that one, and were you aware of the Amateur Porn Star Killer series before agreeing to star in the film?
I had never heard of the Amateur Porn Star Killer series prior to shooting my scene. It is basically a cameo I did for my friend Shane Ryan during the "down-time" from shooting on the set of Vaginal Holocaust.
... speaking of the film with the beautiful title Vaginal Holocaust (which incidently also stars Shane Ryan) by Creep Creepersin [Creep Creepersin interview - click here] ...
Vaginal Holocaust was a really fun film shoot. I had always wanted to do a movie in a Friday the 13th-style location, and that is what we got.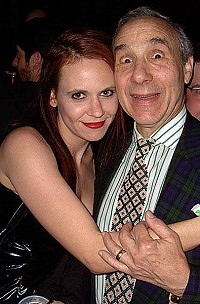 Elske and Lloyd Kaufman
You also had a role in the Troma-movie Poultrygeist: Night of the Chicken Dead. What can you tell us about that film, and especially its diretor Lloyd Kaufman, who also had a cameo in Jessicka Rabid?
My cameo in Poultrygeist was a case of being in the right place at the right time. Lloyd had tried to get me in Poultrygeist one way or another several times, but I could never make it out to New York. Coincidentally, I took a trip to NYC in December of 2006 to shoot a wrestling video. I called up Lloyd to ask if I could come and visit the famous Troma building in Hell's Kitchen. Needless to say, they just happened to be filming Debbie Rochon's cameo on the rooftop that very next day, and Lloyd invited me too! It was great to finally work with my mentor at last. I have since worked with him again on a music video shoot for the band Not the Government.
I just have to ask you to talk about your short The Goat Sucker (incidently by Jessicka Rabid's director Matthew Reel), simply because I love the title.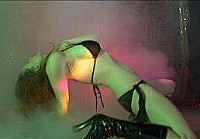 The Goat Sucker
This was the first collaboration between Matt and I. When Matt was over shooting my Poultrygeist audition, he was smoking a cigarette in the back yard and asked me if I would be up for a small part in his short film. He said he was impressed with me and that he wanted to work with me in the future. I play a stripper named Candy. I didn't have any lines, so it took a while before anyone even knew what I sounded like.
As I understand it, you started your career in horror films when you were very young, but then took a long career break. What can you tell us about your early career and why did you leave the movie world for a while?
As a teen, they filmed a lot of stuff in my hometown of Yuma, AZ. My best friend's mom owned a modeling agency, so she was often in charge of helping cast these movies. Because of this connection, I got to be an extra in a few films. Though I enjoyed it immensely, I guess nobody ever pushed me in the right direction. So I never really thought I could make it as an actor. It wasn't until I met Lloyd Kaufman nearly ten years later that he finally told me what I needed to hear.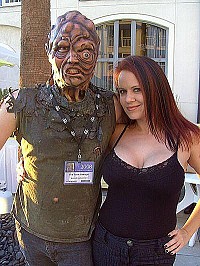 Elske and the Toxic Avenger
Why and how did your comeback come into being?
After meeting Lloyd Kaufman at a Toxic Avenger screening in Tucson, Arizona, I was given the title of Tromette of the Month for July 2004. Due to the tremendous amount of exposure this gave me, I started being approached by filmmakers.
Any future projects?
At some point in the future I plan on writing and directing a movie that takes place at a strip club. Since I have been a dancer for nearly 15 years I have heard and seen so many crazy things, that I have enough material in my head for a movie. (Or two...)
Your website, mySpace, whatever else?
My current website elskemccain.com has had setback after setback for years, and right now is no exception. In the meantime, I would suggest adding me as a friend at Facebook and Myspace.
Your major influences as an actress?
Major influences would include Dee Wallace, Tiffany Shepis [Tiffany Shepis interview - click here], Debbie Rochon and Drew Barrymore.
Of late you seem to be keen to be more than just an actress and also work increasingly behind the camera - what can you tell us about that aspect of your career?

Feeling lucky ?
Want to
search
any of my partnershops yourself
for more, better results ?

The links below
will take you
just there!!!

Find Elske McCain
at the amazons ...

amazon.com

amazon.co.uk

amazon.de
Looking for imports ?
Find Elske McCain here ...
Something naughty ?
(Must be over 18 to go there !)

I realize that there will be a point in my life where I am just too old to play the sexy girl. Not to mention that I have been told that I am a damn good producer. So as I get older and wiser, I will probably focus more on production.
Will we see you directing a movie soon?
I will direct a movie at some point in my career. Depending on how things unfold in my life in the next few months, it could be sooner than later.
You are known to be a lifelong horror fan. Your favourite horror films?
My favorite horror film of all time is Fright Night. It was the first movie I ever taped off cable, and I have seen it hundreds of times. Aside from that movie, I love all of the classic slashers, and their multiple sequels which include Halloween, Friday the 13th and Nightmare on Elm Street.
And horror films you really hated?
As far as hating movies goes, I don't really go there. Most movies that I used to hate as a kid, I have grown to like as an adult.
Thank you for the interview!