First of all, why don't you introduce yourself to those of us who don't already know you, and a few words about your company MonsterFX?
My name is Tim J. Hays. Iíve been doing makeup as a hobby since I was around 11 years old and when I was 24, I got a job at Universal Studios Orlando doing makeup full-time in the makeup department in 1997. Iím still there 14 years later!
I run my own shop called MonsterFX.net. I started it around 1998 and itís still going strong. Not to be confused with a shop that opened in LA a few years ago using that name too, but I think that theyíre closed down now. I added the ď.netĒ part to my shop name to cut down on the confusion. LuAndra Whitehurst is a partner and we have three interns.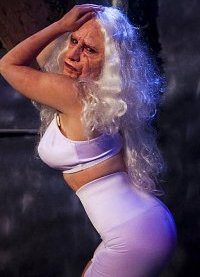 Tim's work on Tara Cardinal in
Diary of Death: Bloodstruck
We do so much work throughout the year. A lot of it is making pieces for stage productions, but we do a lot of films, too. Thatís a lot of foam latex that we go through in a year! But, more than foam, we do body painting, masks, dental appliances, eyeballs, silicone appliances, props, creature suits, animatronics, puppetry and so many other things! We have regular clients that are around the world and we work so hard to keep our customers happy.
Let's talk about your work in a few recent films first: What can you tell us about Diary of Death: Bloodstruck?
I worked with Tara Cardinal [Tara Cardinal interview - click here] on Legend of the Red Reaper and she introduced me to Joe Hollow [Joe Hollow interview - click here] who was directing Diary of Death. He had me make a bunch of props and special effect rigs and flew me up to New York where the production was taking place. I was filling in for another makeup artist so I didnít do all of the makeup on that film. I canít say much about it because I signed a non-disclosure agreement with him, but I can say that if someone is a fan of horror and gore, theyíre definitely gonna love this film! Itís a very dark and gritty film.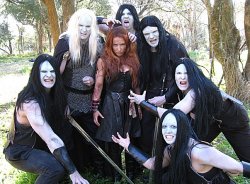 Tara Cardinal and her gang of creeps in
Tara Cardinal [Tara Cardinal interview - click here] and Matt Dean contacted me through my web site and we got together and went over all of the effects, makeup and some props that they wanted for this film. I got a crew together and we shot a big section of the film, but got hung up on some unforeseen issues. So there was a bit of a hiatus and then we get together again and shot some more. That actually happened a few more times, but we finally completed the principle photography! Now, Tara is heading up the editing process.
We made some foam latex appliances, silicone appliances, severed limbs, some sword stab effect rigs, arrow impalement rigs, did some body painting and went through gallons of blood! The film is action packed! There are so many stunts, sword fights and free-running that thereís never a dull moment. I had the honor of getting to play a part in it, too. I play Ren, a weasely, sidekick type of character.
I got to meet so many great people on that production that Iíll never forget, especially Tara. Thank you, Tara!
Super Town: Garden Party of Evil?
This project fell flat on its face. I had hoped that this one would get completed, but unfortunately, it didnít. Itís a spoof of the lives of super villains and super heroes. I made a skull appliance for the main character and applied a bestial type of makeup on another character. But nothing happened with this one... L I spoke with the writer and main villain actor, Lucas. He mentioned doing a total re-do and doing it the way he had originally had wanted to.
The Not-So-Scary Monster Movie Show?

Feeling lucky ?
Want to
search
any of my partnershops yourself
for more, better results ?

The links below
will take you
just there!!!

Find Tim Hays
at the amazons ...

amazon.com

amazon.co.uk

amazon.de
Looking for imports ?
Find Tim Hays here ...
Something naughty ?
(Must be over 18 to go there !)

This was a fun project to do. Dan Carro wrote and produced this one as well as played the main character, Gore Heckspawn. We made three episodes which aired on WHDO, but when the economy went downhill, WHDO folded and the series ended.
I made headpieces, pointed ears, costume parts, props, even a few of the set pieces and did all of the makeup. I even got to play Goreís father Killtron Hellspawn.
Devil's Nine?
I canít say anything about this one at this time, because of a strict non-disclosure agreement. I can say that I couldnít have done this without the support of Josh Counsel and Shane Ferrell. We only worked a few days on this one before someone else took over doing the makeup after us. Iíve seen some of the footage of what weíve done and it looks good!
You have also worked on quite a number of fan-movies, like Star Wars: The Forgotten, Star Wars: A Dark Beginning, Predator: The Musical and Batman: Knightfall. Does work on these differ any from work on 'regular' films, and how would you describe the special vibe on fan-movies?
These films differ because we had no budget and were making these for fun film contests. Some were for the Wizard Magazine Fan Film Contests. Except for Star Wars: The Forgotten, which was Doug Malleteís film. He dumped that one before it was even done.
The vibe is different because of the fun and excitement! Typically on a bigger film, youíre there in your professional mindset and ready to do whatever it takes to get the job done. On these fan films, itís like a bunch of friends getting together for a day or two and having fun, joking around and sometimes even brainstorming right there on the spot to make this cool piece to enter into a film contest or whatever. I mean, you still want to do your best, but thereís not a lot of pressure.
Any other films you were involved with, any future projects you want to talk about?
Ray Eddy and I have formed our own production group and are gearing up to make our own films that WE want to do. I have written three scripts and am working on a fourth and fifth right now. I have a lot of trust in Ray because he is so tenacious and honest and hardworking. Iím very excited about this prospect and will do whatever I can to make this happen! We have assembled a great crew that is very excited as well to get our first film off of the ground.
There are a few other projects that Iím working on, but unfortunately, I canít say much about them due to non-disclosure agreements. But one of them will be out on the internet and will be revealed very soon!
Besides working on movies, you also create special effects for Universal Studios Orlando. What can you tell us about your work there, and how does creating special effects for live shows and such differ from creating effects for films?
Working at Universal is very rewarding and I do love it, however the classification of the job that I do there has been re-evaluated. As of a year ago, I am an Ďon-propertyí prosthetic makeup artist, which means our department has split and now there are Creative Fabricators that work in the shop, making the masks, prosthetics and such for Halloween Horror Nights and Grinchmas. Iím one of the makeup artists that apply the makeup and appliances. We used to have eight full-time makeup people, two part-time and a slew of seasonal artists. Now, weíre down to two full-time artists (which are Evan Moore and I), two part-time artists and about forty seasonal artists.
The difference in making things for live shows vs. film is VERY big. You can maintain makeups in film much easier because you can do touch-ups between takes. You have to keep the lighting in mind for film and if something breaks, you can do another take. For live events, if something breaks, you have to work around it in the spur of the moment.
When it comes to (hand-made) special effects, you have pretty much done it all, from special makeup to full bodysuits, prosthetics and whatnot. What part of your effects work do you enjoy the most, what could you do without?
I love sculpting and painting. Those are where I can just let my imagination flow and do some creative things. I try to learn new effects and try out new products whenever I can. I love trying out samples and new techniques. For something I can do without? Iíd have to admit, I rather despise sanding fiberglass. I donít think that anyone enjoys it, but Iíd rather not do that ever again. I know that thereís no way around it sometimes, but I would grit my teeth and just get the job done.
How did you learn to become a special effects artist? I mean, did you take any special classes, did you have any education as an artist/sculptor first, or whatever?
I read a lot of magazines and watched those Ďbehind-the-scenesí shows, but when I was a kid, I discovered a costume shop not far from where I lived that sold some special effects supplies and books. I was in there quite a lot, asking the guy behind the counter so many questions. Iím sure that he dreaded seeing me come through the door and go straight to the makeup counter. He sold me The Techniques of Three Dimensional Makeup by Lee Baygan which I still have to this day. I studied that book from cover-to-cover and learned so much from it. I have to say, though, that I learned most of what I do from working in the prosthetics lab at Universal. Also, taking the Dick Smith course has taught me so much. I tell all of aspiring makeup artists that I meet to look him up at: www.dicksmithmake-up.com. He has a beginner course and advanced course. I highly recommend it.
Going even further back in your life: What inpired you initially to go into effects-making?
I can remember seeing the Creature from the Black Lagoon and some of those old Hammer films with Christopher Lee as Dracula and just being awe-struck! My older brothers were into watching monster films, but I wanted to make monsters! My parents bought me some clay and paints which I would get so excited about. But a friend of mine showed me a copy of Famous Monsters of Filmland and I was hooked! When I was around 14 or 15, I tried making my own latex Halloween mask, but I didnít have a head to sculpt on, so I made it in sections and glued it together. In retrospect, it was pretty terrible-looking, but you have to start learning somewhere, right?
Most of the films you work on are of the horror/monster movie variety pretty much by default. Is that a genre you are particularly fond of?
Honestly, I donít really care much for gore. I know that sounds odd, but I like to be challenged and gore is just so messy and anyone can do it. In my opinion, zombies are so overrated and overdone. It seems that horror films are what people like to make and are makeup heavy so I get called for them. I like to try to come up with something original and new, but thatís getting harder and harder to do. I think that monster movies are fun, if the monster is something of a character and not just a shadow lurking in the darkness.
Any kind of monster you'd love to create for the screen but haven't yet?
A huge, mutant cyborg alien that has been amalgamated with plant DNA and has six clawed tentacles for arms and a spine that has extended spikes sticking out. Iím joking. I think an updated version of the Creature from the Black Lagoon would be really fun!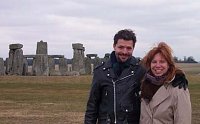 Tim and Ruth Hays
Your wife is fantasy author Ruth Davis Hays [Ruth Davis Hays interview - click here]. Does her writing in any way influence your work (and/or the other way round, actually)?
We are both creatively driven and will constantly bounce ideas off of each other. Weíve been together for over 18 years and are at the point in our relationship where we will tell each other if an idea is not great at all. We never fight and get along wonderfully, but we arenít afraid to speak our minds and take criticism from each other well. I think that you have to be around creative people to spur creativity in yourself, so in a way, yes, we inspire each other in our works.
Effects-wizards who inspire you?
Definitely Dick Smith. Rick Baker, Stan Winston and Rob Bottin are up there, but I have to say that Dick Smith was the one who definitely inspired me! He freely shares information and experience and has a limitless knowledge of products and resources. He is so intelligent and caring.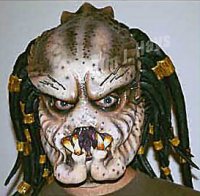 Predator, as rendered by Tim Hays
Your favourite movies?
Well, the movies that I love are action types. I love martial arts movies and I know that not a lot of makeup and effects are typically in them, but Jackie Chan and Bruce Lee are my favorites. I love Big Trouble in Little China, too.
As far as FX movies, I really love the Aliens movies and Predator movies. I study the various skills that it takes to make movies, like stunts, acting, lighting and camera op. I found that makeup and script writing are sort of my niche.
... and of course, films you really deplored?
Ugh! Thereís so many! If a film has no real feeling to it or is really mainstream, chances are, Iím not going to like it. I like films that are really different or that a very small number of people have heard of, such as: Condorman. J
Your website, Facebook, whatever else?
My website is: www.monsterfx.net. My facebook is: http://www.facebook.com/tim.j.hays. Iím also on IMDb: Tim Hays III and my Model Mayhem is: 473695.
Anything else you are dying to mention and I have merely forgotten to ask?
Yes! Iím very happy and honored that you took the time to interview me. Thank you.
Thanks for the interview!