Your new film The Virgin Murders - in a few words, what is it about?
It is a journey into the mind of a paranormal investigative reporter who has begun to lose his grip on what is reality and what is not. Tied in to this is an actual snuff film serial killer on the loose and vampires out for revenge.
How much of yourself have you put into The Virgin Murders' lead character, the deeply flawed paranormal researcher - and connected to that, are you personally interested in the paranormal, and did you do any serious research on the subject?
The lead character was already partially developed before I began writing on the script. All I did was attempt to make him more likable and human. As for the paranormal I have always been fascinated with it and have some ties to the occult and had personal experiences with ghosts and the like. I have always enjoyed reading paranormal magazines like Fate and often thought it would be great to be a writer for a magazine like that and wondered what they might be like.
(Other) sources of inspiration when writing The Virgin Murders, and what can you tell us about your writing partners Ricardo Vasquez and Raven Blackwood?
Ricardo (Rick) had the original concept. He wanted to do a movie about a paranormal investigative reporter and snuff film killer but was having problems writing anything that could resemble a screenplay. What he did have done was a story of a reporter who gets a box of snuff videos and watches them filled with lots of footage of young girls in lots of sexual escapades being murdered. He turned this over to my friend Raven to turn into a screenplay for a movie. Raven had an entirely different idea and removed all the sex and nudity from the screenplay and really developed a couple of characters and their backgrounds like the cab driver who talks about the cult scene and the best friend that discusses watching real death video tapes as kids. When I got Raven's work I had to figure out what to keep, what to add, what format to put it in. I knew I did not want the original idea of lots of nudity and rape but also knew I had to have a bit of this in order to make the film work. I loved some of the idea Raven's characters talked about but felt we had to see the cult, see the vampires, see Katie Mitchell, and see the rape of Madison Miller. I figured just talking about it did not make a very interesting film so I wrote in all those scenes and then added dialog and changed things up and added other scenes to make these scenes work in the film. The ending was the hardest part. I originally had five different endings for this film. I really did not want Victor to die as I had kind of become attached to him during the writing but in the end I really had no choice. I had created such a flawed character that there was nothing to do but kill him.
The Virgin Murders actually revolves around a pretty violent rape and murder scene. How, ummm, straining was that for you as a woman to shoot, and what can you tell us about your "victim" Aneliese Roettger, how did she handle the scene and how did you find her?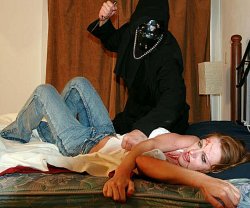 We had cast three different women to play the role of Madison Miller before we found Aneliese. The other women after thinking about it all decided they could not really do the role. When we found Aneliese we were overjoyed. She was such a professional to work with and such a sweet person. We actually all became really good friends during the shooting. Even so it was really difficult to shoot that five minute rape scene. The only men allowed in the room during that scene were our Director of Photography who was running the camera and the Black Knight (the male actor). We had our female PA's run the slate, sound, special effects blood and me and the other female producer on the project Anelyse Belsom ran the entire scene. We wanted this to look like it was filmed on a personal video camera on a tripod so only one angle was needed and when we shot the first take and it worked I did a quick watch of the footage to make sure it was all there and we wrapped it. I figured I did not need tons of shots of this scene to try to make it look like old bad footage and I did not want to put my actors through anymore then I had to as it was uncomfortable for the both of them as in real life they were actually friends. We even did our best in the cut and edit of this scene to be as tasteful as possible and not just throw beaver shots out there for the audience.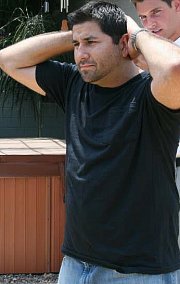 A few words about your lead Elias Castillo, how did you find him, and what made him perfect for the character?
We were doing open casting calls throughout the Phoenix area and listed in a variety of places. When we were contacted by Elias to audition none of us knew who he was but we were happy to hear from him. Sometimes things are just meant to work out. The second I met Elias I knew he was meant to be Victor Marquez. He had exactly the right the look and is very personable in real life and that is really how I pictured the character. I wanted the audience to like him even though he was such a mess and Elias pulled this off perfectly. If I could redo this and cast anybody I wanted for this role I would not change a thing. I truly feel that Elias Castillo nailed it and gave me the exact Victor Marquez that I had wrote. Besides that, he was also a joy to have on set. We were a new crew doing a first project and he was great and complimentary and always did exactly what we asked of him.
You also appear in front of the camera in The Virgin Murders - so what can you tell us about your character, why did you choose exactly this (less than likeable) role, and a few words about Tina Randolph McCulloch the actress?
From the time I was very young I always loved to act and participated in many school plays and community theater. I found acting to be fun. I figured if I was going to act this was a good role for me as it was different from my real personality so it would be fun to do. We actually shot that scene last as once I got a taste of being behind the camera I really did not want to be in front of it again. This may be the last time you see me acting in anything.
What can you tell us about the rest of your key cast?
Wow! This is a great question. So many of my cast had never acted in anything ever before and truly surprised me with their raw talent.
Sami Goodrum (my daughter) - at the last minute the actress set for this role went to the Bahamas to get married and left us in the lurch. We did not have the budget to reschedule the location so we gave my daughter a chance. Our thought at the time was if it did not work out we would figure out later how to reshoot that scene but as the location was already set up we would just go with it and see what happened. She truly surprised us with how good she was and we kept it.
Klive Kennedy - a musician who contacted us to do some music for the film had the right look and so we took a chance casting him as Dragos and we were all incredibly surprised at how well he did as he showed up on set with all his lines memorized and was truly one of those one take wonders.
Andrew Scully - a college student at Arizona State University auditioned for us and was cast as the second FBI agent. On the day of filming when FBI agent number 1 did not show he was able to get his friend to play FBI agent 2 and step up in to the role of FBI agent 1 as he had memorized the entire scene.
Shane Dean, Kelly D'Amato, Nomiki Konst, Patrick Giglio, David C.Hayes [David C.Hayes interview - click here], Jeff Dolniak, and all the rest were fabulously talented.
All of our cast were great to work with. They really listened to what we wanted and were super excited about the project. Their upbeat positive attitudes made the work fun. I would gladly work with any of them again at any time.
How would you describe your directorial approach to your subject at hand?
The subject matter was dark and disturbing. I had to get the actors into that frame of mind for the shoot but still did not want the filming of the project to turn in to a miserable chore for them or something they dreaded so I tried to plan fun events and meet ups after most of our more disturbing shoots to keep the mood light or at least to have them leave for the day in a good mood. I also spoke to them all about their characters and let them have some say in what their character was like and how they would dress and what props they would need and let them help build those characters and help set up the set to work for their characters. I think in allowing the cast a bit of control it helped them do a better job. Prior to actually filming each day I explained what I needed and what angles we were going for so they would have a clear idea on how many takes we were going to need and asked for their feedback to see if there was anything they felt we could change before we started shooting to make it go smoothly for them.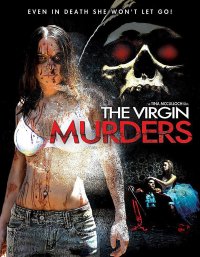 What can you tell us about the actual shoot and the on-set atmosphere?
This was a great group of people to be around. By the time we ended shooting I really felt like I made some new best friends. We had a great time on set. Everyone seemed to get along really well and have fun and we really enjoyed it. If you are going to film for a 16 hour day in the desert of Arizona at 118 degrees with no air conditioning you better like each other or tempers will fly. We really could not have asked for a better group of people.
From what I know, The Virgin Murders was at least in parts financed through live concerts and even mud-wrestling events - you just have to elaborate on that!
We had no budget, no investors, and no experience. This meant if we were going to make this film we either had to pay for it out of pocket or figure out a way to make money. The band event seemed the easiest. I contacted a local bar owner who was a friend of mine and he agreed to let us use his establishment for free to have the event. We then went on MySpace and advertised for bands. We let them know if they would agree to play a 30 minute set for free we would guarantee them one of their songs would be in a horror movie. We ended up with more bands then we could use, we ended up with tons of music to use in the film for free, and we made enough money to get started on filming.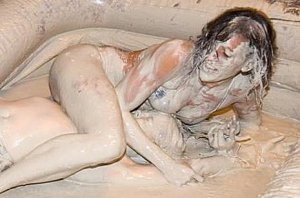 Halfway through filming we knew we needed some more money and were looking for something else to do. The other female producer Anelyse Belsom and I were out at lunch and talking about ways to earn money when we came up with the idea of a female bikini mud wrestling event with some of our actresses and the public. I discussed jello and pudding wrestling that I had done in college and how much fun it was and the next thing we knew it was set up. The funny thing is everyone thought is was the guys that came up with this idea but truly it was me and Anelyse. Like the filming of the rape scene we took the approach to this event as being fun and bit sexy but did not market it as a sleazy undertaking and it was a huge success. The news station and radio station and newspaper came out to the event and we ended up with tons of publicity, money to finish our film, and of course a great time was had by all the cast and crew that participated.
What can you tell us about critical and audience reception of The Virgin Murders so far?
We made this film for less then $5000 and none of us had any prior experience of any type. Keeping this in mind this is not a big budget, CGI, perfectly executed film. If you like that type of stuff this is not the film for you. So far the critics that have seen it have either liked it or did not get the story at all. This is one of those films that you may watch the first time and not get and have to watch a second time to pick up all the little clues that are hidden throughout it to explain the story and ending. Those people that got it have truly enjoyed the film and story. Those who did not are confused and pick apart the technical flaws. Yes, like all small independent, first time projects there are some technical flaws but nothing large enough to take away from the fun and interesting story of The Virgin Murders.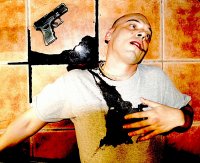 The audience overall has enjoyed the film. I have had a few pieces of hate mail from women who have not watched it but read about it and heard about it and want to yell at me for being a woman and writing and directing something about rape and murder but my response is always the same to them. This film was in part written, directed, and produced by women. Watch it before you make a judgement call as this is not an exploitation film at all.
What got you into filmmaking in the first place? And did you receive any formal training on the subject?
I had directed and acted in theater but never did anything in film. When I was first writing the screenplay the plan was for me to write and then turn it over to a local production company to make the film. When this did not pan out I was already too attached to the screenplay to just walk away and let it go. So I was talking to some friends and said "we are all college educated, really organized, and creative, how hard could it be to make a movie?" Famous last words. Actually it was really hard as we knew nobody in the industry, had no connection, had no training of any kind, and had no money but in the end it all came together through hard work and perseverance. It also helped that we had a lot of friends and local ties to people in the fetish scene, art scene, music scene, and dance scene in the Phoenix area. It allowed us access to extras and props and location we would have never had otherwise.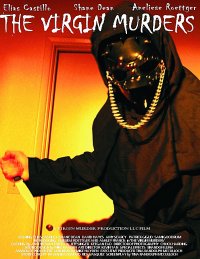 We met lots of scoundrels along the way. There were people who told us we could not succeed unless we could come up with $150,000. There were people who tried to take over our project and stop it. There were people who belittled us and told us we would never succeed. There were people that were snobby and full of themselves and had never made anything on their own to give them the right to be this way. If you were to listen to some of these other filmmakers we had encountered you would be terrified to make a film and would assume there was no way in the world you could succeed in doing so unless you had a large trust fund or had hit the lottery. I am so glad we did not listen to them and just went out and did it. I would also encourage anyone else out there who wants to make a film to just do it. You do not need a film degree or a million dollars, all you need is a desire to make a film, and tenacity to see it through no matter how long it takes.
What can you tell us about your filmwork prior to The Virgin Murders?
This is my very first. I had never been in a pre production meeting or on a set prior to this. Since I have done a couple shorts and a few commercials but The Virgin Murders is my very first project of any type in any role.
Any future projects you'd like to talk about?
I just finished up a screenplay for my next film Were is Lilith. It is a were-creature flick with ancient religious overtones and secrets.
I am really excited about this one as I got to write the screenplay completely on my own and it is amazing. I also am excited about getting to do a lot more large action scenes and a ton of blood and gore and special effects make up. The creatures are going to look amazing. My director of photography Chuck Harding from The Virgin Murders is going to film this one for me and if I can find a good production team to work with and a solid cast it should be incredible. The hope is to do the filming beginning of September of 2013 and this will be filming in Montana not Arizona. If editing goes as planned the film should be completed and ready for viewing and festivals and distribution by early spring 2014.
How would you describe yourself as a director?
I am really easy going. I like to try to make everyone feel valued and a part of the project so I am always open to suggestions from cast and crew. I do not like to be a total autocrat. You never know who is going to have a great idea you may not have thought of and to make the best product possible you have to be open to all ideas from everyone.
Filmmakers who inspire you?
Rodriguez, Romero, Argento, Burton... this list could get quite long.
Your favourite movies?
1931 Dracula
The Princess Bride
From Dusk till Dawn
28 Days Later
Anything with Johnny Depp
everything by Ed Wood [Ed Wood bio - click here]
everything by Troma
everything by Hitchcock
Anything with Vampires and Zombies
Conan (the original) and Red Sonja
Clash of the Titans (the original)

... and of course, films you really deplore?
Remakes!!!! Please stop remaking all my favorite films! If they were done right the first time do not touch them. Leave them alone. Come up with your own original idea instead of stealing someone else's. You cannot make The Shining any better than it was. You cannot do a better Evil Dead. You cannot do a better Conan or Clash of the Titans or Halloween or I Spit on Your Grave or Last House of the Left or Night of the Living Dead. Leave the classics alone!
Your/your movie's website, Facebook, whatever else?
http://www.facebook.com/pages/The-Virgin-Murders/321859667847240?ref=hl (Facebook)
deepmurdergirl@gmail.com (email)
http://www.ebay.com/itm/The-Virgin-Murders-NEW-DVD-/
370645779473?pt=US_DVD_HD_DVD_Blu_ray&hash=item564c35c411 (where you can buy the film)
Anything else you are dying to mention and I have merely forgotten to ask?
We are currently for sale on eBay if you want to buy a copy. We should have international distribution in the next few months so keep your eyes open for that.

Feeling lucky ?
Want to
search
any of my partnershops yourself
for more, better results ?

The links below
will take you
just there!!!

Find Tina Randolph McCulloch
at the amazons ...

amazon.com

amazon.co.uk

amazon.de
Looking for imports ?
Find Tina Randolph McCulloch here ...
Something naughty ?
(Must be over 18 to go there !)

Feel free to contact us on our Facebook page if you have any questions as we love to hear from fans and personally respond to all inquiries.
If there are any first time filmmakers out there that need advice or help feel free to email me at deepmurdergirl@gmail.com and I would be happy to provide any assistance I can.
A special thanks to my production team Mike Hayden, Anelyse Belsom, Chuck Harding, Veronica McCue, Brandon Luna, Sami Goodrum... they all did so much work on this project and were so amazing in their creativity and abilities. I could never have asked for a better production team or better friends. I love all of you guys so much!
Special Thanks to World Wide Multi Media (my distributor) and Walter Ruether for taking a chance on a first time filmmaker and distributing The Virgin Murders.
Special Thanks to Chad Freeman who did our first review for PollyStaffle and hooked us up with our first film festival and Eric from Stray Cats Bar and Grille in Tempe Arizona for hosting our first event and after premiere party and Matt from The Chandler Cinemas who premiered our film and all the locations and extras and everyone else involved. The success of this film is a success for all of you. We could not have done it without all of your help and we truly appreciate that and appreciate you.
Thanks for the interview!