Your new movie Misfit - in a few words, what is it about?
Misfit is basically about a young girl who is bullied beyond what could be construed as normal. Basically it's about being pushed to the edge and not caring about what happens when you decide to explode. It's about psychological terrorism basically. Teenagers today are for the most part just absolutely horrible to each other with the invention of the social media platforms. I mean bullying just doesn't happen when you go to school anymore, it takes place 24 hours a day 7 days a week. We went with just the physical face-to-face bullying but it's such an issue that we decided that we were going to tackle it but tackle it using the horror genre to do it.
Misfit is a movie that carries a strong anti-bullying message - was that at all intended from the get-go or did that just sneak in during writing?
Misfit actually came from a photo shoot that we did with a high-school girl who had a love for horror films and was bullied quite a bit herself. We didn't know that when we first took on the photo shoot, myself and my good friend Scott Stewart. We had done this photoshoot probably about 3 years ago and it was February and it just snowed, it was cold, we were running around with knives and chainsaws and fake blood and just did a pretty crazy shoot. When we were done we were on our way back home from the shoot and the young lady who had wanted to take the pictures said to us "boy, wouldn't be people be scared of me if I showed up at school looking like this." And I kind of sat there and I thought about it because when something grabs me when it comes to ideas for movies that aren't the norm I always tend to gravitate towards them. I actually went home that afternoon sat down and within a couple hours we had the outline for Misfit, and being a victim of bullying myself, or I guess you could say not so much a victim but a survivor of being bullied when I was younger, and you know the cyber bullying comes along with all "your movie sucks" or you know people just continually downing your work, but when I sat down to do the script I basically took a lot of my own experiences and also took what my thinking pattern was when I was bullied, and incorporated that into the script and then I talked to Jennifer Gentile, who was my first pick for that role as Stitches, and said you know what are some of your experiences, so we kind of did a combo deal so in a lot of what is in the film is basically stuff that we had experienced. And the sad part about it is the bullies don't always tend to see what it is that they're doing, and it's just like poking a sleeping dog or poking at an animal when it's eating, it's a bad call because you are basically playing with fire, and people continually ask about school shootings and craziness like that, when you look back at a lot of these kids that have done this horrible deed most of those kids were bullied. So it's not a gun problem it's a bullying problem, a lot of it stems from those kind of things, so I think people really need to start talking to their kids and start thinking about what it is that they're doing insane because that's just that, you're there just playing with fire and they just don't realize it and then when that fire gets oxygen and explodes it's all you know all bets are off.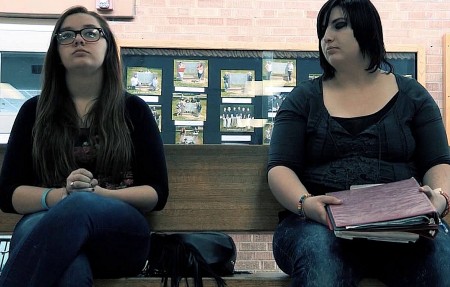 (Other) sources of inspiration when writing Misfit?
As far as other sources, I mean I being 53 years old, I am from the old school of horror I grew up with, you know the original Halloween films the original Friday the 13th, you know back when the horror genre was scary and not gory. So when we did the first Misfit I was more trying to go for a little bit of tension and suspense and not so much for being a bloody film, but after we had it finished there were some places that I wish I would have maybe stepped up the gore just a little bit because I felt like there could have been more. But in the end we were we were happy with the fact, and you know it, having watched several large audiences react to what's on the screen has been very satisfying.
To what extent can you identify with Misfit's lead character Stitches? And to what extent with her "mentors" Roman and Aldon, actually?
I mean again being that I was bullied it made it really easy to identify with her and because she's every kid you know who's ever been picked on. The Stitches is the epitome of the picked on kid, the kid that is not as cool in social terms as other kids, somebody that may be overweight, somebody that maybe you know who just doesn't fit in or doesn't like everything everybody else does. There's this whole social acceptance horse crap that seems to come along with being a part of the "in crowd" and I myself have never fit into the in crowd, I've always been on the outside with everything that I did. So for me it's really just being able to feel what she is feeling and that's what we tried to put in the film, and that's how come, you know we didn't start the film off and just dive in, you know I've had some people that have criticized it for taking too long to get to the horror part of the movie, but to me it's if you don't build a little bit of character development to find out who this girl is and what it is that is going on in her life, if you just jump right in and go right to the door then it's there's no chance to identify and there's no chance for anybody to look at her character and be able to identify with her. Which is why we took a little bit longer to build her character up. And as far as her mentors, you know if I can identify I would say that identifying with the mentors as an adult I do a lot of stuff with kids here where I live in Grand Junction, Colorado, and a lot of these kids that work on our movies need mentors - now mentors to teach somebody how to kill somebody and mentors teaching how to have a better existence or finding out that maybe you want to be a filmmaker and actor which a lot of the young people that we've worked with have gone on to become, which is a very cool feeling. So being a mentor in the way that that is positive for me is kind of what Roman and Alden are doing with Stitches, only they're going for the throat and I'm trying to teach them life lessons.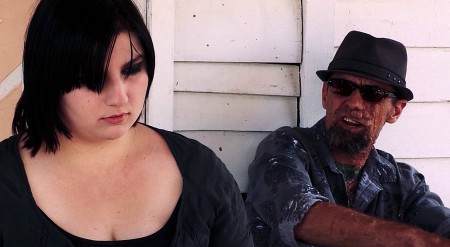 A few words about Misfit's approach to horror?
Our approach was to go into this having fun and approach it with being a little light-hearted with it, and you know a lot of kids when they are bullied there's a lot of things that happened within their head, and again being one of those kids or having been one of those kids that is the thought process. We wanted to approach it with real life situations and trying to get people to understand what the point of all this was that was going on within the confines of the 90 minutes of this film. We took the approach of also kind of thinking along the lines of the show Dexter because he killed those who he deemed to be bad people, he never just indiscriminately killed, so that was kind of our point and the point of Roman o matic and Alden James was that they had always gone after people who they felt were bad people in their heads, you know done them wrong personally, so that was that was the initial approach.
Do talk about your overall directorial approach to your story at hand!
I went back and looked at a lot of old school films I looked at the original Halloween, the original Friday the 13th, the original Nightmare on Elm Street, Last House on the Left. Being that I am an older filmmaker I looked at how some of these directors were able to build a little bit of tension. We got to know the characters before we started killing them off which I think is a huge mistake these days, we don't get to know any characters, they just throw a bunch of people and they throw a slasher bad guy into it and then they just start killing people and we don't care about them, and that was my approach was to try and get to know everybody, even the bullies, we didn't dig deep into their existence but we got to know who each one of them was to a point and make them some pretty horrible people, they didn't just treat Stitches poorly, they treated everyone like that, one of the scenes in the film has them being pretty horrible to one of their teachers so it's kind of one of those things that I wanted to make sure that we knew who everybody was and that when it got time to kick the horror part of it in that people got it, people understood it, and now it was time to turn up the volume and start freaking you out, start scaring you a little bit. I had a lot of brand new actors in this film, and it was one of those things that I was trying to teach each of these actors, to try and be more natural. Now did it work with everyone? No, but I've seen some pretty expensive movies with some actors that are getting paid a lot of money that couldn't act their way out of a brown paper bag. A lot of the actors that we had had never acted before and could dance circles around some of these big Hollywood actors. So I was very aware of paying attention to when they were sounding like they were just reading or just saying a line to say it. I learned from a very amazing film teacher named James Pasternak who is now a teacher at the Los Angeles Film School. I was privileged enough to take private classes where it was myself and 5 other people in the class, and he taught us not only where to put the camera but how to direct actors. I mean I learned more in the six months that I had those private classes than I ever did from any film school stuff, and I think that's a lot of that is missing in even horror films today, they've got too much money and they're more worried about how it looks than worried about the story, and that was one thing that somebody had said, while your movie doesn't look as professional, but with the characters you sat through the whole thing I watched your face. You looked scared and you covered your eyes a couple times. So regardless of how the film looks I did my job as a filmmaker. I don't want my movies to look like everybody else's. I mean what's the point of making movies if your movie looks exactly like everybody else's movies that are pointless and have no story line and you don't give a shit about who lives or dies?? To me at that point you should just stop making movies then.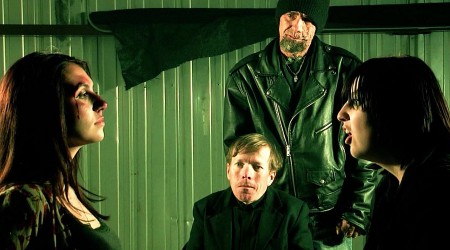 What can you tell us about Misfit's key cast, and why exactly these people?
As far as the cast is concerned I have always been one of those people that nobody ever gave an opportunity to do something, I've always had to go after it myself, and I've always said that if I ever had the opportunity to give somebody else an opportunity and give them a leg up or hand up that I would do that. And that's what happened with the cast of Misfit. Jennifer Gentile had always wanted to do some acting, Frank Moore had never acted but had always wanted to do some acting, and as far as Paul Sweeting goes, I wanted to give him a part that didn't involve not speaking. Paul had been in several films of mine but he never had a speaking role and I thought it was time that he got to exercise his acting chops. And you know, Paul being a little person, there's not too many opportunities for somebody with his I'm not going to call it a disability but in a sense it kind of is a little bit of a disability, he does have problems walking, he has to walk with a cane, and he just doesn't always get to be out front, he gets to be in the background and I just thought it was time for him to shine in front of the camera. So there are our three main characters, all had never been the stars of any projects, and again, Jennifer and Frank had never done anything at all, so I thought it was time to put them out in front, and a lot of the other cast had never been in front of the camera and so we we rehearsed for a few weeks on and off to make sure that they were ready when it was time to get in front of the camera, and in my opinion you know they did the best that they could do. Jennifer has a lot of learning disabilities, and so including the dyslexia and a few other things, she tackled her role, probably ended in a different way than others would. Frank has neural fibrosis, which is considered Elephant Man disease, and you know he is, Frank's a little skewed anyway, he loves horror movies, you're going to his house, it's very decorative with you know horror memorabilia all over the house, so he had said to me one time if you ever have a role for a serial killer let me know. Well as you can see this project came up and I threw Frank into that role. On the whole I feel like all three of them stepped up to the plate and did exactly what we needed them to do and you know obviously there's some things that you look at as a filmmaker and go I wish I wish I wish, but you learn from it and then carry that into your next project and make sure that you don't make the same mistakes the next time or not even mistakes that you did, baby change the way that you do things.
A few words about the shoot as such, and the on-set atmosphere?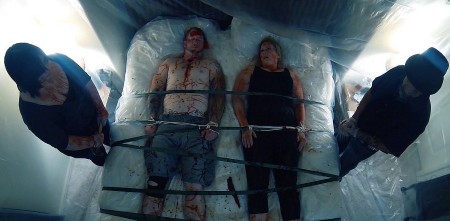 As far as the atmosphere I mean we had very limited time to get this project done and I am just one of those filmmakers who's very focused. I myself have learning disabilities, I do have dyslexia very very badly, and I am one of those filmmakers that can't have a lot of external noise on the set - not to say that people can't enjoy themselves and have fun and we all had a blast when we were shooting, but then there were times where you know, having a bunch of teenagers on the set makes for extensive goofing off and getting loud and laughing and there were a few times where you had to exert your authority and ask people to be quiet or shut up or whatever came out of my mouth at that particular moment because when you have such a small window of time to get things done you've got to burn through it and get it done and keep things moving. And for the most part with the exception of one day it was a lot of fun and we had a blast, we just had one day that was really off, everybody was off and I popped a cork pretty badly on that day, and you know it just happens when you start, especially when you start getting towards the end of the shoot when everybody's getting tired and you've worked anywhere from 12 to 14 hour days and all are working for free, so that makes it even tougher so you want to make sure everybody has a good time but like I said we had one day that was just really off for everybody, but we got through it and moved on. I'm very proud of of everybody's professionalism and willingness to be there for extended amounts of time and not being paid for it.
Anything you can tell us about audience and critical reception of Misfit?
So as far as any criticism of it or what the audience thought, it's all been mixed as it is with most films, you either like it or you kind of like it or you hate it, you don't like the acting you like the acting, you don't like the camera angles you like the camera angles, I mean I've had everything said about it from it's a masterpiece to it's a piece of crap, so it's all based on people's opinions. Initially when we released it it it got a lot of positive criticism or positive accolades and you know people were talking about it and liked it because it was different because it wasn't that same formula the same thing all the time, one rogue slasher and a bunch of stupid teenagers, that we didn't fit into that mold like I was talking about earlier. I mean it was light to the point that we got a distribution deal for it and we weren't even trying, I was doing self distribution and somebody popped up and said you know hey I want to distribute your movies, so now Misfit is a part of the Shami Media Group and is available at walmart.com, target.com, bestbuy.com and amazon.com which is a pretty cool thing. I mean all of the people who were in the film were proud of the project I'm proud of it, and honestly I don't really listen to the negative comments unless it's negative to the tune of telling me what they didn't like about it versus just saying it sucked cuz to me you're not worth listening to if that's all you can say without giving reason for why you think it sucked. I'm okay with constructive criticism, I know it's not perfect I don't say it's perfect, I don't tap myself the most amazing filmmaker on the planet because I'm not. I love to direct, I love to make movies. Some of my movies are good some of them are not so good, I'm no different than any other filmmaker. So if somebody wants to criticize my work, have a go at it, but at least criticize it to let us know what it was you didn't like about it and then that way we can maybe fix what was wrong with it there, but even then I don't know, film critics have never been at the top of my list of people that I have to worry about, because people thought that The Wizard of Oz was unimaginative and people thought that Citizen Kane was long and boring, and now they're touted as some of the greatest masterpieces on film, so to me it's it's neither here nor there if you don't like a movie I'm not going to sit there and get mad at you cuz you don't like it because there are movies that people like that I can't stand so it is what it is.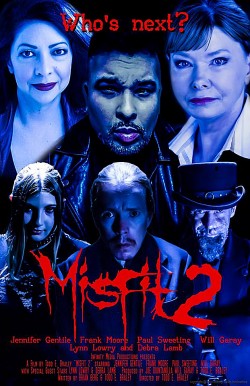 As far as I know, a sequel to Misfit is in pre-production as we speak - so do talk about that project for a bit, and how closely will it be related to the first movie?
So yes, we are currently in pre-production for a sequel to Misfit. As far as it being closely related to the first movie it still has the bullying theme to it but it's more now coming from our three main characters from the first movie, where there's actually bullying going on within the group. We have been lucky enough to have three legendary and very talented actresses, Lynn Lowry, Debra Lamb [Debra Lamb interview - click here] and Eileen Dietz [Eileen Dietz interview - click here], who have signed on to play significant roles in our film. Also joining the cast is Loran Bolding, Sarah Church, Michel Curiel, James Stokes, Nathan Reynolds, Kaleigh Violet, Will Garay and returning in their starring lead roles Frank Moore, Jennifer Gentile and Paul Sweeting. The sequel is going to be much bloodier and with more gore. We are adding a new serial killer and a few new characters. We are also planning 2 more sequels as well. Lots of twists and turns in this one too. We are all really excited to get started on this film.
Other future projects you'd like to share?
We have a television series that we are currently producing called Jeremesus which isgoing to air on Amazon Prime starting in January. We have 13 episodes planned. and the show centers around the second coming but Jeremy doesn't want the job. It's a great comedy series that we are already shooting and almost finished with the first episode. Summer 2019 are hoping to go into production with our shark film called Blood Loss - Survival of the Fittest which will be shot here in Grand Junction Colorado. And of course Misfit 2 will begin production in March of 2019. We also have mafia film, paranormal film and a 1980s biopic prepped to go as well.
What got you into filmmaking in the first place, and did you receive any formal training on the subject?
I originally began as a kid wanting to be an animator and work for Disney. But as I got older and started watching television shows like Starsky and Hutch and SWAT and Baretta, I found myself wanting to work more on the lines of either television or film. My mother and grandmother bought me some of my first 8 mm and Super 8 cameras. So I did what most teenagers do with a movie camera ran around and made cop movies. At that time we also had Miami Vice, so everybody wanted to be Sonny Crockett, so that's what we were doing. My mother worked for the McDonald's Production Studio in the city of Industry, California, and so I went over there quite a bit and got to do a little bit of intern work. But I was also a disc jockey at selected night clubs in Southern California and found myself spending more time doing that than making films. I developed a very bad drug and alcohol problem but was able to pull out of it, and in October 23rd of 1989 I stopped drinking and using, and have been clean and sober ever since. I got back into filmmaking in 1993. I wrote and directed my first larger-scale independent film called Dark Side of the Mind. It was from there that I met an actress whose husband had taken some private film directing classes from a gentleman named James Pasternak, who currently works at the Los Angeles Film School. I spent 5 years taking classes from Mr. Pasternak and learned so much about all aspects of filmmaking and then worked in Hollywood at various post production facilities trying to learn the trade but found myself disillusioned with the industry as a whole and in 1999 I left California and move to Colorado. In 2007 I found myself getting back into filmmaking and with the evolution of the digital age of cameras, internet and streaming movie channels. I had made the conscious decision to dive back in a hundred percent and I have been producing feature films, short films, music videos, television commercials and many other types of videos that can be used for entertainment advertising and marketing.
What can you tell us about your filmwork prior to Misfit?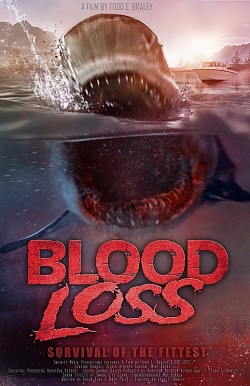 Prior to Misfit I had done two feature films, one called A Deadly Mix, which was about alcoholism and pregnancy, then I worked with a high school group to create a parody of Beverly Hills 90210, in 2007 I released a crime drama film called China White, and then the latest feature film is of course Misfit. In between a lot of those projects I filled with music videos and television commercials, marketing videos and short films. We also produced a 10 episode television series called Surviving the Undead, which was a zombie based television show about a dysfunctional family that has to learn to get along during the zombie apocalypse. That aired locally here in Mesa County on My Network TV and then was placed online where it was then noticed by the promoters of the Magic City Comic Con in Miami Florida, who then invited our cast and crew to go down to the con, give us a free booth, and then we were able to screen our show there and its entirety from there which we then won best web series for our show. I myself have garnered a best film, best director and one of my actors from one of our films garnered a best actor award. I have also won the Colorado broadcasters award for 3 television commercials I produced.
How would you describe yourself as a director?
I would describe myself as a director that has a clear vision of what it is that I want my films to look like and how I want my actors to portray their characters. I am told by many many actors that I am an actor's director which I have worked really hard to maintain because I feel as though that if you're not paying attention to your actors' performances your movie can look gorgeous, but then suffers from lack of actor direction. I like to have fun on my sets but I also crack the whip when it comes down to getting things done. We shot Misfit in 8 days with a 1 day pick up shoot. I like to move fairly fast, I already have in my head what it is that I want as far as my shots are concerned, and then we just try to execute our project in a timely manner. My biggest achievement in my directing is I let everybody know that their egos are not to show up anywhere on my set that this is a team effort and no one person is more important than the other.
Filmmakers who inspire you?
Being 53 years old I grew up in the time of Spielberg, Scorsese, Coppola, Kubrick, Romero, Tarantino, Rodriguez and what I like to call the mavericks of filmmaking. These days I don't really have anybody that I really look up to just because everybody has forgotten about how to tell a story. So for me I always refer back to my old school roots with movies like The Exorcist, The French Connection, Jaws, Taxi Driver, and even going back to older films like Casablanca, Citizen Kane and basing how I tell my stories via those old movies.
Your favourite movies?
I named some of my favorites on the last question but to reiterate my all-time favorite movie is Jaws, and it really is the film that kicked me into high gear to want to be a filmmaker. I of course and a huge fan of The Godfather films, Scarface, Apocalypse Now, Shawshank Redemption, The Shining, 2001: A Space Odyssey, Clockwork Orange, all of Romeros Dead films. Those are some of my top ones. Again I'm not a huge fan of a lot of films these days because I feel like the CG has kind of taken away from the storytelling and that it's depended on a little too much. I'd really like to see some of these movies get back to the storytelling and character development to where we care about the people in the movie. I mean even with old school movies like the original Friday the 13th you know you actually cared a little bit about these teenagers before they were killed so when they died it kind of sucked. But even in horror films today nobody spends a lot of time on any kind of character development which of course not all horror films need but I'm just one of those guys that likes to have a lot more character development than just turn the camera on killing a bunch of people and then calling it a film.
... and of course, films you really deplore?
I am super disappointed with some of the remakes that have been done that really didn't need to be done I'm not going to name all of them because they just seem to continually be coming out. I am burned out on superhero movies and have been thoroughly disgusted with the Star Wars films that have come out recently. I would much rather just go back and watch some of the older films again.

Feeling lucky ?
Want to
search
any of my partnershops yourself
for more, better results ?

The links below
will take you
just there!!!


Your/your movie's website, Facebook, whatever else?
We don't yet have a website for Misfit 2 that is currently in the works but here is our Facebook page link: https://www.facebook.com/misfit2movie/ We are also working on getting the rest of our social media put together for our newest film.
Anything else you're dying to mention and I have merely forgotten to ask?
We are currently in post-production with our dramatic film called Silence, which was actually adapted from a short film that we won best film for back in 2010 at the New Hope Film Festival in New Hope, Pennsylvania. That will be released in January of 2019 and will be available only on Amazon Prime. We're just all very excited to get to work with our original cast and all of our newest cast members for our upcoming film Misfit 2!!
Thanks for the interview!