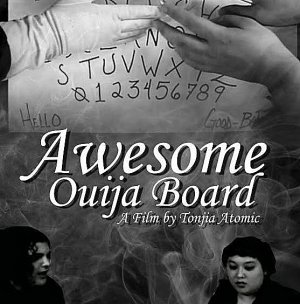 photo by by Joshua Phenicie
Your movie Awesome Ouija Board - in a few words, what is it about?
Awesome Ouija Board is a horror comedy about two turn-of-the-century women who decide to spend an afternoon playing with a homemade ouija board. Of course the results are disastrous.
What were your inspirations for thinking up Awesome Ouija Board, and how did the project get off the ground?
Awesome Ouija Board is a silent short that we made for the NorthWest Film Forum's silent movie challenge. I made it with my team members Forrest Baum, who co-directed, and Ada Karamanyan, who co-wrote and starred in it. I came up with the idea because I thought that it would be clever if a ouija board were to predict the death of the players of the board all because the board itself was planning to fulfill the prophecy. But of course we wanted to keep it fun and funny.
What can you tell us about your approach to comedy as well as to horror?
Actually I approach comedy and horror, all genres for that matter, the same way. I take it seriously. Whatever we're doing, and whatever the story, even if it's absurd, I take the world of the story seriously. I see the stakes for the characters as real stakes. No matter how ridiculous they may be, they are serious for the characters. That way it's believable for the audience and I think it makes the end result funnier or scarier that way.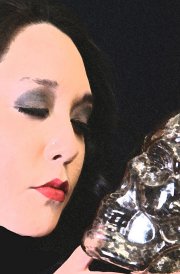 photo by Joseph Traina
Do talk about your directorial approach when making a film!
I try to give the cast and crew the information that they need before the shoot. It's important to me that they have not only the script, but other things necessary to their role whether it's character breakdowns, prop lists, or anything else. Even though my films are shot on a smaller scale I have all the important paperwork done because that is important to keep things running smoothly. I also give homework, usually a list of films to watch for inspiration. However, it could also be images to look at, a book to read, or whatever I feel is appropriate. As far as working with the cast I try to play to each persons individual strengths. I've found that some actors are more comfortable with improvisation while others really need lines to be set. Some actors need more preparation and others are ready to jump in right away. I try to provide a flexibility so that everyone can meet in the middle.
You also act in some of your films - so do you dream up the character with yourself in mind, and how much of Tonjia Atomic can we find in your characters?
I love to act. I can't help it. I love screen acting. It's different than stage acting where everything is big. It's subtle and introverted and I relate to that. Many of my stories come from dreams or daydreams where I'm picturing or have dreamed myself as the character. For me, to act out that character is a cathartic experience. I can't imagine doing it another way. I don't always plan it that way, however. A few times I've planned to only direct I've had cast members bail or get sick and have had to jump in and play their role. As far as how much of me is in my characters? I'd say that I take an aspect of myself and exaggerate it. If for example a character is particularly shy or bossy I look towards that part of myself and blow that up.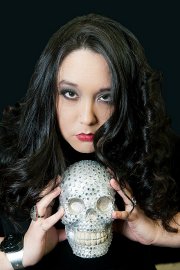 photo by Joseph Traina
A few words about when you're on set, such as the atmosphere?
I try to keep the atmosphere laid back while still keeping the shoot on track. I've been on ego driven sets or sets that are uptight and I tell you, they are no fun. I want people to take what we're doing seriously and to work hard, but also to have a good time. Making a film is difficult but also fun and should be fulfilling in some way.
What can you tell us about audience and critical reception of your films so far?
I've had such a good response to my films. I'm very grateful. The biggest complaint I get about any of my films has to do with budgetary restraints. I understand that. As I was telling a friend recently, so far made all of my films with $2 and a dream. If I actually had some sort of a budget to work with I could do much more. However, I've been nominated for and won awards with what I've been able to do at this point. I've also had great critical response from publications that I really respect and enjoy. I've also had great fan and peer response which is priceless. Again, I'm so very grateful.
You plan to make Awesome Ouija Board a segment of an anthology movie of yours, right? So do talk about that project of yours for a bit! And any other future projects of yours you'd like to share?
Yes, it's an anthology project that introduces the character of Meat Head Henry, the skinless killer, played by Bill Oberst jr [Bill Oberst jr interview - click here]. I intend to also make a feature film with that character. I've got a few other films in the works. I'll keep you posted!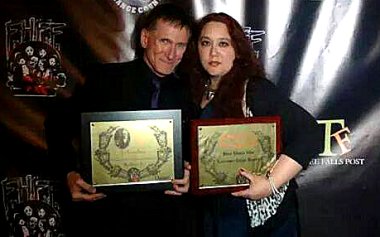 Tonjia with Bill Oberst jr at the FANtastic Horror Film Festival
photo by David Biber, Nick Danger
What got you into the filmworld to begin with, and did you receive any formal training on the subject?
When I was very young I wanted to either act or sing when I was older. Now that I'm older I know that creating the story is what really drives me. That's how I came to decide to write and direct. I went to a 2 year technical program at Seattle Central Community College for film. Sadly, that program got cut a few years ago.
Acting, writing, producing, directing, editing, composing scores and whatnot, you seem to have done it all - so what do you enjoy the most, what could you actually do without?
I enjoy all of it. Sophie's Choice! I could maybe give up editing to someone that I trusted that was on the same page as myself, but even that you'd have to really twist my arm for.
Besides making movies, you're also a musician, right? So do talk about your musical projects and your preferred musical styles?
I'm a rock/punk/goth kind of girl. I do love many styles of music including 50s and 60s pop, Hawaiian, big band, and so much more. I really love music. I insisted on having a radio in my room when I was 4 years old and would spend hours next to it with my hand on the dial exploring different stations. I'm in a comedy band called Duet To-It. We play paranormal disco songs. My other band is called Filthy Issue, that's the more serious one. We've worked on a few soundtracks and are working on a horror themed album.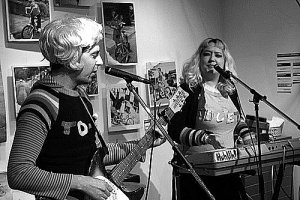 Duet To-It
photo by Joseph Traina
You also have to talk about your jewelry line for a bit of course!
My jewelry and nail polish line is called Hot Chick Physics. I use toys and miniatures to make the jewelry as well as your traditional items. I have a few horror pieces in my jewelry as well as nail polish. For example I have a polish that I created for Brinke Stevens and also one for the movie Krampus: The Christmas Devil.
How would you describe yourself as an actress and a director?
I think I'm a fairly patient director. I also pretty much know what I want in a scene. As an actress I am still learning. I just try to embody the character and give them a backstory as much as I can. I'd love to work acting-wise much much more so that I can someday really answer your question.
Filmmakers, actresses, whoever else who inspire you?
I'm inspired by the surrealist movement, Jean Cocteau, Fellini, David Lynch, John Waters, Roman Polanski, Truffaut, Kurosawa, and others of that vein. Also low budget filmmakers like Andrew Shearer, Nadine L'Esperance, Cory Udler, and Joe Sherlock who just make the stuff they want to and don't let anything stand in their way.
My filmmaking hero though, my all time hero that I would aspire to is John Sayles.
Your favourite movies?

Feeling lucky ?
Want to
search
any of my partnershops yourself
for more, better results ?

The links below
will take you
just there!!!

Find Tonjia Atomic
at the amazons ...

amazon.com

amazon.co.uk

amazon.de
Looking for imports ?
Find Tonjia Atomic here ...
Something naughty ?
(Must be over 18 to go there !)

The 400 Blows is my number one all time favorite movie. I also like Re-Animator, Ran, the silent Phantom of the Opera, and so many more. I love many movies and could talk about this all day.
... and of course, films you really deplore?
Although I sometimes enjoy to see slick big-budget cookie cutter movies, those are usually the ones that are most forgettable to me. If it's too cookie cutter and predictable it'll annoy me, especially if it has worn out old jokes.
Your website, Facebook, whatever else?
My website is www.tonjiaatomic.com. Everything is linked to from there. You can also search for me. My other stuff is all under my name.
Thanks for the interview!