Your new movie The Neon Dead - in a few words, what is it about?
The Neon Dead follows Allison, a pretty young college graduate who just inherited an ancient mansion that is infested with undead creatures. She contacts Desmond and Jake, two freelance paranormal exterminators, to get rid of the monsters, but unfortunately Desmond and Jake aren't terribly competent, and the situation goes from bad to worse when a malevolent demon reveals itself as the source of the problem.
I don't think I was too far off when I called The Neon Dead a "loving throwback to 1980s horror movies, expecially of the direct-to-video variety" - do you at all want to elaborate on that, and what do you like about these movies of old?
Oh absolutely! Growing up one of my favorite activities was renting horror movies from the local video store. I loved Full Moon (I often looked more forward to their Video Zone segments than the actual films), Godzilla, Hammer films, Ray Harryhausen, Italian sword and sorcery films... really anything that was low budget and off-beat. To this day I really enjoy House II: The Second Story and Waxworks II: Lost In Time. They don't get a lot of love from horror fans (possibly because they mix genres even more than their predecessors), but I just thought they were great fun and have likable characters that make me want to watch them over and over. Those two films are probably the two biggest inspirations for The Neon Dead, particularly Waxworks II with its climatic sword battle.
I think two things drew me to low budget movies. First and foremost is their creativity; because they didn't have the responsibility of a studio checkbook, the filmmakers could really do whatever crazy thing they wanted to, and it was almost required to differentiate their films from their higher budgeted Hollywood brethren. Second, you could often see the work that went into them, probably because they didn't have that studio checkbook. You could sort of tell how the effects were done, and that was inspiring because it made you feel like you could go out and do it too.
(Other) sources of inspiration when writing The Neon Dead?
Definitely video games. I played a lot of Nintendo when I was kid, with my favorite games being Zelda, Final Fantasy and Castlevania. I believe that Final Fantasy VI on Super Nintendo and Lunar: The Silver Star on Sega CD taught me more about storytelling and creating a memorable villain than any film or screenwriting course. My favorite part of these games are the boss fights where it's just a ragtag group of heroes versus a gigantic creature with everything on the line while epic music plays. This is really something I tried to bring to the last two fights in The Neon Dead; in fact, all of Z'athax's attacks are patterned after Agahnim's magic from The Legend of Zelda: A Link To The Past, and then of course there's the title cards that introduce the combatants just like Ocarina of Time. The swirling background of energy during the Z'athax fight is a riff on the final battles from Ys III and Final Fantasy IV.
You just have to talk about the effects work on The Neon Dead for a bit, both from the perspective of director and special effects artist!
Ha, yeah they're the reason the movie took several years to complete! Going into the film I knew I had written an FX-heavy script, and conversely we had no budget to really support it. With this in mind I tried to make the VFX unique and fun to watch since I knew I just didn't have the money or manpower to make them look real. This is why I chose to mix stop motion and live action for Belle and the Sons of Z'athax, and why all of the monsters flicker when hit (which also goes back to the video game influence). It was all about finding an interesting way to present the FX to the audience because again, it was low budget and we had to do everything we could to make it stand out from the crowd.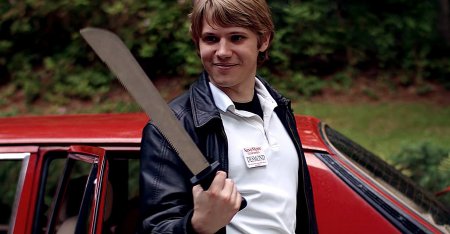 I will say though that for the sequel (fingers crossed on that) I would like to do more practical effects... even though I have a background in VFX I believe practical is the stronger option at least nine times out of ten. There's just something about seeing a real object that our brains pick up on that a computer generated image can't quite match, or at least not yet.
Do also talk about the brand of humour of The Neon Dead, and how important do you consider humour in horror actually?
It really depends on the type of horror story you're telling. I love all kinds of horror, from silent films to Italian cannibal movies to more family friendly fare like Gremlins. While I don't believe humor is intrinsic to horror, they do often go hand in hand. Humor can complement horror because when done right the two can create a roller coaster-like effect where you scare people, bring them back with a laugh, then scare them again.
Humor was definitely integral to The Neon Dead - I mean, it's a story about paranormal exterminators, and while I'm not saying it's impossible to do a story like that without humor, it certainly helps because the premise already requires a certain suspension of disbelief. Our biggest inspiration for the style of humor was of course Ghostbusters... like that film we tried to keep the supernatural elements relatively serious while letting the humor arise more from the characters' reactions to the monsters and undead.
What can you tell us about your directorial approach to your story at hand?
I think when you're making a low budget movie you have a responsibility to put your heart into the project since you don't have the money, and consequently I really tried to bring something special to every scene. For example, when Allison waits on her front porch while Desmond and Jake search inside she wasn't scripted to sing her line to the bird. As I was driving to set that morning I was thinking about how the scene just felt flat to me, so I came up with the idea to have her sing her line as it was kind of a Disney Princess-esque moment anyway. Marie Barker, who played Allison, wasn't too happy that I sprung it on her last minute but she pulled it off and several people have told me it's their favorite scene. It even made the opening of the new trailer from Wild Eye.
Do talk about your key cast, and why exactly these people?
I had worked with Greg Garrion (Desmond) many times before, and we just get along so well, both on set and personally. I knew I wanted him to play Desmond since he's not too far removed from the character in real life in that he has an arrogant sense of humor and plays a lot of retro video games. He recommended Dylan Schettina to me for the role of Jake; Dylan and Greg are close friends in real life, and I think that really helped their onscreen chemistry. Dylan was also my favorite person to have on set as he was always upbeat and never complained. As for Allison, I met Marie on a 48 Hour Film project, Making The Cut (https://www.youtube.com/watch?v=sO_0rc7gg10), which was our last short before we started production on The Neon Dead, and I just thought she was a very talented actress. I asked her to audition and she complemented Greg and Dylan so well that I decided to cast her. All three were willing to work for cheap too, which was of course important!
A few words about the shoot as such, and the on-set atmosphere?
Overall our on-set atmosphere was fairly laid-back. It was a small crew,
and in addition to having all worked together in the past we were pretty much good friends so there wasn't much yelling or drama. As a director you set the vibe of your production, and on a low budget project like this where people aren't getting paid what they're worth you really have to make them want to be there. I accomplished by keeping everything as relaxed as it could possibly be on a film set while also making sure we got all the shots we needed.
Anything you can tell us about audience and critical reception of your movie?
So far it's been overall positive, with most critics enjoying the characters, creatures and the fast-paced script. We've actually had some reviews that have really surprised me with how positive they were... the three that spring to mind are those from Legless Corpse (http://leglesscorpse.us/invasion-of-the-undead-2015/), Daily Grindhouse (http://dailygrindhouse.com/thewire/no-budget-nightmares-invasion-undead-2015/) and The Bloody Pit of Horror (http://thebloodypitofhorror.blogspot.
com/2015/04/invasion-of-undead-2015.html) back when the film was titled "Invasion of the Undead".
I think the biggest consistent criticism though has been the lack of scares and suspense, so that's something I definitely want to address for the next movie. Overall I'm really just thrilled that people are watching the movie and taking the time to write a review regardless if it's positive or negative... more indie films are being made now than ever before, and any attention you can get is extremely gratifying.
Any future projects you'd like to share?
Absolutely! I'm in production now on Dead by Midnight, a horror anthology series starring scream queen Erin Brown [Erin Brown bio - click here] for You42 (www.you42.com). I'm directing two of the episodes, and both of which will be very different from The Neon Dead. For my first episode Blindside I'm trying to channel the nightmarish quality of early Dario Argento (although I'm not sure yet if I want to keep the colorful cinematography or not) while my second episode Dead Air, which will also serve as the wraparound for the series, is more like Tales from the Crypt meets Videodrome. I'm really excited to make something darker, and also to work with Erin who I've always thought was a talented and likable actress. It's pretty crazy to work with a cult movie icon like her, and I was actually really nervous my first day of shooting. She's totally easy to work with though.
I also co-wrote another episode titled Lost Laundry with my good friend Jay Holloway that's more like The Neon Dead in that it's very 80s-inspired and mixes horror and comedy. It's almost like a lost episode of Tales from the Darkside or Monsters, which are two of Jay and I's favorite television series.
After Dead by Midnight, I have several projects I'd like to make, including a Hammer-style vampire film set in colonial America (which is my dream project), a video game-based horror movie and of course the sequel to The Neon Dead.
You first entered the filmworld as an effects artist, right? So what fascinated you about doing effects, and did you receive any formal training on the subject?
Yeah, my first professional job after film school was creating an animated HUD for a Cartoon Network commercial. I've always been drawn to effects... for a long time as a kid I wanted to be a stop motion animator since Ray Harryhausen was my hero. I eventually realized though that the director ultimately decided what the effects and creatures would look like, so I started gravitating more towards directing and filmmaking in general.
I never received any formal training in VFX; I taught myself After Effects out of necessity in film school (at Georgia State University) because the two shorts I wanted to produce (Troll Picnic and Jake and Julie Vs. The Boogeyman!, the former of which is a special feature on The Neon Dead DVD) featured VFX and I didn't know anyone else who could do them. I think my interest in VFX stems purely from the stories I want to tell.
Do talk about your filmwork prior to The Neon Dead?
Sure, I'm basically a jack of all trades. Prior to The Neon Dead I directed several shorts, all of which are either on our YouTube channel (https://www.youtube.com/user/MonsterBusterEnt) or featured on The Neon Dead DVD. As a VFX artist I've mainly worked on commercials, but I've had the great fortune to work on a few features your readers have probably heard of, including Gregg Bishop's upcoming Siren, his Dante the Great segment in V/H/S: Viral, Richard Griffin's Seven Dorms of Death [Richard Griffin interview - click here], James Rolfe's The Angry Video Game Nerd Movie, and James Bickert's Frankenstein Created Bikers [James Bickert interview - click here]. I specialize in low budget VFX, so if any horror filmmakers out there are reading this feel free to reach out to me!
I work as an editor also, and probably my most surprising credit in that field is 2011's An Elf's Story, based on the Elf on the Shelf Christmas phenomenon and that aired in the US on CBS, Cartoon Network and Sprout. That was one of my favorite work experiences, but I have no plans to make a horror version anytime soon (although the idea behind the Elf on the Shelf definitely lends itself to possibilities).
What made you want to try your hand at directing eventually?
Well, like I mentioned earlier I wanted to direct first and foremost since the director has the final decision on what the creatures look like. VFX and editing just pay the bills, although I do enjoy both of them as well.
Filmmakers, effects artists, whoever else who inspire you?
I've always been inspired by Roger Corman [Roger Corman bio - click here] (my fourth grade book report was on one of his biographies) and his ability to make movies that people wanted to see for next to nothing. Ray Harryhausen was of course a major influence, and my favorite director stylistically is probably Sam Raimi. I'm also a huge Dario Argento and Lucio Fulci [Lucio Fulci bio - click here] fan... I love the nightmarish atmosphere in their films. Lloyd Kaufman is of course another inspiration, for reasons similar to Roger Corman. Those are probably my top five.
In terms of current directors, I love Adam Green and how every film he's done showcases a different type of horror subgenre... Digging Up the Marrow is probably my favorite horror film of the last five years. Gregg Bishop is a friend of mine but I have to give a shout-out to him as well. Dance of the Dead and The Other Side were great, but he really knocked it out of the park with Siren. Going in I had zero expectations for it since I didn't think the story would work as feature (it's based on the segment Amateur Night from the first V/H/S for any readers who may not know) but he crafted such a memorable, disturbing and bizarre film that I really can't recommend it enough.
Your favourite movies?
This is going to be long... Jurassic Park, The Evil Dead, Army of Darkness, Ghostbusters (the original of course, but I did really enjoy the remake), Waxwork II: Lost in Time, Phenomena, Inferno, City of the Living Dead, Jason and the Argonauts, Prince of Darkness, They Live, Nightbreed (the director's cut), Heavy Metal, Goodfellas, Godzilla: Final Wars, Godzilla vs The Smog Monster, King Kong (the original, I don't particularly care for either remake) and The 'Burbs are probably my favorites in that I re-watch them frequently.
My favorite recent horror movies have been the aforementioned Digging Up the Marrow and Siren, but also The Green Inferno. I enjoyed that way more than I thought I would have, partially because it brought back memories of being completely horrified watching a VHS of Make Them Die Slowly as a child when my parents were out of town. I also caught Curtain at the Buried Alive Film Festival last year and loved it... definitely check that one out if you get a chance (https://www.facebook.com/curtainfilm).
... and of course, films you really deplore?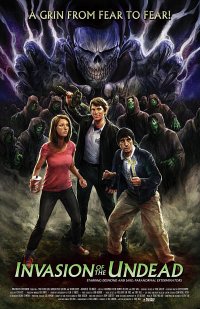 Feeling lucky ?
Want to
search
any of my partnershops yourself
for more, better results ?

The links below
will take you
just there!!!

Find Torey Haas
at the amazons ...

amazon.com

amazon.co.uk

amazon.de
Looking for imports ?
Find Torey Haas here ...
Something naughty ?
(Must be over 18 to go there !)

You know, I try to find something I like in almost every movie I watch. I'm a little harder on Hollywood movies than I am on low budget films since Hollywood has all the resources in the world, but at the same time I've worked on enough commercial productions to know that having too many voices in the final product can really ruin the artistic vision and audience experience. I imagine this is amplified exponentially when there's $200 million plus at stake, so I try to keep that in mind when I see a big budget movie. Making films is such hard work that I can't really deplore any film, and certainly not the efforts of its makers.
Your/your movie's website, Facebook, whatever else?
Facebook is probably the best place right now, since my production company's website (www.monsterbusterentertainment.com) is currently being retooled (hey, I'm a filmmaker not a web designer). You can find us at https://www.facebook.com/MonsterBusterEntertainment/ and The Neon Dead at https://www.facebook.com/NeonDead/.
Also check out Wild Eye Releasing's website at www.wildeyereleasing.com and on Facebook at https://www.facebook.com/wild.eye.releasing/. They're handling the distribution for The Neon Dead and will likely have more answers regarding the movie's release than I do!
Anything else you're dying to mention and I've merely forgotten to ask?
I don't think so, but thank you for interviewing me and for drawing attention to The Neon Dead and indie horror! Like I said there are so many movies being made now that any press is just great and I'm absolutely grateful for it. Also, thank you to everyone who reads this interview as well!
Thanks for the interview!