Your new movie Rogue Warrior: Robot Fighter - in a few words, what is it about, and what can you tell us about your character in it?
In Rogue Warrior: Robot Fighter, artificial intelligence has taken over the worlds - and there seems to be no end in sight - except for humanity. There happens to be a bomb out there that can instantly fry an AI positronic network, and my character sets out on her journey to find it and to stop them. She puts together an unlikely team and sets out to destroy the robots; however, along the way, she finds out that she's not exactly who she thinks she is…
It's a very human story with a lot of layers to my character and to her journey.
What did you draw upon to bring your character to life, and how much Tracey Birdsall can we actually find in Sienna?
I always tell everyone that we (Sienna and I) look a lot alike, but that's about it. Sienna is stronger than I am, more vulnerable than I am… I learned a lot about myself along the way. I always set out to create my characters (their flaws, their strengths, their purpose, their quirks - and their intention) and then I bring that to life by simply believing that I am them, and that their journey is my own. When directed by a director that I trust (Neil Johnson [Neil Johnson interview - click here] in this case), I never question the direction - I just flow with it. It's funny as doing an action film like this, you find that your physical endurance level is way beyond what you had imagined! I just… keep going… like working with a trainer in the gym where you turn your own brain off.
How much fun is it actually to play a badass robot fighter, and how did you prepare for the role?
This was actually the most fun I had ever had in a role, as I was living the life of a character I would have loved to have watched growing up. I trained 5 days a week both in heavy weights and fighting. I upped my proteins and my fats to put on extra muscle, and I really tore through the calories. This film utilized every strength I could muscle from physical to emotional to intellectual… and the imagination…
What drew you to the project in the first place, and how did you end up on the production side of things as well? And to what extent could you identify with the sci-fi theme of the movie?
Having grown up with a love for robotics and sci-fi, along with having an intense love for the genre, every aspect of this project drew me in. Knowing that I was going to be tortured by director Neil Johnson also was a draw, as I love being pushed to extremes (and he pushes hard). As an actor, we strive on bettering ourselves and being pushed to whole new extremes.
I wanted to help produce the project, as I wanted some creative contribution and control. Having produced and distributed my first feature in the late 1990's, I had a lot to offer the project besides in performance and skills. I really wanted to put the time into the casting also, as I thrive on working with other talented actors - it's like magic. I wanted to work with other actors who brought a lot to the table, and also who lived their roles. Most of the "producing" that I did was in pre- and post-production. During filming I had to focus completely on my character, her relationships, and her journey.
What were the main challenges when producing Rogue Warrior: Robot Fighter?
I would say that the main challenge was in the extreme elements of working on location (high heat/storms/wind storms), but that's also what brought it to life. Also, scaling the back of the mountains between takes (they were really high), and the amount of shooting days that went into it. It's funny as I only think of challenges when we aren't shooting or when we are preparing for the next take… I never feel challenged when the camera is rolling.
With director Neil Johnson [Neil Johnson interview - click here], you've done quite a few movies over the years - so how did you two first meet, what can you tell us about your previous (and future) movies, and about your collaboration on Rogue Warrior: Robot Fighter?
We were aware of each others work for many years prior to working together. One day we had a lunch meeting (during a time where I was winning a lot of awards), and we discussed working together. We have a similar work ethic, drive, and passion for what we do. It started off small, with me voicing a couple of roles for him… and then I've led up his latest two projects. We really work extremely well together, as we will both do whatever it takes to get the perfect shot each time.
Do talk about the rest of the key cast on Rogue Warrior: Robot Fighter, and as a producer, did you have any hand in the casting process?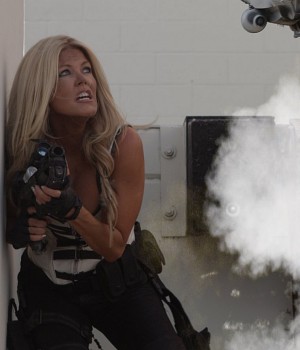 I was pretty much in charge of finding the actors - because I care so much about that part. Neil had as much say in the final casting, but I found all of them and then we would meet with them after reading them. Daz Crawford, William Kircher, Stephen Manley, and Livvy Stubenrauch were all found through Actors Access after auditioning thousands of actors. Marilyn Ghiglioti had been in a couple of Neil's films before and I just liked her so much that I wanted to work with her. Tim McGrath was the only surprise in the cast as we were really looking for someone ethnic. My manager suggested that we read him, and he out-performed every other actor. Ashley Park [Ashley Park interview - click here] I had known for over ten years, and I just saw her as the perfect Rhianna. The director wanted to make sure we looked at other actors - which we did - but we always came back to Ashley. Each actor we worked with did an amazing job… but the hardest role to fill was that of the voice of Hoagland. Almost 3,000 people auditioned for that voice role before we heard Tony Gibbons - who brought the adorable little robot (who was already so real to me) to life
What can you tell us about the shoot as such, and the on-set atmosphere?
Principle photography went without a hitch - except for a couple of crew problems. Additional photography ended up being 80% of the finished project, so the atmosphere was usually less crew - more intimate - and fewer actors at a time. We worked long hard days in the making of this film, but nobody gave up or visibly tired. Everyone really gave their all, and we will forever be grateful.
Any future projects you'd like to share?
The Time War will be the next project to be released, and it's epic! Nothing like Rogue Warrior: Robot Fighter, The Time War is very very dark and twisted sci-fi. Time travel, war battles, and lots of blood… I can't even compare it to anything I've ever seen. It's genre would be sci-fi/horror/deep drama/action.

Feeling lucky ?
Want to
search
any of my partnershops yourself
for more, better results ?

The links below
will take you
just there!!!


Your/your movie's website, Facebook, whatever else?
http://www.imdb.com/name/nm0435942/
https://twitter.com/traceybirdsall1
https://www.facebook.com/traceybirdsallofficial
https://www.pinterest.com/traceybirdsall1/
https://plus.google.com/+TraceyBirdsall
Anything else you're dying to mention and I have merely forgotten to ask?
In case you're wondering, a time travel film can be more difficult to film than any other… When your character travels through time - and there are different versions of her (all doing her own stunts) - you oftentimes wish you had a twin! I feel like, in the last few years we've been working on The Time War, that I've filmed a dozen movies… it's really quite challenging!
Thanks for the interview!
Thank you! :)