Your about-to-be-released movie Mr. Bricks: A Heavy Metal Murder Musical - in a few words, what is it about?
I think Lemmy Kilmister said it best when he said Mr. Bricks: A Heavy Metal Murder Musical "fires on all head-banging cylinders... you must see this film!"
Haha ok, sorry I had to throw in a Motörhead plug! After being shot in the head, Mr. Bricks takes bloody revenge on the corrupt New York City cop who tried to kill him – and stole his girl Scarlet! Throughout the movie we see different perceptions through these 3 characters of what happened to Bricks and Scarlet, and truth be told, Mr. Bricks may not be the victim he may seem to be! It's like watching Lost except the characters break out into heavy metal songs and the cast doesn't go to heaven at the end.
What has initially drawn you to the movie, and is hardcore heavy metal a music style you identify with?
I wanted to do something different, and hardcore and heavy metal music is something I identify with in a big way. That genre of music has balls and expresses feelings that most people feel inside even if it's about killing or ripping someone's face off.
I had been in numerous hardcore/heavy metal/ death metal bands in the 90s and then I burnt out in the early 2000s when shit like Creed and Nickelback started being considered "metal", or pop metal or whatever. Then when I moved to New York I had a hard time adjusting, so I went back to the basics, which for me was rediscovering music I hadn't listened to in a while like Slayer, Motörhead, Deicide, Biohazard, basically everything from my youth I threw on my ipod in a haphazard way, 80s metal mixed with 90s hardcore mixed with death metal and I just started jamming to it again and now it's basically all I listen to, haha.
At the same time I was brainstorming movie ideas and I thought of the character Mr. Bricks and then I thought wait... could it, should it, no! Nobody will go for a heavy metal musical!
A very obvious question: Why a musical?
I've always had a love/hate relationship with musicals. I remember as I kid we had one VCR and my sisters always got to watch their videos first, like The Sound of Music or Mary Poppins while I waited with bated breath to watch A Nightmare on Elm Street 3 or Friday the 13 th Part VII, so in some twisted way I think all that stuff melded in my mind and sat dormant in my subconscious for all these years until boom! A hardcore horror musical! But Mr. Bricks isn't your typical musical. The characters do break out in song, but what they sing about is so dark and disturbing like murder, rape and suicide! I would perhaps call it an anti-musical, sort of like Lars Von Trier's Dancer in the Dark. That film really inspired me when I first saw it in the theatre. I was blown away. It was shot on grainy DV and blown up to 35mm so it has this weird washed out watery look and of course you had the beautiful and dark songs by Björk. Since that day in 2000 when I saw it I said to myself I want to do something like that. I just didn't know how. And also what was interesting about Dancer in the Dark was the actors sang the songs but some of them weren't good singers. Like Peter Stormare, his voice sounds so natural like his character sounds, he's not trying to be a bravado singer, but on the official soundtrack Thom Yorke sings his parts! So all these factors were working in my mind and I was also strangely enough influenced by Steven Sondheim too! I had worked on a production of Sondheim's Merrily We Roll Along, which is told backwards, and the musical numbers have odd arrangemenats, with odd time and key signatures; Merrily was also kind of panned by critics for not having "catchy" tunes or melodies and there's even a song in the show that addresses this critique! So to make a long answer even longer, I was inspired by all these things, the "anti-musical", it all kind of clicked and I said well what to I have to lose? I started writing the songs for Bricks before the script was finished, and once Lauren Miller was writing the final draft I would take elements from the script like dialogue and write new songs to tailor it to the story.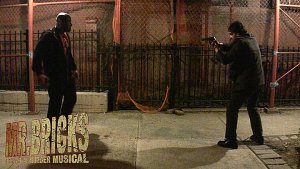 How would you describe your directorial approach, and is there any other musical Mr. Bricks: A Heavy Metal Murder Musical is comparable to?
My directorial approach was schizophrenic to say the least! Some days we would start shooting the musical stuff first and some days would be straight dialogue scenes. So some days I felt like a film director and other days I felt like a music video director! And some days it all ran together. Thankfully I had actors that trusted in me and the material and were committed 100% to doing the best possible job. In rehearsals we would go over the emotional beats of a scene or the arch of their character so when it came time to burst into song it made sense. There's an emotional build-up with the character, when you see Nicola Fiore or Vito Trigo or Tim Dax break into song, there's a reason for it, and the music advances their character and pushes the plot along.
What can you tell us about the music of Mr. Bricks: A Heavy Metal Murder Musical?
The music is a mix of metal genres from the guitar driven harmonies of 80s metal to the aggressive energy of 90s hardcore. The songs are also short like a minute and a half, I think the longest song is three minutes and that's the final number. I did this because I think the attention span of most viewers is very important. As a filmmaker you have so many competing factors for your viewers attention, the internet, video games etc. Even songs on American Idol are like a minute and half long because they have to keep the audience's attention. Plus, with a smaller movie like this I wanted to pack quite a punch with the music as a storytelling device, so I thought the shorter the better.
Some fans have said the music sounds "Nu-Metal" - in my opinion I would disagree. I know where some people are coming from, because the music that influenced the music in the film is reminiscent of early 90s NYC Hardcore bands like Biohazard and Sick of It All which were responsible for the fusion of metal and rap. But when they did it, it was raw and rough around the edges and the lyrics were socially significant. These bands would address topics like urban violence and being blue collar and what it's like trying to survive on minimum wage just to survive. Later in the 90s, certain bands stole this style and totally used it t sell records. That's where the term Nu-Metal comes from. Instead of using the music for socially significant topics the music became whiny and emo, and all you heard on the radio was this terrible hybrid sound of NY Hardcore, stripped of the rawness and polished for radio play. I only bring this up, because I want the fans and viewers of this movie to understand where the inspiration for the songs came from. One viewer even told me one of the musical numbers in Bricks reminded him of a Biohazard video! To me, that's quite a compliment. I want people to seek out bands like Biohazard and Sick of It All from back in the day and discover what they were trying to do and what they were trying to say musically. Usually these bands would be 5 normal guys (or as Type O Negative used to say "four dicks from Brooklyn") who worked in a factory or some other shitty job all day and at night they would make this incredible music, expressing how shitty their lives were or how shitty the system was! They used metal as a social platform and fused it with the urban sound of hip-hop to create a unique outlet for their anger and frustrations. I'm not saying there are any rap numbers in Bricks, Tim Dax doesn't break out in any rhymes unfortunately, because that would be just too hilarious.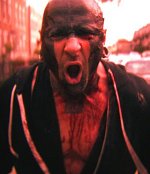 Tim Dax
These bands weren't talking about satanism or ghouls or any of that crap haha. With Bricks, I wanted to accomplish the same feeling, these characters in the movie have a shitty existence and this metal/hardcore sound was the perfect medium to express exactly what they were going through.
A few words about your lead Tim Dax?
Tim Dax used to send out these postcards of himself to various film companies. One day he sent one to Troma and it landed on Lloyd Kaufman's desk. I took it and said what is the story with this guy! I instantly knew I had to put him in a movie. I emailed him and introduced myself and we hit it off. We went back and forth for a long time trying to come up with a project to do, this went on for a good year. Finally, when I came up with the idea of Mr. Bricks I thought this would be perfect! I sent him some of the preliminary songs and he was on board right away. We finally met at a script meeting and I remember being so intimated, I had talked to him over email for a year now and then to meet him was surreal! He is such a nice, talented guy and we hit it off right away. He put 100% into the moive and his character and I couldn't be happier. This was his first feature film and he pulled out all the stops and you can see it in the finished product!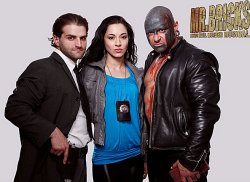 Vito Trigo, Nicola Fiore, Tim Dax
Recently, Tim landed a nice role on CSI, the television show with Ted Danson, and it was so DAMN SURREAL to see him on the small screen, like wow we worked together and here he is acting with Ted Danson! Truly incredible, I am very proud of him.
What can you tell us about the rest of your cast and crew?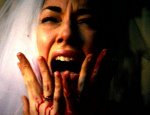 Nicole Fiore
We had an excellent cast and crew. Nicola Fiore and I met on a shoot for the 20th Anniversary DVD Edition of Troma's Redneck Zombies. She was playing an 80s chick from the future and I was filming, this was all taking place in Lloyd Kaufman's living room by the way, with Redneck director Pericles Lewnes. After the shoot we became good friends and she also became my muse for a while, I was always thinking of projects to write with her in mind. When Bricks came up I knew she would be right for Scarlet and a good fit to work with Tim Dax. They have great chemistry together and it worked like a charm. Then after Bricks we made Slaughter Daughter, where she plays the lead Farrah, so it all worked out perfectly. We know how each other works and thinks and we have become a great team.
Justin Martell, the producer and saving grace for Bricks used to work at Troma as Lloyd Kaufman's assistant! At that point I had been trying to get Bricks off the ground for a while and one day while Justin and I were walking to get lunch, I mentioned Bricks and right then and there he offered to produce it through his company Ship to Shore Media with his partners Vito Trigo and Jeff Cornell. Justin raised the money and we were on our way! I can't stress how important it is to find a great, competent producer who has undying enthusiasm for your project!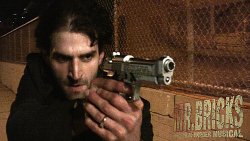 Vito Trigo
Vito Trigo as I mentioned before is partners Justin Martell and Jeff Cornell in Ship to Shore Media. Trigo played Dukes and his acting ability was great! In rehearsals we would go over character motivations and block out the musical numbers so they looked as best they could, and they do kick ass! Vito even blocked out the fight scenes. Which look pretty damn good as well. He has a commitment to his craft which is a dream come true for a director because it makes my job easier and we can communicate better and be on the same page.
Jeff Cornell, the DP was instrumental in capturing not only the vision of the narrative but the vision of the musical numbers. We would work in tandem to figure out what angle worked the best etc. Sometimes I would come in with storyboards, usually I use shot-lists because in low budget filmmaking you have to adapt to you surroundings and you usually can't get to the set until the day of shooting. Jeff was great with ideas of how to frame things when certain shot just didn't work. And there were more than a few times Jeff and I ended up in the shower filming certain scenes in cramped spaces! Yes, you heard me right! The perils of indy filmmaking!
Mr. Bricks: A Heavy Metal Murder Musical will be released by Troma, a company you also work for. What can you tell us about your experiences with Troma?
Yes, Troma will be distributing Bricks theatrically in certain cities and then will go to DVD in 2012. Working for Troma is a rollercoaster to say the least! I am their main editor so every day a new project will come along with a breakneck deadline! Lloyd likes to stay up on current events so he will come up with a Youtube video idea and pitch it to us, then Troma Team has to write it, shoot it and edit within days so the video is still relevant. Like I said, it's a rollercoaster, but worth it. I've learned more here than I would have in grad school!
You have also had your hands in Troma's How to ...-film Direct Your Own Damn Movie! - a few words about that one and the Lloyd Kaufman-school of filmmaking?

On his travels, Lloyd interviews his famous friends like James Gunn and Eli Roth among other industry professionals. We had so much footage and so many interviews the idea was broached to make a feature length documentary using the structure of how a movie is made. It starts with pre production, then writing the script, shooting, editing etc. and at the end all the famous directors blast Lloyd for what he does wrong when making Troma movies, but he is then redeemed when these same directors also praise Lloyd and tell him what he has done right for the past 40 years! I spent many long nights in the Troma editing room, sometimes spending the night to make Direct Your Own Damn Movie and the end result is fantastic! If you really want to learn what it takes to make a movie you should get this (not only because I directed and edited it with Lloyd haha) the movie really is educational! It's on DVD now.
What can you tell us about your short The Amnesia Party, which at least in writing sounds beyond wild, to say the least?
The Amnesia Party is a short film I made coming out of film school. I would describe it as Natural Born Killers meets Parents. The film takes place right after 9/11 where our main character "Son" has to decide whether or not to go to war and make his parents proud (his dad was Vietnam Vet). He ends up losing his mind and his imaginary friend Tommy shows up to help him make sense of all the craziness that was happening during that time. The film is funny, surreal and heart-breaking. Troma picked it up and put it on their Best of Tromadance Vol. 5-DVD. I tried to put the film in many film fests but it kept getting rejected because of its content, but I felt redeemed when Bill Gibron of Popmatters.com gave the film a good review by saying: "Like a post-modern amalgamation of The Graduate and Parents, it's the perfect antidote to all the 9/11 inspired jingoism."
To me that quote makes up for every film festival rejection!
I ended up breaking the film into little webisodes. If you would like to check it out you can go here:
http://www.youtube.com/watch?v=FR_6FC1OF8A&feature=channel_video_title
Any other films of yours you'd like to talk about?
I did a documentary on legendary underground recording engineer Steve Albini for youtube, if you would like to check it out:
http://www.youtube.com/watch?v=mFMU-IFUMOI&feature=channel_video_title
And be sure to check out my next film Slaughter Daughter coming late 2012! For more info you can go to our Youtube page www.youtube.com/myslaughterdaughter and join our facebook page http://www.facebook.com/pages/Slaughter-Daughter/185225688173581.
What got you into filmmaking in the first place, and did you receive any formal education on the subject?
I always loved filmmaking. I remember toying around with my dad's VHS camera back in the 80s and making "groundbreaking" ninja and horror movies! Then when I really started getting serious about it around 1999, I got my hand on every book I could about filmmaking and read it cover to cover. Then I would experiment with my friends and stuff. I was also in a band at the time and I would incorporate video/filmmaking aspects into our live shows. Then in 2002, I attended Wright State University's film program, Jim Van Bebber also went there for a year but instead of using a bank loan to pay for a second year of college he took the money and directed Deadbeat at Dawn. On second thought, I should have done that as well!!!
When it comes to filmmaking, you have worked in pretty much every position there is, of course director and writer, but also editor, cinematographer and even composer. What do you prefer, what could you do without?
Of course I love writing and directing, but you can't exactly apply for those jobs in the real world. I love editing, you can sit in a dark room all by yourself and formulate a story for yourself or a client. Some people say the movie is made in editing and I tend to agree to an extent. I also love composing, creating music is one of the best feelings for me I have ever experienced.
The position I cannot stand is production assistant! I PA'ed on so many people's movies and even on a hit crime procedural show here in New York and it sucks. You spend 14 hours a day doing other people's shit and taking shit! Don't get me wrong it's good experience, and everyone interested in filmmaking should do it, it's a good opportunity to learn every position on set, but also it eats up a lot of your time! It's a trade-off.
Directors who inspire you?
The Coen Brothers, Pier Paolo Pasolini, Ingmar Bergman, Oliver Stone, Francis Ford Coppola, Martin Scorsese, Lloyd Kaufman, Jim Van Bebber, Carl Theodor Dreyer, Bob Fosse, Stanley Kubrick. I know, it's a very crazy, diverse list.
Your favourite movies?
Fargo, The Silence of the Lambs, The Toxic Avenger, Class of Nuke 'Em High, Repo Man, Natural Born Killers, Goodfellas, The Rocky Horror Picture Show...
... and of course, films you really deplore?
I deplore the changes made to the original Star Wars movies, especially the Blu Ray releases and I can't stand the Star Wars prequels. Darth Vader should never scream NOOOOOOOOOOO! EVER. Especially in Return of the Jedi.
Your/your film's website, Facebook, whatever else?
WEBSITE: http://mrbricksmovie.com/
FACEBOOK: http://www.facebook.com/pages/Mr-Bricks-The-Musical/282439189272
Anything else you are dying to tell us that I have merely forgotten to ask?

Feeling lucky ?
Want to
search
any of my partnershops yourself
for more, better results ?

The links below
will take you
just there!!!

Find Travis Campbell
at the amazons ...

amazon.com

amazon.co.uk

amazon.de
Looking for imports ?
Find Travis Campbell here ...
Something naughty ?
(Must be over 18 to go there !)

I just want to say thank you to Lemmy from Motörhead for letting us use the song Outlaw from their latest album The World is Yours. It was a dream come true for me to have Lemmy's music in Mr. Bricks! And he gave it to us for free! How cool is that? Lemmy and Lloyd Kaufman have been good friends since the old school Troma days, and Lemmy made cameos in Tromeo & Juliet, Terror Firmer, and Citizen Toxie. As well as a cameo in a hermaphrodite PSA starring Trey Parker and Matt Stone. He also let Troma use his song Sacrifice in Tromeo & Juliet. Thanks again Lemmy!
I am also working on musical project called Death Comes in Threes, with Tony Enz who did the singing voice for Mr. Bricks. You can check it out here: http://www.facebook.com/pages/Death-Comes-In-Threes/143030612448116
Last but not least, I am working on some horror/comedy ebooks coming soon! One is called Animatronic Al and the Massacre at Chubby Cheez it's about a Chucky Cheese-like animatronic mouse that comes to life and takes revenge after some thugs murder children at his restaurant! And another ebook is called Hugo Hatchet about a crazy killer who takes revenge on his high school class years later with his best pal and hatchet, Ed!
Thanks for the interview!
Thank you so much Michael!