Your new movie The Blood Hunter - in a few words, what is it about?
The Blood Hunter is about family relationships and broken characters. Nearly every character has flaws and are often denied the chance to redeem themselves. The story in a nutshell, is about a broken man named Deckard, who has lost nearly everything in his life. When a group of vampires inject themselves into his life, he finds his lost faith, a new family, and his true calling in life. Killing vampires.
With The Blood Hunter being a vampire movie, is that a genre especially dear to you, and some of your genre favourites? And what do you think makes your movie stick out of the crowd?
I don't know if it is dear to me per se, but it is to my best friends, Chris Candelaria and Jason Milburn. Chris has worked on every film project I have ever done, and we've been best buds since 5th grade, so I wanted to do a project that would mean something to both of them. That being said, The Lost Boys and Underworld are two of my favorite flicks ever. I think this one will definitely stick out, because it is very different. It is more of a character drama than a vampire flick. Vampires just so happen to be one of the problems, but not the main thematic element of the story.
As far as genre favorites—I truly love all genres. I can watch dramas, comedies, horrors, suspense, romance. I love them all. I simply love movies. I started making horror movies because there is so much ART that goes into them - makeup, effects, etc. I absolutely love practical special effects, and horror allowed me to be able to dabble in effects inexpensively.
To what extent could you actually identify with The Blood Hunter's unlikely hero Deckard, and is he in any way based on yourself?
I think Deckard is an easy character to relate to for a lot of us. Here's a guy that just clearly cannot win. My mom once told me life is about hills and valleys, and sometimes those valleys seem to never end for some of us. Deckard is one of those characters; if he didn't have bad luck, he would have no luck at all. I think every story I write presents a piece of myself in it to a certain extent. I hope I am a bit more put together than Deckard… but there are definitely times I feel his aura more than others!
(Other) sources of inspiration when writing The Blood Hunter?
Other than the obvious Near Dark, or John Carpenter's Vampires, or The Lost Boys, I really gravitated towards a Netfilx series called Bloodline. I loved the cinematography, and loved all of the very broken family drama that was going on between this highly dysfunctional family.
What can you tell us about The Blood Hunter's approach to horror?
The Blood Hunter does not utilize the typical soundscapes and lighting schemes that are present in horror films. Instead, most scenes are perfectly lit so you can see all of the action, and tell a different style of story altogether. By choosing to light scenes and set static shots rather than rely on motion and mood lighting, it allowed us to tell a slower paced family drama. I wanted it to feel as if this could be going on next door to you during the middle of the afternoon on a typical sunny day. We chose to use blood and gore almost as if it was a dark comedy - to use a ridiculous amount of blood and add levity to the scenes, much like a graphic novel, or a Tarantino style flick. The approach was not exactly traditional, but we did use some of the typical iconography and nomenclature present in horror films. I like to think of our film as a cross between a family melodrama and a ridiculous gory horror film.
The Blood Hunter does have its fair share of bloody bits - so what can you tell us about the gore scenes in your movie, and how were they achieved?
Blood. Lots and lots of blood. The UPS guy quickly got to know us as the people that ordered vats of fake blood. We were fortunate enough to have one of our producers, Trevor Sherner, on our team that built sets, and built the most ridiculous blood cannons I have ever witnessed. Basically, he made these 12 foot PVC cannons that could blast gallons of blood and chunks about 100 feet. It was pretty insane what he was able to build from the hardware stores! The chainsaw zombie was an old fake floor trick—the tricky part was getting the fake floor to appear like concrete, plus hold the weight of the actors and a table. We were missing one of the key actors in that shoot due to having an art show, so the scene never had some of the shots I wanted, but, you make do with what you have. We had our FX team of Jamie Candelaria, Jessica Miller and Michael Peterson do a couple silicone head molds, as well as Moxie's fake stomach , which was a silicone piece strapped with blood tubing. The head explosion (ŕ la Scanners) was a bit tricky, and required some rotoscoping, a shotgun, and some artistic layering. My most favorite moment may have been when we blasted 10 pounds of bloody hamburger "brains" and it decimated our line producer, Lauri Patterson, who was holding a protective sheet of glass in front of the camera.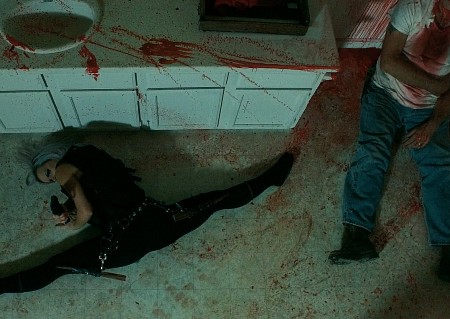 Also, The Blood Hunter is a quite action-heavy movie - so do talk about the fight and stunt sequences in your film for a bit!
With a budget like ours, most filmmakers do not attempt action-heavy gore pieces. But, being my 3rd action packed feature, I already had a pretty good base knowledge as far as what I knew we could achieve. The Blood Hunter, oddly enough, has the least action of the 3 films, as I wanted to focus on the character drama a bit more. I had the scenes pretty much visualized in prepro… but as is often the case with Indie films, we could not get on set until the day of. Well---the locations were far different than anticipated, so we literally blocked out fight sequences just before shooting, and just rolled with it. The actors had little to no practice before shooting these sequences. Amy Truax, the limber beauty who plays Moxie, is extremely athletic, and willing to try anything, so she was a pure joy to work with, as was the gorgeous co-director's wife, Cortney Llewellyn. Cortney had the difficult task of being covered in blood, and submerged in a bathtub full of blood, and then having to fight Amy without slipping all over the linoleum flooring. She had to endure 16 hours plastered in sticky blood, and being practically nude through that process. I have no idea how she managed that one without killing Chas or myself. Top marks for those two girls who did some incredible stunts and endured horrible shooting conditions. I designed my own gunshot squibs years ago, and created a very fast way to do them safely and practical, so that saved a ton of time as well. Tom and Chas were very physical actors willing to be tossed, punched, and thrown all over the place. Poor Tom was thrown through a barn twice, a table, a wall clock, had glass bottle broken over his head, a baseball bat, and also took several punches, and got tackled many times. A very physical role that he took on like a champ!!! I give all the actors so many props for all the physical beatings they took.
A few words about your overall directorial approach to your story at hand?
This was a very, very different process than the usual one I take. It was my first time "co"-directing, and I gotta tell ya'---I LOVED it. Our crew was quite minimal on the project-often only having half a dozen people working as crew on a single day, so I knew I would need a ton of help directing the actors. Chas had taken it upon himself to meet and prep the actors during preproduction, and worked through the scenes so amazingly well, that it was an easy decision to ask him to co-direct during production. Since I was the cinematographer, this allowed me to focus more on the blocking and the shots, and allowed Chas to focus on directing the actors. Chas pulled double duty as a producer/director and also played the main bad guy, Caleb. Chas is an exceptional talent. So we split duties - Chas worked with the character emotions/inflections/moods/motivations, and I worked with their blocking, movements, stunts, and camera work.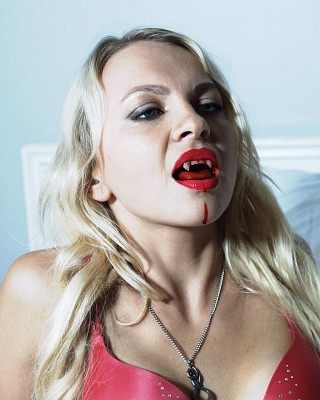 What can you tell us about your key cast, and why exactly these people?
Tom Paxinos played John Deckard. Tom is a chameleon of sorts-he can play sexy hero, or bumbling idiot, or tough guy, or deranged lunatic. He has a ton of range and the thing I loved about him, is he really plays Deckard as a guy you can totally see hanging out with and having beers with. He's the guy you find it easy to root for - you really want to see him overcome his challenges. Tom has an extremely loveable quality about him in real life, and he brings that to the screen as well.
Moxie was played by Amy Truax - and honestly she was my muse on the project. Amy is an amazing person that loves the same type of movies and isn't afraid to get her hands dirty (she even got married in a cave). I began writing the script based off of seeing a single picture of her doing aerial acrobatics. Take her flexibility, athleticism, her beauty and her personality, and I just knew she would become a fan fave that people loved to watch, and sure enough she is definitely a hit with people!
Robert Bradley was my first choice as Poker…but funny enough he wasn't initially cast as Poker. The stars all aligned in the end, and he ended up in the spot he was meant to be, and he is definitely a fan favorite, with people often chewing me out because I didn't use him more. Robert was picked because not only did he fit the look of Poker, but he was able to pull off that "Tombstone vibe" with his acting.
Aaron Malek played the self destructive character of Mack. Mack was a ticking time bomb, and I needed an actor that could bring layers of pain and Aaron was just perfect. Mack is this character that you HATE, and yet… you kind of feel bad for him, and he's obviously struggling with so much pain, and Aaron really made you feel all of these confused emotions.
Timothy Patrick Quill (Spider Man, Oz, Army of Darkness) played the leader of the Blood Hunters, Vinnie. I had worked with Tim on my previous zombie flick and had a blast doing so, and I wrote this role specifically with Tim in mind. Tim had to make some sacrifices to play the part, and we are thankful he did, as I think this is one of his best acting jobs!
Cortney Llewellyn played the unstable vampire named Amber. Everyone agrees that Amber steals the show in so many scenes. Cortney had never acted before, and Chas talked her into coming to our cold read auditions. Cort stole the show. She killed it. She was the best actor that entire weekend, and honestly she never stopped throughout production. She's this super funny gal that has zero idea how funny or beautiful she is. Zero clue. Everyone loves Cort.
The leader of the vamps was my co-director Chas Llewellyn. I had worked with Chas as an actor a few other times, so I knew what he could do… but I really wanted to challenge him, and give him an atypical role-that of the bad guy. Chas has this method acting technique, so when he's in the "mode" and has to act that day, you just give him his distance, haha! What I love about Chas as a partner, is his ability to be very accepting and calm. He knows how to listen, and he knows how to not take anything personally, and has this ability to communicate things very well.
Gary Busby played the psycho vamp, Eli. I kept pushing Gary to take things up a notch. To be even dirtier, more disgusting, more atrocious. I also worked with Gary on other projects and he has become one of my loyal go-to guys. I trust Gary and I know he will give me his all.
Iryna Rodionova played Caleb's love, named Star (Lost Boys reference of course). She is a Ukrainian model from Miami that just so happens to also have a law degree, and a love for acting. Iryna is one of the sweetest people you will meet with a naturally playful exhibitionist type of demeanor. She is super fun and friendly and gives you her all EVERY scene! I would love to work with Iryna again!
Lastly, one of my faves… Danny Hicks (Evil Dead 2, Darkman) who played "FangBanger". It was my first time working with Danny. I gotta tell ya… this guy is the real deal. A true professional, and man is he good. I only had him available for one shoot day, so we had to write some simple scenes that didn't give him the dialogue/scenes that he deserves. After working with Danny, it really made me want to write an entire film for him. He is so good!
Do talk about the shoot as such, and the on-set atmosphere!
Shoots were chaotic, exhausting, hectic, messy, sticky, sweaty, and held together by our glue, the exec producer Lauri Patterson. She was simply amazing. She brought so much to the table and kept everything organized and functioning. She kept me alive on set, reminding me to drink water, and kept the entire production afloat. Lauri has this OCD type personality, so everything was structure and spreadsheets. Me… I am a whirlwind of unorganized chaos, so I'm sure I caused her plenty of headaches, haha. But seriously, our sets were also an amazing circle of love and respect. We became a close knit family over 7 weeks, and there were a lot of tears once we wrapped production. Before I start a film, I tell everyone the same thing. Invest in memories.
The shoots for the day started out with a ton of coffee. Usually I would meet with Chas and Lauri and discuss the plan, go over the schedule and then we would stare at each other with a "how in the world are we going to get this done" look. After we had the plan, and our base camp set up, we would gather every actor and crewmember together in a big group huddle. I would find some words of inspiration as would Chas, and then we would break the huddle and get to work. The days were incredibly long, one of the days lasted 20 hours, and then we started the next shoot day just 4 hours later. So we were constantly pumping each other up and offering words of encouragement.
THE MOST IMPORTANT PIECE TO THE FILM ---MY WIFE, Brikotah Styles. She did all of the food catering and handled double duty as producer, caterer, and also took care of all of our boys. She is the kindest and sweetest person I know. I could never do any of this without her and am so blessed to have a supportive and awesome wife! I seriously don't know how she multitasks like that, and then puts up with me being gone such long hours. She was a main actress in my last film, but our 4th son, Maddox was born 1 month before preproduction began… and then it was soon discovered that he had a rare condition involving a skull fusion (Craniosynostosis). We had to have emergency surgery in Utah to split his skull and give the brain room to breathe. All of this happened just before we started prepro - and my wife still insisted I go and shoot this crazy flick. She is a ROCK STAR. An absolute ROCK STAR.
The $64-question of course, where can your movie be seen?
We are submitting to film festivals right now, so there's rules about showing the project publicly. Many fests do not allow online viewings or public viewings, and we have some music that we only have festival rights from Universal Studios to use right now, so we have to adhere to the guidelines. After the festival run is over we will make a large public release (end of 2019).
Anything you can tell us about audience and critical reception of The Blood Hunter yet?
So far the reaction has been largely positive, and people have really loved the quirky horror/melodrama. The queasy folks that love the drama may complain about the blood, and the horror junkies often say we need to show more skin, haha. I would say if there's been one constant critique, it has been about the run time. We are coming in at just over 100 minutes, and I agree that the pacing and edit can be adjusted. If we shave 5 to 10 minutes off, I think this will be a very solid and tight film--especially for the budget!
Any future projects you'd like to share?
Well, I am a father of four boys, so I really have my hands full all the time, and take things one step at a time. The Blood Hunter is geared for a sequel, and I have the first act written for it, but I really just want to see how this one fares, and see if people want to see more of Deckard and Moxie before I take it any further. So this year I have no plans other than film festivals, and then next year I will see what options are available. I usually have quite a few ideas and scripts brewing at one time so we will wait and see.
What got you into filmmaking in the first place, and did you receive any formal training on the subject?
I started out as an artist - always drawing. I had no idea what I wanted to do after a few years of college, so I decided to try the film department, since it seemed really cool, and I LOVED movies. I had zero idea how much actually went into making a film, but welcomed the art, and soon found myself immersed in the film program, shooting, splicing and studying film. As I neared graduation, I had started to pick up my pencils again, and I didn't have the funds to shoot my senior project (film was very expensive to shoot on) so I dropped out with 16 credits left to graduate. I thought I would move to California and try my hand at graphic design/comic books. That never happened and soon 9 years shot by before I knew it. My friends and I had been making stupid little short films for fun, and I realized how much I loved it. So, ultimately I returned to the film program after the 9 year hiatus. In 9 years, technology had made DRAMATIC leaps. Everything was computers, and digital video cameras, and hi-def was around the corner. It was a crazy time, and I had to learn a tremendous amount in a short period of time. One year later I graduated with my degree in filmmaking, and have been playing around in it since. So I have been fortunate to have been trained on both film and digital. Kind of cool to know how to work a Nagra or the new Tascam recorders… or maybe that just makes me old!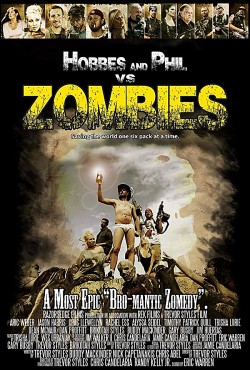 What can you tell us about your filmwork prior to The Blood Hunter?
The last film I made was a "bro-mantic zomedy" called Hobbes & Phil Vs. Zombies. Starring Jason Harris, Aric Weber, Tim Quill and Playboy model/musician Trisha Lurie. It was about 2 slackers that survived the zombie apocalypse by drinking the years away, when they come upon a girl that needs rescuing from a group of mercenaries. The girl also holds the cure for the zombie outbreak.
How would you describe yourself as a director?
Relentless. I have this idea that if I can do it… everyone else needs to. So if I am able to go insane hours on no sleep, food, and be completely exhausted and still go day in and day out, then I expect everyone else to as well. I love pushing boundaries as far as what you can do on a shoestring budget. We made Hobbes & Phil Vs. Zombies on $8,000. I'm pretty proud of that ridiculous number. I like to give actors complete freedom. I like to mold the process… but then give them the free will to take it in whatever directions they like. I feel they are better at making those choices and decisions than me, and I am never less than surprised at many of the decisions they come up with as far as their character goes.
Filmmakers who inspire you?
The obvious for me would be to say Spielberg, Ridley/Tony Scott, Tarantino, James Cameron, Rodriguez... but some I dig that are doing some innovative things today—Ana Lily Amirpour and Denis Villeneuve as directors, and I love, love love cinematographer Roger Deakins. The man is a MASTER at beautiful breathtaking visuals.
Your favourite movies?
The Karate Kid, True Romance, Rocky, Underworld, The Empire Strikes Back, Goonies, John Wick.
... and of course, films you really deplore?

Feeling lucky ?
Want to
search
any of my partnershops yourself
for more, better results ?

The links below
will take you
just there!!!


Star Wars - The Last Jedi. It is the bane of my existence. I put Sharknado lightyears ahead of it.
Your/your movie's website, Facebook, whatever else?
https://www.facebook.com/thebloodhuntermovie/
Anything else you're dying to mention and I have merely forgotten to ask?
Roniit Alkayam. If you have not heard of her—CHECK HER OUT. Now. Do it. She is an absolutely stunning and amazing musician. She has a voice of an angel. She did the remake of Cry little Sister for The Blood Hunter, and it is unbelievably good. Seriously go listen to her, you won't be sorry!! I have been fortunate enough to work with Roniit on several projects, and if I have a choice, I will never make a project without her music somewhere in the film!
Thanks for the interview!