Your upcoming movie Parlour Tricks - in a few words, what is it about?
It's about a grieving family who use a medium to try and contact a dead aunt, but something else answers.
How did this project fall into being in the first place, and what made you decide to step behind the camera for this one?
I wrote this last year when I was visiting my folks in New Zealand. I tried, at first, to get Topher from Bad Cookie Pictures to direct it. I love their stuff from Ready To Burst to Paint The Town Red. He kept saying that I should direct it, and I was like, 'No, no... I can't do that.' Eventually, he, Jordan (our DOP) and my partner Burns The Dragon all convinced me that yes, I should direct it. So, we'll see when people watch it, if it has been a favourable decision for me.
How did you actually prepare for your directorial debut, and is that something you've wanted to do for a long time? And some filmmakers who inspire you?
I've been curious. I have oceans of inspiration around me in the company I keep. There are so many talented people I've gotten to work with, that it made me want to tell my stories. With the cultural shift that is happening, I realize that part of the change I want to see will come with female artists stepping up to create. Filmmakers like the Soska sisters [Soska Twins interview - click here], Jill Sixx, Izzy Lee [Izzy Lee interview - click here], the Celtic Badger crew, the Luchagore crew... people who go out and create fantastic, horrible, and fascinating worlds.
What were your sources of inspiration when writing Parlour Tricks?
It was partly my cast, of whom I more or less with all these people in mind, I wrote the script. They are all such fantastic performers, it came very easily. I kept thinking off all the dumb shit that can go sideways in seances and how they were the rage for quite a long time in North America. I can't stop fooling around with occult imagery and flapper feels. Also, I was dying to do something with Mandy's cat, Fran who is also featured. Trust me, that cat will have a longer career probably than I will...
With Parlour Tricks being dubbed a horror comedy, what can you tell us about your movie's approach to both horror and humour?
I write funny shit. I see no point in batting round the bush; I like to write humour, and I was raised a theatre brat, with a steady diet of British comedy, stand up and being around smart, funny and dry humans. Horror comedy is one of those genres I love since I love to laugh and be scared. It's something I'll likely explore more in the future, but I wanted a Clue/Haunted Honeymoon vibe to this, and my cast and crew delivered in spades.
Do talk about the look and feel of Parlour Tricks?
If you can't tell that I come from a witchy house, and spent my adult life as a burlesque dancer, then I've failed. If you feel like you're watching a throwback to black and white Addams Family or The Munsters, then my set-casting spells paid off.
Anything you can tell us about your key cast and crew - and did you step in front of the camera as well in Parlour Tricks?
I didn't want to try and tackle the obstacle of being in front of and behind the camera on my first go. I sometimes have issues walking and drinking coffee, so I decided to learn to walk before I sashay. Besides, I totally didn't have to with Tyler James Nichols, Sean Covernton, Gidget Gravedigger and Emma Eldritch. I tip my hat to the cast, because it doesn't matter how funny the writing is, it's all in the delivery. Emma and Gidget both host a popular podcast called Dark Entries and produce my favourite burlesque show yearly, the Abra Cadaver Cabaret. Sean is a very talented horror magician. He often teams up with a mutual friend (who makes kind of a cameo in the film) and puts many a magician to shame with his illusions and slight-of-hand. Tyler has been lending his voice to a variety of animated works and he hosts one of the most spectacular events in Vancouver, Glam Slam. All are very talented humans and know how to make my words come to life. I won't lie; I was spoiled with my cast.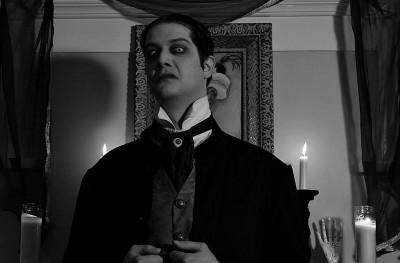 At what stage of production is Parlour Tricks presently? And any idea yet when and where it might be released, however tentatively?
It'll be shipped out to festival submissions shortly, but it's got a few tweaks and the score from Chase Horseman, who did the score for La Quincera and El Gigante for Luchagore. Once that is all wrapped up, it'll be good to go. I'm electric to unleash it, so I'm manifesting and predicting sooner rather than later.
Any future projects beyond Parlour Tricks - no matter on which side of the camera?
Sure do! I've two more films I've written that I'm working out a few production notes on, but as for in front of the camera, I've a project with C.R. Avery that is super artsy and East Vancouver, which makes my toes curl, and a promotional video for my mermaiding and sideshow performances with The Caravan Of Creeps!
Your/your movie's website, Facebook, whatever else?
Our hashtag is #ParlourTricksFilm and our Facebook page is www.facebook.com/parlourtricksfilm/

Feeling lucky ?
Want to
search
any of my partnershops yourself
for more, better results ?

The links below
will take you
just there!!!


Anything else you're dying to mention and I have merely forgotten to ask?
Be sure to follow Bad Cookie Pictures and myself on Instagram too! @badcookiepictures and @littlemissrisk respectively.
Thanks for the interview!