In a few words? It's about the mind we live in when we disengage from our life following traumatic or hurtful experiences. It's that place we go to where we recognise the locations we've walked in but our memories have become tainted, or hard to find. In the film Jay is not haunted by a ghost as such, he just hears the words from someone special that he wished had been spoken but never were. In a nutshell? It's about loss, grief and betrayal, or at least its aftermath...
Caught in a Landslide is my story... but it's yours also! Anyone who ever dared to dream of better only for it to be shattered can relate (hopefully). It isn't a horrifying story of my own personal strife; I believe it's anyone who loved and lost's story. My own personal experience in my book A Vision of Life was of course the catalyst for this project, but when I say the film is based on the book, I guess I do mean loosely. This isn't the minute by minute account of a love gone wrong, this literally is a display of one night inside a lethargic, lonely mind. What started out as personal in a book translated to something completely different on film. The 'spectre' who visits Jay became nameless, the memories became far from lucid. The display upon the screen is either fictional or fictitious and Jay can't tell the difference anymore. I like that A Vision of Life (the book) is more personal and the film is more open to interpretation. By the time I started shooting my mind had changed about making it so personal, I almost wanted the viewer to become Jay and apply it to their own lives - maybe even to allow it to help them in a cathartic way to exorcise their own demons.
You of course also have to talk about your poetry used in Caught in a Landslide for a bit, and how would you describe yourself as a poet?
How do I describe myself as a poet? I'm not sure I do. I've just always written poetry since a boy in the late hours when my soul needed to shriek and I needed to divert overwhelming pain into something more productive. I have now released three poetry anthologies, Master Crotch and the Sex Hungry Human Minion (2014), The Ideation of Six Feet Under (2016) and Seeing Red (2017). The majority of the poetry used in the film is taken from The Ideation of Six Feet Under. I penned those poems during a year and half break from film and all that 'Wade' stuff and it was a real change in direction to my former material. It was dark, it was real and I sliced my own creative vein open and allowed myself to be naked to anyone who was watching or listening. The Ideation of Six Feet Under poems inspired my non fiction book A Vision of Life and that one inspired the film. Each project just seemed to feed into the next in a continued effort to throw my hurts to the tide.
I host read out aloud poetry off of my website www.jayproctor.com/poetry which is a particular favourite element of my work in film and writing. I could never had imagined that my Soundcloud channel would have acquired over 55,000 plays, and my hope is that this film will help people heal as I hope the poetry did. So what kind of poet am I? I'm just a person scribbling about his life on paper, hoping someone else finds some reprieve from within it.
Caught in a Landslide features several song by Australian musician Edward Gugliemino - so what can you tell us about the tunes used in your movie, and what drew you to exactly this guy's music?
Aren't they just fantastic songs? So, it's the end of that incandescent summer in 2016 and I've shut myself off from the world, I'm laying around doing a lot of moping and an album on Spotify becomes the soundtrack of my aching heart. That album being Late at Night by Edward. I'm being bombarded by images of the best summer of my life while Edward teases my ears with lyrics like 'Caught in a landslide, I was wasting summertime. You were such a crime to waste my life...'. WOW! The song haunted me, those lyrics touched me beyond anything. This guy in one line had encapsulated my circumstances. I had to find Ed online and reach out to him, I had to have him on the soundtrack! Luckily for me Ed was quick to respond, was kind and supportive, and it really just went from there. Ed will never know how grateful I am to have included his music. The very fact those songs are the soundtrack makes this project so much more authentic for me as a creator. I remember getting his reply email; We were actually in Kent filming some exterior shots (the scene of my crime) and that's when the message came through. It all fell beautifully into place. Originally the film was to be called 'A Vision of Life' but Ed had suggested perhaps changing the title to match the song - an idea that I agreed with fully as the project had evolved to something quite different from the book I had written. It all just made sense in the end! I really urge all viewers to go and check Ed's music out. It saved me many a time and its impact will be with me forever I'm sure.
Do talk about your co-director and cinematographer Wesley Strong for a bit, and what was your collaboration like?
Wesley and I had just started working together on a project we run for youths in Milton Keynes. One day we were just talking and Wes was telling me about his own artistic contributions to his own music and music video creating and I was like, fuck it, let's roll! I'd had a hard time finding someone dedicated to the same vision I had and really Wes and I's meeting was just another cliche 'it was meant to be!' for this project. I really digged the cinematography Wesley did for this piece. He seemed to understand the images I was trying to capture, that was of great importance. I respect his patience for the amount of countryside walking we had to do relentlessly... haha! It's no secret that I'm a bit of a loner in life, people stress me out, but I do believe Wes and I have formed a friendship here and I'm sure we'll do something creative together again one day.
What can you tell us about your directorial approach to your story at hand?
At last I was free with no compromise. I didn't want to follow a modelled story or script. We were creating some arthouse, experimental film here. We had the basics of what we wanted to achieve but then we just went out and created. We directed as we went, we invented as went and right up until the last shot scene we were playing as we went. For the opening scene (when the two hands close up, entwine) was us re-enacting the front cover of The Ideation of Six Feet Under that wasn't planned - it just seemed like a good idea at the time... It was a beautifully romantic moment for Wes and I haha! We had many moments like this when it came to doing small link ups between the books and the film. Freedom was the directional approach to this piece.
You also play the lead in Caught in a Landslide - so what can you tell us about your character, what did you draw upon to bring him to life, and how much Wade Radford can we find in Jay?
You will find me embodied in that character. Or at least the 'me' from that time in my life. Maybe it's easy to play yourself, yes? Not when you're stepping into yesterday. That's like someone pointing a mirror at you and forcing you to have a good hard look!
What can you tell us about your co-star Robbie Manners, and what made him perfect for the role?
Robbie's a nice guy! He enjoys delving deep into his character. My heart goes out to Robbie, I'd tell him one thing in an email, only to change my mind, then only to change my mind again. So let's say he's very adaptable, because I'm a fucking nightmare when it comes to my 'oh I have a new idea!'. I had a lot of correspondence from Robbie prior to the shoot. He really wanted to get to know Jay, to know A Vision Of Life and his ghost-like character. I sent him many extracts from the book and he was forever dedicated.
A few words about the shoot as such, and the on-set atmosphere?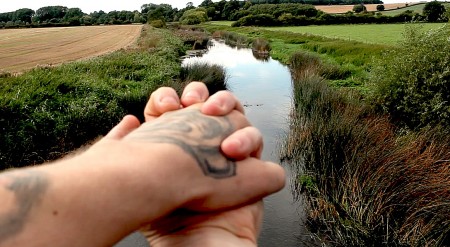 I was about to say everyone got along and was friendly; now that's true, but I'd be worried if all three participants couldn't get along! It was a quiet shoot, mainly made of Wes and I for the most part. Every element of its creation was as unusual as I guess the film is. It's been a long project from start to finish and every barrier that could have reared its ugly head did! But our life's about learning, it's our calling and our journey and I feel I learnt a lot about myself on this particular journey; maybe more than I learnt on any other film I've ever made. I learnt to persevere, to not be impatient, to be adaptable. My patience is not something I have ever really perfected in the past, but this project demanded it. Wes and Robbie helped me bring my vision to life in a project that most would not have understood at the start. On paper from the off-set it probably sounded like the ramblings of a mad man... maybe it still is? I feel I want to shout out to Thomas from Nevada as well. I'll just come out and say it, he funded 75% of this project and supported me to bring this to life in a time that I think everyone else had thought I'd given up. His kindness to me is the reason this production ever took off.
The $64-question of course, where can your movie be seen?
Oh goody! Well we have just released (outside of America and Canada) a limited Vimeo run to rent or purchase. You can check it out at www.vimeo.com/ondemand/caughtinalandslide2017 - be quick it's a very limited screening run! America and Canada, you'll be getting it in Summer 201 8- Yes, it is due for distribution out there and the rights are signed away... sorry folks! But when the time comes do grab yourself a DVD! Physical copy releases outside of the US we have no plans for at this time.
Anything you can tell us about audience and critical reception of Caught in a Landslide yet?
Screeners have just gone out to reviewers this week, it's hot off the press! We can't all act as quickly as you, Michael (thank you and I'm glad you enjoyed it). All latest reviews will be going out to my Facebook page and the movie one.
Any future projects you'd like to share?

Feeling lucky ?
Want to
search
any of my partnershops yourself
for more, better results ?

The links below
will take you
just there!!!


My mind is spinning round and round, lots to contemplate so do stay tuned! For now I want to run with this project for a while and get it out to audiences as much as possible.
Your/your movie's website, Facebook, whatever else?
www.twitter.com/whothefuckswade
www.facebook.com/caughtinalandslidefilm
Anything else you're dying to mention and I have merely forgotten to ask?
Please just check the movie out, feel free to discuss it and support arthouse filmmaking. I recently have undergone major website changes with lots of free content on offer so have a browse www.jayproctor.com
Thanks for the interview!
Thank you, I think the opportunity to reflect on this long ass project has been most delightful! :)