Your new movie Shades of Scarlet - in a few words, what is it about?
Shades of Scarlet is a film about a man convicted of a serious crime who gets released on a technicality. The film follows him on his first day out of custody. Basically, it is a story of choices people make and how they all have consequences.
How did the project fall together in the first place?
Every film seems to have a different origin. Shades of Scarlet was not an immediate fit for me. My friend and fellow actor/writer Wynn Reichert [Wynn Reichert interview - click here] sent me the script a couple years ago. I passed on it then but he sent it to me again this year after some rewrites and it really caught my attention. The role of Scarlet was a meaty combination of quirky and darkness that I just could not resist. I think Wynn pretty much knew I was going to say "yes" the second time around!!
From what I know, Shades of Scarlet is the first movie you directed based on a screenplay you haven't written yourself - so what kind of a challenge was that?
I have never really wanted to direct someone else's work before. Directing for me really started as a way to write characters for myself. So I was afraid of not being fully engaged with someone else's writing. However, when I received the rewrites on this script I really felt attached to the story. Wynn and I talked about the script, but for the most part, he let me go with things. When he and I were on set together we would chat about the characters a bit to be sure we were still on page with the story.
What can you tell us about Shades of Scarlet's writer (and co-star) Wynn Reichert [Wynn Reichert interview - click here], and what was your collaboration like, both in front of and behind the camera?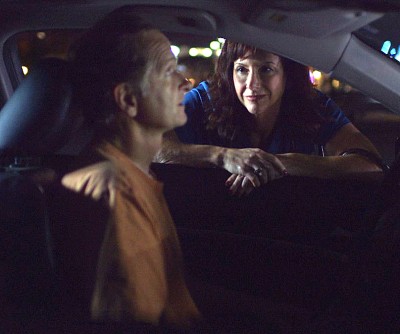 Wendy with Wynn Reichert
Wynn and I have worked together on quite a few projects. He was also in my last film The Unconventional Gourmet. In that film we did quite a bit of improvisation. When you are truly comfortable working with another actor the improv is easy. We played it pretty close to the script on Shades of Scarlet but there are always those moments of unplanned gems that make it to the final cut. I think our comfort level on camera made our collaboration behind the scenes with this film easy.
Do talk about Shades of Scarlet's rather twisted brand of humour for a bit!
Wynn and I were sitting in a packed theatre for the premiere of Shades of Scarlet at the Alhambra Theatre Film Festival. I think we were both a little surprised by some of the laughs. Obviously, the writing had some lighter moments but it seemed they really found humor in some interesting spots. I also think sometimes being uncomfortable with a scene can lead to nervous laughter. It was great actually. I mean who can say you get laughs in a "rape film". That may sound a bit harsh but I think with the writing we were able to send a message and still have some levity in the quirkiness of the characters. The next 3 screenings had similar reactions so I guess it's a thing! Things do take a more serious turn and the audience seemed to be receptive to the change in tone. Hopefully we will continue to have positive reactions as it continues to tour on the festival circuit.
Wynn Reichert
What can you tell us about your overall approach to your story at hand?
I find the best way to attack a film is in pre-production and communication with your cast and crew. I also work with people who are great at what they do and let them do their jobs. As a director it helps to know how to do all the jobs on set in order to have respect for the people who do them and also to lend a hand when it is necessary.
Post design is always a challenge to get the editor, sound designer, composer, and colorist on the same timeline. This time I decided to take on the film in my first solo edit. Up to now I have sat second chair in the editing process. I always made sure I was involved with the process but had editors do the actual edit. Often in post I have had deadline issues. I decided to take this one on myself so I would have more knowledge to take on issues that may come up.
As always there were some issues in the post. Continuity and timing are always a challenge. The rest of my post design team really came together to put the polish on the visual story. Overall, I feel pretty good about the process and the end result. Hopefully the audiences will as well.
You also play one of the leads in Shades of Scarlet - so do talk about her, and what did you draw upon to bring Scarlet to life?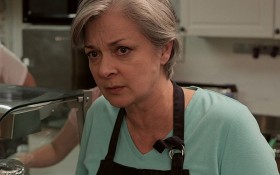 Susannah Devereux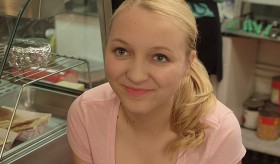 Lucy Turner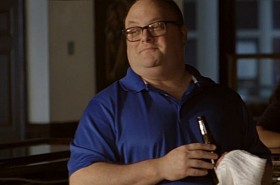 David Ditmore
I play Scarlet in the film. I was immediately drawn to her character. She gave me a chance to play a woman with a secret and a nice character arc. Honestly, her quirkiness was pretty easy for me since I have a bit of a quirky personality to begin with. The challenge came in deciding when to give the audience little glimpses to her true motivation without giving anything away.
Do talk about the rest of your cast, and why exactly these people?
I am truly blessed to have some amazing actors in this film! We chatted about the talented Wynn Reichert but I have to say working with him as an actor is a blessing. He is a ton of fun. We have some pretty great bloopers that probably should never be seen by the public! That said, Wynn is a serious talent. He always brings his A-game to set. I can depend on him to deliver a memorable character.
I just love working with Susannah Devereux who plays the BBQ manager. She is from New Zealand and brings a dimension to her characters that is uniquely hers. For this film I asked her to try out a little Southern accent rather than use her lovely Kiwi lilt. I wouldn't want to mess with her character! Strong but subtle.
I met Lucy Turner when she was much younger. She had a raw talent back then. Now as a teenager, she has an edge mixed with innocence that really speaks to the camera.
David Ditmore and I have worked together several times. He is another one of those people I have an instant sense of comfort with on set. He is funny but yet can bring an unexpected threatening force to any character. His character in this film is subtle but very necessary to getting the full story.
What can you tell us about the shoot as such, and the on-set atmosphere?
I like a set free of drama. I know that seems funny being it is acting and all! I find that it is best that you leave your ego at the door on set. It is a collaborative medium that only succeeds when all the jobs are done well. Indie film can be a little tough since there is usually limited funding and small crews multitasking.
Filmmaking always comes with unexpected challenges and ours was no exception. We had a parking lot location that had available power outside of our bar location for the car scene. However, it was during early voting for the Presidential election and was near a polling place. There were hundreds of cars in the parking lot and busses everywhere!! Needless to say, we had to scramble to find a new spot. My poor husband had to run home to get our generator since our new location did not have available power. It all turned out great on camera but it put us back on our schedule for the bar scene afterwards. We ran way late on the bar scene because of it. I am truly grateful to my cast and crew for being good sports and sticking with the shoot until the wee hours of the morning.
The $64-question of course, when and where will your movie be released onto the general public?
The market for short films is pretty much festivals and some limited online platforms. Uploading a film to the internet before it is done on the festival circuit is a bad idea. It would disqualify the film for many fests. Usually films tour the circuit about a year or a year and ˝. The online sites are becoming more well-known so I am hoping to find a site to pick it up after it finishes the festival circuit. So, I guess we will have to wait and see what happens after we finish festivals.
Anything you can tell us about audience and critical reception of Shades of Scarlet yet?
We are pretty early in the festival circuit. We started in April and have had 2 festival screenings so far. We have had a couple good reviews and great response from the audiences. In addition, have been asked a ton of questions about the film at Q & A's so that is always a good sign. We hope to announce a couple new festival acceptances very soon.
Any future projects you'd like to share?
We have a couple new projects in the works with my production company 7 Mile Bridge Productions. The first one we are going to shoot this summer is a short dark comedy called Clown College, a story about a young woman haunted by her past. It is going to be a fun one! Very dark but some great disturbingly comedic moments. That kinda seems to be my thing! The other is a feature based on my story that writer Wynn Reichert [Wynn Reichert interview - click here] penned. It is going by the working title Whiskey Quilts. It is a straight up comedy horror about a couple who owns a B'n'B in a small town known as the quilt capitol of the US.
What got you into acting in the first place, and did you receive any formal training on the subject?
I wanted to be an actor when I was a kid. Of course I also wanted to be a vet but I realized that would mean med school and putting animals to sleep. Suddenly acting looked a whole lot more cool!
I took classes in acting, dance, and singing. I was in a few school plays and then started doing musical theatre and speech completions in high school. Eventually in my 20s I decided to head to Chicago to pursue acting and modeling. I started taking acting classes at Columbia College and at a theatre called the Improv Institute.
In my limited experience, I thought the only acting option was theatre. TV and film never occurred to me as an possible job. I believe I may have pretty much been destined to fail from the start. I had this idea that I was supposed to be perfect all the time. I had no idea back then that I was more of a character actor. I am not sure I even knew what that was. My poor improv teacher Ross Gottstein gave me an assignment to try to break me down that I failed miserably!! I had a long train ride and a bus ride to get to the theatre for class. He asked me to basically roll out of bed and come to class as is. No makeup, no changing clothes, no brushing my hair. I could put on shoes, and a coat but that was it. Needless to say I was too insecure to do it!! He and I are in touch again and have laughed about it. Now days I love being a character actor, flaws and all! I would jump at the chance to try that assignment now.
How would you describe yourself as an actress, and some of your techniques to bring your characters to life?
Oh hell I don't know!! You can censor that if you want. Truly I don't think I fit the normal methods. I had this discussion once on the way to set with the fabulous actor Bill Oberst jr [Bill Oberst jr interview - click here] and finally felt like I had met someone who got me.
For me it is a process to fall in step with a character. I try not to over-analyze her since that always seems to lead to a forced performance. I kinda sit with the script in my head for a few days and play with the character without really reading the lines. After a few days, I pick up the script and play with the character a bit loosely while going over the dialogue. There is a separation of techniques when I start memorizing. It is more technical and lots of repetition until I have it down. When I feel like I have the lines I play with the character a bit more adding in her back story and any quirks or accents that are solely hers. Then I pretty much leave it alone until I get to set.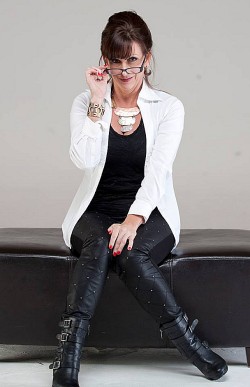 Everything changes on set. Your marks, the direction, and fellow actors really help to shape the story and affect your character. My characters never truly come to life until the camera is rolling. Most of the time I can turn her off and on like a light switch and get back to myself. If it is a very emotional role I may need a little space and time before we start and I will often need some time recover after. But I don't feel the need to "be" the character all the time. I sometime have difficulty working with actors that need to do that. I feel like we miss out on the bonding process that I like to gain a good feel for our working styles. But everyone's process is very personal and different. It really is what works for you.
What got you into directing eventually, and do talk about your directorial style for a bit?
I call myself "the accidental director". I was asked to work on a 48 Hour Film Project as an actor/ producer. The director had a couple of fantastic older SAG actors on his team and instead wanted to center his script around this pretty but inexperienced 20-something actress. I tried to persuade him to add larger parts for the experienced actors but he was dead set on this pretty girl. I got a little pissy and called up all the actors and crew I knew. Next thing we had a team together. I asked my DP Ron Coons to direct and he suggested I should do it. Pretty sure I would not have a clue I said no way. Finally I agreed to co-direct with him instead. It was a great learning experience and we won quite a few awards with the film at the 48 and on the festival circuit afterwards.
As for my style? Ah hell, I don't know. I am lucky to work with some very talented people who know what they are doing and for some reason like my dark sense of humor enough to want to play with me.
Any past film of yours you'd like to talk about? Actresses, filmmakers, whoever else who inspire you?
I am incredibly lucky to be working in Nashville, Tn. The number of talented filmmakers and actors in the area was an unexpected but pleasant surprise. Because I work on both sides of the camera I have had the opportunity to work with so many great people.
As an actor I loved working with local directors Chris St. Croix, Drew Langer, Johnny Holt [John Holt interview - click here], and Willie Robbins. They each have a very individual style of directing but I always know I will like the end result. I am looking forward to working with talented filmmaker Cameron McCasland [Cameron McCasland interview - click here] soon. We so often meet on the festival circuit as filmmakers but this will be the first time I actually get to play with him on set.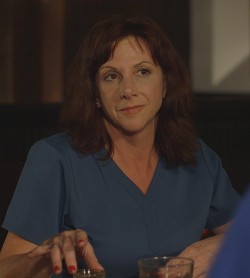 I have to give some shout-outs to my steadfast crew who put up with me on set. My DP Mark Ramey is a trooper! Not only do I depend on him on set but he has great input into the final look of our films. Barbie Clark is my go-to girl for all things costume and set design. She is just a powerhouse at getting things done! Thomas Benton Wolf started working with me at a young age. I think there was even an issue with him being on set one day when we shot in a bar. Now he is pulling focus, doing effects and pretty much every other job on set.
I have to give the biggest shout out to my husband and creative partner Kevin Keeling. We have worked on several stories together. He is pretty much my graphic designer at slave labor fees. I highly recommend as a filmmaker to marry your art department!!! It is truly a life saver to know he can read my mind and create amazing imagery to represent each project. Not to mention, he is able to get all my visuals together to be printed for the web and for festivals. He is my partner in the creative process and my steady shoulder when the world starts to spin. The poor guy even gets roped in to working on set sometimes!! I couldn't do this job without his unfaltering support.
As an actress, I would kill to be the female version of Gary Oldman!! I love the range of characters he plays. He is truly a chameleon. Of course, I love Meryl Streep, Glenn Close, and Jessica Lange for their amazing performances over the years. They have proven that women over the age of 20 can have success in the industry and still pack in audiences. When it comes to comedy I was heavily influenced by the greats of the past like Carol Burnett, Gilda Radner, Betty White, and Lucille Ball. Now days we have some amazing talents writing, directing, and breaking ground for women in comedy. Kudos to Julia Louis-Dreyfus, Amy Pohler, Tina Fey, and all the other women out there kicking ass in TV and film. They are paving the way for more women to succeed in the industry.
Your favourite movies ... and of course, films you really deplore?
I hate this question!! LOL! Sorry but there are so many great movies out there. I really have a hard time pinning down a list. I will say, if you are ever on my set, there will most likely be a shameless barrage of Monty Python and the Holy Grail-quotes. I use it to weed out the humorless!!
Seriously though, I like so many different types of films but here are some thoughts. I think Hitchcock really set the tone for so many filmmakers. His unique shots and methods to keep suspense inspire me. I am a fan of Wes Anderson. He has beauty and color arranged in every shot. Not to mention a wicked sense of humor. I am loving the Sherlock series with Benedict Cumberbatch. Those shots! Damn!! Really good stuff. I like most of M Night Shyamalan's work. He may have missed with a few films but I really like his dark sense of humor and the twists he writes.
I like sci-fi and action flicks as well. Yes, I am a bit of a Star Wars nerd. No, I personally do not own any memorabilia. However, I believe my geeky husband does. I would LOVE to work one of the Lord of the Rings-movies. Please please please just let me work in the art department for one of these! I would do it for housing and food! Anyone able to make that happen!?
As for great writing I have to say I still watch every Nora Ephron movie over and over again. Especially When Harry met Sally and You've Got Mail. Yeah I know they are chick flicks but I don't care!!!
As for films I don't like. Eh, no need to call people out. I work in indie film and we don't have a ton of cash so I am a bit forgiving. I will say that I wish studios would give indie stories another look. I mean do we really need 3 more remakes of superhero movies? Surely there are some new ideas out there that audiences would love. Break from the studio-formatted film and take a chance. A good script and a great story will always bring an audience.
Your/your movie's website, Facebook, whatever else?

Feeling lucky ?
Want to
search
any of my partnershops yourself
for more, better results ?

The links below
will take you
just there!!!


You can find me on all the usual social media sites. I certainly would appreciate any LIKES or FOLLOWS!!!
https://www.facebook.com/ShadesofScarletmovie/
https://twitter.com/Shades_Scarlet
https://www.facebook.com/WendyKeelingactor/
http://wendykusmaulkeeling.wixsite.com/wendykeeling
Anything else you're dying to mention and I have merely forgotten to ask?
I think that is quite enough don't you!! LOL! Thanks so much for the interview!!!
Thanks for the interview!