Your upcoming movie Fatherless - in a few words, what is it about?
From a log line stand point, Fatherless is about a young physicist who wants to discover the secret to time travel so he can fix his difficult childhood. I think the story goes a good bit deeper than that, though. It really becomes an artistic expression of the emotional and psychological struggle of millions of fatherless children and adults in America and the world. I hope it also gives some direction on how we might be able to fix that problem instead of just sulking over it. We also touch on some other important issues like the importance of positive fathering, racial and religious prejudice, and self-image.
What were your sources of inspiration when writing Fatherless?
Most of the inspiration for this film came from my own personal experiences. Growing up, my dad was always physically around (he lived less than a mile away for much of my childhood) but he was never really emotionally available. There were a lot of things I wanted from him as a father and never got, a lot of things I wanted to learn about being a man or a person in general that just never were addressed. My mom raised me, she was there for my first day of school, first soccer game, first date, you name it. "I was and am fatherless" to quote the main character in this film. A lot of his internal turmoil and external dialogue comes directly from this struggle in my own life.
The idea of using time travel, however, came from my present. I have a son of my own now and I have had the recent experience of watching him discover his interests, his emotions, and his own struggles. It has felt like watching a younger version of myself on a daily basis. In a sense, I have been time traveling every day with him, and that got me to thinking about the idea of traveling back to that younger version of myself to fix some of the pain and feelings of rejection or abandonment that I have always struggled with.
From a stylistic perspective, Chad Eric Smith (producer, lead) [Chad Eric Smith intervew - click here] and I tried to nail down a good description for the film and landed on Moonlight meets Good Will Hunting with sci-fi. That's pretty valid. I based a lot of the visual ideas on recent films like Moonlight and Arrival but also wanted to play with my appreciation of cinematic history, especially 90s independent dramas like Good Will Hunting or The Dead Poet's Society. While we wanted to make this film first and foremost a drama, we did take a page or two from some classic sci-fi films, notably The Matrix and Alien. We also wanted an authentic and realistic image of the lives of the fatherless, so we gave a lot of focus to neorealist and new wave films like de Sica's Bicycle Thieves and Truffaut's The 400 Blows.
With Fatherless being a time travel movie, did you do any special research on the subject?
Yes, absolutely, and there is some crazy stuff out there to dive into. I had some crazy conversations with my actors about these theories and how they could influence their characters. We would always reach the end of the conversation and just be silent because our heads were spinning trying to catch up to all of the possibilities we just discussed. Ultimately, I narrowed down the general ideas to two main theories when writing the film. By one idea, time is constant and finite, anything in the past impacts the future, and neither can exist separate from each other. This is the most common theory practiced in other films and TV shows that deal with time travel (think Back to the Future). Everyone has to avoid their past self/making changes because it will alter the future. The other idea, though, suggests that there are an infinite number of possibilities and, in turn, an infinite number of realities to account for every possibility. It's called the "Many-worlds" theory or interpretation. In this theory, time is a way we measure but it means very little to the way things play out. If you change something in the past, you don't change the future you came from, you just break that timeline off into a new possibility and a new reality, which technically already existed as a possibility to begin with. It was interesting to see the latest Avengers film Endgame because it utilizes a similar theory. With that being such a massive hit, I think that theory of how time works may be a little more prevalent in our audience, which only helps the film that much more.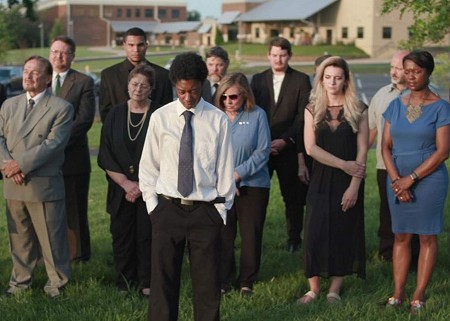 I also did a great deal of research into Einstein's theories and the interplay between spacetime and gravity. We wanted this to be science fiction, not science fantasy, so I wanted to find a reasonable explanation for how this is all going to work without going too far down the rabbit hole, so to speak. That's where gravity came into play. It changes spacetime and it controls seemingly everything in the universe. The moon spins around the earth because of gravity, the earth spins around the sun, and the galaxy spins around its center. Everything in physics seems to be spinning because of this struggle between inertia and gravitational pull, so the whirlpool idea was created. You see that idea on our first teaser poster and you hear the idea suggested very early in the film. It's a somewhat more original take on how to perceive time but also something I felt the audience could definitely buy into.
To what extent could you identify with your movie's protagonist? And if you could time travel, what (if anything) would you change in the past?
The protagonist started out very much like me. Once I had a first draft of the screenplay and started developing the story into a more screen-worthy representation of a huge demographic, we started to separate a bit more. Logan became less autobiographical and more a figurehead for an epidemic in our society, but I think Chad did a fantastic job of still grounding the character in a lot of specific details that grants him realistic depth. Logan is very much someone I once was, and someone many fatherless individuals are for some period of their lives. Logan is emotionally drowning in a sea of rejection and abandonment and anger and frustration but doesn't know what will keep him afloat. Anyone who has grown up through a similar experience can sympathize with that, so in that sense I still feel very connected to Logan. Ultimately, though, the character developed away from me specifically, and I think the story is ultimately better as a result; I don't want to tell just my story but the story of so many like me who have been suffering in silence for generations.
If I could time travel, I don't think I would change anything. The tag line for the film is "Fix the Past or Change the Future." It presents a conflict that all fatherless individuals eventually have to grapple with. Do you continue to look at your past and wish things were different or do you move on and make the future better? Having my own son has given me a lot of perspective on that. My generation of fatherless children now have the chance to change everything by being the dads we didn't have. I hope this film will open up that conversation and inspire today's and tomorrow's fathers to step up and do more. So, I wouldn't change the past but I hope to change the future. I would, however, love to experience historical events in person if I could time travel. Maybe find my way onto the set of an absolute classic like Casablanca and watch it actually being made.
What can you tell us about your directorial approach to your story at hand?
My approach with this film, as with any I make, is to have a solid vision for the film while maintaining a spirit of collaboration. I spent months visualizing what this film would be, how the characters would interact or deliver their lines, what production design was needed or should look like, and how shots should be composed. That said, I wanted all of those elements to still have a style and flair that isn't just my own. I always give my actors a good bit of room to grow their characters. For this film, I spent a lot of time in pre-production talking about backstory with Michael Mau and Chad Eric Smith. My goal was to build the characters psychologically and then let them play everything out on set. That worked out incredibly well so I was able to direct those two by "nudges" instead of "shoves". They both gave incredible performances and I'm really excited for everyone to meet these two characters. On the visual side, it was all about preparation again. Clifton Radford, my DP, lives in Cincinnati so he's about an hour and a half away from me. He came to town one weekend though and we walked through all our locations and some of our shot ideas and really had a good handle on how we wanted to shoot and light everything before the shoot started. We had some really great locations and I think Clifton does an excellent job of showcasing those along with the drama of the narrative in his cinematography. He has an eye for the right angle to present those locations to make them even better.
All that preparation was key, but flexibility was also important. We had a few scenes that we got to and the blocking just felt wrong or the lighting would be better in a different situation. Sometimes it was just a suggestion from a crewmember that something would look really visually interesting or an actor tried something completely unplanned and it worked. My previsualization prepared me to know what was needed and what was wanted on set, then I was able to weigh those decisions and experiment with some different ideas. We had one day where we were about 45 minutes ahead of schedule so we made a shot much more in depth and that scene grew in cinematic value as a result. I think what we get is something of a really high cinematic caliber because, within a day or so, everyone felt comfortable voicing ideas. That's not to say I went with every suggestion, but I always heard them out and considered the possibility before making a decision. As a director, while the final say is mine, I always want my cast and crew to feel that their ideas and efforts are appreciated and welcome.
Do talk about Fatherless's key cast, and why exactly these people?
The two key roles in Fatherless are Logan Avery, played by Chad Eric Smith [Chad Eric Smith intervew - click here], and Dr. Kevin Albreit, played by Michael Mau. I don't want to drone on too long but there are some interesting stories behind both actors joining this project. Chad and I have been friends for 11 years, frequently bouncing ideas off each other, reading countless versions of scripts and essays and more. He was the first person other than myself to read the original draft of Fatherless and he loved it. I asked him at that time to co-produce and assistant direct the film, which he immediately accepted. After a couple days, though, he told me he felt a really strong connection to the character. I had directed Chad before and always wanted to do so again so I quickly offered the role to him. We worked together for a few months developing the production as co-producers and finally signed an acting contract the night of the Academy Awards in February 2019.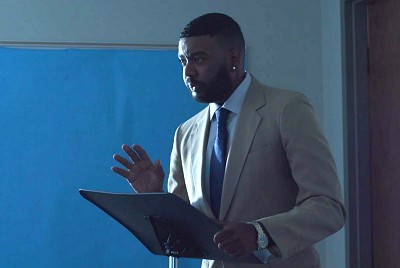 After signing that contract, we went to an Oscar watch party where we met up with Michael for the first time. He told us he was a writer and actor and we told him about the project but never said anything specific about a role for him, though we both admitted walking out that we thought he'd be perfect for Dr. Albreit. A few weeks later, we formally announced the project on social media and he reached out to us requesting to be considered for a role. It was another easy decision, and we brought him on board.
The two of them had an incredible chemistry on set. They had a unique understanding of their characters, which allowed scenes to move naturally and quickly when filming. Michael has this incredible ability to feel the shot scale on him. When we cut into a medium shot or close up of him, he turned his performance up to another level, heavy with nuance and very authentic reactions that are made for the cinematic medium. He was incredibly professional from start to finish and provided a level of depth to the character that far exceeded my expectations. In some of our early conversations, I knew he was struggling with some aspects of the character not lining up with his own vision. By the time he came to set, though, he was Dr. Albreit and added several interesting aspects to the character I had not previously explored. I truly appreciated his dedication to the character and his desire to make it more than just a supporting role.
Chad was, as always, thoroughly dedicated to the project. He lost 35 lbs for the role, completely transformed his hair, and got his ear pierced on top of the hours of research he did into theoretical physics and fatherlessness. His performances on set demonstrated a level of understanding of the character that every director aspires to see in their actors. He asked questions constantly, always wanting to know if something played well, if he had an emotion right, if he was playing a beat correctly. Yet, he still carried a constant confidence in his ownership of the character. There were many scenes when I just stood back and told him to do it, knowing he would always nail the performance. At times, we played around with emotional intensity and tried some very different directions to feel them out. He was always willing to try something different and actually enjoyed the challenge of changing things, even if we ultimately came back to the way he had originally played it. There is no question he put everything into this role and I'm sure that will show in screenings of the film.
A few words about the shoot as such, and the on-set atmosphere?
I told Chad a few weeks before the shoot that I felt like this production grew 4 inches overnight. That kind of growth has its pros and cons. We went from planning to shoot this little production with a few people to suddenly having a bunch of people interested in the project. It is always great having more support and that allowed me to delegate some of the work I would have otherwise done. It also meant there were a lot more people to check in on, emails to write and respond to, and efforts to coordinate. It grew to a scale significantly larger than any of my previous productions so there was a good deal of "trial by fire". That said, I think we managed it pretty well and were able to all work together to achieve our goal.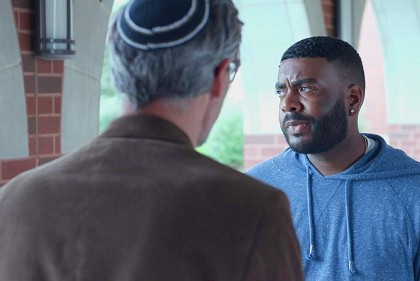 On set was a great experience. We had an excellent team of dedicated individuals and everyone got along great. There were no moments of bad ego issues or disagreements about how to do anything, which I experienced on some of my student films. Everyone genuinely wanted to make the production a success. If we ran into a problem or roadblock, somebody came up with a solution (usually our gaffer, Mike Dickman) within a moment or two and we were back to work. I never had that "oh crap" moment when you think you aren't going to be able to do something and that speaks volumes to the caliber of cast and crew I had on this production. We had to trim or condense some shots for time but I feel like we didn't have to compromise on the essence of the story.
That dedication was crucial because about half of this shoot is in a small "workshop area" with no air condition. We shot this in early July so it was in the 90s outside and, with all the lights shining through the windows, it was easily over 100 degrees inside. We also wanted a very hazy atmospheric look for these scenes so we were running a hazer, making it very humid inside, too. I called for 20-minute breaks between every scene, sometimes in the middle of scenes so crew could get a chance to cool off. I was sending the cast out between every shot so they wouldn't sweat through their wardrobe. Anytime you see actors sweating in that space, it's completely genuine.
Despite the conditions, they wanted things to be perfect. At the end of our first day there, we had a scene that is shot in one long take. It was a somewhat detailed shot with focus racking several times, blocking playing out, and some important emotional beats in the dialogue. Everyone was exhausted from the heat and humidity and this was our last scene before breaking for the 4th of July holiday. We ran through the scene a few times, had a few decent takes, and I was ready to call it so everyone could get out of there. My AC, Eric Hajjar, requested one more take because he said he could do it perfect. We did one more take and he delivered, as did everyone else. It was a great way to close that day. Having looked back at all of the footage, that is absolutely my favorite shot of the whole production, for cinematic reasons as well as the story behind it.
As far as I know, Fatherless is still in post as we speak - so any idea when and where it might be released yet, however tentatively?
Fatherless is in post, so we are several months away from seeing a final cut of the film. The very select few have seen the earliest rough cut, though. That said, we have an excellent post team that is committed to getting this project finalized and ready to submit to festivals for the 2020 calendar year. We expect to have a final cut around the end of September 2019. Then, we will start submissions to film festivals for the following year. I hope to have a private preview screening for cast, crew, and investors by the end of this year but the public will have to wait until the film comes to a local film festival in 2020. We will look into distribution through streaming services, etc. for 2021 after the festival run is complete. We are also working with some organizations interested in the topic of fatherlessness and the impact it has on people and are looking into the possibility of screenings and discussions for those organizations as well.
Any future projects you'd like to share?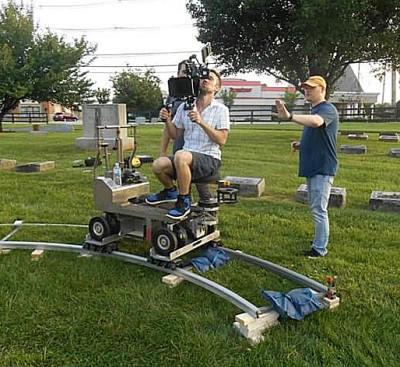 If you stick a bunch of artists into a room for a few days, you're bound to get some new ideas. Within a few days of wrapping production, I was already talking with several members of the crew about ideas for next projects. Michael Mau is also a writer and is looking to possibly adapt some of his short stories into screenplays. I have been reading over a few of those to help in any way I can. Chad and I are also brainstorming and have talked about at least a half dozen possibilities. We have been developing one idea in particular about a period piece set on a southern plantation in Civil War-era America that has a lot of potential. We also had a number of crew members who have written screenplays they may be looking into shooting. I would absolutely drop everything to help them on their projects in any way given the level of dedication they showed to Fatherless. So, I can't give you a specific next project, but I promise you artists are like sharks; we can't stop moving or we'll die. Fatherless is not my swan song by any means.
What got you into making movies in the first place, and did you receive any formal training on the subject?
Well, that brings our conversation full circle. Being fatherless growing up, I turned to movies a lot to learn about how to behave in the world, what social expectations existed, etc. Along the way, I saw some movies that REALLY blew my mind. I remember watching Star Wars the first time and just feeling like Luke was feeling a lot of the same emotions I was and I was able to kind of follow his lead through that trilogy to develop myself. I also latched onto the visual effects of the film and the ability for movies to serve as escapist entertainment. No matter what was happening in my life, I could pop the VHS into the
VCR and spend 2 hours with Luke and Han and Chewie, or tackle certain emotional struggles with a Disney film. That interest in escapism led me to world-building films that let me explore different realities. I was really swept up in The Matrix and The Lord of the Rings trilogies when they came out for that reason. I was really interested in this Georges Melies-style cinema of spectacle; as I saw cinematic tricks play out on screen, I wanted to try them. That led to making small movies on my home video camera. By high school, I was using editing software to cut things together more professionally, add titles, etc. I went to film school at Point Park University in Pittsburgh, Pennsylvania. The program was brand new and that left it feeling very exploratory, like they were still finding the heartbeat of the program. Honestly, that deterred me from filmmaking for a while and I got into analysis. I went to Savannah College of Art and Design and graduated in November of 2017 with a Master of Arts in Cinema Studies. That environment was incredibly encouraging and helped me to rediscover my passion for cinema. My last quarter there, I started telling people I was "getting the itch" again to make a movie. A couple years later, here we are.
What can you tell us about your filmwork prior to Fatherless?
It was limited. I only really did school projects during my time at Point Park and, as I mentioned above, I came out of that program feeling pretty demoralized about cinema. It was made to feel more process-oriented than artistic and just lost that sense of creativity. I've done a lot of writing since then, really diving into what I like about film. One of my essays was just recently published so I've been able to keep both my analytic and filmmaking careers active simultaneously.
How would you describe yourself as a director?
I think my previous notes on my directorial approach sum up my overall philosophy. I always want to direct by nudges instead of shoves. I will do a lot of preproduction to prepare for the shoot so I come in with a thorough vision of the characters, the scenes, the visuals, everything. I let that play out in my head and I kind of "cut the film" in my head as we are doing things so I can make decisions on what needs to change, what won't line up well, etc. The rest is flexibility, whether that is because something simply won't work as planned or because someone has another idea to consider. I never want my crew to walk away from a production feeling like they were just a hired hand; they are there for a reason and this is our film, not mine. That said, if we get to a shot and it just doesn't look right or the performance is totally off, I put that on myself for not having a strong enough understanding of my vision to effectively communicate to my team. Luckily, I really didn't encounter that experience on this set.
Filmmakers who inspire you?
I wrote my graduate thesis on Guillermo del Toro, Alfonso Cuarón, and Alejandro Gonzalez Iñárritu and they are easily at the top of my list with del Toro in a category of his own at the top. I borrowed a number of qualities from their narrative and visual styles for this film, which I can't wait to see play out on screen. Beyond today's filmmakers, I love the work of Michael Curtiz. He was making films in a time when directors were usually pigeon-holed into a certain genre. Curtiz made gangster films, musicals, melodramas, adventure films, and every one of them was great. Growing up in the time I did, Spielberg had an obvious impact on me as well. Still to this day as I watch his films, I notice something different that I just marvel at. He is an absolute master of blocking and visual structure. I could go on for hours about every filmmaker that has inspired me but those guys hold a special spot near the top.
Your favourite movies?
Pan's Labyrinth is my all-time favorite and I come back to it constantly. There are some Pan's Labyrinth inspirations in Fatherless but not as on-the-nose as some of the other film references. Star Wars is definitely up there. As I mentioned before, it really jumpstarted my love of cinema. The Matrix was a game changer for me and I snuck several easter eggs into Fatherless to celebrate that. I remember walking out of the theater after seeing it wanting to make movies with a real burning desire. I also got really interested in cinema in the late 90s, early 2000s. A lot of the films made over the last decade before then were readily available so I analyzed Braveheart, Apollo 13, Good Will Hunting, Edward Scissorhands, and Jurassic Park like no tomorrow.
... and of course, films you really deplore?
I don't know about deplore; every film has some inherent value. That said, I have just never been able to get into Tarantino. I appreciate his visual style, his dialogue writing, and his directing abilities but I struggle with his narrative structure and pacing. I have not sat through a single one of his films and not said "where is this going" at some point. That said, I do have a very Tarantino-inspired shot in Fatherless, which I guess lends credibility to that idea above that his work still has value, it's just not always for me.
Your/your movie's website, Facebook, whatever else?
Website: www.lt4films.com/fatherless
IMDb, still building: www.imdb.com/title/tt10642742
Facebook: www.facebook.com/FatherlessMovie/
Hashtag: #FatherlessFilm
Anything else you're dying to mention and I have merely forgotten to ask?

Feeling lucky ?
Want to
search
any of my partnershops yourself
for more, better results ?

The links below
will take you
just there!!!


First of all, thank you for taking the time to talk with me about this project. I have been constantly encouraged by the number of people interested in learning more about this film before it is something they can watch and experience. And I want to say a thank you to all of those people who have shown interest by investing in the film, giving their time, helping with the shoot, or even just following us on Facebook and supporting our posts. Every individual who has been part of this production is truly appreciated and we could not have done this without you. I want to end by saying my hope for this production from the start has been to create more than a movie. I really want this film to be a conversation starter as we tour the festival circuit. Fatherlessness has been an epidemic in America for far too long and it is time we do something about it. We need to stop looking at the past and what went wrong and start changing things. We need to be better and more present dads for our kids, we need to own our responsibility to family, and we need to make this change about our kids instead of about us – they are the real future. It's time for us to be the dads we wished we had.
Thanks for the interview!