Your upcoming movie Broken Fate - in a few words, what's it going to be about?
Its a very powerful story about lust as well as the realization and coming to terms with the aftermath of high risk sex.
What exactly drew you to the script? And to what extent can you identify with the film's lead character?
The script was well written by Myke Wilson. Over the last couple years, I have been working on several "life issue" type films that relate to battles many people face in modern society. Issues like anxiety, teen suicide and bullying. Broken Fate fits right in with this theme as it tackles the impacts of high risk sex, sexually transmitted disease and AIDS. As to the second part of your question, I and most anyone should be able to relate to the lead character, in that I'm a human with sexual urges and desires. For me, that is as far as my personal relation with the lead character goes (thankfully). But I anticipate that there will be several viewers who will be able to relate even further.
What can you tell us about your writer Myke Wilson? And what's your collaboration like?
Myke is beyond a great writer, he is also a producer, director, editor and actor. He runs the company N'Tense Pictures, he is a media student at Northern Illinois University and stays very active in the independent movie scene.
Myke was in my office one day for a meeting related to another project and I brought up conversation about a script he had written and was curious about selling. I asked him what it was about and if it would be something cost-efficient to produce. So, he gave me a brief summery of the story and I took immediate interest and acquired the script on the spot.
You have described Broken Fate as "While learning a life lesson from this dark drama, you also get a film with sex appeal and some horror elements!" - care to elaborate?
I would LOVE to elaborate... but I can't! That would be giving a little to much away, sorry. You will just have to check it out once released!
How would you describe your directorial approach to your story at hand?
I wanted to give this film a very clean yet erotic opening to excite the viewer followed by a very traumatic change to turn the viewers emotions to a completely different direction. I pushed my screen talent to different extremes to really get this point across and give true meaning to this film. And I have to say that my screen talent as well as crew behind the scenes did awesome at bringing this vision through.
What can you tell us about your cast, and why exactly these people?
I cast Hank Hudson and Heather Dorff [Heather Dorff interview - click here] as the leads in this film simply because I felt they were both extremely strong actors who would push their limits to bring the message this film is to portray across to the viewers and they very much did. Hank and Heather are what will make this film truly stand out and make a statement. Both are very gifted in their craft and both went the extra mile even when in somewhat awkward and uncomfortable scenes. I attribute their efforts not only to being professionals at what they do, but also because they see the message this story is to portray and feel it is a story important to tell. This film could very seriously make people think twice before acting on impulse. Hell, this film could very well save lives!
As far as I know, at the moment Broken Fate is in post production and already has a world premiere scheduled. What is the films current status, when and where will it premier and when and where will the film be released onto the general public thereafter?
That is correct, Broken Fate is in the editing room currently. Myke Wilson (the writer) has taken on editing the film by request and is hard at work finishing it up.
The film is scheduled to world premier on February 18th 2014, along with several other Breaking Fate Entertainment films at The Ashbary Coffee House in Willow Springs IL. (See the Facebook Event Page Here: https://www.facebook.com/events/1374499016139083/ )
After its premier, I plan to add the film to Breaking Fate TV (www.breakingfatetv.com) where it will be available to see free for awhile before being added to the site's membership section. We have talked behind the scenes about assembling a DVD to feature several shorts involving life issues, but that hasn't yet been confirmed.
Any other projects you are currently working on?
Most people in Chicagoland know that I stay overly busy working on films all the time. At the moment, I am directing two short films in support of the LGBT Community called Choose Love and Ring of Love (see our current campaign: http://igg.me/at/chooseloveandringoflove/x/91582). Beyond that I am preparing to direct a horror film called On Time Delivery staring Jason R. Davis and I'm slated to act the lead role in Gordon Finn, which is a serial killer type role and it is to be Wolf McKinney's directorial debut film.
What can you tell us about your company, Breaking Fate Entertainment, and why the name change from Spook Show Entertainment?
Breaking Fate Entertainment is a company dedicated to all types of independent art. Obviously, we produce film and we are well-known for producing several film festivals. But beyond film and festival work, many people don't know that we also produce music, books, radio, TV and more! We have many different departments that make us a one-stop shop for all things independent. Our largest trademarks currently are the film festivals but also rapidly growing are Breaking Fate Publishing (www.breakingfatepublishing.com), Breaking Fate Magazine (www.breakingfatemag.com) and slowly but surely Breaking Fate Records (www.breakingfaterecords.com).
Spook Show Entertainment was the name of our company for many years. Prior to Spook Show Entertainment, we were a charity production company called Twisted Wish Productions, using all donated time and talent for various charity benefits. In 2010, Spook Show Entertainment merged with Festivals of Fright headed by Jason R. Davis (founder of The Chicago Horror Film Festival). Jason and I had worked on The Chicago Horror Film Festival together for a few years and Jason had the desire to take time away, leaving the festival to me to maintain. In 2013, Jason returned to take on the role of Vice President of Spook Show Entertainment and has been working side by side with me ever since. Also joining Spook Show Entertainment in 2013 was Wolf McKinney (actor/musician) who serves as operations officer. Last summer, I consulted with Jason about a possible rebranding and name change. It is something that had really been talked about for some time. For the last couple years we have ventured into a large variety of genre's outside of horror and other such dark genres that made the name "Spook Show" not so fitting. So it was decided that we would rebrand the entire company and all of our trademarks / departments to the new, more open-genre "Breaking Fate Entertainment- name. This change officially took effect January 1st 2014 and has been nothing but a positive change offering us even further room for growth.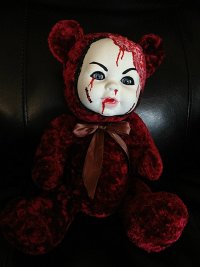 I've read somewhere that in your free time you make scary dolls under the banner Mr. Willy's Killer Creatures - you just have to talk about those for a bit!
Yes, it is true that I make scary dolls. They are sometimes called Deviant Desire Dolls as well. I have to give major credit for my hobby to Geo Alderson (www.geoalderson.com) who makes similar dolls that she calls Doll Faced Horrors. Her and her dolls were the true inspiration for what I create. Her and I have hung out making dolls together several times and both even own some from each others collections.
Favorite films and filmmakers who inspire you?
Never an easy question to answer. Almost 90% of the films I have watched in my life are independent films that many people likely wouldn't recognize. If I were to name one mainstream film, I would have to say O Brother Where Art Thou to be my most motivating/inspiring film to watch. I love the editing, color correction, music and cinematography work. On the independent level, I have always loved John Wesley Norton's Michael Morlock's Supernatual World (which can be seen on YouTube). It's a supernatural/comedy film that is especially fun for filmmakers and ghost hunters. Beyond that, I screened a film by Ezequiel Martinez called On A Dark And Stormy Night back in 2011 for the Indie Horror Film Festival that I never would have known to love until seeing it. It is a black and white film shot in a single location, just outside of LA. I watched the film and absolutely fell in love with it, so much so that I aquired the film from Martinez in 2012! I have taken such an interest in the film that I traveled to LA to visit the location in which the film was shot, I met most of the cast and crew involved in the production and hosted a screening of the film under the new name Stormy Night just a couple miles from where it was made. Director Ezequiel Martinez and lead actor Juan Riedinger have been very close friends ever since the first time I screened this now multi-award winning film.
... and of course, films you really deplore?

Feeling lucky ?
Want to
search
any of my partnershops yourself
for more, better results ?

The links below
will take you
just there!!!

Find Willy Adkins
at the amazons ...

amazon.com

amazon.co.uk

amazon.de
Looking for imports ?
Find Willy Adkins here ...
Something naughty ?
(Must be over 18 to go there !)

Its not my style to push promotion of distaste in any kind of art. I find life to be easier lived by concentrating on the positives and to provide motivation and kind words to help inspire others rather than pick apart the flaws. Filmmaking, like any other art, is not easy. Passion and desire are key.
Your website, Facebook, IndieGoGo, whatever else?
My company's website: www.breakingfate.com
My personal website: www.willyadkins.com
My company's Facebook: www.facebook.com/breakingfateentertainment
My personal Facebook: www.facebook.com/willyadkins
My Indiegogo page: www.indiegogo.com/individuals/91582/x/91582
Thanks for the interview!
You're very welcome! Thank you for taking an interest in what I do.