Your upcoming movie The Shadow Hunters: Rise of Lylith - in a few words, what's it going to be about?
The Shadow Hunters: Rise of Lylith movie is going to be about how a supernatural group of girls and a government secret group the 00 come together to stop a villain from hell who has returned to take over both worlds of human and supernatural.
With The Shadow Hunters: Rise of Lylith being based on a comicbook by Jason Dube, how close does it remain to its source material, both stylistically and narratively, and what can you tell us about your collaboration with Jason?
The comic books Jason created have a style that is between anime, GI-Joe, cosplay, and darker movies. When I first came on the project to help design the movie idea I knew I had to go a little outside the box from the comic style. Now when you look at the comic some of the outfits the main girls wear are short and tight with boobs popping, but the stories are very girl strong to who they are and what they fight for. I knew that I liked the stories and the characters he has made in them both male and female and I have two choices on how to design this. One would be do a Tokyo Gore Police crazy style or go more deeper and make it like a Blade movie. After countless hours and months of thinking how I really wanted to do this I came up with a style that would be more mixed between a bunch of films I really like from lighting, production style, and visual looks. So the difference between the comic and the film is really not going to be that much, the changes I made are mostly more film-friendly costume fixes, some of the characters are still close to the ideas from the comics, but I did change some of the characters with new make up looks and also monster designs. The film script is based off all the ideas, comics and a thing called the bible which is all the comic's stories and characters. The film script is its own story based off the comic stories with changes to make it the style I want and also to make it film friendly in the designs.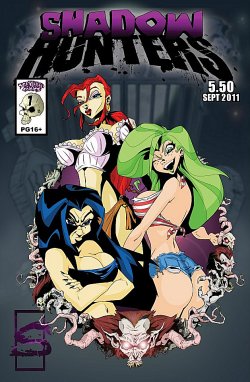 art by Benny Jordan
The visual design of the film is going to have this dystopian gritty city which will be downtown LA. The lighting and style will be a punk noir mixed with the serious anamorphic design. It's hard to explain in full detail, but I basically took the interest I have in certain films and mixed it to get the idea I want. It's something I have been wanting to do for a long time and design and this project is the perfect start point. So if you watch a movie like Blade Runner and see the shafts of light are white, I want to use that but add some unique color and also keep the films design solid from beginning to end. I also want the visuals to be so impacting and interesting to the audience they enjoy the ride during viewing.
As for the costume designs they will be very good, and we already did some test to see how they resonate on the screen. I'm basically going for a more darker look than silly cheap looking. To make it easy just take Blade, Blade Runner, and some Japanese films like Scorpion Jailhouse and make them have sex and the baby comes out to look like this. I'm mostly using lighting and visual concepts from films like that to inspire this. I know it's a small budget but visuals are always super important and I always will go for the best I can when it comes to a project I have full control with no bad apples on board.
Jason is a big part of helping with the making of the movie. He basically helps out with getting concepts drawn up and doing so much in the art area which helps me get to the resources so we can move ahead with the film designs and structures.
How did the project fall together in the first place?
As for how I came on board to try and make this movie, Jason contacted me about 3 or 4 years ago and pitched to me would this be something we could make. Jason mailed me a bunch of comics and I read them and really liked what I saw. I knew that if I made this film I wanted to make it really good and not some shit show that would be torn apart by critics or fans. Jason is a super guy who helps so many people and this is something I want to do for him and his comic fans. Jason has been doing indie comics and helping so many people and it's a huge task to be able to let the world hear your voice when your a small indie company. So for the last two years Jason has been working hard to keep the comic going and promoting as much as he can. So the only way for me to be able to make this is with the help of the people.
I also want to talk about how I had 10 grand to shoot a trailer and that the producer was changing everything for the worse. It's something I couldn't let happen. I understand making changes, but just cause you are someone with money that wants to play GOD then go do it somewhere else. I need a supporting producer that understands the right way of film making and not someone who has no experience and just is a self made monster cause they have money.
From the sound of it, The Shadow Hunters: Rise of Lylith does require some quite elaborate sets and effects and stuff - so how do you plan to go about those?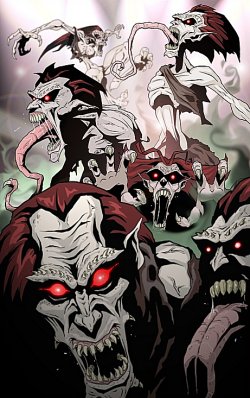 Yes you are very correct on that. Movie magic is a wonderful thing when you know how to do it. I basically will be using some really awesome sound stages and locations in downtown LA that will help achieve the looks we want. So when in certain locations we will be able to use the art of matte paintings to enhance scenes, also all the effects will be practical and look so good. I know at first I was worried I would have to get into major green screen or cgi, but after reading books from the 1950's and 1960's on camera tricks and how they did it back in the day that's what I want. So doing some research made me feel even more confident about my plan. I don't want to make a green screen film, I want to make a film that has more practical uses that look real and fit the setting. I already had some ideas and how it could be done I just needed to map it out in my head and on paper to see how much easy it is to do old school design's that could really be effective in a film. The sets will look awesome. I also feel good about how the sets that I will create are better than trying to use a location that is used in everyday life. I do have locations that are normal but most of the sets will be movie magic.
What can you tell us about the overall look and feel of The Shadow Hunters: Rise of Lylith?
The film I want to bring the audience into the moment of the now. So when the film begins your entering into their world without any major backstories to build up and explain who they are and the flow of the story lets the audience figure it out as it moves. I wrote the script to bring more excitement and the audience will be able to figure it all out on their own without any long boring dialogues and backstories to explain ever single thing. You'll learn who each character is and their personality as the film moves. Also I love action films from the 1970's mostly Kung Fu action films and just gritty crime action films. I added a lot of hand to hand combat and also gun play which is going to be fun.

The film has monsters and supernatural beings in it and that will just add to the fun. The look and overall feel of the movie is like I explained in some of the above questions, it's going to be a motion ride from start to finish. I want the audience to never feel bored or left half happy. It's going to have a really dark but punk/goth noir feeling but tons of action, dark moments, characters that are devious, and monsters that will really be exciting during the times they are shown. I'm trying to make a indie film that has everything fans want and more. Sure it sounds like it can't be done, but I spent a long time working this out and I know I can do it. Plus this will be the first film I have made with full control and a team I fully trust to do the jobs needed without issues. I've worked mostly on other people's films the last 5 years and this has been something building in me that I want to get out and really show what I've been holding inside for many years.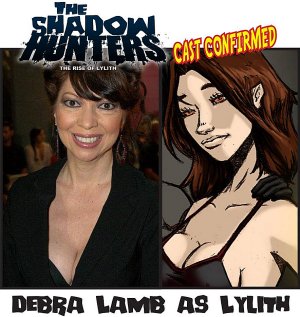 The Shadow Hunters: Rise of Lylith is to star one of this site's favourites, Debra Lamb [Debra Lamb interview - click here], as Lylith - so what makes her perfect for the role, how did you get her even, and how did she end up on the production side of things as well?
Debra Lamb was in my head about 3 years ago when Jason and myself did a horror convention and promoted Shadow Hunters as we first announced the film idea. Debra was at the convention and I knew she could do something in the film and at first there was the idea of the Vampire Council which I wanted to use a bunch of actors I know. I then went into re-writes and thought of a grand idea of changing the comic ideas of Lylith and using Debra for that role. There is more to it but I'll stop there cause then I'll give away to much. So after speaking to Debra and explaining the make up design and who she would be in the story, I sent her the new script and she really liked it.
I worked with Debra before on a film called Disciples. I was doing the cinematography. Debra sent me a reel she had with some of her noir style and it also showed her acting on 35mm film which she was really talented. I knew she would fit this role perfectly and understand exactly what I'm trying to do with the hours of explaining the character. Debra is a very talented actress. I'm using her completely different than most people would normally see her in recent horror films she has done. I also have an amazing make up design for her that is really going to be creepy and show the power she holds as Lylith. It will be very imposing and her face with the make up design will really stand out scary beautiful.
Debra is also friends with a lot of people from North California who are a part of this so it's got some friends all connected in being able to work together on the project. As for Debra as the producer she is working on areas of promotion, casting, and small production needs.
What can you tell us about the rest of your cast, and why exactly these people?
So I haven't list the entire cast cause I never did a campaign or fundraiser before in my entire career. So I have some really awesome cast choices that have agreed to do the film if we reach the budget. Sure it would help big if I could post them and it would be funded, but the problem is if we have locked dates and they can't be on board cause they are stuck on a TV show I don't want to break fans' hearts. Some of the smaller cast is basically working industry people that are so perfect for the roles and also we have one girl named Victoria Augusto who has been a big help to the promotion and has Firewire down so good I decided to give her the chance to prove she can kick ass.
As far as I know, The Shadow Hunters: Rise of Lylith is still in its fundraising stages - so what can you tell us about your campaign?
The campaign was a risky choice for me cause I've always been trained to build the proper pitch to seal movie money. I mostly been doing cinematography the last few years since living in Los Angeles and my old NYC days when I worked for producers who created film pitches for obtain real money was a long tasking event and I still agree to do that way. I just came to the point that if I can't ask the public for help this film would take years to obtain the money and I would lose the op's I have now that could be used and also the cast I want, even the team of people I want. So I'm very good at managing budgets and how to use them proper with what resources I'm connected to and what is needed.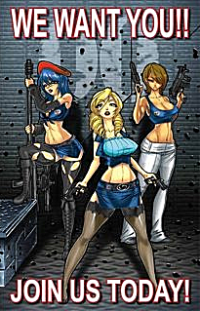 So this campaign is our only chance to make this film. Otherwise it will take 2 to 3 years to obtain a large budget and go the bigger route. I want this film to be a mix of people that are industry people, cosplay people, and just very talented people that I have now. So it's important for us to really try and hope people will give us the chance to make a really good film from a fund raising campaign. I also am pretty much straight to the point, I don't like to bullshit people to believe it will be a awesome film and brag how great it will be. I just think I would like to share the more tech side and how much I want to make a film that someone who donated can say I really am glad I helped those guys out. I'm making a film just like I would want to see this type of film as a fan. I cut the boring and went straight for the fun roller coaster ride.
I've been working a lot and I'm going to keep adding more to the campaign as we go. I have videos, pictures of concepts, and more perks to add.
The one great thing I want to do is people that donate feel more part of the production and we decided to have behind the scenes special videos made from pre production, shooting, and post production which they will be able to sign into a special password and view the videos. So it makes them feel more part of the team than just getting a bunch of stuff on the mail.
Also the special Kickstarter DVD will have special behind the scenes which will not be on the distribution DVD. They will be getting more. The distribution DVD will have extras, but the Kickstarter DVD offer will have even more to offer. I have been in talks with distro but I haven't made a solid choice to who I would be going with cause I feel the film needs to be finished so the best choice is made then.
https://www.kickstarter.com/projects/1996585420/the-shadow-hunters-rise-of-lylith
Once the budget's raised, what's the schedule ... and any idea when and where the film might be released onto the general public yet, however tentatively?
Okay so this is a great question which I would like to explain. If we succeed with raising the money the pre-production would be 3 months for prep. That is molding our effects, building our monster suits, construction set pieces, printing out the large mattes, costume prep, and just everything it takes to ready this film.
I want to shoot asap early March of 2016 and have the film ready for October 2016. The post production is not a issue, I have a solid team which I'll be leading.
I would like to able to show the film at some events around the USA and world before I totally lock it with distro. I want to be able to show this for the Halloween season.
Depending on the first one's success, are there any plans for any more The Shadow Hunters-movies? And other future projects you'd like to talk about?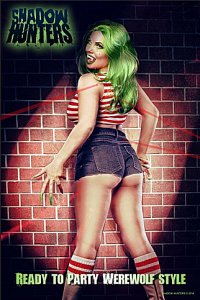 Feeling lucky ?
Want to
search
any of my partnershops yourself
for more, better results ?

The links below
will take you
just there!!!

Find Wolfgang Meyer
at the amazons ...

amazon.com

amazon.co.uk

amazon.de
Looking for imports ?
Find Wolfgang Meyer here ...
Something naughty ?
(Must be over 18 to go there !)

I'm not going to really say there will be more or success is already there. I would like to say that is the film comes out the way I have planned and fans are happy then at that time we can go from there with my answer more. I think if I make this film and it does great and we get the support then that's up to them. I would like to open the door maybe to other people taking on the next one or if the right support comes and demands I make another then great. For now I just want to get the first one done and see how far we can take it.
As for the future I've been mostly writing and working on some really heavy films I've always wanted to make. I've been mostly working on two films that would be shot on 35mm and one is a action film dealing with Yakuza, Ninja battles, and some 1970's style lead hero. It's a project that I've been working on for 5 years with a partner writer Adam Vargas and the script is now perfect. I would like to also talk about another 35mm film that is a crime story based off a true story from the 1950's. It's a film I also have spent a long time on. These productions are my more serious works that I want to make as a director.
Other than that I've just been working on film 35mm again as a loader, AC, and really happy I'm getting back to the area I want to be in. I still work as a cinematographer and I won my first award for Best Cinematography for Model Hunger directed by Debbie Rochon [Debbie Rochon interview - click here]. I just love making movies and working on them. My main dream is to keep going and never stop. It's been 11 years and I look forward to the next 10.
I'm just now finding a new path that has connected me to some really talented DP's which I'm working under on 35mm and it's been a great experience. This past weekend I just worked on a film which was shot on Arri 435 35mm and I worked as a loader and third AC. It was hard work but well worth it. The DP is super talented and being there was like opening up a toy on Christmas.
Your/your movie's website, Facebook, Kickstarter, whatever else?
https://www.kickstarter.com/projects/1996585420/the-shadow-hunters-rise-of-lylith
https://www.facebook.com/shadowhuntersfilmcomic
Anything else you're dying to mention and I have merely forgotten to ask?
Yeah I would like to thank you and the people who support me.
Thanks for the interview!