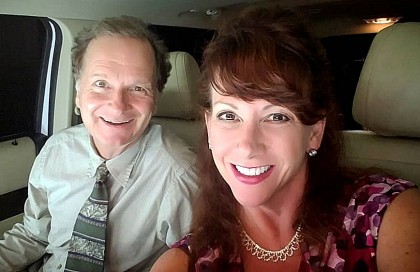 with Wendy Keeling
Your new movie Tales from Parts Unknown - in a few words, what is it about, what is your segment about, and what can you tell us about your character in it?
This film is really cool. Itís an anthology of four short horror films tied together with a common thread, and a wrap-around by a character named Dr. Gangrene (Larry Underwood [Larry Underwood interview - click here]). He weaves between the four films as well as opens and closes the film. The film Iím in is called The Rider. Itís a story about what can happen when you do the wrong thing. And when I say, ďwhat can happen,Ē well, what happens is not pretty. I donít want to give the story away, just know it does not end well for me or my wife (Wendy Keeling [Wendy Keeling interview - click here]). Itís really a pretty cool little piece. Itís got action, drama, comedy. My character ďWalter CrawfordĒ has been described as a henpecked husband. Iíd rather think of my character as a strong, manly sort of man, that keeps my wifeís out of control ego in check. Unfortunately thatís not the case. She keeps me in check. Itís a fun film and was really fun to shoot. And director Cameron McCasland [Cameron McCasland interview - click here] gave us room to play. I wonít spoil it for anyone but Lee Vervoort [Lee Vervoort interview - click here] plays The Rider, and man can he ride.
What did you draw upon to bring your character to life, and how much Wynn Reichert can we find in Walter Crawford?
Iíd say thereís a piece of me in every character I play. There has to be. I canít see any other way of doing it. Granted, Iím playing a fictional character, but I bring whatever parts of myself that fit the character, and what doesnít fit, or what I donít have life experience with, I use my understanding of the situation, and the character, and then basically throw all that out the window and just be in the moment and just let what happens happen. Whew, talk about a run-on sentence. That ran on and then some. Anyway, itís always fun to work with people you know, and Iíve worked with Wendy a few times over the years so we both know what each other will bring to the table. Beyond that, I just try to have fun. If it isnít fun, Iím doing it wrong.
How did you get involved with the project in the first place?
Cameron McCasland, the director, Iíve worked for him before. Most recently a couple years back in The Cave. He really loves making movies. And it shows on screen. Heís super easy to work with. He lets us do what we do. And when he wants something different heíll tell me. But he trusts his actors. And that counts for a lot in my book.
To what extent could you identify with Tales from Parts Unknown's approach to horror?
Itís going sound clichť, but a good story well told - doesnít matter if itís comedy, drama, or horror, it always starts with the story. And if itís a good story, and it looks like fun, I want to do it. Cameron had a definite vision for these 4 films in the anthology, and I will tell you, in a nutshell, bad things happen. LOL. Seriously though, in The Rider bad things happen to bad people. And not that weíre bad people. Of course, youíll have to decide that for yourself when you watch the film if Iím a good or bad person. I donít mean to be bad. I donít want to be bad. I do what I can to steer clear of it, but I just donít make it. And then I get my comeuppance.
Do talk about Tales from Parts Unknown's director Cameron McCasland [Cameron McCasland interview - click here], and what was your collaboration like?
Working with Cameron is pretty much be summed up like this--make the best film you can make, and have fun doing it. Cameronís not opposed to getting his hands dirty. And when it comes to getting things done, no matter how difficult it gets, Heís the first one to pitch in. You get the feeling working with Cameron, that youíre working with a friend. A friend that likes you a lot.
What can you tell us about the shoot as such, and the on-set atmosphere?
We shot the film in Tennessee and in Kentucky. We had some night shoots, and one all-nighter. That day, I got home as the sun was coming up. But we had fun every moment. People can get a bit punchy at three in the morning, and Wendy had to jump in a lake at this appointed hour. And she was a trooper and did what had to be done, but Cameron was right there, making sure she was in and out of the water as fast as possible, and to provide blankets etc to keep her warm. Iíve said it before, but we really did have fun, and Cameron sets the table, then allows the actors to play.
Any future projects you'd like to share?
Actually going to Missouri next week to work on a feature film. Really good script. A small-town crime thriller. Canít wait, gonna be fun!
Your website, social media, whatever else?
You can find me on Facebook, Twitter, and IMDb.

Feeling lucky ?
Want to
search
any of my partnershops yourself
for more, better results ?

The links below
will take you
just there!!!


Anything else you're dying to mention and I have merely forgotten to ask?
Just a big thank you to you, Michael, for your ongoing support of my talents and the projects I am fortunate enough to be a part of.
Thanks for the interview!