Your new movie Dirty Books - in a few words, what is it about?
Itís about a teenager who runs his high school newspaper, but quickly rebels against the ďsystemĒ when heís told theyíre going to be changing it into an online blog. And so, he goes to fairly drastic measures to try and keep the paper relevant and alive.
Print versus blog - your own take, your preferences?
For news purposes, online is just so much easier. I donít buy a newspaper and heck I think most people donít, and I donít fault anyone for it. But there is a great joy in holding something tangible. When I read books, I do so with a physical copy. I know itís more efficient and practical to have a Kindle or Nook but thereís something about holding the real thing, similar to the feeling of a vinyl record. So I guess it depends.
What were your sources of inspirations when writing Dirty Books? And is any of this based on personal experience?
Ian Everhart and I are huge Wes Anderson fans, something we bonded over freshman year of college, and when we first started writing this script we thought of Rushmore primarily. Yet, over time we began to make it more our own and try not to rip off Wes completely. Thereís also just something so interesting about having the story take place in high school; a time when students can have so much passion but still fight against those who are, quite often, ultimately trying to help them. Itís an odd time in our lives and itís fun to shine a light on it. I donít miss high school really, but itís nostalgic.
What can you tell us about your co-writer Ian Everhart, and what was your collaboration like?
Ian and I used to do a fair amount of writing together. We would stay up late and swap the laptop back and forth, taking turns as the scribe. After a few weeks we finished Dirty Books and, like typical film kids, thought it was pure gold. We were actually going to make it that summer but plans got in the way, therefore delaying the project. This used to upset me until I realized, many moons later; thank goodness we didnít do it (we would not have been prepared). Flash-forward to the spring of 2015 Ė our Los Angeles internships are ending and we have one last summer to ourselves before ďadult lifeĒ happens. One day, Ian suggests that we could use this last summer to finally film our freshman script. But I was very hesitant until Matt Rindini [Matt Rindini interview - click here] (who was also living with us) convinced me to really think on it. One thing led to another and I eventually ďcavedĒ. We read the script and realized it would need a lot of work (I think we ended up doing about eight rewrites) but we got it done and finally felt it was time to tell our story.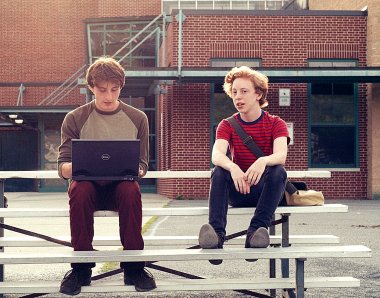 Do talk about your directorial approach to your story at hand!
Writing is often lonely but I tend to choose it over directing because when I direct I basically lose my mind. Iím a very anxious person and when a movie is in my care, my stress levels only gets worse (my insomnia rises as well). Yet, despite all that, I love it. We all do. Itís why we deal with such long hours, and often with little reward. Luckily with each movie I learn how to relax and keep my composure better, and this movie was easier communication-wise with just a three-person crew. Yes it meant taking on multiple roles but Iíve also known Matt and Ian for years, so thereís a trust factor. As a director I like to stick to the script best I can but itís also easy for me to change lines once we start filming a scene because, in the end, we all want what works best. And it definitely helps when Iíve been a part of the writing process beforehand.
What can you tell us about your key cast, and why exactly these people?
We got so lucky with Noah Bailey, and Iím not just saying that to be nice. When we were casting for the film, Ian sent an email to his old theater teacher who sent us a list of top candidates to play the role. Noah was on the list with the caveat; he might be a bit young. Regardless, when he sent in his audition we couldnít believe how well he understood and portrayed this character. We had to cast him and he was so excited to be on board. He was there every single day of filming and I think his commitment and acting abilities will take him quite far, truly.
We had also put out a casting call online, which is how we found Timothy J. Cox; he was actually our first audition for Dr. Bradley. His sides were very engaging and I remember thinking, is it jumping the gun to already say this guyís got it? We quickly emailed Tim and told him to hang tight because he was in our highest consideration. Soon after that we alerted him he had the part. Tim is extremely easy-going and, like us, wonít stop talking about movies. He is a true gentleman, on and off the camera.
Casting my younger brother Isaiah in the role of Owens might seem like nepotism but there was more to it than that. We were having a hard time finding the right person for this character, but sometimes the answer is closer than you think. Iíve acted with Isaiah ever since I was about ten, and weíve slept in the same room since he was practically born, therefore I knew he could pull it off. Even so, he still filmed an audition to help prove himself to Matt and Ian. Also, Isaiah and I are often on the same wavelength mentally and that comes in handy when making films.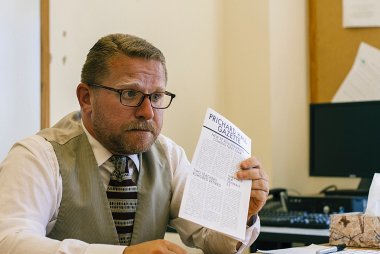 For some reason we had a huge influx of audition tapes for Charlotte, fifteen or so (which to us, and our small movies, is a lot). Thus, it was the toughest call to make because we kept narrowing it down as more videos kept coming in. We were considering one person and then immediately thinking someone else was better, but then when we watched Ansley Bergís tape there was just something there. I know, how clichť. Everyone says that about casting, but itís true! Matt had met Ansley, and her friend Amy (who was an extra in Dirty Books), during a casting call in Boston, and he told them both to audition. Iím very glad he did because Ansley adds such a punch to this prominently male cast that itíd be hard to imagine the story without her. When she arrived on set, all smiles, and began her first line, we knew we had made a great call. And many others who auditioned still got speaking and non-speaking extra roles.
Dirty Books takes place mostly in a high school - so where was it filmed, and what were the advantages and challenges filming there, and how did you get the location, actually?
We shot most of the non-school footage in Pittsfield, where Ian lives (even using his familyís house as Davidís home). But when it came time to film the high school scenes we needed a school that would trust us to wander their halls primarily unsupervised, and so I turned to my mother for help. She is a teacher at Greenfield Middle School, so she could vouch for the small cast and crew. Not to mention, I used to substitute teach there for a handful of years so the faculty knows me personally too. We talked it out with the custodial staff, the principal, and the administration and they were quite happy to help. The challenges came with the fact that we had little power once inside the school. If the janitors were working on the second floor with loud fans and floor cleaners, we couldnít ask them to move; we had to adapt and press on. But, despite each hurdle, we found a way to make it all work and Iím extremely proud of how it all looks. I mean, itís a real school and that helps the aesthetic of the film all the more.
What can you tell us about the shoot as such, and the on-set atmosphere?
The shoot overall was very relaxed. This one was the first time we didnít have any teachers keeping an eye on us or had to worry about a deadline, or what grade we might get. This was just our film, to be made for our own happiness and perhaps the pleasure of our audience. We had a three-person crew doing a two-week shoot. As mentioned before, being a crew of three made it easy to converse and collaborate but also extra tough because we all took on numerous roles in order to round out a proper crew dynamic. Still, it felt nice going back to how I used to make movies as a kid. Yes, we had a script, proper actors, and professional audio & video, but we kept it simple. We had no lighting, used locations we knew personally, and made the movie for $0 (aside from food and transportation). In the end, it was nice to film something back in my hometown, of Western Massachusetts, as adults now.
The $64-question of course, where can your movie be seen?
YouTube: https://www.youtube.com/watch?v=LQyPDiW0qLw
Any future projects you'd like to share?
We say weíd like to do a feature by age 28, but perhaps that could happen even sooner. Iíve been really inspired by Mark and Jay Duplass who make movies their way. They make their films for cheap and with their friends and family; over time, people began to notice and theyíre still going strong and helping others get into the business as well. They were unhappy with their lives and said screw it; letís make a feature! That takes balls and hopefully weíve got balls like that someday. We also always talk about our next big short we plan to do, currently titled Geneva. Weíre not sure if this is one year away or more like two, but itís always there in the distance. I think itís important to take risks but also be wary of biting off more than we can chew too early.
What got you into filmmaking in the first place, and did you receive any formal training on the subject?
I think a lot of filmmakers get inspired very early on and by one of the ďMacDaddyĒ directors like Scorsese or Kubrick, and mine was Steven Spielberg. I would watch his stuff growing up and quickly claimed my dadís bulky Panasonic camera to make my own videos. I was probably about nine or ten when I started. I used my brothers and neighborhood friends as actors, while I stayed predominantly behind the camera (because thatís where I felt most comfortable). No script, no lighting, and even at the beginning all editing was done in camera. It was when I finally saw The Truman Show that I realized the kind of stuff I truly wanted to make, having a mix of comedy, mystery, and drama. That got me into writing more creative stuff. Later, I went to Fitchburg State University for a concentration in film/video and it was during FSU that we created Fitch Fort Films, and began making movies as a group. Over the years people have come and gone, but we still keep it going even after we all graduated.
What can you tell us about your filmwork prior to Dirty Books?
I always love writing, both scripts and music. Thus, when Fitch Fort Films does a video I tend to be on the sound, music, or writing side of things (as well as editing and sound editing). But my work as a director, Dirty Books has been my first serious short film since Vinyl, which was done in the spring of 2013. When I say serious, I donít mean the content exactly but I mean serious in the way that itís something over five minutes, using actors other than us mainly, making a schedule, renting equipment, etc. I was worried to do another one of these, for my sanity, but I can already see how much Iíve grown and learned since doing something like this just two years ago. Vinyl, for those who are curious, can be watched here: https://www.youtube.com/watch?v=9FGeraLTkdk
How would you describe yourself as a director?
As Iíve mentioned many times now: Iím a worrier. Meaning, if things are going wrong, even the tiniest error, I can become short with people and need to just walk around for a minute. Yet, thatís almost a director trademark. Luckily with Dirty Books that didnít really happen, but my heart rate still doesnít truly slow down until the filming has wrapped and we go into post. Iím nervous in the editing stage too but in a very different way, a slightly lighter fashion. In my personal life I tend to have the mentality of a middle-aged dad so, as I get older, maybe those two sides of me can blend together during my filmmaking career.
Filmmakers who inspire you?
Typical perhaps, but my main influence is Wes Anderson. I remember watching The Royal Tenenbaums accidentally, not knowing the film, and just falling in love with it. The Darjeeling Limited is also a big favorite between my brothers and I. But I also enjoy the works of: Paul Thomas Anderson, John Hughes, Rian Johnson, the Duplass brothers, the Coen brothers, Christopher Nolan, Edgar Wright, Spike Jonze, Quentin Tarantino, David Fincher, Danny Boyle, Richard Curtis, John Hamburg, and Judd Apatow.
Your favourite movies?
The Truman Show, Little Miss Sunshine and Eternal Sunshine of the Spotless Mind. Odd I know, two have the word sunshine and two have Jim Carrey as the lead. But I kind of think that second part is no accident. Growing up I thought Jim was the funniest man on the planet, but then when I watched his serious stuff I also realized he is one of the most gifted actors dramatically too (yet, not one Oscar nomination for the man).
... and of course, films you really deplore?
Man of Steel. We took our dad to see it on fatherís day and I apologized before the movie was even finished.
Your/your movie's website, Facebook, whatever else?
Fitch Fort Films can be found on YouTube and Facebook:
https://www.youtube.com/user/FitchFortFilms
https://www.facebook.com/FitchFortFilms
Anything else you're dying to mention and I have merely forgotten to ask?
Two things (and both have been briefly talked about):

Feeling lucky ?
Want to
search
any of my partnershops yourself
for more, better results ?

The links below
will take you
just there!!!

Find Zachary Lapierre
at the amazons ...

amazon.com

amazon.co.uk

amazon.de
Looking for imports ?
Find Zachary Lapierre here ...
Something naughty ?
(Must be over 18 to go there !)

1. We had no professional lighting in this movie, only natural light. We realized, with such a small crew, that we would need to hire a gaffer (which costs money, which we didnít have). Also, in most of our previous films lighting is what slowed production down, due to our limitations on the budget and personnel side. So I looked to the Duplass brothers (yet again) for inspiration and pointed out how none of their early features had any lighting. Sometimes to the point where you wished they had! I didnít want to sacrifice any quality but I had a feeling we could get the job done without a lighting team. Iím a little surprised at how nice it looks actually.
2. The other tough thing about making an indie film is relying on the kindness of others to get the job done. Weíre not in a place quite yet where getting extras is an easy thing. No cattle call or Facebook invite will actually get people to the set. I had to individually contact every extra you see written in our end credits. It was a long and tedious process, but a necessary one. This part of the interview isnít about me bragging but more about thanking all those who came out to help. We werenít able to pay or even feed them, but they still showed up and had a good time. I kind of owe them each a favor now.
Thanks for the interview!