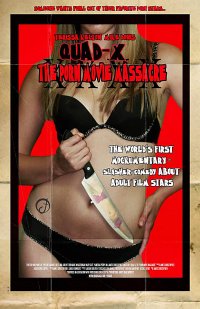 The direct sequel to Quad X: Rise of the Beaver Slayer (though also totally enjoyable if you haven't seen the first film): Ginger Snap (Terissa Kelton), porn star turned producer, has decided to take her company to the next level: She's no longer content in just making porn parodies and has instead set her eyes on the slasher genre - so she plans to make a slasher movie with hardcore sex scenes, to appeal to the broadest possible audience. Documentary filmmaker Christopher Shearer (Daniel Caro) is to film the BTS-segment - and feels shat upon since BTS-segment is usually what some intern films on their Iphone ... he still does it though as he's strapped for cash, and thus gets the dirt on everyone, from the superstud with erectile problems (Colby Wallingsford) to the pornstar-turned-born-againer-turned-coke-addicted-pornstar-again (Ariane Powell) to the arrogant director (Eric Adair) to the frustrated assistant (Mary Cate) to the aging pornstar who can't cope with getting older (Marc Wasserman) to the in-house psychologist (Janet Mayson) who's just not very good at her job to the fired almost-director of the flick (Duncan Coe) and everything in-between. Oh yeah, there are also two of Ginger's screenwriters (Benjamin Tubbs, Sarah England) in there somewhere, but they have accidently killed their colleague (even though he was the most talented of all of them), so they spend most of the movie trying to hide the body ...
All of this sounds like controlled chaos already, but things turn for the worse when even before the shoot starts a killer starts killing people somehow connected to the film (or at least the BTS-segment) - very much to the delight of detective England (Mike Donis), because this way he can become his favourite porn actress Chastity's (Andrea Dettling) personal bodyguard - with benefits. But there's a downside to this job, as when cast and crew and police escort arrive on set (a remote cabin in the woods), the place quickly turns into a slaugherhouse ...
Shot mockumentary style (including talking heads segments, intentionally varying quality between different shots, at times bumpy camerawork, and people too clearly hamming it up for the camera), this film is basically all the fun a mockumentary is supposed to be: It plays with the genres it tackles (besides documentary also slasher and porn), gives both crude jokes and sophisticated situation comedy enough room to unfold, often breaks the fourth wall in really imaginative ways ... and the way the film goes about showing no bare breasts during all of its running time without betraying one of its very topics (porn) is just too hilarious to not be seen. But besides this, the movie's also very decently shot and paced and features a competent ensemble cast playing a set of wonderfully eccentric characters, all of which really good genre entertainment!