Your new movie Clean Up Duty - in a few words, what is it about, and what can you tell us about your character in it?
A mob capo has been put in witness protection. A younger mob capo pays him a visit.
What did you draw upon to bring your character to life, and how much David Graziano can we find in Henry?
I always start with Uta Hagen's nine questions. Simply stated who, what, why, where, when and how. With much detail. I grew up around mob guys. I don't mean my family was in the mob by any stretch. I had known these guys socially. You pick up bits and pieces of behavior that you think are interesting and you use that to create your character. How much of me is in the character? On occasion, I've been known to be sarcastically funny with ulterior motives. I don't wash my hands before I go to the bathroom…
How did you get involved with the project in the first place, what drew you to it?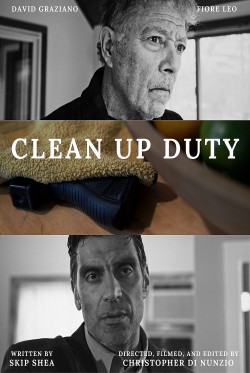 Director Christopher Di Nunzio [Christopher Di Nunzio interview - click here] called me and said, "hey David, would you like to do a comedy?" I immediately said yes. And then he told me Skip Shea [Skip Shea interview - click here] had written it and Fiore Leo [Fiore Leo interview - click here] was going to be in it he was going to direct and shoot it. I said can we start today? This is the second time I've worked with Fiore. We were in A Life Not To Follow together. He was in the first chapter and I was in the last chapter. He played a hitman for my mob boss in Under The Dark Wing. He's an outstanding actor. It's no secret that I have worked with Christopher and Skip about 12 or 13 times. They may not agree, but I think we're a good team lol. We communicate well, easily, and direct with each other. Ditto for Fiore. I feel comfortable in front of the camera when those guys are around. I feel secure in front of the camera.
To what extent can you identify with Clean Up Duty's brand of humour?
As you know, I play dark twisted characters. I'm drawn to the dark twisted psyche. This film is twisted, dark and funny.
What can you tell us about Clean Up Duty's director Christopher Di Nunzio, and what was your collaboration like?
On set with Christopher is wonderful. He knows exactly what he wants. He knows how to get it out of his actors and crew and he's very patient. He's creative and open to suggestions. I'm lucky enough to have some of those suggestions in the work I've done with him. I've worked with Christopher six or seven times each time It is wonderful. Skip has directed me five or six times. Each time is wonderful. Both give their actors room to act. They're very generous.
Clean Up Duty wasn't the first film you've worked on with Christopher Di Nunzio - so what can you tell us about your previous collaborations, and how did the two of you first meet even?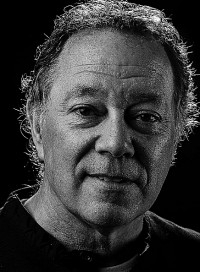 Feeling lucky ?
Want to
search
any of my partnershops yourself
for more, better results ?

The links below
will take you
just there!!!


Skip Shea put us together. Christopher called me, introduced himself and sent me a script, A Life Not To Follow. I read it three times. Fell in love with the film. I was finally getting a chance to play a character I knew I could play very well. The alcoholic drug addicted detective, Tobias Kane. He is an anti-hero. Christopher and I met in person in a coffee shop in the North End of Boston. Italian neighborhood. We sat there for about 3 hours. He and I hit it off.
Back to Clean Up Duty - what can you tell us about the shoot as such, and the on-set atmosphere?
Lol. We shot at my house. Fiore and I had trouble trying to stop laughing with each other. We shot in one day. We had a lot of fun with the dialogue. I was happy to be working with Fiore again. Fun, fast and loose atmosphere on set.
Any future projects you'd like to share?
I play a racist no good tough detective in Above Arkham. In production. I play the lead character's father in a wild comedy, Manticore. In production.
Your website, social media, whatever else?
www.IMDb.me/davidgraziano - everything I've done and how to contact me is there.
Anything else you're dying to mention and I have merely forgotten to ask?
I am very lucky to be able to work with the people I work with. Especially with the ones mentioned here.
Thanks for the interview!
Thank you Michael!