You've only recently scored the short The Pact - so do talk about the filmscore, its style and its musical influences for a bit!

People familiar with low and moderate budget indie films will notice there is definitely music in the movies, but generally itís going to be music that fades into the background. This decision is almost always the director requesting that style, or the composer creating that style and the director being OK with it because thatís widely accepted.
I wanted to give The Pact a normal film score that could be from any major theatrical film release and not overpower the story but not fade into the background. Richard Wagner used to do this with his works: be as theatrical as one can with telling the story through the music. The music being its own character was the standard for the longest time until maybe the 2000s, and by the 2010s it was whatever we have now that most music is sort of there. People on this movie worked hard enough that they deserved me to put an effort in. This with how I did not get into film scoring work to do people a disservice of blandness is how this score came about.
At one point in the getaway car scene, it sounds like an old Hollywood orchestral work on purpose which is the flair I love, but we get into horror and synths. Itís really a mix. At parts like the end, the really wild strings are not what you find in a standard indie film.
The plot was kind to me though, not its characters so much because it is easier to find inspiration to score something that isnít of a pure heart. Me taking on a sweet childrenís tale like a Dora the Explorer wouldnít allow so much freedom to be evil.
Every track on the score uses a tool from UJAM called UFX Reverb, a nifty tool that makes everything sound so much bigger. If you want one of the secrets to massive blockbuster film scores, a good reverb tool is how you get that. The final track uses UJAM Symphonic Elements DRUMS and BRAAASS, which are Hans Zimmerís personal percussion and brass sounds for everyday people to compose with. The products including those made for pop and other genres are sold at accessible prices with discounts for students and disabled musicians who belong to the Able Artist Foundation. Helping promote the products is an absolute honour and Iíve long promised to incorporate the products into the professional film scores I work on for others to show how polished they make everything sound. For reference, youíve heard these sounds from the Symphonic Elements like, which also includes STRIIIINGS, on Mr. Zimmerís own scores. I used DRUMS on another track in the middle of the film. Great stuff! UFX Reverb took my simple horns sounds that were not by UJAM and made them super scary at parts, or gave them this really expensive sound. The finale track with the actual UJAM brass sounds is so polished and only got bigger.
If you notice, most people who promote products donít really use them outside of whatever theyíre supposed to, and I actually love the products and the brand values that UJAM stands for, how everyone can compose with any background, gender, financial resources and educational background, so I really want people to know, yes you can compose with the tools from this movie and make everything sound expensive and fancy.
How did you get involved with the project in the first place, what drew you to it?
Paul Sutton [Paul Sutton interview - click here], the director, asked me to be part of the crew, so I agreed. This was before I ever saw a final cut of the film. I initially did not know much about the story, then I got to see a rough draft of it. Very simple!
What can you tell us about The Pact's director Paul Sutton, and what was your collaboration like?
He sent me a mock-up of the unfinished film, and his film besides my score defies whatever you think you know. When you say short film, most shorts are a length, and weíre used to seeing them sort of come and go. Most are cute plots or things calling attention to important issues, so Paul has this story about women who in true equality, arenít allowed to have to be nice all the time. Theyíre sick of people pleasing and want revenge. I loved that. Because if you want equality for anyone, women come in good people and villains, or that weird spot of good people whoíve maybe lost it and are exhausted of lifetimes of having to be perfectly sweet to everyone who troubles them. Society, you could say. The length itself is probably closer to a feature cutoff than a true short film.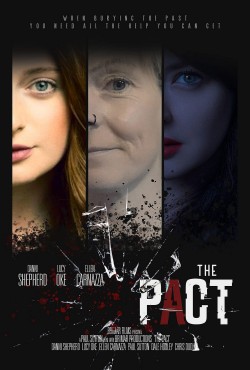 With the mock-up, I stuck in ďtemp musicĒ, temporary music to use as references that I sort of liked from mainstream movies. The funny thing is I didnít really end up using them much. They were there to show him how I liked synths mixed with orchestral and some scary things. He was great with that. I waited and finally one day got sent a copy of the finished movie.
But hereís the fun part: I didnít know his deadline for festival submissions was Halloween! I naturally work really fast anyway because my teachers when I was 12 to 15 before I switched to online school across every subject, music included with my private flute lessons, were so great. My science teacher when I was 12 made us all have a student schedule book and show her what we were doing in it. My music teachers made me super disciplined. Then at one point I was when I was much younger freelancing for one of the biggest American newspapers and some other places where I had to have five to ten minutes tops on a phone interview, turn it around and have a news article written in hours if not one hour, turned in to be printed. Iím really good at getting things done fast.
I thought I was ďslowĒ for my standards getting this score done because my plan was to have the final eighth track sent back to Paul the next week, a full orchestral track, only traditional instruments. My placeholder for that seven minute ending was Danse Macabre, so my mind was all, Iím going to need maybe a full day or two of working hard nonstop to live up to something on that expectation. Maybe three.
And Paul was, ďThe deadline is on Halloween.Ē A Tuesday, as it was Saturday! I got down to it and made the last track synth mixed with some orchestral. Synths sound cool and really get things done faster, but youíre able to with them sprinkle in traditional sounds, so I love that. And technically, a deadline led me to creating a final track thatís super cool and wouldnít have happened if I had gone with the original plan.
So take us through the whole scoring session for The Pact, all the way from writing to actually recording!
Each track is the same process. I sit down at the computer, first step. Part two, I place the cropped scene video into my software so I can visually see where the music has to change. Testing the tempo, Iíll insert a temporary beat to see how it needs to move. Then I will map out where the changes need to be with chords that appear where things are moving along and begin to compose over it. What makes it all easier is that I am able to use the computer so well with this in this year 2023. I donít have to guess and then pair it. The clip is embedded! I can mute the clip and watch it as I have the music there, or I can turn the audio on for the dialogue and notice if someone says something that requires a change.
As time goes on, yes I would love to have live orchestral scores but an idea that came to me from The Pact is, what if I can polish this so well that entirely digital instruments perform my work and I can have the quickest turnarounds with quality, realistic music and make directors and studios happy? As time goes on, the instruments get so realistic and the way I mix and match them, use that reverb and layer them is so perfectly done, I can knock that out and if someone wants a few live musicians to add realism and a human quality of people playing things, I can do that?
The standard some follow is they have a digital mock-up thatís sloppy and doesnít sound anywhere near a real orchestra after a month or more, get a new person to orchestrate it, record until itís right and take a while. This whole process is so time consuming. John Williams says he writes every note that the orchestra plays. The younger composers arenít doing that. Along the way, people keep splitting the job description into a bunch of more jobs, orchestrator for this, a new job for that, assistants, and pretty soon it snowballs into this greater expense and more money spent.
Of course, if and when I ever someday work with a full live orchestra, I can do my own orchestration and physically be there to record my own work with them in whatever studio or scoring stage that is. I donít want to have thousands of assistants around me doing different things slowing down the work process. Maybe some assistants can be good for some people. I donít know without being in that position right now. The phrase Iím thinking to describe this, ďtoo many cooks spoil the broth.Ē
Any future projects you'd like to share?
Yes, I am working on getting Peter Pan and the Adventures of Dreams, my first animated movie made with a real budget. SAG-AFTRAís strike is delaying it a lot. Thatís OK, because maybe it is meant to leave space open for me to do exciting new unforeseen things. When one door closes, one opens, right? Itís temporary after all.
The whole script is written with the works of J.M. Barrie stuck in my head. It is the first ever Peter Pan-based on the collective writings of his, both Peter Pan books, his letters, the poems, all of it. I want people to really feel that the movie has input from J.M. Barrie himself to the best of my ability but feel so personalised like me, my own spin on it. Itís really different and will be animated professionally by Demente Studios.
All of what I make is working towards making The Time Machine by H.G. Wells into a film trilogy like Peter Jackson would, and that in itself is hard because you need to make the first film happen. You need all the right resume checkboxes to get the financing for something that big.
What got you into music first, and did you receive any formal training on the subject?
I studied flute with regular school music classes daily and private lessons. Whenever I played the flute, playing my own work was more fascinating. Most people donít think being a film composer is an attainable job and they push you to have a real job in whatever your parents were doing. My dad is a physician and my question was always from strangers if I wanted to be a doctor or nurse. In film scoring and classical music, people presume someone without a music degree has never touched music before, so that is a stereotype I really want to change.
My schooling was a neverending mess, and all largely decided for me by other people. I was a minor when I finished mostly online two year community college and high school at the same time. My high school district was tied to my mailing address in Illinois, in a city where I never really was physically or wanted to be, and I hated the vibe of how real American high school is nothing like those movies where the new guy is Heath Ledger wanting to take you to a party and spoil you with his coolness. You have a person planning your coursework in America called a guidance counsellor, who literally is a counsellor and can if you need it advise you on mental health. The only class I ever liked that my counsellor picked out was cooking. The rest was kind of ok or meh, and my counsellors for the community college and high school chose a ďreal jobĒ path I didnít care for. Fun! Right?
When youíre 16, you cannot legally decide where to go to your university or what classes you wanted to take. My parents didnít mind me going to Manhattan but no, I wasnít allowed to got NYU or any school in Manhattan so off I went to finish my last two years of education with a degree my dad chose for me, journalism. And then when I wanted to transfer into music, acting or the film studies areas, everyone at my university was kind of snippy and rude about it. I was told after I said I wanted a music composition degree that I should take the non-major band class for students who wanted to play music for leisure. What the? The drama department professor told me to get married to a rich man and move on as a sort of Real Housewife when I answered his question if I studied acting, I could learn to be a great director to my actors. Too many stories, too many negative things.
Looking back, studying science would have been my top choice for a ďreal jobĒ university degree. Science is cool for a day job. A science background is ideal for writing and directing great science fiction films.
Iím telling you all this to explain, life hits people differently, and some people in the film scoring world have certainly judged me on it. People talk to me like Iím four years old. ďLearn sheet music,Ē says every gatekeeper. Uh, I did. A long time ago. ďWhy donít you study Star Wars music and learn from it?Ē Yeah, Star Wars was on my homework every year since I was 12. It all feels really demeaning.
It gets worse. I always had sort of minor diabetic issues I could mask or not really get by with, like when I was 12 I didnít feel like disclosing to some teachers who were convinced I was faking sickness that I wasnít faking being nauseous and staying home from school. Following healthy guidelines was hard for someone who felt like I disliked where I lived and only wanted to be in Urbana with my great aunt and uncle, or on weekends out of town with my parents who spent every free moment away from our mailing address town because they never grew up in somewhere so far removed from the next major city. OK. In my 20ís, things got bad. I remember the first time I couldnít see, about a week after I turned 20, and the blindness came on suddenly when I was forced to be meeting and greeting lots of people. I was so confused and scared. The worst thing happening to you at the wrong time, an event I did not want to be around. The next day, it came off. Fine. Right? August 2007, my vision was here and there. Under control again by September. All good. Around 21 going to 22? Yikes. Very bad. I remember the morning I awoke to go take a swim without having any auditions that day, and by the time I was in the doors of the gym on the other side of town, my vision was a fog. Always pretending to be normal with a shy authentic smile, my method acting was pretending I didnít have any problems when this happened. And as time went on, 24, 25, my vision wasnít bad for a morning or a sudden dinner. I would have bad vision for weeks at time, be good for months, wiped again with foggy vision for days, so unpredictably. The worst ever was when I had a patch of who knows now what, was it half a year straight? Being either blurry sighted or flat out foggy window-visioned. No medical professional knew what to do with me, and Iíd gone to absolute quacks who insisted I was doing something bad all along as I was telling them, ďThis is diabetes. DIABETES. Canít you do something about it? Stop insisting I have an amoeba from a lake, I gotÖ!Ē The most demeaning one is one doctor I saw when I had to go into the hospital as an emergency one time was, this doctor insisted I got an STD of the eye and had to run tests to be sure I didnít catch an STD and have it moved to my eye from my hand. Like no, Iíve had diabetes forever, I know what causes it.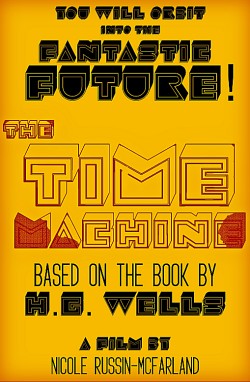 Through this, whatever I could do with my 20í when I saw OK enough, when I wasnít nauseous all the time or headached where I would want to be in bed with excruciating diabetes headaches, I was a severely underpaid freelance journalist fighting to get work because pre-#metoo was horrible for New York media and being shamed online by people who never met me for being an agency model, modelling fully clothed with hair and makeup. I mean, contradictions there! The stuff I was dealing with in journalism work was so similar to the worst I heard about Hollywood, so my logic was, whatís the point of a ďrealĒ job anyway? No one was hiring me to score movies. What can I do to break into entertainment, 21 year old me, armed with a university degree I got at 19 but no one believed I had one anyway as the world insisted I was an idiot ready to shame for anything I never did or never said?
And I was sexually assaulted and given drugs by a man I knew for networking purposes in a public space when I was 22! Absolutely sucked. I couldnít tell anyone about it or pursue this because everyone thought I was an idiot who was really weird and everything bad. People were bullying me online, bullying my pen names to where I had to use menís names or go anonymously by ďstaffĒ because everything I did was wrong. Winning an assault case was definitely not going to happen. I kept it to myself for the longest time until the anxiety from it really began getting to me and I felt horrible mentally from blindness atop that.
Whatever stay-at-home parents who took off time to raise kids and deal with gaps in their CVs deal with, I get. If I donít explain how my 20s were wasted on bad health and not having enough opportunities, Iíll get that resume gap question. Why didnít you pursue film scoring in your 20s? Oh, right! Why didnít you get a music degree? Maybe because my university didnít take me seriously regarding it when I wanted to transfer in? Maybe because I had no power over my educational decisions because I was under 18? Being female, Iím already treated like Iím stupid by people half of the time who try to explain basic music or simple life things to me as if Iím a chicken hatching out of an egg.
In life, and every job, film scoring is only one, you deal with being punished for life decisions that arenít really a big deal. Taking this a step further, I see how people place a deeper scrutiny on anyone who has zero formal music education and comes from a mainstream music background or a rock band. You always have something to prove. Which is why, bringing things back to the beginning of this interview, I love UJAM and its goal of teaching people that anyone can compose music and do an outstanding job at it. Because if I get this with a flute background as a person who used to compose my own little work when I was 12 and 13, what hope does someone from the inner city with zero opportunities in his youth have? Thereís always something against you. Gender, race, sexual orientation, something, or you have to explain yourself about a non-existent issue like having had health issues ruin patches of your life or not my case like Iíve said but worrying with how mean people are regarding it, a parent raising children and returning to follow your dreams.
A remark I heard several times was I was never going to get a record deal or as they are now with streaming changing things, a music distribution deal with a major label system. So I for years waited until I was ready and when I was, went out and got one! I am very happy with my formal music distributor AWAL! Their artist base is so eclectic with individuality and pushing people to be the best. I release mainstream music, random music that I wanted to record when I was 13, instrumental work and film scores through AWAL under my CinematNIC Music and Lucky Pineapple Films labels. AWAL believes a lot in equality so they bring on lots of people of colour, women, LGBTQ people and those who blend between those categories, but there are also really cool men within it like Finneas. Itís a great program where you own the rights to your music and get the bulk of your income, something we see artists with old world deals like Taylor Swift now getting.
Last year, I began the slow process of part time working for ready to go music called production music libraries, where someone who has a commercial, film trailer, TV show or film, studio level or indie, wanting quality film scoring can get it without waiting. You have to compose for a mood or genre and itís all like acting because you audition. A publisher within the larger scale of BMG or whatever the music house is likes the audition. You have to supply every variation of the tracks to the boss, so say you hit it with a great trailer for British action movies, and yes British versus American styles are so different in what consumers want, then you have to give the percussion, brass, strings, so on, then groups, then the underscore, then a 30 second version, a 60 second version, the full one. Fully mastered beautifully. You get rejected. Or you win some. Itís really competitive, and most of my competition is men 45 to probably 70.
Releasing audio dramas I score, and now recently act in, has been great fun. You canít go too crazy with the scores like you do for films and TV shows because the music has to really support the work and without visuals, so you need to let people hear what the actors are saying extra well. The voices carry the work. You canít overwhelm it. And itís great fun, because I get to have all kinds of tools and trickery up my sleeves in the styles.
How would you describe yourself as a composer and musician?
Iím a 19th century person alive in this time period! Pen and paper, traditional orchestral work was always my main train of thought as a young person scribbling on sheet music. Had I had access to all these wonderful programs like Logic Pro, UJAM, Spitfire Audio, my superhero MacBook Air laptops doing so much, I would have been in heaven. I never really grew up. The me I am is the same me I was at 13 or maybe 15 tops. Sort of between the world of adulthood and childhood who had a bit of both the maturity and immaturity of being a dreamer. When youíre 13, you think you will someday grow up with that briefcase and go to an office, like Peter Pan says, and what if that never happens? When I was 13, my dream job was one where I could wear basic clothes like workout athleisure or jeans, composing music, working in cinema as well. It wasnít, ďWhen Iím older, I want to sell insurance, do a job where I come home with spreadsheets about corporate life. Donít want to bag groceries, no, not be a nurse.Ē I wanted all of this. A teacher laughed at me for it who was cool when other students said things they wanted to do. Being good at music was always something I thought was really cool, and the only time I saw people switch into being nice to me when I was a younger person was when I was studying stuff I didnít care to study because I felt it was so easy and boring for my computer of a brain, and all of our brains are computers, graduating really early, following the good girl plan of what nice young ladies do. Breaking away from that again once I graduated to work somewhat as a model and to pursue things I wanted, strangers online and offline, everyone Iíd ever met, was mean to me again. Because music or entertainment work isnít work to them. Those careers arenít real to them. Centuries ago, actors and actresses were seen as trash, and I fear that internally not much has advanced from that. Someoneís movie healing someone inside for a moment who is sick and dying of cancer or AIDS means nothing because someone selling insurance has a ďrealĒ job.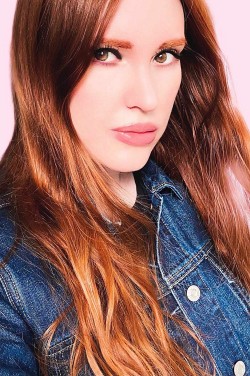 The 19th century dramatic style, called romantic, is my favourite ever and always finds its way into my work. I love writing anything depressing, horror, almost Swan Lake if I can is the goal. Pick a composer from this time, and Iíll be inspired by him. Have to say him because female composers were not largely encouraged then or their work published. Do you ever wonder if any more male composers you think are men really are women from the past, as they were with printed books?
Because I am so used to meanness and people not giving me opportunities before for really much, I am so grateful and work extra hard when I get them.
Whenever I said I was a composer, people would tell me ďgo be an actress.Ē I got the same line from people when I sought journalism jobs. Yes, my younger self without any IMDb credits was going to walk into a room so Emma Stone would be fired from a film? People are really ignorant of what an acting career is about with the time spent, marketing, hard work and all of it, and demeaning me through this time as if I were so stupid and untalented for whatever they thought, my only choice was to go be in a ďdumbĒ career of acting.
All of my life, people told me to be an actress. Not once was it ever viewed as a choice for me. You can choose to believe this story or not. Please reference, Iím someone who if I had to choose a ďrealĒ job would be a scientist. I donít always have these things happen. Right before I turned 35 in 2022, my then only laptop, since fixed, broke and I had nothing to do for almost a month as I was waiting for my new laptop Iíd been gifted by my parents who were really noticing how sad I was that my laptop broke. Which had my work, my life on it. One night, when I was going through my spree of watching films like the X-Men series and all of these action movies since I couldnít work, this information came to me from whatever you call that ďscientistĒ out there, the universe, science, God, that I wasnít meant to be known as a composer/director like Iíd been trying to do. I was supposed to be a composer/movie star. My first huge movie I was supposed to position all my goals of stepping towards was not an animated film about the Big Bad Wolf. It was my remake of The Time Machine, the one I planned out when I was 14 years old and had come home from watching the first Lord of the Rings on the weekend it came out. Iíd plotted out the whole remake of mine in my notebook and kept rewriting it throughout the years in my head. Still rewrite it. And I was to play the lead in it. I was to be a film star, in my own power, choosing my parts, defining myself as I wanted because acting can be a powerful thing when it is your decision making the whole way in. Sure, I was going to write and direct my own work anyway, but more importantly, my calling was to act because this is how I would change the world with my art and the messages in it. I could call attention to things off camera with the power that comes with the attention grabbing job title of actress. Acting was going to be how I would secure financing for all of my future movies. A very life changing moment. Since this happened to me Iíve googled, and Reddit is full of stories like this where people feel God or the universe has told them something, no scientific explanation. Oprah Winfrey calls these ďGod whispersĒ, who knows what they really are. And Iíve woven this into my Time Machine remake plot with a difference in the information that my character gets.
Iím happy to be here working on music!
Besides music, you also have your hands in many other aspects of filmmaking, from screenwriting and directing to animation and acting and whatnot - so what jobs do you enjoy the most, which could you do without?
I hate animating my own work. Can I get that off my chest? Iím someone who gets things done right away, and for me to sit there, slide, slide, slide, it is so Ferris Bueller with the teacher waiting for class to be done. Having input in the designs and working with a formal animation team, which is what I hope to be doing after this SAG-AFTRA strike is done and I can get to work on that in 2024-2025, seeking a cast and financing for Peter Pan and the Adventures of Dreams and animated it with Demente Studios in Mexico who do work for Hello Kitty and other big brands and networksÖ yowza! Thatís going to be a blast!
Learning how to draw with Stan Winston School was really beneficial to me, and I can now sew and design wigs, so all of that is going to come handy with me in directing feature films with real budgets.
Everything is aimed to set me up regularly, besides scoring movies primarily, as someone who directs and writes The Time Machine into a full trilogy. I dream of being Peter Jackson and Hans Zimmer rolled into one because both men inspire me so much with their careers and how much they love what they do. Acting in films that I love will be very exciting if and when people finally hire me. Iíve had a few near misses with studio films offered to me, and it always ends up that itís me against some woman who comes off a major Emmy show or big deal movie thatís hit pop culture, and guess who gets the job? Letís change that!
What can you tell us about your filmwork prior to The Pact, in whatever position?
Iíve made some self animated and live action short and feature films for the web. Self animating is so time consuming and slow, it isnít for me. Truly. But itís a step I needed to get through in life to learn things, score my first work and nab my first IMDb composing credits, get my career going, because you need that to be hired as a composer for other works. Some directors compose. Some actors have composed. I like explaining, I am a composer who does other things. I am a composer who directs. A composer who acts.
Musicians, filmmakers, whoever else who inspire you?
The career loves of my life are Hans Zimmer, Peter Jackson, James Horner and James Cameron, probably in that order. I also love the Wachowski sisters. When I was 13, I promised my math teacher when I was older, I was going to have a film about the matrices/matrxi math homework we did inspired by The Matrix, and I finished that in 2001! Peter Jackson is my favourite director. James Cameron is my second favourite, only because Peter Jackson is someone I want to give a hug someday and film on his Wellington, New Zealand lots he co-owns where he made The Lord of the Rings. All I want to do is meet him and say hi. I got in touch with the Wachowskisí team some years ago to let them know Iím in career love with them, because the worst horror of my life was that I always wanted to meet James Horner and that never happened, so now Iím like the Love Actually boy at the airport who has to tell people how he feels!
You can verify this, for years Iíve said how in love I am with how Mr. Zimmer is a whole person. He isnít about only having good music or only having brands around it. He really loves what he does and obsesses over it. I relate to a lot of what he talks about with music curing his anxiety issues lessening from it. His work ethic is evident because he is so established, he could be like how some filmmakers live off something they did decades ago. No, he keeps on working passionately, winning that Oscar again for Dune. Setting up European tours. Doing whatever he can, 100%. He lives for music. And Iíve always wanted that. One thing I have always wished for is not to be literally him as most fanboys of film scoring do, not to write like him, all I want is a long term career like his and the passion from it when Iím older. He has the burning passion for music of a 13 year old starting to dream of Hollywood film scoring.
Your favourite movies?
Gladiator, not because of Mr. Zimmer whose music for it I love, itís because I am stubborn like that and always love seeking revenge. My form of revenge, one of them, is in outlasting everyone who ever wronged me and proving them wrong about my talent and great achievements. The dream would be winning an Oscar and quoting Legally Blonde, ďWhat? Like itís hard?Ē
... and of course, films you really deplore?
I donít publicly express a distaste for anything because I want to work and someone may have been a part of that movie, so it could hurt someoneís feelings.
Your website, social media, whatever else?
Website - nicoleofficial.com
IMDb - IMDb.me/nicole
Twitter - @cinematnicmusic
UJAM, a music product collection by Peter Gorges, Hans Zimmer and Pharrell Williams - UJAM.com
Anything else you're dying to mention and I have merely forgotten to ask?
Iím really good at making toasted veggie sandwiches and all kinds of vegan food. My great aunt now in her 90ís who is not blood related to me but by marrying my great uncle, and she and he were like my grandparents, is from Okinawa, Japan so I know how to make things like different Japanese tofus and if you want a vegetarian not vegan cheat, stirring scrambled eggs with chopsticks. Can absolutely bake a no sugar added, lard free pie! Whatever you want. Part of my auntís job as a nutritional science professor was researching foods and that involved cooking them and growing veggies! She taught me a lot before I went into taking cooking classes on my own terms.

Feeling lucky ?
Want to
search
any of my partnershops yourself
for more, better results ?

The links below
will take you
just there!!!


Cooking is really similar to making music with how you blend things together and take old world tastes making them new again, or fusion cuisine. For the longest time, faced with types of freelance journalism I could do, I didnít want to offend anyone or be mean. Yellow journalism is not in my blood. Yellow blood? Do you think Iím a lizard person from outer space? No, I chose food journalism and entertainment news whenever possible because food is great fun to cover.
For fun, I like going out and doing normal things or being at home watching TV. People donít think going out to run errands is fun. I do. My great aunt taught me as a child to see the fun in it because she took me out to Target and other stores, or to go pick up flowers. The Midwestern part of the USA is all about being normal and cherishing it. Seems Okinawa, where she grew up, is also.
Thanks for the interview!