Your new movie The Black Dahlia Haunting - in a few words, what is it about, and what can you tell us about your character in it?
The Black Dahlia was a real person by the name of Elizabeth Short.
With your character being a vengeful spirit - are you at all a vengeful person in real life?
Not sure if Dahlia is vengeful. She wants to be heard, her brutal murder solved, and is seeking closure for her restless soul. As for me, mean-spirited people, people who are jealous etc... cut their nose to spite their face. No need to be vengeful. Those people simply do it to themselves. I sit back and watch as they unfold.
What did you draw upon to bring your character to life, and considering she's based on a real person, how much research did you do on the actual Black Dahlia?
Mom back at home in New York has books on Dahlia. So I always knew who she was. But did not start extensive research until I met Charlie Morfin. He is a Film Noir and Dahlia enthusiast - who also holds wonderful tours of old Hollywood haunts, called Film Noir Tours.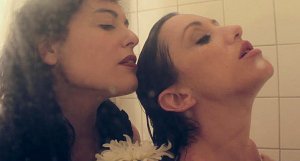 Alexis with Devanny Pinn
How did you get involved with the project in the first place? And what can you tell us about your director Brandon Slagle [Brandon Slagle interview - click here], and what was your collaboration like?
I was approached by Devanny Pinn [Devanny Pinn interview - click here] and Brandon Slagle, because Devanny already knew my work from a movie we both worked on called The Penny Dreadful Picture Show. That will be coming out fall 2013. They pitched this idea and quickly slipped in 'we want you to play Dahlia'. As for Brandon. He is raw and real. Beside a good director, he is a very good actor. I love to be in his movies because he makes flawed movies. Not flawless. Real! And he is a dear friend! We agree almost on everything on a creative and friendship level.
What can you tell us about the actual shoot, and the on-set atmosphere?
There is a scene where I am standing right next to a fire hydrant. That is where they actually found Elizabeth Short's body. The whole shoot was silent, for me, anyway, because this was a true person who was brutally murdered that I portrayed. That will always stay with me.
You're also in Brandon Slagle's next movie Dead Sea aka Black Lagoon - anything you can tell us about that one yet?
We started B-Roll already. And begin shooting mid May. I am really excited! Without giving too much away. It is a creature feature. A "creature" in the lake...
As far as I know, you're playing a marine bioologist in Dead Sea. Now how much of a stretch is this for you, and how do you prepare for such a role?
Every character I portray is a stretch. And I wouldn't want it any other way. I am prepping now. Ask that question again, when we wrap. And I can tell exactly how my process started and ended.
You of course also have to talk about your upcoming The Penny Dreadful Picture Show and your character in it for a bit!
I had such a blast on this set. I met and worked with two heavy talents; Sid Haig and Jeffrey Combs. The Penny Dreadful Picture Show is a horror anthology. I was in the Slaughter House vignette. Set in the 70's, think "Manson-esque" vibe. I portray Nancy. In short. I have fun with a cheerleader. I'll let your mind stew in that one for a bit. Directed by Leigh Scott. I worked alongside, Eliza Swenson [Eliza Swenson interview - click here], Devanny Pinn [Devanny Pinn interview - click here], Kristina Page, Josh Hammond, Brandon Stacy, Jacquelyn Kroschell, Colin Galyean, Al Snow and Barry Ratcliffe [Barry Ratcliffe interview - click here].
Any other current/future projects you'd like to talk about?
I just found out that Prescott Place, the black and white short film noir that I am in, got distribution. Shorts rarely get distro, and I am just so very proud of director Peilin Kuo [Peilin Kuo interview - click here] and the whole Prescott Place team. I portray Jane Prescott a 1940's fallen star who becomes a recluse and confides in her baby doll that looks like her. I also play the baby doll. For this short film, the CGI is perfection!
What got you into acting in the first place, and what can you tell us about your training as an actress?
I started on the stage. For those of you who know what I am talking about. There is no need to explain. For those who don't. Dare to try and find out. The stage is very sacred to me. I can go and name acting coaches who I trained with. But at the end of the day. It was and is the stage that made me who I am. And that is, proud to be an actor.
Before you entered the movie world, you did quite a bit of theatre, right? So what can you tell us about your career as a stage actress, and how does performing on stage compare to acting in front of a camera?
I find it interesting that I am in pre-pro for a creature feature. Because, I portrayed Fay Wray's childhood on the stage. Fay Wray was the original actress in King Kong. The queen of Creature Feature. That was my first breakthrough into the world of true theater. Theater and film is apples and oranges on so many levels. But for me as an actor, it is about spontaneity. The feeling that goes through your body performing live in front of a sold-out playhouse is just an outer body experience. Whereas in film, you still have that spontaneity, as Jack Lemmon would say before each of his takes "It's magic time" - but you must maintain that "magic time" after 30 takes. The shorter version to this question. Theater - if you fall on your face, you cannot edit it out!
Can you still remember your first time in front of a movie/TV camera, and what was that experience like?
Clear as day. I was one of the little school kids in a movie called Starting Over. In between a take, I see a very handsome man staring at me. But didn't pay any mind to it. I turn again and I see this handsome man giving me a big sincere smile. He pointed to me and waved his hand as in "come on over". This was in front of my Mom, the director, crew... he kneeled down, pulled my pigtails, and gave me a kiss right on the lips. I remember it was very innocent. I giggled. He yanked on my ponytail one more time, laughing then smiling, and walked away. It was Burt Reynolds.
Especially of late, you seem to zero in more and more on the horror genre - coincidence, or is horror a genre you're at all fond of, and why (not)?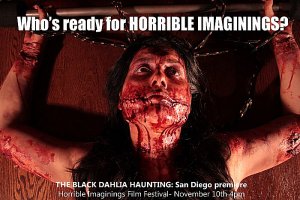 Honestly. The genre fell into my lap. The day that I was told I landed a role as one of the true victims in the bio pic of the Beltway Sniper shootings, Blue Caprice, directed by Alexandre Moors, I received a call from Eliza Swenson [Eliza Swenson interview - click here], and asked if I can self tape for The Penny Dreadful Picture Show. I asked where they were located. They said Connecticut. At the time I was in New York. I said, no self made tape, I am driving to you! I auditioned for Leigh Scott and Eliza. That night, I landed the role of Nancy. Because Chris Alexander from Fangoria Magazine wrote a humbling review of Prescott Place in the magazine. We maintained a friendship. So, once I told him about this genre falling into my lap, I am now a contributing writer for Fangoria. And I write about my experiences as an actress on these exciting "thriller" movies. Below is one of my articles:
Fangoria online article by Alexis Iacono
You of course also have to talk about your voice-work on the videogame World of Warcraft: Cataclysm for a bit, and how did you get the assignment?
I am nerd. So, I LOVE gaming. Everytime I audition for video games, I jump up and down like a child. ANYWAY! I was hittin' the NYC streets running to and from audition to audition. It was the end of the day. Tired. I get a vague call saying to get to this studio downtown for a video game audition. I walk in, and they give me sides to read for, The Sopranos. Very confusing since the show has been off the air for some time and I think the video game was just released? I made a choice and realized they wanted a real "New YAWK" accent. I recorded, did a few takes. And went home. Two weeks later I got a call saying I landed one of the lead Goblins in WoW Cataclysm. I had to lay down on the floor, because I was so excited.
How would you describe yourself as an actress?
Dedicated.
Actresses (or indeed actors) who inspire you?

Feeling lucky ?
Want to
search
any of my partnershops yourself
for more, better results ?

The links below
will take you
just there!!!

Find Alexis Iacono
at the amazons ...

amazon.com

amazon.co.uk

amazon.de
Looking for imports ?
Find Alexis Iacono here ...
Something naughty ?
(Must be over 18 to go there !)

Jack Lemmon, Cate Blanchett, Robert Downey Jr. Rachel McAdams, Brit Marling, Tom Hardy, Charles Laughton, Christoph Waltz, Jessica Chastain... to name a few...
Your favourite movies?
Gaslight directed by George Cuckor, In Bruges, Hitchcock films, The Apartment, Raiders of the Lost Ark, Raging Bull, Kill Bill Volume 1 and 2. I can go on and on....
... and of course, films you really deplore?
Ice Pirates.
Your website, Facebook, whatever else?
Twitter: @AlexisIacono
Anything else you are dying to mention and I have merely forgotten to ask?
VERY, VERY Important! Yes. I am a first person shooter, gamer geek :)
Thanks for the interview!