Your upcoming movie Bloom - in a few words, what is it about, and what can you tell us about your character in it?
Well I canít say too much! Donít want to get in trouble here, but what I CAN say is that Bloom is a story about a young woman (Deann Baker [Deann Baker interview - click here]) who wakes up in a motel room covered in blood with no recollection of the night before and she starts to see some very interesting changes. I play Keith, her brother who in many ways is the polar opposite of her. He is more reserved, religious, and conservative. They are at very different places in their lives.
Your character has been described as the "overprotective and conservative brother" - so how much of yourself can we find in Keith, and what did you draw upon to bring him to life?
Thatís actually a really interesting question for me. I guess I would start by saying that I am probably the exact opposite of whatever might be seen as ďconservativeĒ in many different ways, so right away that was a challenge for me. When I first read this script, I didnít even think about playing Keith. He just seemed so foreign to me and I wasnít immediately on his side when I first read it. Also I think Travis Legge [Travis Legge interview - click here] wrote him thinking of someone who would be in their mid 30ís and I am 23 so that just did not seem like an option for me. I was actually really shocked when he offered me the part, I had auditioned for another role (which is actually played by my best friend, the extraordinarily talented Terry Bell [Terry Bell interview - click here]) and I was really sort of not sure what I thought of the idea of playing this over protective, religious character but I quickly agreed because if it scared me a little bit, thatís usually the sign I should go for it.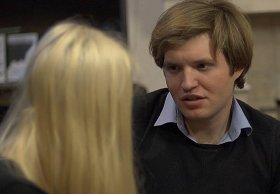 I think the main thing I was really able to connect with Keith on is that I have two sisters myself. I love them with all of my heart and would do absolutely anything for them. So I was able to put myself in his shoes a little bit and lost all judgments I may have had for him myself and just went with the most human element to it which to me was the relationship between Lily and Keith. Not always perfect, not always pretty, but they absolutely love each other despite their many differences. You have to keep in mind that when playing someoneís sibling, and Iím lucky to have experienced this in my own life, often times itís about whatís not being said. Itís about whatís just under the surface and what has been bubbling up for maybe years in some situations. Deann and I were really able to communicate about the relationship in great detail, so that was very helpful to me. I had to remind myself that sometimes if your sibling says something kind of terrible to you, often times itís said with an under layer of concern and vulnerability.
Do talk about your director Travis Legge [Travis Legge interview - click here] for a bit, and what was your collaboration like?
Travis is great! We really get along on a lot of levels, not just creatively but intellectually and morally we are very on the same page with things. Thatís actually really important for me, itís really important for me to be able to be comfortable with the director I am working with and to be able to call him or her a friend. It took a bit of stalking on my part to finally get an audition for him, but things have been pretty awesome since. I think whatís great about what we did with Bloom is that he was so very open to all of these ideas that I had about Keith, and why he was the way he was. His input and Deann's really shaped who Keith became and I am really thankful for the way he got to grow and evolve.
To what extent could you identify with Bloom's horror theme?
I love horror movies. My mother and I would always go see horror movies when I was growing up. It was our thing. She would actually take me out of school in some cases and we would go see a horror movie. I will always remember those times. As an actor I have to be really cautious of the roles I accept because I do see so many really talented people sort of pigeonholed in a certain genre, and that just canít be me. I have been really, very fortunate to have had the opportunity to work on films of many different genres, and plan on continuing to do so in the future. Bloom, for my part in it anyway, was not a horror movie. Our scene was really about our relationship and how we deal with each other more than anything else. So I really loved that, too.
What can you tell us about the shoot as such, and the on-set atmosphere?
I can tell you I really lucked out here! My scene was inside, so I did not have to bare the freezing weather on those late night exterior scenes. I would have loved to have been on set more, but Keith only took about a day and thatís what he needed. I really get along with Travis, Deann and our DP Drew so that made the set really comfortable and it felt like just hanging out with a bunch of my friends.
Any future projects you'd like to share?
I have about 4 films in pre production right now that I would love to tell you about but I am legally obligated to keep my mouth shut on. I can tell you that this really fun anthology film I was in called Dead Girls just got a pretty amazing distribution deal and will soon be available on all major VOD outlets hopefully including Netflix! I can also tell you that a brilliant, beautiful film I was lucky enough to be a part of called Day 1, a Skibofilms production will be premiering later this summer in Chicago.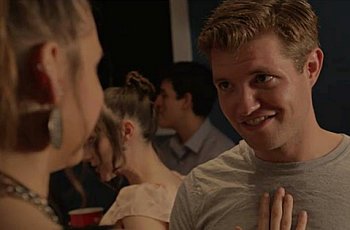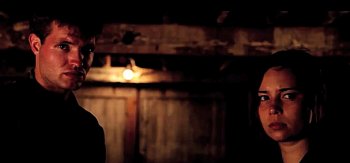 with Jessica Galang in Day 1
What got you into acting in the first place, and did you receive any formal training on the subject?
I have always known I would be an actor. I just knew it. I was always taking classes and doing school plays and started with community theatre then after high school I did this really fun groduction of Salome at the Boho Theatre in Chicago. After that I trained at The New York Conservatory For Dramatic Arts, which specialized specifically in film acting.
What can you tell us about your filmwork prior to Bloom?
Day 1 and Dead Girls, as I mentioned, are the big ones. Two extremely different characters, too. In Day 1 my character serves as the moral compass of the story. He is very conscious and has to be thinking on his toes constantly with the crazy world around him. It was such an incredible experience working on that film and was so very emotionally draining for many reasons.
Dead Girls was just fun. I got to let loose a little bit and play the not so thoughtful frat stud named ďMackĒ who spends most his screen time drunk and hitting on everyone. Outside of that I was recently in this short film, which was unfortunately a true story, about a teenager who was bullied because of his sexual orientation and committed suicide. Itís called Can You Hear Me Now and I won a Best Actor award at the Prairie State Film Festival for my performance. I also just recently starred in a short for The National MS Society called Marcus Finds A Voice and I will post the link to that at the end of this interview so you guys can spread it around.
How would you describe yourself as an actor, and some of your techniques to bring your characters to life?
I think the biggest misconception about what it is to be an actor is that to be a great actor you have to completely abandon yourself and become another person. I think there is some truth to that. I think, and from my experience this has been true, you really have to find that part of yourself that connects with the character and elaborate from there. You really do need to start from yourself, or your experiences in order to really fully understand the choices your character is making and in order to advocate for them you need to let go of all judgments you may have had about them. I think I was able to find a common ground for Keith and I, and in the end I was really able to understand him and his reasons for doing things whereas before I kind of judged him and was maybe dismissive of him.
Actors (or indeed actresses) who inspire you?
This question drives me crazy a little bit because there are so many actors that I really look up to. Right now I would have to say my absolute favorites are Meryl Streep, Michelle Williams, Ryan Gosling and the late Philip Seymour Hoffman. Also I have always had a James Dean/Marlon Brando obsession that continues till this day. I think the main thing all of these actors have in common is their ability to really connect with every character they play on an emotional and physical level. Blue Valentine is the best acting available in my opinion. The way Michelle Williams and Ryan Gosling bring their characters to life, to me, is nothing short of magical.
Your favourite movies?
Another hard one! Blue Valentine, The United States of Leland, Funny Games US, Half Nelson, Kids, Dogville, Death Becomes Her, Melancholia and countless more. Basically, anything that really makes you think and anything that will tear my heart to pieces. Iím a sucker for emotional movies.
... and of course, films you really deplore?

Feeling lucky ?
Want to
search
any of my partnershops yourself
for more, better results ?

The links below
will take you
just there!!!

Find Andrew Jacob DeHart
at the amazons ...

amazon.com

amazon.co.uk

amazon.de
Looking for imports ?
Find Andrew Jacob DeHart here ...
Something naughty ?
(Must be over 18 to go there !)

Avatar and any other big budget, mind-numbing nonsense. Iíll admit Iím a bit of a snob for the Indie films. The stories told there are more relevant and less about how much money they can make.
Your website, Facebook, whatever else?
http://www.imdb.com/name/nm5464624/?ref_=fn_al_nm_1
Day 1 teaser: https://www.youtube.com/watch?v=MK2ybMNcLfo
Can You Hear Me Now? trailer: https://www.youtube.com/watch?v=1qFMqScxqJ8
Marcus Finds A Voice full film: http://vimeo.com/93911810
Anything else you are dying to mention and I have merely forgotten to ask?
Iíd say you pretty much covered it!
Thanks for the interview!
Thank you so much for your interest in our film, we really appreciate it!