Your upcoming movie Bloom - in a few words, what is it about, and what can you tell us about your character in it?
Bloom is a psychological horror film. Bloom opens to a woman named Lily, played by the wonderful Deann Baker [Deann Baker interview - click here], waking up to find herself covered in blood. She is in an unfamiliar place with little recollection of how or why she got there. The audience follows Lily from a fly-on-the-wall perspective as she attempts to piece together exactly what happened to her. I play the role of Calvin, a person who has some questions of his own to ask Lily, but also has the ability to provide some answers.
Your character has been described as the "a man who has something of a vendetta" - so how much of yourself can we find in Calvin, and what did you draw upon to bring him to life?
With each part I play, I always start with myself. How much of me stays in a character varies from role to role. With regards to Calvin I think a good bit of me remained with him, but a different side of myself. Calvin is a man struggling with personal demons that are the cause for his "vendetta". I think everyone battles their past in one way or another, myself included. I drew upon memories of my own trials and tribulations for this role. I can't exactly tell you what my demons are, my therapist charges a pretty penny to hear them - I kid of course.
How did you get hooked up with Bloomin the first place?
I was in a short film Travis Legge [Travis Legge interview - click here] was making and a friend and co-star of Bloom Andrew Jacob DeHart [Andrew Jacob DeHart interview - click here] starred in, M is for Mayhem. Travis ended up inviting me as well as a few others involved with the short to audition for Bloom. I did, and I guess he liked my read.
Do talk about your director Travis Legge [Travis Legge interview - click here] for a bit, and what was your collaboration like?
Travis was superb to work with. He gave me a lot of freedom with the role, which is always nice as an actor. I love that you used the word collaboration, because that is really what Bloom was. Travis is a really easy guy to talk to and we clicked right away. There were a lot of times on set where I would think of something that I wanted to try in a scene. I would tell Travis and his response was always something like "Yeah man, let's try it". That was among my favorite things about working with Travis. The environment he creates is really conducive to creativity.
To what extent can you identify with Bloom's horror theme?
There are certain themes that stick out to me in Bloom, and they aren't necessarily the horror elements. To me, Bloom is a story about confronting the unknown as well as coping with change. The parts that really resonated with me are the bits where Lily is trying to figure out what happened to her and discover why it is changing her. Change is a frightening prospect to many, especially the changes that Lily is going through in this film. Deann did a fantastic job of portraying the isolation Lily begins to feel as a result of all these changes. Bloom also speaks to how people confront these problems using Lily. Some people lean on their friends and family. Others cast everyone away and take it upon themselves to handle it on their own.
What can you tell us about the shoot as such, and the on-set atmosphere?
There was never a dull moment on set. The cast and crew got along really well and I personally enjoyed the heck out of the time we spent filming this. Everyone involved with this project are people that I look forward to working with again.
Any future projects you'd like to share?
I am going to start filming The Cropsey Tapes, a found footage horror film, and a new television show coming to Chicago, Chiraq: The Series, in the coming weeks. Look out for them!
What got you into acting in the first place, and did you receive any formal training on the subject?
I started acting in high school. I'll save the cliché line about how I grew up entertaining anyone who would listen (I have it ready if you need it) and say that acting was something I was always a bit interested in. I auditioned for my first play freshman year of high school, got in, and from then on it is something I knew I wanted to do for the rest of my life. I have received formal training. Most notably, I attended Western Michigan University for a year as a theatre major.
What can you tell us about your filmwork prior to Bloom?
Before Bloom I was in two features; Dead Girls and Day 1. Dead Girls was recently completed. It will be showing at the Chicago Horror Film Festival. Day 1 is in post-production, set to be finished soon. Both have distribution which is exciting. Those were my first two films, I had smaller supporting roles in them. Bloom was my first leading role in a film. Thanks Travis!
How would you describe yourself as an actor, and some of your techniques to bring your characters to life?
How would I describe myself as an actor? Hmmm, the word I most often associate with myself, and hope others do as well, is versatile. I have come to pride myself on the ability to play many different kinds of roles, portray many different kinds of people. It is tough for me to pigeon-hole myself as any one thing. That is why I love being an actor, I can be anything I want.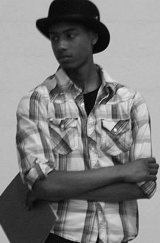 In terms of techniques, as I said above I always start with myself. For me, this is a fundamental building block to creating a well-rounded character. I imagine myself going through what a character is going through. This has always been an effective way for me to get comfortable with the source material. It also keeps me from forming any personal or third-party judgments on the character. Something that I learned that has always stuck with me is the fact that people don't judge themselves the way third parties do. This idea is most effective when applied to villainous characters. Lex Luther doesn't think of himself as some terrible megalomaniac, even if you and I do. He is a human being with a justification to every action. This is what makes him such a great, multi-dimensional villain; he is just trying to do what he thinks is right. Then I try to figure out who the character is and where that person came from. If there isn't a backstory in the script I will make my own that fits the source material, always with deference to the writer or director. Where a character came from is important to me because it influences how and why a character handles things in the present.
Actors (or indeed actresses) who inspire you?

Feeling lucky ?
Want to
search
any of my partnershops yourself
for more, better results ?

The links below
will take you
just there!!!

Find Terry Bell
at the amazons ...

amazon.com

amazon.co.uk

amazon.de
Looking for imports ?
Find Terry Bell here ...
Something naughty ?
(Must be over 18 to go there !)

The one actor that always comes to mind when asked this question is Jaime Foxx. A really talented actor, comedian, and musician, who I find many underrate.
Your favourite movies?
A Time to Kill, The Replacements, John Q., Hot Fuzz, to name a few.
... and of course, films you really deplore?
Ugh, Catwoman. I can't even.
Your website, Facebook, whatever else?
Find me in Facebook at: https://www.facebook.com/terrybbell
I know I'm boring. Facebook is all I can handle for now.
Anything else you are dying to mention and I have merely forgotten to ask?
Not at all. It's been a pleasure.
Thanks for the interview!