Your upcoming movie Bloom - in a few words, what is it about?
Bloom is the story of a young woman named Lily (played by Deann Baker [Deann Baker interview - click here]) who wakes up one evening in a strange motel bathroom, covered in blood and missing her memory of the previous night. As she tries to piece together what happened to her, her body begins going through changes and she slowly realizes she is becoming something inhuman.
What were your inspirations when writing Bloom?
I revisited some of my favorite vampire films and stories while writing Bloom. I watched Vampire Diary, Lost Boys, Fright Night, Near Dark and Bitten. I read the Vampire the Masquerade 20th Anniversary Edition book, which, for those that don't know, is a tabletop roleplaying game in which players assume the roles of vampiric characters. I was looking to tell a story that explored the transformation from human to vampire in a new and interesting way, so I just immersed myself in my favorite examples of the mythology to find inspiration. I also read Metamorphosis by Franz Kafka three or four times, which helped inform the tone I tried to evoke with Bloom, in terms of the personal horror Lily experiences as her body changes.
How would you describe your approach to horror in Bloom, and how far do you go in terms of violence and gore?
Bloom is a subtle, creeping film. I certainly didn't shy away from violence or gore, but I made no effort to squeeze in any more than the story demanded. The violence depicted in the film tends to be quick and brutal with a lingering, bloody aftermath, much like real-world violence tends to be.
Do talk about the film's look and feel for a bit?
The story is presented in sort of a slow, creeping fashion, so my director of photography Drew Pientka and I use a ton of long shots and slow camera movements. I wanted to create the feeling like the audience is sort of ratcheted directly to Lily's perspective in the film and she is in every scene. We never see what is going on with other characters off screen, which was a risky choice, but I think it pays off. Above all the movie is a character study of a very disturbed and damaged young woman.
In terms of color, we are still tweaking the final version, but I imagine many of the choices we used for the teaser will wind up in the final film. I want to preserve the feeling of reality, just a little darker and colder.
You also appear in front of the camera in Bloom - so what can you tell us about your character and your performance?
I play a priest who gives confession to Lily. The confessional scene comes relatively late in the film and is pretty pivotal to Lily's journey, which made the scene fun but intimidating. Playing a priest was a great time, but the nature of the scene kept me from having any real interaction or signals to play off of. Acting is usually a give and take style of interaction where you feed off of the other actor's performances (at least it is for me) and being walled away from Deann in the scene made me have to work a little harder than I may have had to otherwise. It was a fun challenge.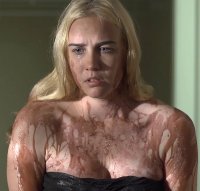 Deann Baker
What can you tell us about the rest of your cast, and why exactly these people?
Bloom has a relatively small cast. I went through a longer casting process for this film than I have any other film that I've worked on. I felt that some of the material was exceptionally difficult and we just needed to make sure that we found the perfect cast. Fortunately we did. Deann Baker [Deann Baker interview - click here], our leading lady, was involved pretty early on and I read everyone else against her to check for on-screen chemistry. I had to turn away several talented performers (any of which I would love to work with down the road, and a few I have since worked with) for the film, but I really think we have the best cast we possibly could for this movie.
Danielle Doetsch [Danielle Doetsch interview - click here] plays Sylvia, who is Lily's best friend. She's sort of a self-involved party girl who tries to be a good friend, but just isn't wired properly to help someone in need. Danielle nails it with flair and delivers a truly amazing performance.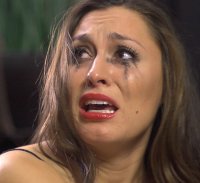 Danielle Doetsch
Terry Bell [Terry Bell interview - click here] plays the role of Calvin, a man who has something of a vendetta and comes across Lily with some dangerous misconceptions. Calvin is a much more emotionally complex character than he might seem at first glance and Terry brings across nuances in his performance that a lesser actor certainly would have missed. Terry is a charm to work with and a blast to watch.
Malcom Banks plays Glen who is Calvin's partner and sort of the brawn of their operation. He reminds me a LOT of a cross between Charlie Murphy and a young Keith David. He has a great presence and puts on a good scary face.
Andrew Jacob DeHart [Andrew Jacob DeHart interview - click here] plays the role of Keith, who is Lily's older, overprotective and conservative brother. Andrew is such a naturally talented actor that he probably could have walked in on a cold read and knocked the role out of the park, but he prepared like crazy. He and Deann and I coordinated extensively on their characters' backstories so that they could bring the depth of that relationship to life. After all, they are supposed to be siblings who are comparatively close. They have a lifetime's worth of experience to draw from in their interactions and that all needs to be conveyed in a linear film that takes place over the course of a couple of days, framed in a completely linear fashion. It was not a small task and I think that level of preparation and homework really shows on screen.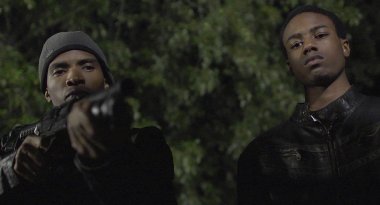 Malcom Banks, Terry Bell
Apart from the principal cast, we had several cameo appearances in Bloom. Clarisse Behr plays the bartender at Sanctum, the nightclub Lily frequents. It's probably my background in tabletop fantasy roleplaying showing through in the script, but the barkeep holds some vital information, and Clarisse brings a fun energy to a role that could have easily been a piece of throwaway exposition. The same can be said for Tim Swan, who plays the clerk working the desk at the motel where Lily wakes up at the beginning of the film. His take on the character is brilliant and he breathes life into his character in such an incredible way. I could really go on forever about our cast. Every one of them came in, gave 150% and I think it shows on screen.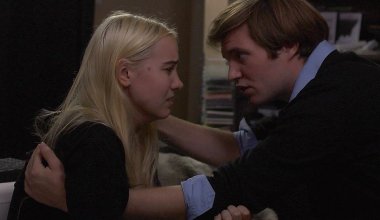 Deann Baker, Andrew Jacob DeHart
Do talk about the shoot for a bit, and the on-set atmosphere!
It was the first (and probably last) time I've ever shot a film on weekends while everyone sort of went about their 9-5 life during the week. I cannot speak for anyone else, but that kind of made the entire shoot hellish for me. On set, it was great. The 18 hour days in an exceptionally chilly Illinois October with good friends, fake blood and insane schedules were kind of what you'd expect an indie horror shoot to be. It was the days in-between shoots that nearly killed me. When I'm directing a film, I go a little crazy. I don't sleep. I get amped up and go into "production mode". Breaking up the shoot meant I would go into production mode on Friday and although we would wrap on Sunday it would take me until about Wednesday to calm back down. Four weeks of that and I was about ready to have a nervous breakdown. Fortunately, my amazing assistant director, Cherish Warden, was there on set to take the edge off. She's the best AD I've ever worked with and I might not have made it through without her help.
Any idea when and where Bloom will be released onto the general public yet?
We are still working on that, but I would like to see it available sometime this year. I am toying with methods of non-traditional distribution, or maybe doing a DVD release only via IndieGoGo with a digital release to follow, but nothing is firm. I kind of hate every method of film distribution I've been exposed to so far so I am looking for alternatives.
Any future projects beyond Bloom you'd like to share?
I'm focusing a ton of energy on my role-playing games this year, mainly on Contagion Second Edition, which is a modern horror/urban fantasy setting using a heavily modified version of the OGL system. As I'm expanding the game world, I am looking into ways to incorporate transmedia resources into my products to enrich the gaming experience in ways I haven't exactly seen other companies do. I just released a new product for Contagion called Falling Stars which includes a .pdf format sourcebook for the game, an mp3 based soundtrack that players can use during a game session to help set the mood and a short film that acts as sort of a prelude for the material introduced in the game. I'm excited to see how it plays out because it's a bit experimental, so it should be fun. Falling Stars is available at DriveThruRPG at http://rpg.drivethrustuff.com/product/128170/Falling-Stars and there's a brief preview of the short film on the page.
Your/your movie's website, Facebook, whatever else?

Feeling lucky ?
Want to
search
any of my partnershops yourself
for more, better results ?

The links below
will take you
just there!!!

Find Travis Legge
at the amazons ...

amazon.com

amazon.co.uk

amazon.de
Looking for imports ?
Find Travis Legge here ...
Something naughty ?
(Must be over 18 to go there !)

Bloom can be found at https://www.facebook.com/BloomTheFilm
On IMDb at www.imdb.com/title/tt3300820/
And the trailer can be seen at https://www.youtube.com/watch?v=eIWL8l40tKk
Anything else you are dying to mention and I have merely forgotten to ask?
I just want to remind everyone that my last feature, Dry Spell, is now up on iTunes at https://itunes.apple.com/us/movie/dry-spell/id803576929 and I'd love it if everyone checked it out! It probably couldn't be more different in tone than Bloom, but if you're in the mood for a good laugh, Dry Spell is your guy.
Also, I'd encourage any gamers among the readers to check out Contagion Second Edition at http://rpg.drivethrustuff.com/product/117625/Contagion-Second-Edition
Give me a shout on Twitter: @travislegge and let me know what you think!
Thanks for the interview!
Thanks for having me! Always a pleasure!