Your new movie Helpless - in a few words, what is it about, and what can you tell us about your character in it?
Helpless is a thriller centered around the hunt for a missing baby girl who was taken from a stranded couple after their car gets a flat tire. Who took the baby and killed the parents is unknown. My character, Wendy, is a psychic who inserts herself into the investigation. An investigation which takes a truly unforeseen turn toward the dark side.
With your character being a psychic - to what extent could you relate you to that aspect of Wendy, and what did you draw upon to bring your character to life?
I didnít have anything personally to pull from for the psychic part of the character but her true concern for finding that lost child was something that I think every person can relate to. I did watch parts of Poltergeist to see Zelda Rubinsteinís approach to portraying a psychic.
How did you get hooked up with the project in the first place, and how did you end up on the production side of things as well?
I have worked with Thor Moreno (writer/director of Helpless) [Thor Moreno interview - click here] on two other projects: Iowa, A Thor Moreno Film and ColorBurn, so he knew what I could do for the character he had in mind. As for the production side, I just retired as a project manager from a computer service and have been a theater stage manager multiple times, so the role of producer for an independent film fit pretty well. I also volunteered for the craft services role because I enjoy cooking. It was pretty cold filming in Iowa in December; so we wanted the actors to enjoy a hot meal on set.
What can you tell us about your director Thor Moreno [Thor Moreno interview - click here], and what was your collaboration like? And how did you two first hook up?
I have worked with many directors and all of them have their unique talents, but Thor is by far the most patient and calm director of the group. He has an amazing ability to visualize the details of the shoot before even arriving at the set, which makes him very prepared. A prepared director makes for fewer shots and when it is cold outside, thatís wonderful. I have watched Thor work with actors to get the results he is after in such a positive way that the actor is never intimidated. Because of his calm demeanor and the fact that he is a dad himself, he also works very well with child actors. He can pull the best performance from an actor with both still smiling at the end. Thatís also why actors love to work with Thor.
How did I first meet Thor? Someone saw me on stage and gave him my name, but they didnít have my contact information, so he sent me a Facebook message. Pretty crazy start.
Do talk about the shoot as such for a bit, and the on-set atmosphere!
The set of Helpless was an abandoned farm house and the farmís out buildings (machine shed, pig stalls). So immediately it was spooky. It just seemed haunted. As soon as we were ready to begin shooting one sunny day, clouds started to roll in and it was very eerie. Everyone noticed the coincidence of the timing of the storm. It was not hard to get into character there. As for the actors, when it is cold Ė it is all business until back into a warm area. But once in the warm area, we were trying to see who could freak out whom with a scary story! It was a lot of fun.
Any future projects you'd like to share?
I canít give you any details, but I have been cast in a feature film which is set on the shores of Lake Heron for the fall.
What got you into acting in the first place, and did you receive any formal training on the subject?
I started acting when I was 11 or 12 years old. I loved to sing so I auditioned for the school musical and got the role. But when it was time to choose a college, I went to a business school so I do not have any formal training; my college degree is a bachelor of science. I learned by watching and learning from people I respected.
From what I know, you have been acting on stage since a rather young age. So what can you tell us about your experiences on stage, and how does performing on stage compare to acting in front of a camera? And which do you prefer, actually?
When acting on stage, your gestures are bigger and you must project your voice. So my training is to perform to the back row of an auditorium. When I started with film I had to learn to be much more subtle. I learned that I can show a great deal of emotion with my eyes; something impossible for a large stage. I read ďsomeone should be able to walk up to you and not tell you are actingĒ. Good advice because film is all about being real. With that in mind, I believe that you must understand the person you are portraying. You should know how they would react in all kinds of situations Ė even ones that are not in the script. If you can do that, you will be believable. I always create a backstory for every character; no matter how small the role. Milan Kundera, a Czech novelist, playwright and poet said that there are no small roles, only small actors. I read this to mean that no matter the size of the role, make it memorable. I do this by knowing my character so I make them come alive. Note: This doesnít mean mugging, overacting or stealing focus.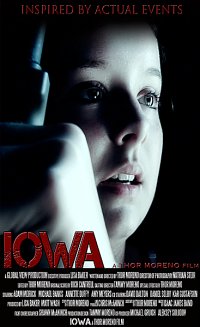 Can you still remember your first time in front of a movie or TV camera, and what was that experience like?
I was an extra for an industrial. It was a scene at a restaurant and we were supposed to be eating breakfast. Nobody told me that I should not really drink the coffee. Thank goodness the bathroom was close when they said cut!
What can you tell us about your filmwork prior to Helpless?
My first feature film was Iowa. I was the leading characterís mother. She was pretty tough but loved her son and granddaughter; she practiced tough love. It was a wonderful experience, thanks to Thor Moreno [Thor Moreno interview - click here] and the cast/crew. The next project was a short named ColorBurn. This was my toughest role (film or stage) to date. My character says goodbye to her dying father. It was very close to home and I had to go to a very sad place. But I was able to go there because I trusted Thor. Being able to trust your director allows you to go to places that are really tough.
Actresses (and indeed actors) who inspire you?
Film Actors: Helen Mirren, Margo Martindale, Judi Dench, Anthony Hopkins, Woody Harrelson, Christian Bale just to name a few.
Your favourite movies?

Feeling lucky ?
Want to
search
any of my partnershops yourself
for more, better results ?

The links below
will take you
just there!!!

Find Annette Duffy
at the amazons ...

amazon.com

amazon.co.uk

amazon.de
Looking for imports ?
Find Annette Duffy here ...
Something naughty ?
(Must be over 18 to go there !)

Hunt for Red October, Red, Sixth Sense, Mr Hollandís Opus, Bourne Identity, Philomena, Primal Fear, Shawshank Redemption, Double Jeopardy, Patriot Games, Elf J
... and of course, films you really deplore
I try to find something good from each movie I watch.
Your website, Facebook, whatever else?
I donít have a website but IMDb link is: http://www.imdb.com/name/nm1930297/?ref_=fn_al_nm_1
Thanks for the interview!