Your new movie Bloody Ballet - in a few words, what is it about?
Bloody Ballet is a story of a young dancer, Adriana Mena (Kendra Carelli), who's inner traumas from childhood gain resurgence after the jealousy and tension of gaining a lead role in the ballet play The Nutcracker.
What inspired you to set Bloody Ballet in the world of ballet, is that an artform you're particularly fond of?
Ballet is my favorite type of dance because of its beauty combined with demands of staying in almost unrealistic shape. I felt it was the perfect sport in which would represent Adriana's life path… for like attracts like.
I think I'm not the first to notice Bloody Ballet is somewhat reminiscent of classic giallos in style and story - so was this a conscious decision from the get-go, and some of your genre favourites?
It was always the plan to try and replicate the classic giallo films of the late 60's to early 80's. Though the films in general don't speak to today's social norms, they were extremely enjoyable films.
Favorites would be most of the giallos of Sergio Martino like The Case of the Scorpions Tail, Fucli's New York Ripper [Lucio Fulci bio - click here] and of course Dario Argento's and Mario Bava's masterpieces [Mario Bava bio - click here].
(Other) sources of inspiration when writing Bloody Ballet?
Other inspiration came from Matt Cloude who is a huge fan of giallos but classic slashers as well. He designed the killer's look which to me is very The Red Queen Kills Seven Times. That too is a great film.
What can you tell us about your co-writer Matt Coude, and what was your collaboration like?
At first we hit it off famously. Both Matt and myself are very much into horror and very knowledgeable, so that was extremely fun developing the film in the beginning.
Do talk about Bloody Ballet's approach to horror!
Bloody Ballet is going to be special to a lot of fans. A lot of people have commented that it's the first giallo in a long time that actually FELT like a giallo. That was the whole goal… not to make it modern but to create a bizarre story that would fit in the Suspiria world, like Tenebre and Inferno. However since not everyone knows that, I get "The story was confusing."
For all the gorehounds among my reader, a few words about the bloody bits in your movie, and was there any red line regarding violence that you consciously refused to cross?
The special effects in Bloody Ballet are all practical in camera effects which I always prefer. Our approach was to draw out the kill scenes and make them as gruesome as possible. Joh Harp and Matt Patterson did an extremely solid job on coming up with many of the setups.
What can you tell us about your directorial approach to your story at hand?
For this film in particular, I allowed as much improvising as possible to create as natural of dialogue as possible. The two main leads are best friends in real life, so it was nice to allow them to carry on conversation naturally. Another approach I like to take is to set the scene before the actors… I believe in strong locations in film to bring out the best in both my crew and talent.
Do talk about your key cast, and why exactly those people?
First I'll start off with Kendra Carelli. She played Adriana in the film. Anyone to watch Bloody Ballet will agree that she pulled off an outstanding performance for a script that was changing all the time. She has a lot of heart and she will go far in the industry. I'm glad to have worked with her.
Debbie Rochon [Debbie Rochon interview - click here] is one of my favorite actresses/actors (which ever you think is proper) to ever work with. She has amazing ideas and is as versatile as they come. I hope to work on another film with her in the future.
Rob Springer has that Ian McCulloch (Zombi 2) swag to him and a fantastic personality. Rob is one that will go above and beyond to deliver what you are looking for in a character. He was also in my last film Bombshell Bloodbath, which is an Italian style zombie film… think Fulci meets the Re-Animator.
Tatiana Russell gave me my favorite scene in the movie when her eyeball was ripped out of her head (sorry for the spoiler). Tatiana doesn't get talked about much in interviews of this film, but she is absolutely brilliant in Bloody Ballet.
A few words about the shoot as such, and the on-set atmosphere?
The atmosphere on set was definitely a tight group of passionate filmmakers. Most of us had worked on projects in the past and there was certainly a small crew bond going on. Kevin Welch with his upbeat AD skills kept us on schedule, and I'm so grateful to have had him a part of this project among many others.
Anything you can tell us about audience and critical reception of Bloody Ballet?
For the most part the reception of Bloody Ballet has been amazing! People who "get it" get it. People who don't understand classic giallos don't get it haha. I think it's normal to get a divided room, humanity in general can't agree on most things. BUT the important task is inspiring those who love these type of films, that I know we have succeeded at.
Any future projects you'd like to share?
Right now there isn't an exact project that is in the works, some scripts and some digging for rights. Hopefully I will have something to share soon… In the meantime check up on IMDb or follow on social media. I'm excited about whatever it ends up being though because I'm itching to make something special for the fans and myself alike.
What got you into filmmaking in the first place, and did you receive any formal education on the subject?
I did go to two film schools but what really got me into filmmaking was borrowing my fathers VHS camera and shooting backyard films either by myself or with friends.
What can you tell us about your filmwork prior to Bloody Ballet?
Most of my work prior to Bloody Ballet was DP work though I did direct a zombie film in 2014 called Bombshell Bloodbath. That film was extremely fun and it was a great experience overall. I also run my own production company for commercials and sports.
How would you describe yourself as a director?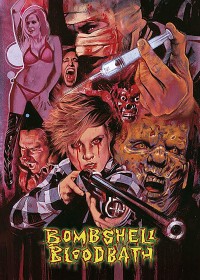 Feeling lucky ?
Want to
search
any of my partnershops yourself
for more, better results ?

The links below
will take you
just there!!!


As a director I want to be able to communicate with the entire crew. I told myself before I ever directed a project that I needed to have the ability to at least understand everyone's position on set. That being said, I can relate to actors, I can operate a camera and light a scene, I can perform audio mixing, I can write scripts, manage and select location and edit a film.
As a director I want to be able to be able to collaborate with every department and I do.
Filmmakers who inspire you?
There are so many. One I'd have to say is Danny Boyle. 28 Days Later, in my opinion, is a flawless film.
Your favourite movies?
28 Days Later, The Beyond, Suspiria, Day of the Dead and any showa Godzilla film (not really but really).
... and of course, films you really deplore?
Deplore… Hmmmm, I can't think of anything I despise enough.
Your/your movie's website, Facebook, whatever else?
https://www.imdb.com/title/tt4729642
https://www.facebook.com/FantasmaMovie
Thanks for the interview!