Your new movie Blood Riders: The Devil Rides with Us - in a few words, what is it about, and what can you tell us about your character in it?
Blood Riders: The Devil Rides with Us is a blood soaked, adventure comedy that follows four high schoolers after they steal a car that then has devastating consequences. Zoey is a privileged teen who grew up in a religious household - and I feel that causes her to try and be as rebellious as possible. She is also very impulsive, haha.
What did you draw upon to bring your character to life, and how much Caitlynne Medrek can we actually find in Zoey (apart from the accidentally killing people bit I hope)?
I think majority of film acting comes down to who you already are as a person, I like to think about how ME, Caitlynne, would react to the situation at hand and then move forward with my acting choices that way. How would Caitlynne say this line, how would Caitlynne react to getting splattered with someone else's blood? So a lot of Zoey is genuinely how Caitlynne would probably react to those situations as well. It also helped that the cast became great friends and that we were able to play really well off each other genuinely. Luckily, all my cast members lived and survived in real life. :)
How did you get involved with the project in the first place?
A couple of the actors I had worked with in Out With Dad (www.outwithdad.com) were involved with Blood Riders: The Devil Rides with Us, and gave me the heads up that auditions were coming up! Apparently it was a good audition, cause here we are now!
To what extent could you identify with the film's brand of comedy? And of course, how did you feel about being covered in blood most of the time?
It's my favorite kind of comedy! Dark and silly but also unique without being an easy or cheap kind of humor. Lari Teräs [Lari Teräs interview - click here] - the director - has a brilliant sense of humor that really comes out in his script (chicken strips). People watch movies to escape and get away from their own lives for a few hours, and this movie does just that! It's not poop humor, it's thought out and articulated well - it borders on reality, so we aren't reflecting on similar, real world issues that go on in our own lives, we're just given a chance to suspend our disbelief and watch a comedy that really makes us laugh! And of course I loved being covered in blood the whole time. If it means I'm on set - I'm happy! Doing what you love while covered in sticky sweet syrup - that's living the dream!!! LOL.
What can you tell us about your director Lari Teräs, and what was your collaboration like?
Lari is awesome!! I think he had a very strong vision of what he wanted this movie to be from day 1. He of course wrote the script as well, so this movie had been his baby for a long time. Lari is so talented and dedicated - he had a dream and made it happen!! I think it's so rare that indie movies actually go from pre- production to post as fluidly as Blood Riders: The Devil Rides with Us did. We had an amazing cast and crew, and everyone respected Lari's vision from the beginning. If it wasn't for him, none of us would be here right now. So proud to call him a director and friend. If you ever meet him, he will make you do sambucca shots. That's true Lari initiation.
Do talk about the shoot as such, and the on-set atmosphere!
It was legit, the best three weeks ever. We had such a blast as a team. The cast and crew got along famously. It was like being at summer camp, but every day you got to make a film. To spend three weeks living and breathing your passion, only to come out at the end knowing you created something really awesome, is the best feeling in the world. We all became best friends in those three weeks. The actors lived together in one giant house. We have some crazy stories that are so insane from those three weeks, that the behind the scenes could be a feature film on its own. One of my favorite things about watching Blood Riders: The Devil Rides with Us is the crazy stories we have as a cast and crew that happened before and after that camera was rolling - cops, and people thinking we were shooting Nazi propaganda and our producers being locked in a gelato shop... It was the best.
Any future projects you'd like to share?
Doing some professional theatre here in Calgary, AB! 'Ill be doing The Crucible up next! And you can catch me in an episode of Hell on Wheels next summer!
What got you into acting in the first place, and did you receive any formal training on the subject?
I have been acting on stage since I was 10, broke into film about 6 years ago! I did formal training in BC Canada, and a year in Los Angeles for film!
Over the years you've done quite a bit of voice acting on Japanese anime - so what can you tell us about that experience, how did that come about even, and how does it compare to actually acting in front of a camera?
The two mediums are very different, voiceover work its all about first instincts. You also don't have to memorize lines or look good! Youre mostly by yourself in the booth, so it is completely opposite of the film world. Film is a scene by scene process but you're surrounded by tons of people at one moment and there isn't much rehearsal time. Theatre is a whole show rehearsal into whole show performance process! I love them all!!! I was recommended to voice work by a fellow child actor, did a general audition and booked 65 episodes of Dragon Ball right off the bat! It was meant to be.
Any other film or TV work you'd like to talk about?
For sure check out Out with Dad!! I am so proud of that show. It's an LGBT series that is helping youth all over the world!! We were even viewed by the Vatican! That's right, the Pope has seen me make out with a girl. Also - Total Drama Revenge of the Island was a fun one! Check out my favorite anime Strawberry Marshmallow! And of course, Dragon Ball GT (Blue Water dub) is one I'm proud of!
How would you describe yourself as an actress, and some of your techniques to bring your characters to life?
Acting is my favorite thing in the world, I'm happiest and most comfortable when I'm on stage or on set. I will try anything or play anything once. I want to tell stories and play characters that people can relate too. I want to entertain and help people forget about their lives for a few hours at a time. I want my joy to be contagious. And I'm lucky to have found a passion that makes that possible. I want to be the type of actor that makes you smile just by smiling. Trying to be as genuine in every moment is key. I really try to make that a part of my craft!
Actresses (and indeed actors) who inspire you?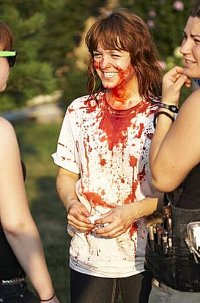 Feeling lucky ?
Want to
search
any of my partnershops yourself
for more, better results ?

The links below
will take you
just there!!!

Find Caitlynne Medrek
at the amazons ...

amazon.com

amazon.co.uk

amazon.de
Looking for imports ?
Find Caitlynne Medrek here ...
Something naughty ?
(Must be over 18 to go there !)

Tom Hanks! Amy Schumer! The entire cast of Friends. Lena Dunham (and the cast of Girls), the boys from Workaholics and Abbi and Ilana from Broadcity, and Amy Pohler and Tia Fey. The on-screen chemistry that all those listed above have with each other is something I envy. It's amazing to watch them play off each other, no acting is involved, they just are present and genuine in everything they do on camera and it's incredible! Also Shirley Temple is my idol when it comes to bringing joy to other people through entertainment!
Your favourite movies?
Jurassic Park! Daddy Day Care. Big Fish. Confessions of a Shopaholic. Wedding Singer. George of the Jungle. Taken. Kingsman: The Secret Service.
... and of course, films you really deplore?
Any movies with cheap humor like Ted ... or Vampires Suck.
Your website, Facebook, whatever else?
Twitter: caitymedrek
Instagram: caitymed
http://caitlynnemedrek.workbooklive.com
THANKS FOR WATCHING GUYS!! CHECK OUT BLOOD RIDERS AND THEN TWEET ME YOUR THOUGHTS!!
Anything else you're dying to mention and I have merely forgotten to ask?
THANKS FOR THE INTERVIEW!!!!!!!!!!!!!!!!!!!!!!!!!!!!!!!!!!!!!!!!!!!!!!!!!!!!!!!!!!!!!!!!!
Thanks for the interview!