Your new movie Blood Riders: The Devil Rides with Us - in a few words, what is it about?
Basically it is about four high school graduates who are looking for a fun adventure in the wrong place and end up stealing the wrong car. That leads to a deadly and wild adventure where they meet a cavalcade of crazy characters from neo-Nazis to devil worshippers and a plan to resurrect Hitler. However, hidden beneath the layer of blood, neo-Nazis and devil worshippers, I'd say it is a feel good movie about growing up, making new friends, finding love and overcoming the insecurities of youth: "What are you willing to do in order to find acceptance either from yourself or from your peers?"
That said, it is also a movie about off-the-wall characters, hell fires and the (positive) effects of starting an accidental murder spree in order to cover up a petty crime.
What were your sources of inspiration when writing Blood Riders: The Devil Rides with Us?
I watched a lot of 70s/80s grindhouse and American independent films as well as Japanese and South Korean films that had crazy and outrageous storylines or characters. That is something I wanted to embark on: Make a film that is an enjoyable tornado of events and a fun way to spend an evening with friends while possibly having a few beers.
The longer it goes, the wilder Blood Riders: The Devil Rides with Us gets - so how much fun was it to continuously push the outrageousness of the movie?
It was a lot of fun and that was basically the reason I wanted to make this movie. I have a fairly twisted sense of humour and it was very liberating to put it in action. Playing with fake blood and amping up the crazy made it a fun shoot especially when I was surrounded by an awesome cast and crew who were happy to be part of the ride and had a good sense of humour as well.
Blood Riders: The Devil Rides with Us does have quite a few violent bits - so do talk about those scenes for a bit, and how were they achieved? And was there ever a line you refused to cross for other than budgetary reasons?
I firmly believe in practical effects, so all the blood you see squirting around is real fake blood. No matter how good you are, I think digital blood often ends up looking just that, digital. Basically none of us had much experience in making all the blood effects that we needed for all the kills, so the production designer team watched through a lot of YouTube tutorials and we tested all the different deaths before the shoot on our DOP's backyard with me as the test subject. We also tested out several different blood mixtures and made sure I got all of them on my face and eyes in order to find out which blood looks the best, washes off the clothes best (since we didn't really have the budget for duplicate clothes) and also to vet out the recipes that sting the eyes the most. In the end, I was asking for my actors to get sprayed with blood a lot during filming, so I think that if I couldn't subject myself to it first, I shouldn't be asking for them to be splashed with blood either. And besides, testing all the blood was pretty fun. Haha.
Also, one of our actors (Dylan Mask - Andy) helped out a lot in choreographing some of the trickier fight scenes. He had a good sense of how to achieve the things I was asking for in the fight scenes, but still make it safe and doable for a cast with varying amounts of stunts experience. Safety is important even in (and especially in) low-budget films and there's always a way to achieve what you need without risking anyone's health.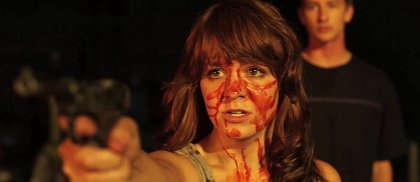 There wasn't really any lines that I would've refused to cross. When you don't have any external money coming in, there's no one to look over your shoulder, so you're pretty much free to do whatever you want. However, I wanted to keep all the bloodshed and killings fairly light hearted, so I didn't want to incorporate things like rape or really strong emotional abuse in the script as I think those topics should probably be dealt in a different way. But overall I never felt restricted in writing up any messed up idea that popped in my head and I think that's the way it should be for a movie like this.
Do talk about your directorial approach to your story at hand!
The main goal for me was always to keep it fun first on paper, then on set and finally on screen. Although it touches some topics that a lot of people can relate to, such as bullying and trying to find your place in a group when you're growing up, the main thread was to keep the story (and on-set atmosphere) enjoyable and deal with the real world issues that way on the side. Unlike some grindhouse films that start extravagantly and end in a blaze, but end up having a fairly slow or even a dull middle section (possibly due to lack of resources), I wanted to keep the story fast paced all the way through. That said, the moments of character development were also important for the audience to be able to identify with (hopefully) the main characters. In order to achieve the required good chemistry for those parts of the story, we had the actors spend quite a lot of time together both on set and off set while filming and I think it really shows in the final product.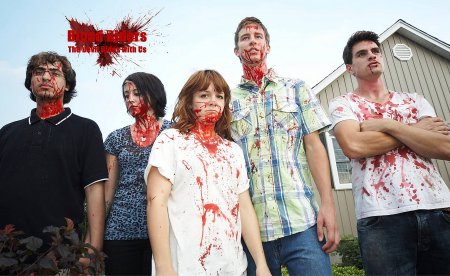 What can you tell us about your key cast, and why exactly these people?
I knew handful of the actors from college parties and productions (I used to live in the acting student party house when I went to film school). For some of the characters I already had actors in mind when writing the parts although I still made them go through auditions to earn their spots. Then especially Corey Lof (Janek) knew a few actors, some of whom he had worked with on the webseries Out with Dad, and then he brought them to the auditions. For example Caitlynne Medrek (Zoey) [Caitlynne Medrek interview - click here] came through Out with Dad and Corey also got Joel Ballanger (Dane) to come in the auditions. As for AJ Morabito (Kyle), both me and Corey knew him already from college. So in the end, Corey actually knew all of the main cast from before. Not only did they end up nailing their auditions, I also knew that they'd have good chemistry on screen since some of them had already worked with each other and knew each other either on or off set. The familiarity can be especially important when you're shooting a film where there is absolutely no rehearsal time before the shoot due to budgeting and scheduling reasons, but you still need good chemistry between the main actors. And although being familiar with each other was a bonus, I'm convinced that by casting them we also picked the best actors from the auditions for those characters. That was obviously the most important factor. For the rest, we held auditions in Toronto and Welland and picked the best performers out of those audition sessions. We were almost surprised at the volume of talented and in some cases already experienced actors who applied for the film, which was basically a no-budget, first time director feature shot in Niagara (meaning Toronto based actors couldn't go home every night after the shoot). Luckily all of our first choices said yes and I really got the cast I wanted if not more. Basically sometimes I say half seriously that more than half of my directing work was done when we got the cast, that's how easy they were to work with.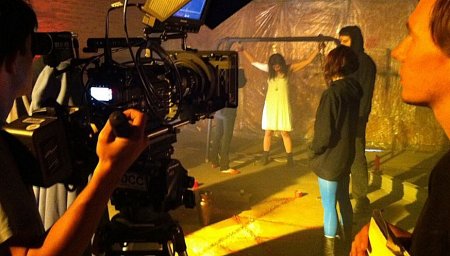 Is it true that your production got into problems because people thought you're shooting Neo-Nazi propaganda?
Yes, that is very much true. We had especially one instance where we were thrown off our set in the middle of the shooting day because the neighbours thought we were shooting Nazi propaganda and threatened to call the police if we didn't leave the house in 5 minutes. The person who stormed in while we were shooting thought that our neo-Nazi leader's tattoos were real and it was hard to convince him otherwise. Basically it is a huge kudos to our make up artist Deana Gajic, but not so great for scheduling and continuity... Eventually the person calmed down enough to talk to our producer, Kyle Chappell [Kyle Chappell interview - click here], over the phone and he managed to clear everything out. However, we had already disassembled the camera, lights and taken all our props and set dressings out of the house. At that point I was already thinking how we could probably cheat the other direction of the room and shoot the rest of the scene somewhere else if needed. However, luckily the word came that we can continue shooting there as long as we keep the Nazi stuff more hidden and thus we put all the props and set dressings back and continued filming.
That was the main incident. However, there were also a few other times when actors forgot that they were wearing all Nazi gear and went outside to cool off (or to Tim Hortons to get coffee) and got some odd looks and close calls with authority. In the end, that's pretty much what independent filmmaking is often about though. Rolling with the punches, extinguishing some (hopefully non-literal) fires and having good stories to tell afterwards...
What can you tell us about the shoot as such, and the on-set atmosphere?
I couldn't have asked for a better atmosphere. Everyone bonded pretty quickly and became much like a film family. And luckily for us, it was the kind of family you see in commercials where there isn't any friction or serious arguments. It might sound like I'm painting too rosy of a picture, but that was the reality. Several cast and crew members have come to me later and said that it was the most fun they've ever had on set and that really means a lot to me. I think it was also enhanced by the fact that a lot of the actors stayed in the same house and crew members also shared a house. It meant that, at the end of a shoot day, instead of everyone going their separate ways, they still kept bonding and having a good time off set. That's something you don't necessarily get when shooting in a big city like Toronto. I've experienced the same happen when working on a few films in Collingwood and I think it's something every filmmaker, crew member and actor should experience at some point in their careers. Go out of your immediate comfort zone and work on a movie in another town with like minded people. It's definitely worth it.
A few words about audience and critical reception of your movie so far?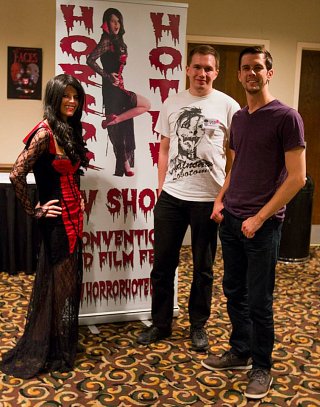 Lary and producer Kyle Chappell with
Lamia, Queen of the Night
I've been really happy with the reception so far. We've been in about 15 festivals and taken home couple of best feature awards, couple of best comedies (or horror-comedies) and couple of audience choice awards.
As for the audience choice awards, it's especially great when they come from places like Salty Horror in Salt Lake City where you (or any of your cast and crew) don't know anyone from before. Then you know it's really coming from the audience instead of coming from your own friends and family members who end up coming to the screening.
Sure, if you can't find any room for improvement in your film, then you probably just lack self critique and obviously Blood Riders: The Devil Rides with Us isn't the type of film that's necessarily everyone's cup of tea. However, I think it's more important to find your audience and really entertain them instead of trying to give something for everyone. But overall the reactions have been very positive at the festivals we've visited. I'm always nervous before a screening, but when you notice people laughing at the right spots, that's when you really know you've done something right.
Any future projects you'd like to share?
I am writing another film in the similar style as Blood Riders: The Devil Rides with Us. It's a fun and adventurous comedy with devil worshippers, blood and drugs. It also centers around a few youngsters (college students) who get mixed up in something way over their head with deadly consequences all while dealing with unhealthy relationships of various kinds. The working title for that is Dear Dead Trixie, and hopefully we'll get to start shooting it in 2016. In addition to that, me and Jonathan Lewis (the production manager / actor from Blood Riders: The Devil Rides with Us) are launching a horror / fantasy film festival in Toronto called Toronto Spring of Horror and Fantasy. It's a 3-day festival with screenings, alcoholic (or non-alcoholic) drinks and a scream queen competition at the Carlton Cinema on April 8-10, 2016. There's more info at www.springofhorror.com
What got you into filmmaking in the first place, and did you receive any formal training on the subject?
I've always loved watching films and I'd say seeing El Mariachi made me start thinking that I would also like to do my own films one day. In Finland (where I'm originally from), I went to business school and got my Masters in Logistics. However, I wasn't ready to commit (or didn't want to commit) to a life in an office, so I decided to give this film career thing a go. I didn't even have time to go to my graduation ceremony back home when I had already packed my bags and moved to Canada to attend film school at Niagara College. And that's the road I'm still traveling on.
What can you tell us about your filmwork prior to Blood Riders: The Devil Rides with Us?
This is my first feature film and by far my biggest and most ambitious project to date. The biggest project prior to Blood Riders: The Devil Rides with Us was producing a 30-minute documentary about freakshows, sideshows and body modification called Hey Rube! (directed by Blood Riders: The Devil Rides with Us's DOP, Rick Iafrate). Other than that, I did couple of 5-minute short films (mostly horror-comedies) in film school and then I worked as a grip/electric/best boy on a couple of independent features such as Monster Brawl and Exit Humanity.
How would you describe yourself as a director?
I think I'm pretty easy going. I like everyone to have fun on set as I believe that always ends up translating well on screen. As for directing, I like to give my actors certain guidelines as for how I see the scene going. Where it should start and where it should end. Based on that, I like to then see what the actors bring to the table and give them a good amount of freedom. Depending on how it goes, I'll then give some additional guidelines on how to enhance the scene and go from there. At the end of the day I have to be sure I'm happy with everything I've got and that what we've shot adheres to my vision and supports the character arcs and fits in the overall storyline. However, for the most part, it's much more of a collaboration than a dictatorship.
Filmmakers who inspire you?
I probably wouldn't be here now if it wasn't for Robert Rodriguez. El Mariachi was one of the films that opened my eyes that I don't have to be the son of a studio boss to make interesting movies. And overall his whole encouraging attitude to go and make your own movies (as seen for example from his 10-minute film schools) is very inspirational.
Gregg Araki has one of the most interesting slates of film out there ranging from the crazy Doom Generation or Kaboom to Mysterious Skin and White Bird in a Blizzard. He also uses colours really well and I'm always interested in what he does next. And I guess it would be also hard to pass this interview without mentioning Tarantino.
There's also Ed Wood jr [Ed Wood interview - click here] (and everyone who's been making films against the odds) as well as a good deal of Finnish independent filmmakers whose work I grew up watching such as Hubaveikot or the people behind Star Wreck (and now Iron Sky).
Your favourite movies?
Donnie Darko is something I usually bring up first as one of my all-time favourite movies. However, I like a very wide variety of films from dramas such as Perks of Being a Wallflower, Manic or Mysterious Skin to crazy fun films such as Tokyo Gore Police, Braindead or Toxic Avenger.
And a lot of other films in between...
... and of course, films you really deplore?

Feeling lucky ?
Want to
search
any of my partnershops yourself
for more, better results ?

The links below
will take you
just there!!!

Find Lari Teräs
at the amazons ...

amazon.com

amazon.co.uk

amazon.de
Looking for imports ?
Find Lari Teräs here ...
Something naughty ?
(Must be over 18 to go there !)

That's a hard one in a sense that I think any movie that has at least one satisfied viewer was a film worth making no matter whether it is a fart comedy, non-stop action or a hard hitting drama.
However, the thing I deplore most is not delivering what you promise. If the title or marketing promises tits, blood and gore, but the film is cut to PG-13 because of marketing, that's bullshit. Or vice versa, if you promise a family friendly movie and you end up delivering a semi-pornographic gore-fest, that's not cool either.
Also sequels made merely as cash cows that bear little connection to the original and that are shot on severely slashed budgets compared to the originals and usually end up straight to DVD - those are films I could also live without. For example From Dusk till Dawn 2 and 3 or Return of the Living Dead 4 or 5. If those were made as stand-alone films without trying to ride on the coattails of their predecessors' success, I'd be totally fine with them. I might still not have enjoyed them, but I wouldn't call them deplorable.
Your/your movie's Facebook, website, whatever else?
www.Facebook.com/TheDevilRidesWithUs
www.Filmfreeway.com/festival/TorontoSpringOfHorrorFantasy
Thanks for the interview!
Thank you very much for opportunity to be interviewed!