Your new movie Bent - in a few words, what is it about?
Bent is a crime drama about police corruption told through the eyes of Brenda Hoggins, an officer involved in a shooting gone bad. She's faced with a tough decision when internal affairs becomes involved to get her to give up her partner, Michael Brooks, who committed the shooting. Unlike most films about this subject, this was done as a character study where themes of corruption and guilt are explored. Both Kris Salvi (the writer, co-producer, and co-star) [Kris Salvi interview - click here] and I felt this was an urban western of sorts with all the classic beats of a western, but told in the world of cops and in a gritty urban setting.
With Bent being essentially a cop movie, is this a genre at all dear to you, and some of your genre favourites?
I've always had a love for film noirs of the 40's and 50's with my favorites being The Big Heat (Fritz Lang, 1953) and The Maltese Falcon (John Hudson, 1941), but I especially love the gritty neo-noirs of the 70's and 80's such as The French Connection (William Fredkin, 1971), Mean Streets (Martin Scorsese, 1973), Taxi Driver (Martin Scrosese, 1976), Prince of the City (Sidney Lumet, 1981), and Year of the Dragon (Michael Cimino, 1985). When prepping for this film, I took a look at a number of films for inspiration, including some of these listed above and also a western. In addition, Kris introduced me to a few films, including the documentary, The Seven Five (Tiller Russell, 2014), which told the story about a real case of police corruption in New York during the 1980's.
How did the project fall together in the first place, and to what extent could you identify with the script?
This project's history is rather interesting. Kris had the script for a while before I came along and different directors and actors were to be involved. Eventually, Kris felt that none of the directors were falling align with his vision. By that time, Kris and I somewhat knew each other in passing from seeing each other's work and always chatting. He sent me the script for this and I really loved the themes and the grittiness in the story. I felt that was something in my own film career that was missing as by that time, I had, without really trying, gotten somewhat of a label of doing light-hearted dramas or comedic films which I never really understood as I felt I was exploring deeper subjects in my work than just surface level. So, I was strangely offended by that. I took it on, not just to prove I could do something really gritty, somewhat violent, and explore even deeper subjects of society. Kris also felt I could do it, which surprised me but I was more than happy to take it on. It also helped that I found Kris to be a talented writer and actor, especially having worked with him on my short film, The Deja Vuers.
The biggest challenge for me was knowing that world and also identifying with anything in the script. Whenever I get a script or write something, I have to be 100% committed to it and be essentially in love with it much like I would with a woman. Once you commit to a project, it's like a marriage in that way. From reading the script, I knew this was going to be a challenge for me and I wanted to step out of my comfort zone. I identified with certain themes of guilt and always found it fascinating how the corruption of real world cops was kept hidden and how this script brings that out. So, I didn't necessarily identify with a character. In other words, it wasn't love at first sight, but probably more like lust. I liked exterior of what was happening in the story, but I wanted to take it on to find out more under that.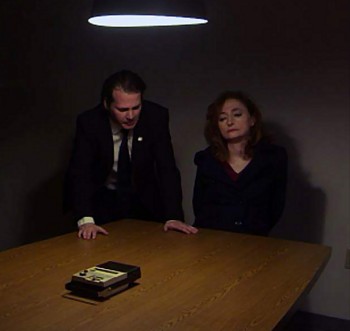 Kris Salvi and Audrey Noone
Do talk about Bent's writer Kris Salvi [Kris Salvi interview - click here] for a bit, and what was your collaboration with him like during pre-production? And since he's also producer (with you) and plays a key role in the film, did he ask for any creative control during the shoot?
Kris was great. He and I would sit down together and talk about the story, our vision, things we wanted to do, what would work, and what wouldn't work. He always trusted my opinion and I trusted his. The other aspect of having Kris involved was him introducing me to the world in which the film takes place. He shared info with me about police, internal affairs, showed me crime spots in his city, and shared interviews that he did with real internal affairs officers. He was essentially my link to that world which I was not fully familiar with, but found interesting as an outsider.
He didn't necessarily ask for creative control, but we did agree to always talk to each other about decisions being made creatively to make sure our visions were in sync. It turned out we both had the same movie in mind which helped a great deal. If something wasn't working or something seemed off, he was there to either advise or help find a solution. My biggest concern was being authentic to the world, but Kris would try reign me in by reminding me it's a movie and not a documentary. In other words, he got me to loosen up and allow myself to take creative risks if I was fearful of doing so.
What can you tell us about the rest of your cast, and why exactly these people?
The cast was somewhat picked by Kris prior to me coming on board. For me, I knew most of these folks already so it wasn't hard for me to imagine them in the role. That and I trusted Kris' judgement.
Audrey Noone [Audrey Noone interview - click here], who plays Brenda Hoggins, was a choice Kris had in mind. She had sent him a video audition she did and we were impressed by her. I was especially impressed because I knew Audrey for doing comedy films, and she and I also did a comedy together a few years prior. Audrey is wonderful both as a person and actress. We did audition one other actress, but Kris and I both felt that Audrey just fit it perfectly. Our instincts were true. On set, she was always very conscientious about her performance which made working with her very easy and pleasurable.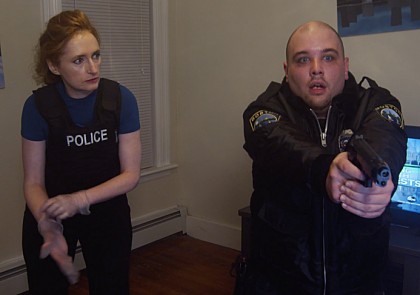 Audrey Noone and Justin Thibault
Justin Thibault, who plays Michael Brooks, was an obvious choice for both of us. I hadn't worked with Justin and knew very little about him beforehand, but he turned out to be an excellent addition to the cast. He's an extremely dedicated actor who does a ton of research and delves very deep into character. Directing him was easy because I didn't have to say much. He knew exactly what we were looking for and delivered it during every single take.
Chris Fisher, who plays Carmichael, was a last minute choice as we had another actor who was going to do the role, but he was unable to last minute. I hadn't worked with Chris either before this project, but Kris suggested him. He brought a lot of subtlety to the role which was heavily required as both of his scenes are laden with subtext. He is the character that pulls the strings for the events that transpire in the whole piece.
From the beginning of my involvement, Kris was always going to play Earl Duke. He mentioned to me that another actor was originally thought of, but he ended up doing the role. I had no problem with that as I felt because Kris wrote the script, knows the world and the characters that it was an easy decision. Actors like Marc Powers (John Camp) and Christie Devine (Nichols) were also easy choices based on Kris or I having a history with them and feeling they were perfect for their roles. Even though their scenes are short, they were both excellent to have on set and also knew how important their roles were to the overall story, giving committed performances.
Do talk about your directorial approach to your story at hand!
From the get-go, I knew I wanted to make a very gritty looking film while also keeping the themes subtle in the performances. As I mentioned before, I watched a few films of this style and also shared those movies with the actors and crew to watch to get a sense of the kind of film we were making and what we're aiming to do.
I also had the actors do a table read and we explored every character. I had each actor write a backstory and sometimes even talk to them in character as a way of preparation and get them in the mindset. It was also to help me be in their mindset in what they were thinking and feeling. Then on the set, I would try to recall those elements they gave me and would feed it back to them if I felt it was needed.
Overall, I wanted to make this real, or at least as real as I could. This included having a police officer, who also happens to be an actor, come on set to help choreograph the opening shootout scene.
A few words about the shoot as such, and the on-set atmosphere?
The film was extremely difficult to make. It truly tested my patience and passion as a filmmaker because we had issues with locations, scheduling conflicts, and an understaffed crew among other things not anticipated. I wasn't even sure if I could finish it or that I could even make another film afterwards. That said, we still had fun on set and there were often laughs between takes. I had a great time working with the cast as well. It was just everything surrounding it that made it very difficult to make. Finishing it was something of a miracle and the fact that I'm as proud of it as I am is a testament to everyone who was involved for sticking with it, seeing it all the way through, and bring their A game everyday.
The $64 question of course, where can Bent be seen?
As of right now, we're submitting to film festivals. I'm also holding a screening at a local theater on Sept. 9th along with my recent films including Imposter. We have, thus far, been accepted into two festivals including the UNDO Divergent Film Awards, where we are nominated for Best Film Noir/Thriller Short, and the Shawna Shea Memorial Film Festival.
Anything you can tell us about audience and critical reception of Bent yet?
The critical reception has been solid, thus far, with many enjoying the performances, story, and the look of it. I take great pleasure in that. With any film, you're always bound to have the handful who either are indifferent or negative about it. We've been lucky in that we have more positive reviews than mixed.
Any future projects you'd like to share?

Feeling lucky ?
Want to
search
any of my partnershops yourself
for more, better results ?

The links below
will take you
just there!!!


As of right now, I have been mostly writing new projects including shorts and features. I'm currently planning a new short and have been working on a feature screenplay that's just about finished. My goal is to merely keep creating content and always trying to do something different or outside the box.
Your/your movie's website, Facebook, whatever else?
Website: http://storiesmotion.com/bent
Facebook: https://www.facebook.com/Stories-in-Motion-316989045002591/
IMDb: https://www.imdb.com/title/tt7212596/
Thanks for the interview!