Your new movie Bent - in a few words, what is it about?
Bent is about police officer Brenda Hoggins, who gets herself into trouble with internal affairs after a shooting gone wrong.
With Bent being essentially a cop movie, is this a genre at all dear to you, and some of your genre favourites? And how did you approach the genre as such in your script?
Well, gritty crime dramas have always been a favorite of mine along with noir. Iím a big fan of the noir films from the 30ís and 40ís. Though having said that, I approached Writing Bent as a modern day western. Which is essentially what cop films almost are. The story is almost the same with westerns, the lawmen vs the outlaws, we just updated the scenery from dirt roads to concrete and horses to cars. Weíve all seen the white hats try to take down the bad guys but my approach to writing the script was more along the lines of making the lawmen into outlaws and blurring that line between right and wrong.
(Other) sources of inspiration when writing Bent?
A huge inspiration for the films besides cop movies of the 70ís such as Serpico and The 7 Ups and The French Connection and noir films such as Detective Story and Double Indemnity was a documentary on corrupt New York City police officers during the 80ís and 90ís called The 75. Watching that documentary planted the seed in my head to tell a story similar to the story shown in that documentary. I also researched a lot into true crime books and books on the lawmen of the west Such as Wyatt Earp and Bat Masterson. In a way too, I just drew on what I saw growing up concerning police officers. There were a few run-ins with the law back in my teens that were cemented into my head.
What were the challenges of bringing Bent to life from a producer's point of view?
Well the challenge to bring Bent to life was the director first and foremost and the cast. I had a rough draft laying around and I floated it to different directors who, although they were great directors, they had their own idea of what the film should be and I just wasnít on board with what they were trying to put in the oven, so to speak. They had my recipe but they wanted to make something different with it. So finding Chris Esper [Chris Esper interview - click here] was like finding water in the desert. He was on board with the gritty and grounded version I had in mind. At the time, there was a certain bullshit label Esper was pinned with, and that was more along the lines of Esper being a ďcomedy directorĒ, whatever the hell that means. I knew as soon as I sat down with him, that he was the right guy but most importantly, he was excited about the project.
What can you tell us about Bent's director Chris Esper [Chris Esper interview - click here], and what was your collaboration like?
Like I said, Esper was the right guy for the job. I think in a way, Esper wanted to challenge himself with moving to different genres and I think this script may have come along at the right time. We worked together on another film called Deja Vuers after we had met to discuss Bent. So I had a pretty good idea of what he was like as a director and Esper took the film and the script very seriously and wanted to be as accurate with it as possible. Me and him met a couple of times and drove around to all the high crime rate spots of where I live, just to get a feel of the scenery and mood that we wanted for the film.
Even though it was my script, I wasnít married to it and allowed Esper to do his own thing and run with it. He made it his own once we got to principal photography. He drowned himself in films of the genre along with some westerns. He would send us films to watch as homework and told each actor to write out a backstory for our character. Esper when heís behind the camera is like a torando who just sucks up all the knowledge you throw at him for a film of this caliber or any film for that matter.
You also appear in front of the camera in Bent - so what can you tell us about your character, what did you draw upon to bring him to life, and did you write him with yourself in mind from the get-go?
Well the character that I play, Earl Duke is a little bit of a loose cannon with a virtuoso aspect to him. Almost like he considers his job an art form of some sort. Earl is a cop chasing and arresting other cops. That makes him a bit of a wild card, I wrote him in a way so you wouldnít really expect what he would do next. I didnít write him with me in mind at all. I had another great actor lined up to play him and we met and discussed the character for hours but we had some creative differences when it came to how the character should be portrayed. So in terms of time and just connivence, I decided to play the character and research as much as I could. I talked to a former internal affairs officer just to get the style of dress down and speech pattern and walk. It was very useful. I also talked to another retired police chief who was a cop in New York during the late 70ís and 80ís. He really helped me tie the entire character together with his stories of the internal affairs division. I also again drew on memories of neighborhood cops and what was in the news at the time when it came to the current state of law enforcement. I also slept with the police scanner on and kept that going almost entirely throughout the day. I also decided to try and show up at crime scenes just as a spectator. I wanted Earl to also be someone who chips cocaine, which explains his behavior, but we decided not to show that, so that his characterís behavior would be more unpredictable, if that makes sense.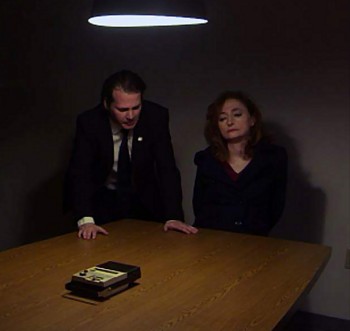 Do talk about the rest of Bent's cast, and as a producer, to what extent were you involved with casting?
The cast was extremely important. I was very much involved with the casting of the film with Esper. We did not move on anyone unless we both agreed that actor was right for the part. We both wanted Audrey Noone [Audrey Noone interview - click here]. There was no way in hell, this project was going to get off the ground without Audrey. We both saw her as the character of Brenda. Audrey in my mind, was always the character of Brenda. Audrey was the first and foremost on our list. She had everything going in her favor, Not just her being a great actress but she was the right age and had the right look. Not to mention, Audrey is a hell of a woman. A kind and thoughtful person, very professional. She can do a scene with a blink, she had these piercing and intense eyes that command presence when sheís on the screen. Another crucial part of casting was finding her morally corrupt partner Michael Brooks. I wrote the role specifically for actor Justin Thibault. Justin is a good buddy of mine, he has been since acting class in college. I donít write or do a film without him. Heís my partner in crime, and in this film I needed him to literally be a partner in crime. Heís extremely gifted as an actor. A full blown natural. Esper agreed with the majority of casting ideas I threw out as suggestions but like I said, we didnít make a move unless we were fully set on casting. Chris Fisher was another actor who we felt could command a strong presence as a liuetant who wants to protect Brenda. Casting was very precise and we needed not just all young faces in the film. Marc Powers as inspector John Camp was one actor in particular who we both felt added realism to the film. Heís a sort of boss character. I saw him as a military general who sends his soldier Earl Duke out to investigate. Marc, again, was a friend of mine and a great actor who could put all the focus on him when heís on the screen. Heís a great scene partner and I enjoy working with him. Fisher as well, Fisher has this way about him where you donít know what heís thinking. Heís mysterious and that was crucial. Esper was the one pushing for these characters to be as realistic and authentic as possible.
What can you tell us about the shoot as such, and the on-set atmosphere?
The set mood I felt was a little on off again. We were doing something dramatic and telling a very character driven tale so there was not that much room for full blown laughter, and I think each actor had to go to a dark place. I of course, being the idiot that I am probably cracked a few stupid jokes just to keep it light but overall, the mood was tense but we all knew each other and there was a comfortableness in the air. I tried to stay in within my character as much as possible but I feel that everybody knew we were trying to make something real and current.
The $64 question of course, where can Bent be seen?
The premiere for Bent can be seen on September 9th at the Route One Cinema Pub. It will be a part of Chris Esperís film list for his Stories In Motion Screening And Fundraiser. I suggest as many people come to it. They wonít just see Bent, theyíll see many other great films that Esper has directed, such as his other recent film Imposter. Itís sure to be fun.
Anything you can tell us about audience and critical reception of Bent yet?
The reviews have been somewhat positive. I think people are mostly understanding with what we were trying to do with this genre. Throw away the action and the blood and the sex and just make a character-driven gritty tale of moral corruption. With a film like this, youíre always kind of expecting mixed reviews. Youíre halfway expecting someone to say ďhey whereís the car chase?Ē ďWhereís the gunfight?Ē Itís not that kind of movie. Itís almost everyday that we are faced with the notion of right and wrong. Trying to be a good person. ďWho is a good person?Ē A question I feel we still donít have an answer to. Whose to say there is one though. Especially in a environment such as the one depicted in Bent.
Any future projects you'd like to share?
My future projects right now are kinda up in the air when it comes to acting. I sort of took a sabbatical for a while and became kinda choosy on what projects I wanted to work on. I am in talks with a few things on the horizon. I just finished another film I wrote and acted in called I Am A Raindog with Christopher Di Nunzio [Christopher Di Nunzio interview - click here], who is also a great filmmaker. Iím also part of the cast for a web series called Hearts Of New England with Justin Fortin. I play a mob boss in that. Thatís been a lot of fun, I never did a web series before. Also doing another semi sequel to a film I did back in 2016 called 86 with John Papp, who is also a brilliant filmmaker. I also finished directing a short film with Dustin Teuber and Samantha Webb called Mr Blue, about an alcoholic detective who is hunting a serial killer. I filmed that back in June and that should be available online soon. Iím always writing and seeing what I can come up with and always searching for the next role that might challenge me but weíll see how it goes.
How did you enter the filmworld to begin with?
Oh God, how did I get involved with the filmmaking circuit or indie scene or movies in general? I honestly have no clue, I think it was all by accident. Iím kind of like that employee at a job where he doesnít belong and for some reason they keep him. Iím just waiting for someone to tap me on the shoulder and go ďYou donít work here, right?Ē I try my best to sound like I know what Iím talking aboutor doing but I donít think I do. Iím just kinda here, doing whatever I can to feed the creative beast that lives inside me.
Working both as a writer and an actor, how does one influence the other, and what do you prefer, actually?
Writing and acting are sort of like siblings that fight constantly and at the end of the day, you do love each other even if that love shows itself in fist fights and swears being tossed at one another. Itís hard to write for yourself as an actor. I usually write for someone else before I even consider myself for a part. Both are very lonely and solitary habits. You need privacy as a writer, you need privacy as an actor to develop the character. Iím not sure if they are mutually exclusive, they both kinda go their own direction. Acting I feel though is that one lone wolf who strays off from the pack and as a writer you have to keep the pack in line. I guess the best way to describe it is like two boats set adrift in the water. The only difference is with writing, the captain is drunk and forgot where they are. They just sort of let the sea take them to wherever they need to go. Thatís sort of what I do, I just let the story take me to where it needs to go. Iím not sure if there is one that I prefer more than the other. Both involve creating and building. I started as a writer and kinda drifted over to acting. I feel my personality is maybe that of a writer and less of an actor. I see things and I go ďoh that would be great to put in a storyĒ but I also do the same thing as an actor. I see real life people and go ďOh I would love to play themĒ both draw on emotion and feeling. Iím just an emotional construction worker. I wrote the blueprints for the house and build the house. Sometimes the house leans a little too far to the left and sometimes the house ends up blowing in the wind and sometimes the house collapses in on itself and kills everyone inside and sometimes, the house stands up just right.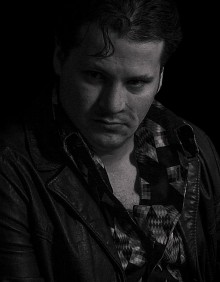 What can you tell us about your filmwork prior to Bent, in whatever position?
Before Bent Iíve acted in plenty of films and wrote a few films. The majority of my writing though is still dormant, waiting to be put on the screen or on the stage. A few number of my scripts have been made into films. Some with me and some without me, but mostly my participation in the indie film world has been that of a writer and actor and sometimes a director. Not a very good one but one none the less, I guess.
Actors, writers, filmmakers who inspire you?
Al Pacino and Robert De Niro of course have always been inspirations to me. James Dean being another huge inspiration as an actor. Marlon Brando of course had a very precise view on acting and his style and craft can never be copied by anyone, even if they try, so Brando always is in the back of my head as a guide. Not trying to be like him, but how he approached acting. Robert Mitchum as well, the king of cool who made acting look easy and in a way it is, if you know what you are doing. I donít yet, but I hope to one day. Nicholas Cage as well is someone who I often turn to for inspiration. Along with Claude Rains and Bogart. Bogart was one guy who gave it his all and you couldnít even tell on screen. It was magic. Cagney as well along with Edward G Robinson. Peter Sellers, Peter Falk. too many to name. Writers are a vast number as well. Iím influenced by a lot of musician writers. Tom Waits, Bob Dylan. Great lyricists. Iím also a fan of Neil Simon, John Cassavetes, Jack London, Hemingway, Tarantino, William Monahan. A lot of those guys inspire me to write or have inspired me to write. They guide me as much as they can.
Your favourite movies?
Some of my favorite films include Goodfellas, Bonnie and Clyde, Friends of Eddie Coyle, Rebel Without a Cause, Closer, The Invisible Man, Coffee and Cigarettes, Gun Crazy, Knock on Any Door, Key Largo, Casino, Who's That Knocking on My Door, Bad Lieutenant, Heat, Dinner Rush, Dark Blue, Narc, Down By Law, Masked and Anonymous, Rumble Fish, The Killing, Killing of a Chinese Bookie. God, the noir films of the past as well. Double Indemnity, They Drive by Night, Out of the Past, Night of the Hunter, Point Blank, Dr Strangelove. Too many honestly, too many.
... and of course, films you really deplore?
Films I deplore. Hmm, I try to find the good in all films. Iím not too big of fan of anything Adam Sandler has been putting out in the last ten years. Iím not a big fan of Superbad even though everyone loves it. I hated Sausage Party, didnít like Suicide Squad. Batman Vs Superman was a full and tireless effort. I dunno, I canít really think of ones where I say ďThatís a bad movieĒ I try to block them out honestly.
Your/your movie's website, Facebook, whatever else?

Feeling lucky ?
Want to
search
any of my partnershops yourself
for more, better results ?

The links below
will take you
just there!!!


Hereís a link to my actor Facebook in case anyone find what I said in this interview interesting and wants to reach out: https://www.facebook.com/Kris-Salvi-954399751317266/
Anything else you're dying to mention and I have merely forgotten to ask?
Thanks For The chance for me to spill whatever I had to say on the film. Also the crew of Bent who did a tireless job, they were awesome. Always try to think of the crew who work so hard. Thanks for your time, have a good day.
Thanks for the interview!