Your upcoming movie Director's Cut - in a few words, what is it about?
A sleazy indie movie director inadvertently hires an evil genie to play the role of a demon in his no budget horror flick.
Obvious question: Why a genie?
REVENGE!!! Mwahaha. I quite literally wanted to give the director character what he wanted ;) It's the whole take on 'be careful what you wish for!'
Having worked on quite a few low budget horror movies yourself, how much of Director's Cut is based on your own experiences?
ALL of it!!!!
(Other) sources of inspiration when writing Director's Cut?
None.
With Director's Cut being a comedy - how would you describe your film's brand of humour, and do you consider yourself to be a humourous person in private life?
Good question. I guess, obviously, I'd have to say that the 'style' of humour is decidedly British! That is to say it's very 'tongue in cheek'! As for being a humourous person in private, not particularly, my best quips are on paper!
Director's Cut is of course also a horror movie, how did you aproach this aspect of your film (as in, atmosphere vs sudden shocks, all-out gore vs suggestive camerawork and the like)?
Well, I'm not an all out 'gore whore' kind of gal! Lol. I prefer my effects to be realistic & brief, less is more! Of course, it all depends on the reaction you want from your audience, & the overall style & feel of the film. I had intended for some grandiose effects for the finale, but we ran out of time & money! As Director's Cut was played more for it's comedic tone, we did not focus too heavily on horror effects, & the 'creep' factor was in the director character's personality, rather than atmospheric.
What can you tell us about the overall look and feel of your movie?
Well, it's a low budget movie after all, so it has that 'indie' feel. I have to say that my cast & crew all did a great job & the characters come across as totally believable :) [no wooden acting here!]. The 'feel' of the movie is it's a comedy! Lol. You likely know people like this, & it's fun to see them get their comeuppance!
You've also cast yourself as the genie in Director's Cut. Now assuming that you are not and never were an actual genie (or something of the sort), what do you draw upon to bring such a character to life?
Hmmm, aside from the fact that she has supernatural powers, she is very manipulative, cunning & observant. I'm naturally a quiet person, so being an 'observer' is just what I do. As for being 'manipulative & cunning', well, I'm FEMALE !!! LOL. But, seriously, my main motivation for this character was to get even with a certain 'director' I had the displeasure of working with!
What can you tell us about the rest of your cast, and why exactly these people?
Firstly, two of the cast: Yvonne Nieves, who plays 'Bianca LaSorda', & Dana Bernadine, who plays 'Sarah Reynolds', were part of the cast who worked with said 'director' who the film is based upon. We became friends through that experience, so naturally I wanted to include them, & share the inside jokes. Dana is pretty much playing herself, lol, & can shoot a killer, disapproving look, that really sells the emotion. Yvonne, is a feisty Latina, so her timid character 'Bianca' was a real change for her. I wanted her to broaden her range, & she really rose to the challenge.
| | |
| --- | --- |
| Dana Bernadine | Yvonne Nieves |
The lead character of the director, 'Damon Ingmar J'ackov', was originally cast differently, but scheduling issues required a re-cast. I had previously met Happy Dave, so when he expressed an interest in the project, I mentally pictured him in the role. Although he's physically very different to the original actor, he brought an extra layer of vulgarity to the character, & his physique actually helped with a prominent effect. So, ultimately, he worked out to be a better fit for the role. He nailed it!
As with Happy, Alexandra Roach, was not originally cast for her role. Alex was helping us out on set as a P.A., when the actress playing the role of the model, 'Belinda Bombshell', was unable to make the shoot! We were all geared up & ready to roll, we had to continue, so Alex stepped into the role & saved the day, bless her little cotton socks :) At first she was a little nervous, not used to being in front of the camera, so I tailored the character around her, hence 'Belinda Bloodshed' was born. I changed the character from a ditzy glamour model to a Goth model, which also resulted in some great new gags. Alex eased into the role well, & had fun with it.
Every production has a Diva! Lol, & Tina Boivin, plays our Diva actress 'Karen Grande'. We had previously worked with Tina on James Baack's movie, Dracula's Orgy Of The Damned, & she is a sweetheart & very grounded, quite 'Anti-Diva'! When Tina heard about Director's Cut, she was very excited to be a part of it. I remembered her saying that people often mistake her for being 'aloof', a look that fit the Diva character perfectly, & secretly, every woman loves to play the 'bitch' now & again!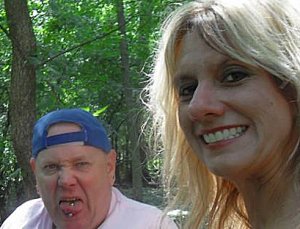 Happy Dave, Janet Mayson
Our last, but never least, lovely lady, Janet Mayson, plays the stripper 'Candy Apples'. We met Janet at a film festival, [she makes cute short films with her dogs, the Libby Girl Series], & she is such a bubbly, fun person, with awesome 80's, bleached blonde hair! [She has since 'updated' her do!] We really wanted to work with her, & the hair, along with other obvious 'assets', sold me on this role for her. Luckily, Janet was not at all offended & embraced the role with enthusiastic sass!
That leads us to the 'Strip Club Bouncer', played by Thomas Oswald. Thom has a great 50's greaser look, & a certain 'swagger' about him, he could be dangerous! [But he's really just a Teddy Bear! Shush!!!]
Frank Kam, is an equally important member of the cast, although his character doesn't have a name. He plays the 'Dog Walker', featuring our own loveable pooch, Schatze. Frank is an avid supporter of the local Chicago indie scene & graciously helped us in many ways, including being our 'Grill Chef'. Frank makes his debut speaking appearance in 'Director's Cut', but you wouldn't know it from his natural performance.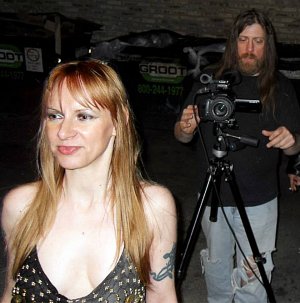 Claire with Christopher Kahler
Let's not forget the 'HE', that makes ME, a 'WE'!! That is, my partner, & the actual director of this movie, Christopher Kahler [Christopher Kahler interview - click here]. Chris plays the down-trodden, director's assistant, 'Paul Nobles'. Like Chris, his character basically has to do everything behind the camera, a one-man crew, in order to get the movie made. Unlike Chris, however, 'Paul', is a door mat! Chris is a great character actor, & it was nice to see him being dominated for a change! lol.
Finally, just when you think the movie's over ... our very own Executive Producer, Mike McCune, gets is own goofy commercial after the credits!!! Why? ... You'll have to watch the movie!
I'd like to add that everyone worked hard, had fun, & did a great job. As with a lot of indie productions, the cast not only acted, but assisted where they could, throughout the production, to make this film happen. Other mentionables are Rob Sepulveda, Cori Kam, Bill Schmitz, Jay De Larosa, Colleen Flood & everyone who kindly donated to our campaign.
Where is this movie available from?
Director's Cut was released on DVD in Sept. 2013. Here's the link to the sales page for online purchase: http://kunaki.com/MSales.asp?PublisherId=130746&PP=1 - it is region-free & ships globally.
We had a one-time free streaming before Christmas & clocked over 1000 views. Comments & reviews have been favourable.
What can you tell us about your directorial debut Conscience, and what made you pick up directing in the first place?
Hmmm, I relied heavily on my D.P., Rob Sepulveda, for all the technical stuff! I'm not particularly in tune with lighting & angles etc to get the look I want. I don't always know what shot will work best. I'm still learning & working on that. I see the movie in my head as I'm writing the script, & know what I want from my actors, but I need help to achieve my vision. Directing does not come easily or naturally to me, I'm a bit too timid too! lol.
I met Chris whilst working on Conscience, & he was a great help in completing that project. I turned over the directorship of Director's Cut to him as I was a little overwhelmed. I will try my hand at directing again on future projects, but my main passion, focus & strengths are in writing & acting.
You originally started out as an actress though - so how did you get into acting to begin with, and did you receive any kind of formal training?
I took some drama classes in school & have always been somewhat of a 'dreamer', I loved to write. I also loved music & singing. Music lead me to the States, but a musical career was not meant to be. In seeking some creative outlet, I assisted a performer & attended many horror conventions with the show. Through the conventions, I was exposed to the world of indie movie making. One thing lead to another, & after obtaining some background work on TV shows, I was hooked.
Can you still remember your first time in front of a movie/TV camera, and what was that experience like?
I don't have a great memory, especially for dates, but I get a bit nervous every time I'm in front of a camera, more so on close-ups! I do remember my first speaking role in 2006/7, & the 'experience'!! ... Well, Director's Cut says it all !!!
Any of your past films you want to talk about?
No.
Future projects beyond Director's Cut you'd like to share?
I'm working on a web series, like Night Gallery, called The Library. I play a librarian character who hosts the episodes, which are directed by different filmmakers. I shall also be directing one of the episodes that I have written, called For The Love Of A Child. There is a common theme of 'tales of consequence' - https://www.facebook.com/pages/The-Library/233252873506240
Also, production is still ongoing for my first feature film, 'Psycho Magnet: A Love Story'. This is another comedy, this time aimed at the slasher & killer couple genre. https://www.facebook.com/PsychoMagnetALoveStory
I have many scripts I'd like to see made, & may write another feature to incorporate some foreign locations we will be visiting this year.
As purely an actress, I am slated to appear in several feature films this year: The Perfect Letter, Leaf Blower Massacre 2, Moonman, Deadheads: Evolution. I'm always interested in acting in different productions.
As a writer, I also write poetry & have been working on a gothic poetry & prose book via the character The Victorian Vampire - https://www.facebook.com/Vampoetic
Aside from being creative myself, Chris & I started an Indie Film Festival last year, The Short Bus To Insanity Film Festival, for short films. We are hoping to run another this year. https://www.facebook.com/shortbusfilmfest
What can you tell us about your production company Bloody Brit Poductions and the philosophy behind it?
I started Bloody Brit Productions, originally under a different name, in 2009. When I changed the name to 'Bloody Brit' in 2013, the name was pretty obvious & fitting; 'Bloody' for horror & popular British slang, & well, I'm British!! This company is the 'umbrella' for all my creative works, especially film. As for philosophy; create, entertain, enlighten!
How would you describe yourself as an actress and as a director?
Tough one! As an actress; emotive, facially expressive, edgy. As a director; weak! lol.
Actresses, filmmakers, whatever else who inspire you?
Alfred Hitchcock, Hammer films, any films with great atmospere & suspense, any film that illicits a strong emotional response, & of course LIFE!!!
Your favourite movies?
There are so many movies that I love, but no real faves. Really depends on my mood! Gremlins, Awakenings, From Hell, Queen Of The Damned, Clash Of The Titans (Harryhausen), Life Of Brian.

Feeling lucky ?
Want to
search
any of my partnershops yourself
for more, better results ?

The links below
will take you
just there!!!

Find Claire 'Fluff' Llewellyn
at the amazons ...

amazon.com

amazon.co.uk

amazon.de
Looking for imports ?
Find Claire 'Fluff' Llewellyn here ...
Something naughty ?
(Must be over 18 to go there !)

... and of course, films you really deplore?
Wow, strong word!. Serbian Film & Human Centipede films [the sound of these films alone, nauseate me!], any 'gross-out' film, Fright Night-remake (2011).
Your/your film's website, Facebook, IndieGoGo, whatever else?
https://www.facebook.com/Directorscutshort
http://kunaki.com/MSales.asp?PublisherId=130746&PP=1
https://www.facebook.com/BloodyBritProductions
http://www.youtube.com/user/FluffBox69 - YouTube channel
https://www.facebook.com/Claire.Fluff.Llewellyn
Anything else you are dying to mention and I have merely forgotten to ask?
How many chucks does a woodchuck chuck?
Thanks for the interview!