Your new film The Los Angeles Ripper - in a few words, what is it about?
It is a serial killer movie. It's about a dirtbag junkie psychopath who spends his days doing nothing. He wanders around Los Angeles playing video games. A loser basically. Like the tag line says, "He's not working he's lurking!" When he gets bored or the need to fulfill his warped sexual impulses he seeks out prostitutes and eventually kills them. He then meets Kristy White through her cokehead cousin, and Randy is interested in her for some reason? Does he have a crush on her? Or does he want to kill her like the prostitutes?
What were your main inspirations for The Los Angeles Ripper?
After my first movie (A Few Screws Loose) and all the problems I had to get it finished I was excited to start on something new. I think I even started writing it before A Few Screws Loose was done for screening. Again I'm producing it. Which means it is no-budget again. I started thinking what I was gonna do? I didn't want to do another serial killer movie right after A Few Screws Loose so I figured I would go with this demon/possession movie I want to do or a feature length version of a short film I did called Nutcase, which is a ghoul/zombie type of movie with a bit of a Shockwaves-type of vibe. I was thinking of some other ideas that were monsters and ghouls and such, but in the back of my head my main goal was to get another movie done semi-fast - and looking at special make-up prosthetics and creatures every shoot day would take a lot of time, money, and assistance. Who knows how long it would have took to get all the special FX ready? And when you are dealing with low/no budget productions and people are doing stuff for very little or no pay you wanna make sure you don't waste their whole weekends. You wanna get the stuff shot and let them get out of there. Right away I tossed the idea of heavy FX make-ups. I said screw it I'll do another serial killer movie. It's one step closer to doing my serial killer trilogy.
I wanted to do a more grimy realistic type of killer who doesn't look cool or wear a wicked mask. Of course, 1970-1980's serial killer movies like Henry: Portrait of a Serial Killer, Don't Go in the House, Last House on the Left, and The New York Ripper. Even Death Wish 2! All those movies with the sleazy gritty scumbags. The Van was a huge influence. It's actually a creepy and sleazy movie. It's kinda promoted as a teen coming of age story but it's drunk driving, luring girls into the van and assaulting them, and save a whale harpoon a fat chick-humor... he's a step away from a serial killer/rapist or something. Also believe it or not I found inspiration in 1980's comedy movies too. Rewatch those! A bunch of knuckle heads stalking the girl of their dreams like in Valley Girl or Revenge of the Nerds. Robert Carradine's character steals the costume of the boyfriend of the girl he's hot for and basically rapes her! Bananas! It wasn't just serial killer movies that were an influence.That being said, there was a lot of real influence from everyday life in the movie, from the news, drug addicts and scumbags, people I know, and the weirdos one encounters everyday were the inspiration.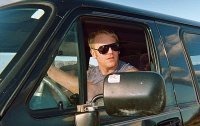 Randy Tobin in
The character of Grahm in The Los Angeles Ripper is so unlikeable (even when he's not killing people) it's almost ingenious. Where did the inspiration for the character come from, what can you tell us about his actor Randy Tobin [Randy Tobin interview - click here], and is Randy even remotely like Grahm?
I love this question because Randy Tobin and I really strive for this. We didn't want to portray Grahm as cool or powerful. He's a scumbag! We wanted people to hate him. We hated him as we created him! As soon as I knew that I was going to make The Los Angeles Ripper I called Randy to see if he was interested, and he was. We started meeting up and talking about the movie and his character. I let him borrow a few books I have on killers, criminals, robbers, maniacs, serial killers etc etc.. We also talked about some real life shady characters I know and have encountered. We really got into their weird habits and idiosyncrasies. It was a lot of fun. We basically took a little pinch of this messed up person and a bit of this maniac until he started becoming one person. It took many nights of meeting up and really fine tuning Grahm. Randy is a great actor. He really thinks about what he's doing. Like most movies we didn't shoot in sequence and there are very different levels of Grahm's emotions through the movie. Mainly anger but a whole range of emotions - and let's not forget Grahm's mentally ill. Randy really was aware of Grahm's mental state all through the movie. Very impressive. So to answer the second part of your question. No! Randy is nothing like Grahm. He's a husband and a father. He is really nice and funny. He's a good friend of mine. People always say to me "Randy's cool" or "I like that guy Randy" I doubt Grahm would ever get those compliments. People head for the hills when Grahm comes around!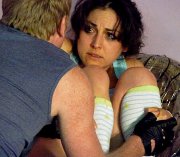 Celeste Matrinez faces
Randy Tobin
Since you have talked about Randy Tobin, you also have to talk about Celeste Martinez and her good girl/ultimate victim character Kristy!
Celeste is also a great actress. We met up and discussed her character also. We really did go for an almost perfect person without the over the top miss goodie two shoes thing. It was the exact opposite of Grahm. We really wanted people to like her and I think they do. We did not have to get into so many little details with her. She doesn't have a dark side. Maybe she smoked pot or made out with a girl but nothing nasty or mean spirited in her past. And she nailed it! I think she made it unique and it could have been a different kind of movie if she was not in it. She also has great body language as an actor. I really noticed that while editing and watching it 150 times. Celeste is a bit like Kristy. She is nice and likable.
Both Randy Tobin and Celeste Martinez are credited with providing additional dialogue for The Los Angeles Ripper. How big was their contribution to their characters and the movie?
Very big. I haven't used a conventional script since my short films. I learned with no/low budget productions, you would never get a thing done if that script had to be what's exactly on paper. When you don't have any money to throw at problems you have to learn to make changes and keep the story the same. You may have to drop a character for some reason or another? They might quit? They might get a good paying gig and can't work for free anymore? Little things that could set you back for months or years if you can't get over what you wrote in stone. I do write these movies. There is a lot of actual dialogue I write in there but not all of it. My scripts for A Few Screws Loose and The Los Angeles Ripper are half sketch books and half notebooks. If you really think about it, 75 percent of movies sound like people reciting memorized lines. You gotta be a little loose with the dialogue. And from creating this crazy world that actors get to play with comes stuff that you could never create in advance. If you are gonna ask someone to be a character in a movie I think you should let them live it and not worrying about memorizing some written thing. Bare in mind you can't just go crazy all the time if you are telling a story. Certain things have to be said to tell a story. Some words are important to me and they gotta be said in a certain way and that might be changed due to how the actor feels as a character and they say something you wouldn't have thought of because they are really getting into the character more than I have as a writer because I'm not living as that person. They are. It's to your advantage most of the time as long as the don't go to far off from the story - which good actors do not.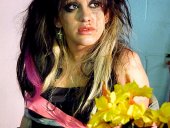 Devanny Pinn
A few words about the rest of your cast and crew?
I gotta mention the post guys in England. Mark Charles Adams [Mark Charles Adams interview - click here] and Luke Elliott. They did a ton of work on the color and sound. They really made the movie professional. I really cannot explain all the work they did. It just looks and sounds really good. Especially for the budget. Mark and Luke's work really helped with the overall look of the movie, everything was even. We could have gone over the top and did the old scratchy film grindhouse thing and used that to our advantage but I didn't want it to have an obvious look like that. That means a tougher job to clean up noise and level out colors etc. Also Mark Adams and I edited scenes together, we picked at them at different times. He even edited some scenes that I never touched. He is a great editor so when I was stuck on stuff I would think, I'll just let Mark do some of editing tricks and see what happens?
Everyone was really cool for helping me make the movie. The actors were all really good for not having time to rehearse and being thrown into crazy low budget movie making. Beverly Bassette who plays aunt Peggy did a great job. With not much time to think about it she stands out as a memorable character. Brandon Engstrom 'veI got to mention for doing the part of the character BC. He had to walk around with bleached hair and a fake tan for a few weeks and have people thinking that was his real look while getting groceries and in line at the bank.Then the shoot got pushed so he had the chance to back out of the fake tan which was lucky because the rub on stuff is really messy. Devanny Pinn [Devanny Pinn interview - click here], Chase Monroe, Nekromistress, I could go on and on. I really appreciate everyone who did parts and helped out in anyway to make The Los Angeles Ripper.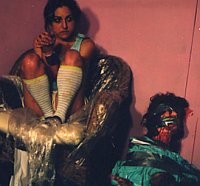 There is quite a bit (as in lots of) violence in The Los Angeles Ripper. What can you tell us about your gore effects as such, and was there ever a line you refused to cross, consciously?
Yes, the violence. It's funny some people are really disturbed by the violence and some people brush it off as a Herschell Gordon Lewis so-bad-it's-funny thing [Herschell Gordon Lewis bio - click here]. Most who have that opinion are make-up FX people or people who are super fans of special effect make-up movies and genre cinema. I'm happy with the FX! Most of the FX were done using old materials I had around, I didn't have a budget to do really cool things that would take a month in advance. I wish I could hire someone to do it so I could concentrate on the movie. I can't so I was putting the stuff together days before or a few weeks before on the more complicated stuff. I think it helped the movie feel more real. No squiggly CG blood. It took work to do these FX. Granted I was moving along quite quickly and was moving forward. So with the budget and time we just kept steam rolling through even if it did not work out perfectly. I was thinking of re-shooting a couple FX-pieces but I learned from my first movie that doing stuff like that when you don't have a budget could hold you back for a month or maybe a few months if actors have to come back... I kinda like the idea of leaving it as what you get that day of shooting - too much of that stuff is ruining movies, the rewrites. Too much second-guessing things and redoing, re-shooting things. Adding it in later on computer.
And yes I was trying to make them disturbing but I never was thinking well let's do something really really shocking... I wanted to be subtle but as some have pointed out my idea of what is subtle is probably pretty gory compared to most.
To contrast the violence, The Los Angeles Ripper also contains extended sequences of Kristy's singing classes. Now where did the inspiration for that come from?
The obvious thing would have had her coming to Los Angeles to act, but I don't like movies about actors much. Just flick on the TV and you'll notice people are obsessed with this singing thing. Regular people who become music artist. From American Idol, The Voice, America's Got Talent and so on. I thought it just fit with the times and it was an idea I had from the beginning of writing The Los Angeles Ripper. I liked the corniness and fun we could have with it. Some people thought this scene was unintentional humor - and that is due to how great the actors were. Delores Quintana is actually a trained singer. I believe she does opera. She asked me how I wanted her to play the singing teacher Miss Crabtree? I said as serious as possible and I knew it would be funny. If she acted cartoony or tried to be obviously funny or wacky it would not have been funny. In the movie Delores comes across as a square 4th grade teacher you once had. She is actually pretty rock and roll and listens to GG Allin. She is a terrific actor! People think the singing class is so weird? This goofy singing is everywhere and part of everyone's life. I think people don't like to think about how silly it is in real life? So this scene really makes them feel uncomfortable and the corniness is too much to handle.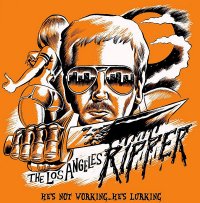 Because of the title, and maybe the basic theme (an extremely violent killing spree), The Los Angeles Ripper will probably forever be likened to The New York Ripper by Lucio Fulci [Lucio Fulci bio - click here]. Does this at all bother you, or was this maybe even intended? And where do you see the main similarities and differences between your film and Fulci's?
The title is an obvious shout-out to Lucio Fulci. I'm a big fan. I think the difference is that The New York Ripper is a Giallo film, yeh? It's not an American style slasher film. It is a very Italian film pretending to be American. The Los Angeles Ripper is in the style of late 70's and early eighties slasher movies and true crime type of serial killer horror movies.
I think the obvious over the top misogyny is similar and Fulci had some fake make-up effects in the movie. He wasn't afraid to show some cheesy FX and remind you that you were watching a movie. I think I took some cues there from him. I think the sleaze factor is pretty similar. I took some cues there also. I think the sleazy vibe of both movies are a set up to feel uncomfortable. I don't think Fulci wanted the audience to like his killer either. I do think he was saying fuck you to his critics and groups of people that were bashing horror films. Fulci being punk.
How would you describe your directorial approach to your subject at hand?
I get good actors and you can worry more about what you're shooting and the set ups and where it may fit into the movie as a whole. Like I was saying. With the lead roles we talked a bit about the characters so we didn't need to discuss that while we were filming. We fine tune the dialogue and get warmed up while we shoot. I like the guerrilla style aesthetic and it is a lot like painting or sculpting. You don't have it in your mind that you will fix it in post or re-shooting it. You get what you get that day while working. Until I have money that may change the playing field I have no choice to this approach.
As far as I know, The Los Angeles Ripper has so far only played in a handful of locations. What can you tell us about audience and critical reception so far?
The premiere had a very good response and people genuinely liked it. The critics are a mixed bag but for the most part they are positive. Even some of the bad reviews make it sound like some kind of movie to be seen. There are some that are trying to bash it but you are really just bashing it because it's low budget or because again it's low budget because some of the FX gags didn't have 15000 grand put into it. I think some of these guys think the movie's budget is much bigger than it is. I think people are gonna eventually really like the movie once they can get to see it.
The $64 question of course: When and where will The Los Angeles Ripper be released onto the general public?
I'm talking to a few distributors about getting it out there. This is all new to me, so in a way it is good it is a slow process. I hope something works out, I really want to get it out there for people to see. If nothing happens eventually I will need to self distribute I guess. I have a good feeling so hopefully soon it will be out there.
How would you compare The Los Angeles Ripper to your debut feature A Few Screws Loose?
They are both about serial killers and they are kind of sleazy. A Few Screws Loose was more experimental. More of an art project. I was gonna do it as an art installation but that never came to be because of all the problems with actors and technical things I got lost and I was sick of A Few Screws Loose when I finally finished the movie. Maybe I'll go back to it now? The Los Angeles Ripper is still a bit experimental, but in the end just a movie and not part of an art installation plan.
Any future projects you'd like to talk about?

Feeling lucky ?
Want to
search
any of my partnershops yourself
for more, better results ?

The links below
will take you
just there!!!

Find Craig McIntyre
at the amazons ...

amazon.com

amazon.co.uk

amazon.de
Looking for imports ?
Find Craig McIntyre here ...
Something naughty ?
(Must be over 18 to go there !)

I have the a rough script for a movie which is titled Future Punks now. I don't wanna mention the real name just yet. It's not a serial killer movie but it will be filled with psychos and scum bags and mutants of some type. There will be blood and violence and good-looking girls. I have a couple other ideas but I think I really want to do Future Punks. I still got to deal with the The Los Angeles Ripper, so I have some time to think about it.
Your website, Facebook, whatever else?
I guess I will be working on a Moss Stomper web site soon for my movies... I hope. For more information on The Los Angeles Ripper please go to the Facebook page. http://www.facebook.com/#!/LARippermovie
Anything else you are dying to mention and I have merely forgotten to ask?
You could have mentioned that The Los Angeles Ripper has no digital FX! I'm working on some screenings hopefully in the near future with some other really cool movies. I hope it works out. I'll be back in Las Vegas with Chad Clinton Freeman and Pollygrind in March 16 and 17 with both movies showing at theatre 7. AFSL Friday. Then a screening of The Los Angeles Ripper on Saturday (St. Patricks Day). Chad is great at supporting indie cinema! Chad rules!
Thanks for the interview!
Thank you Michael! You too are a great supporter of independent cinema and thanks for talking about The Los Angeles Ripper!