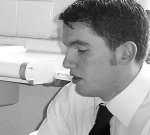 Adam Gibson
Your film Itawari - in a few words, what is it about?
Adam Gibson: It's about the development of a relationship between a security guard looking after an abandoned hospital and a homeless girl who he finds living there.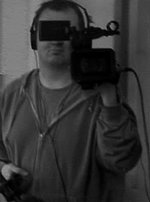 Mark Charles Adams

Mark Charles Adams: All told in parallel with a story a year later on the day the building is finally demolished, it's sort of about the human condition and how we go about our daily lives, what we do in and want from life.

AG: The film looks back over key events in the seasons leading to this important final day.

MCA: As the then chases the now, we learn what happened with these two and what has brought him back to the place he once worked on its last day.

What were your main sources of inspiration for Itawari?

MCA: We were quite conscious that we didn't want to make anything too painfully 'indie film', or anything trying to be American in style or for that matter anything too, I don't know, British? We wanted to try something a bit different, less obvious. We both loved the recent cycles of great films out of Korea and I've always liked older Japan cinema. That fractured narrative style, the fact that you maybe had to work at them a bit more? We wanted to draw on things like that, creating something a bit more original in form and grammar, but with nods to the best of our national filmic tradition that often seems to have been forgotten, so things like A Matter of Life and Death or Brief Encounter are in there as well.

Your film has quite a lot to say about loneliness, companionship, friendship, even love. Your personal thoughts about all of this?

MCA: Wow, err… Adam is a happily married man and I am terminally single, so I'll let him take this one for now…

AG: (laughs) Okay! I think the thing to say, and hopefully what the film does say, is that there is no easy answer. There's no rulebook, it's all about you and your world. If you're happy taking solace in someone, do it. If you're happy being alone, that's fine. It's all about what makes everyone happy. I think the film tries to comment on the pressures of the world in that respect too. There's a social norm that people adhere to and often aspire to. I don't think that's right. Whatever works for you, do it and be happy. Unless it involves hurting other people, obviously!

MCA: I think there's something else to this as well, I think you have to factor in guilt, and how we can often punish ourselves for our own failures and how that can be tied up in all the things you've mentioned and how you might break free of that.

One very basic question: What does the title mean?

MCA: It's a Japanese word, basically meaning 'sympathy', but with a bunch of other translations that all fitted our themes, it was originally a working title as we cracked the story of the film, but we sort of fell in love with it and it started to seem wrong to change it.

AG: It was just great that when we looked up sympathy, all these other meanings were tied in and around it too.

What can you tell us about your main location, the abandoned hospital, and to what extent did it dictate the movie's story?

MCA: We knew the kind of story we wanted to tell by the time we scouted the hospital, but we had to see what we had to work with in the building to craft the specifics.

AG: It set up a nice creative model, where we wrote the story formed by the environment. We saw the building in January (dead pigeons and all) and started filming in April. I wouldn't use the word dictate, but the hospital was the third writer (we're not changing the credits though). You can't see some of those spectacular images and not include them. I think it would be the obvious choice to say abandoned hospital equals crazy zombie horror film, but there was an ambience of sadness and nostalgic reluctance about the place which made the story we were planning seem all the more fitting.

Your film was shot on a very low budget. Would you have done anything differently with additional funds?

AG: I think there is so much value (no pun intended) to doing it the way we did. The film is subtle and thoughtful, a small yet important relationship in a building that's seen millions. Somehow, throwing money at it would almost detract from the message. Without getting on a lectern and preaching, money can get in the way of story. You shouldn't need more than a camera, two people and a script to tell a story about a relationship. Oh… and low budget explosions help (laughs).

MCA: I think looking back now, there are more things I learned from the way we did do it than if we'd have had a lot of money, we were better off with little or no money in the end, I think it made us better, more inventive.

AG: But I should say we're not averse to people giving us more money if they'd like!

MCA: True, I do like money.

For the most part, Itawari is just a one-actor film (at least until Hannah Cork finally shows up). How big was the crew on the other side of the camera, and how intimate was the atmosphere on set?

MCA: Pretty intimate really, a lot of the time it was literally Adam and myself shooting. We had a bit of a routine where we met for breakfast and talked over the day before shooting. I think it was a pretty unique way to make a feature.

AG: A very enjoyable way as it happened. Obviously, being close friends is a big help, otherwise you can imagine it could be fairly intense. We did have odd moments of assistance from Hannah and Gerard in things like setting up lighting on occasion, but otherwise it was just the two of us.

MCA: I'm not sure we ever had a full day with other people there, it was always part days where they'd come in and we'd do what was planned.

AG: It makes me wonder if we had some form of cabin fever without realising? We should have asked if we were coming across crazy (laughs).

Mark Charles, how would you describe your directorial effort?

MCA: I'd say it's a good start, but now I have to do more, try harder, do better, never stop fighting to achieve more from the work. It was a great learning experience and a chance to find myself as a filmmaker again inside this fabulous place. As a finished film I couldn't be happier with it, I managed to capture the building as a character in the piece like I wanted. As an editor I managed to get the tone and pace I wanted without over staying our welcome with the audience. I have to thank my collaborators though, I did a lot but I couldn't have done it without Gina's songs or Paul's music, without even starting on the cast and of course my co-Writer, Producer and Star here…

Adam, what did you draw upon to get your character right?

AG: I have to confess to feeling a little out of sorts talking about it. I don't consider myself a great actor, but you'd be surprised how many people are reluctant to work a week for only food and smiles. Personally, I feel that acting something you've written is a huge help. I knew where the character had come from, and felt I knew what he was thinking at any given time. I believe that if you want to act well, you have to be thinking the way that character thinks. Good actors can probably turn it on and off, but I tended to take a few minutes to think about what was happening and how he would feel about it. If you're doing that whilst in the environment of the story, you can't help but come out better reflecting what's happening on the page.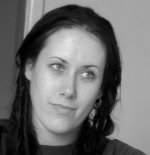 Hannah Cork
What can you tell us about Hannah Cork, the female lead of the film?
MCA: She'd done plays before I really knew her and we were at school together, but I didn't really get to know her until after all that, which is odd really, as we knew a lot of the same people. We were good friends at the time and we'd worked on a few shorts together, asking her to be in the film was an easy decision, though acting was never a first love to her, she is really rather good and can play a real range from vulnerable to strong-willed. I don't see her these days as she is off training to be a Chiropractor, but I doubt she is done with film forever, she's too good not to be in something again.
A few words about scene-stealing Gerald P.Howells?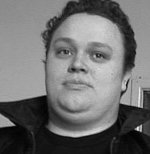 Gerald P.Howells

MCA: He's amazing isn't he? I was working a day job with him at the time we were shooting and we became good friends, when we decided we had to do this on a shoe string I thought he should be someone we brought in and be a night guard and I'd maybe ham it up for the other, as it goes along I just stopped including myself in the scenes as he just carried them so well. I am amazed by how good he is, I think we'd have written more scenes for him if we'd had time, maybe included them actually playing football, can you imagine?

AG: Having seen you pair kicking the thing, I can't imagine it no (laughs)… Gerard is a genuinely likeable and good guy. I met him through Mark, mainly at cinema outings. He shares our taste and sense of humour, and was extremely easy to talk to.

MCA: He's left the country now sadly, he's in the US studying, but from what I hear he has joined a little improv troupe thing, so he's doing stuff, can only be a matter of time before he ends up in a film for someone else… Actually I should get him in Craig's next film!

The 64 Dollar question of course: When will the film be out?

MCA: We've got it submitted for some festivals at the moment, if we get lucky we'll screen at some of those, after that I am not sure exactly, I have pondered doing a small cinema run out of my own pocket, then I suppose we have to look at the internet, that's where everything is heading right now, but this film has a natural home in an art house or something similar rather than You Tube, so we'll see what we can do to get it in front of people in those environments first.

Leaving the present behind for the time being: How did you first meet back in the day, and how did you become collaborators on quite a few film projects to date?

MCA: Any memory of how we first met? I remember the slight unpleasantness and then when we first became friends but what do you remember?

AG: It was odd really. Mark was a contact for some of my friends at University, basically a student who drinks, has fun and shows 'freshers' a good time in their first week. He was good friends with those guys for most of that year, but we never really spoke much. I think we were told we didn't like each other, which didn't help.

MCA: So I never showed you a good time? HA! Yeah, that was odd, people seemed to be spreading rumours and so we never really bothered with each other for the longest time, then we worked together for a bit before everyone went their separate ways after uni ended. Years later I asked Adam to come and Produce for me on a short I was worried about and that sort of kick started what would become Sat Pics.

AG: That was really vital for me. After uni I had my video camera sat gathering dust, and going back to it with Mark brought my passion back. I think that's why we work together; Mark makes me want to make films.

MCA: And I've always called him 'The Great Enabler' without him coming onto that short in 2005 I doubt I'd ever have made the move to features, I was burnt out. Inside a year we'd shot half of Following, taken a short to Cannes and gotten started on Itawari, it was like a fresh start really.

What can you tell us about your first (abandoned) feature Following?

MCA: It was pretty ambitious as a first movie, I think we have about 70% of it, it was a high action thriller/mystery set deep in a forest, we literally just ran out of summer to film it. Then the next year we all had various mishaps or accidents and couldn't come back to finish filming it.

AG: Yes, I broke my finger in several places, and Simon, one of the main actors, had to undergo shoulder surgery.

MCA: Then I broke my foot in July. It just sort of ended up feeling doomed. I might find a way to finish what we have one day or maybe we'll start over on it. The truth of it was probably the best learning experience you could ever have though, but for now it's probably best as a lost gem.

AG: Definitely. When you hear people saying 'get out there and do it', listen to them. Don't think you've got to make El Mariachi or The Blair Witch, just be happy putting the hours in and learning what's needed.

MCA: And don't worry if it doesn't get finished, you're learning.

AG: As long as your cast/crew are all friends with you!

MCA: Good point!

A few words about the creation of your production company, Satori Pictures?

MCA: We literally just started stabbing at a dictionary for the name, and we got lucky. We needed to pick a name as we'd already made Cookbook and half of Following and we just thought if we are going to carry on and do a second feature (that would become Itawari) we needed to give this thing a name. The whole sudden enlightenment had resonance with both of us, so we used it.

AG: In another world, the heavens would have opened up and an angel, riding on the back of a unicorn, would have given us the name on a platter of woven dodo hair. But no, we picked it out of a dictionary. But with an equally important revelatory feeling I might add. I think the whole creation of Satori itself was testament to the fact that we felt we could do it ourselves, and wanted to capture that somehow.

MCA: Yeah, seems weird to me now that we didn't give it a name until so late on in a lot of ways, wonder if that was a confidence thing or something, fear we couldn't do it? Either way the name ended up fitting how we felt perfectly.

As far as I know, your first cinematic collaboration is called The Perfect Cookbook under the Satori-banner. A few words about that one?

MCA: It was a short, we made it after the first summer on Following, we made it intentionally to take out to Cannes, we made it very French New Wave, which was probably a mistake looking back as it was all foreigners at Cannes.

AG: And surprisingly few film lovers it seemed. It was a dark comedy, about how pushing for perfection can ultimately lead to destruction.

MCA: Could almost be a lesson in low budget filmmaking.

AG: No further comment! (laughs)

Other films you have worked on (both together and individually) you want to talk about?

MCA: Years a go we did some bits I found recently, some half finished shorts, Getting Home was one, you remember that? Silent drunk man comedy?

AG: Yeah, that was fun. We really did go for the idea of making stuff for the enjoyment of it. I seem to remember having to hold the camera for you, some of my first behind camera work!

MCA: Yeah, for some reason I was the star (laughs), I might finish it when I get time, make it a YouTube thing, its pretty funny. We worked on a bunch of other stuff together that never really saw the light of day.

Any future projects?

MCA: Well… Sir is working on a pretty big 'project'

AG: Big in terms of my own expectations of being able to do it quickly and cheaply, but as a potentially more mainstream budget film! Without saying much, imagine being made to confess to something, without ever really knowing what it is.

MCA: I wasn't talking about a film there sir, hint hint…

AG: Oh yes, I'm having my first baby in August! Err… oops, well reminded sir. Obviously there's the real baby, the most important thing in the known universe, and the script-baby that is less important. I do write some scripts that I look to send on (with little success thus far) and Mark works with a few other people too.

MCA: Yeah, I'm currently working with Craig McIntyre [Craig McIntyre interview - click here] on his second feature (The Los Angeles Ripper) and I am editing on some other stuff, am working on bigger plans for a next film, but I'm not there with them yet.

Feeling lucky ?
Want to
search
any of my partnershops yourself
for more, better results ?

The links below
will take you
just there!!!

Find Mark Charles Adams
at the amazons ...

amazon.com

amazon.co.uk

amazon.de
Looking for imports ?
Find Mark Charles Adams here ...
Something naughty ?
(Must be over 18 to go there !)

Filmmakers who inspire you?

MCA: I think we both kind of look up to anyone who just went out there and just started making films, didn't wait for anyone to tell them they could or give them the money, that was certainly the type of thing that inspired me and made me realise I could do this, so that'd be guys like Linklater and Rodriguez, Sam Raimi on Evil Dead was kind of the first I suppose.

AG: I have a love for people like Sergio Leone and Park Chan-wook. On the surface, they're vastly different, but it's the storytelling, the bravery to let your camera talk for you that I admire. Both of these guys were making films both ahead and of their time, and their portfolio of work is consistently strong.

MCA: Yeah, I'd agree on those two, right now I guess Fincher and Guillermo Del Toro have few equals, I'll still see anything Spike Lee or Soderbergh make too. Rian Johnson is certainly on the verge of being something great I think and Gasper Noe could go anywhere after his last one, that'll be interesting to watch. On Itawari specifically I was going to a lot of older Japanese stuff, Kaneto Shindo was a big influence on what I was trying to do with it. Kim Ki-duk was a more modern reference point, I suppose. Visually I always seem to riffing on Owen Roizman, so I suppose I need to name check him, wow, forgot all this stuff earlier... Anyone else we've forgotten specific to the film?

AG: Takeshi Kitano possibly? That thoughtful, patient style? I suppose it is more Kim Ki-Duk though.

MCA: Yeah, I always felt we ripped 'Beat' off more on Following. (laughs)

Your favourite movies?

AG: I can answer this one! The Good, The Bad and The Ugly is the winner for me. It's epic, engaging and a brilliantly told story. More recently, I loved Brick and Zatoichi, again as films with their own story to tell in their own way.

MCA: I don't watch films… (laughs)

... and of course, films you have deplored?

MCA: Ask me five years ago and I could list a load of stuff, now I'm either mellowing or I just have a lot more respect for what it takes to get a film made because some of the stuff I would have hated I can usually find something to like in now… somebody remind me of some things I have hated, get me worked up, then I can probably bring the hate… (laughs)

AG: I've seen it, and it's a thing to behold! It's always personal. There's a lot of rubbish out there that's not worth your time, but it's not worth the effort of hating. I think I only hate things that I'm personally connected to, or stories that are so illogically written they infuriate me. A good example capturing both would be AVP. I love the graphic novels, especially Prey and Hunters Planet, and saw massive potential for a film. Personally, I felt it fell a ridiculously long way short in the end, delivering nothing I wanted and in an often unbelievable way.

MCA: In the same way I have Batman issues I suppose, any version…

AG: Surely not the masterpiece that is Batman & Robin?! (laughs)

MCA: (faux Schwarzennegger) "FREEZE EVERYBODY!" a true classic… don't get me started... sorry Mike.

AG: I really like Nolan's Batman films, but I know how much Mark has always loved Batman. If people get an idea formed of what something should be, and it's not, they can get angry!

MCA: I think that's it, it's more about wasted opportunity for us, like half the horror remakes that happen now, they're just a wasted opportunity, feels like they'll all be rebooted again inside ten years. Also, I'd be pretty happy if Bill Murray never reads that Ghostbusters 3 script. (laughs)

Your website, Facebook, whatever else?

MCA: We've got a Facebook page for the film that's kind of becoming the official website, we're on Twitter, I need to get the satoripictures.com back up at some point. I'll try and get all the addresses to include in this…

www.facebook.com/pages/Itawari/183920854975473

Anything else you are dying to mention and I've merely forgotten to ask?

AG: Just to say thanks to people like yourself, and to ask your readers to keep on reading. The internet is a wonderful thing, even when not viewing adult material, it has the potential to be the launch pad for films that are made for love, not money. That's something you rarely get in the cinema.

Thanks for the interview!

MCA: Thank you Mike!