Dale Pierce is a prolific writer of horror stories and non-fiction books on topics as diverse as gunfighters from the Old West, wrestling, vintage railroads and bullfighting, as well as an occasional contributor to this here site.
And should anybody ever plan on writing a biography of Dale Pierce, Dale's Tales should probably his or her main source of reference. Basically, the book is a collection of Dale's ramblings about his hobbies, his journeys to places near and far, about his past, his daily life, even cooking recipes and whatnot. And top ten lists of whatever are deliberately inserted throughout the book. The fun thing (at least for someone who has read some of his stories and novels) is that in this book you will not only learn quite a bit about his biography and what makes Dale tick, several of his little stories also give you a strong hint about his sources of inspiration for quite a few of his books. Other stories one might already know if one follows Dale in social media.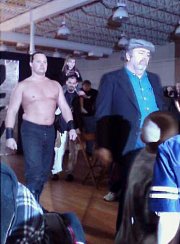 Dae Pierce, moonlighting as wrestling manager
But the book is more than mere ramblings, as above all, Dale is a talented storyteller, and most of the stories actually have a punchline or emotional impact or such, which makes them really worth reading.
That said though, in other instances, the book's far from perfect, like in some stories when he goes into paragraph after paragraph of listing obscure wrestlers or gunmen (a phenomenon that also occasionally marrs his novels I have to admit), and the emphasis he puts on idolizing bullfighters is a little worrying to someone who finds this so-called "sport" as repulsive as I do. Likewise worrying is that in some articles in here, Dale fails to control his rage, and when he wishes some persons dead just because they annoy him ... he does indeed go a little too far. And at several times he just seems to mock those who have bought that book of his - which actually I found annoying when reading it, so much so that I put the book away for a week every time it came back to that. In my opinion, Dale is just too talented a writer to resort to provoking his audience in this way - but that admittedly is just a matter of opinion.

Feeling lucky ?
Want to search for books by
Dale Pierce
yourself ?
The links below
will take you
just there !!!


Anyways, this one is well worth a read if you want to find out more about Dale Pierce, the man and the author, and it's especially entertaining when you read it in context with a bunch of his novel. But if you've never heard of this man/author called Dale Pierce, you will still enjoy it to a degree I fathom, just for the books many nice anecdotes.
And if this review has at all gotten you interested in Dale's Tales, why don't you buy the bookhere right now: http://www.lulu.com/shop/dale-pierce/dales-tales/ebook/product-17468941.html?