First of all, why don't you introduce yourself to those of us who don't already know you?
Well, I'm Dan. I'm a former Ringling Brothers Barnum and Bailey's clown. A special effects makeup artist, computer graphics artist, writer. Just started acting, and an aspiring Hippy Zombie.
Working in special effects makeup, what are some of your preferred techniques and materials to work with, and some of your favourite creations?
I guess my favorite technique is the one that works. I used to teach a 3D program called Lightwave 3D. Really basic stuff, but you'd get some students that knew other programs asking why I did things differently. Just told them that there's a thousand way to do the exact same thing. What works for you? Same holds for makeup. Jack Pierce used collodion and cotton to make the Frankenstein monster. Later they used liquid latex, then foam latex, silicone and so on. Whatever works. I'm working with a friend of mine that's invented a latex replacement. He calls it Watermelon. Does everything latex does, but uses no glues or solvents to remove it. Very cool stuff! I asked if it could be used to do a face appliances but it needed to be foam.
He emailed me later that night with the foam Watermelon recipe. Felt so good wearing the appliance all day, then going home not dreading the clean up afterwards. Peeled the piece off, jumped in the shower, and I was done! It usually take about two hours to get into makeup, and just as long getting out. Not with Watermelon. You can get more information at www.Michaeldavy.com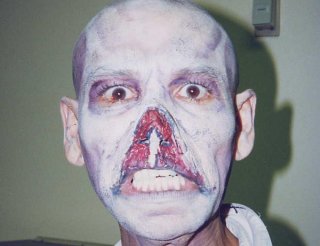 foam latex for Universal Halloween Horror Nights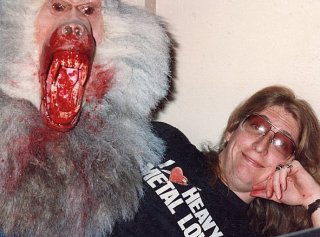 resting with Shakma
Where can some of your special effects makeup creations be seen, actually?
Mostly in print right now. Did a few really low budget movies. I worked with Rick Gonzales for a while. He taught me how to do FX makeup and hired me to help out with the films. Also worked doing some local children's theater with him. First movie was called Witch Story. I was in charge of making blood, built a kneeling burn victim, did a effect on the fly of a guy after he got his face pushed through a windshield. That whole shoot was weird. But I learned a lot. Like not catching a dropped razor sharp meat cleaver. I did, however, prove what a pool of blood in my hand looked like and how it runs down my arm. I was always arguing with the AD what it looked and acted like. After getting yelled at that it was the worst blood I made yet and how watery it was, I showed him my hand and told him it was real.
I could say a liver was purple with green stripes after that. They thought I cut myself on purpose. Anything I wanted was cool after that. Don't tell 'em I'm just clumsy.
Second film was Shakma. I got to kill Roddy McDowall with an ape! Rick hired me to be the puppeteer for this, meaning, I had to be a killer baboon. Whenever an actor was in the same room with Shakma, that was me. Almost burned up on that shoot. Fire, fur and long hair is a bad combo. Even the fire marshal had to duck the fireball. Good times.
If you can find it, worked on a video called, Magic Al and the Mind a Factory. Did the makeup and got to be the Big Hairy Monster. I called him Fred Dread.
Last project was Paradise Lost. My job was to take care of the shop, organize the creatures going out, help design the creatures, sculpt the maquette, run the foam, make sure the fur suits were getting finished, paint the fleshy parts of the creatures, make molds, sculpt a monkey so they didn't have to annoy a real monkey during the autopsy, make a mutant baby, make a (fake) baby, go down after Rick got to Puerto Rico, and be the mutant humanoid leader.
I wasn't able to go there, but it would've been great!
You are currently also developing a character called Percy the Hippy Zombie - you of course have to talk about that one for a bit, and where can one catch a glimpse of him?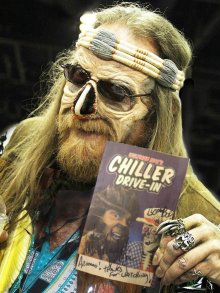 Dan as Percy
I kind of already developed him, I guess I should have said was re-developing him. I started doing Percy in 1990. I'd stopped clowning because I lost my mother, and the clown was mostly for her. Just can't put the grease paint on any more. When I was able to do anything again, I fleshed out a model skull, added hair and eyes. Drew a sketch of it, then decided to sculpt an appliance. After I had him together, he turned out to be fun to do. He became the M.C. for a convention I co-ran, and hosted an after hours party. With all the sight gags I do, it was a logical next step to do a radio show. (Didn't say it was good logic, but the show was fun.)
What we're developing is, and this is only a glimmer of an idea and very early planning stage, I want to do some small YouTube vids, little skits like the radio show, possibly a horror ghost host gig. Ultimately a movie. If yer gonna dream, fream big!
I have clips of the Best of Percy's Crypt on his Facebook page. You can hear them here:
https://www.facebook.com/pages/Percy-the-Hippy-Zombie/
128466779298?sk=app_2405167945
What were your inspirations for Percy, and why a hippie?
He kind of snuck up on me. I've always liked monsters, horror movies and all, and I've always tried to make people laugh, and loved the Marx Brothers, Abbott and Costello, Robin Williams. And watching the horror hosts was the best part of a weekend as a kid for me. Didn't have a lot of information on how to become one, but I thought it would be cool! I use to watch Dr. Paul Bearer out of Tampa, Florida. Great guy! Really miss him.
Why a hippy? Why not?
I needed a hook. If I was just a zombie, so what? But as I said, I got long hair, and I found a head band, and boom! We got a hippy zombie. The name just popped out of nowhere. His character evolved and I found that my clown was still with me, and helped Percy turn into what he is, which in turn helped the clown evolve. I got some rules for the clown that a walking dead guy doesn't have to follow. A clown bangs his head and he can't react like a real person. Percy bangs his head, he'll swear his mouth off!

Debra Lamb zombie babe progression
You're also a computer graphics artist - so what can you tell us about that aspect of your career?
I was alway afraid of computer, but they did such cool stuff! 3D animation was just starting out in the home desktop market when I got really interested. Doing makeup and having a computer to design makeup and creatures, for me, is a trip! Drawing something with pencil and paper is a great skill, unfortunately I don't possess that skill. I got the wanna, just not the ability. But for me to have a real photo of the actor and to build up from that helped me out greatly. When I figured out that computers only do what you tell them, and the magic "undo" button actually works, the computer wasn't a forbidden item anymore.
How would you describe your distinct style, and what are some of your favourite techniques when doing graphics?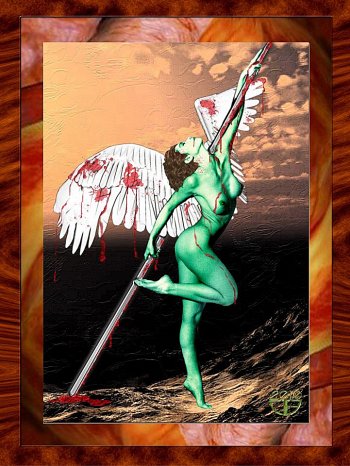 Debra Lamb as the Green Angel
I'm not sure about what makes my style distinct. I just get something lodged in my brain, and my muse beats me up until I get it out. She's got a mean left hook.
I like to do photo manipulation. I'd like to think I'm fairly decent with it. Must have done something right, it caught Debra Lamb's attention [Debra Lamb interview - click here]. She had me do some images for her for some articles she wrote for Dark Beauty Magazine! She even let me use some images I did of her for some t-shirts I sell online.
http://shop.spreadshirt.com/392187
I guess my style is creepy. I do a lot of zombies and monsters. Everything has a bit of a dark side to it. Was challenged to do a faerie, something light and pretty. I did it, but she was still a little evil.
You're also in the final stages of doing a children's book, right? So what's that one about, and what's it called even?
It's called There's a Monster at Mr. Baxter's! It's about a little kid named Charlie, and his facing his fears. The publisher, Words Take Flight Books, doesn't normally do kids books, but liked this one.
What were your inspirations for writing the book, and how do you actually write for children specifically?
This book? I have to say my buddy Mitch Hyman. We were sitting in my favorite BBQ place talking about different projects, different stories and just having a good time when he said, "Hey! You could write a story about..." Can't say what. It gives away the ending.
I didn't want to, I was trying to focus on scripts for Percy. But I'd be doing something and an idea would pop up, and I'd have to make a note of it. Soon I had so many notes, I gave up and wrote the story. Told ya! My muse is very persistent! It's being illustrated now by my friend Fred Montero. Great guy, very talented, and if he's reading this, GIT BACK TO WORK!
And how one writes for children, you just write. I don't believe in talking down to kids. Some things you can't say, some stories they shouldn't hear, but kids are people. Shorter, but still little versions of us.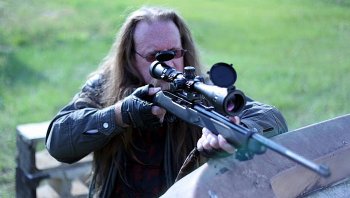 Dan in Bubba the Redneck Werewolf
You've also recently done some acting in Bubba the Redneck Werewolf - so what can you tell us about that movie and your character in it?
This has been a project that started I think that's as old as Percy. If I recall, they started around the same time. Mitch got the idea, and being in the comic business, ran with it. People loved the comics and Bubba! Twenty years later, he's making a movie. Originally he wanted me to play Bubba! I've always wanted to play a werewolf, and to play Bubba? I was doing backflips! Didn't work out, but the part went to Fred Lass. I was disappointed, but there was no way I could've done the part better! Fred nailed it!
I ended up getting the part of Biker Bob. He's kind of a local legend and mystic. Giver of sage advice, and master of the two stoke! It was a blast. Small part, but important! Mitch is kidding me that Biker Bob and Percy are related. That would be cool!
How did you get involved with the project, and what was your collaboration with the movie's director Brendan Jackson Rogers like?
Like I said, I'm friends with Mitch, and he asked if I'd like to play Bob. He thought I had the same spiritual qualities Bob has. When I stopped laughing and climbed back into my chair, I said, sure!
The whole cast and crew were great. Brendan was very patient with me while I walked in and they decided to change part of the script from a name I had to make up to this ridiculously long, but infinitely funny name with no warning or practice. Gotta love cue cards!
The only real irritation was not getting to make out with Bobbie Jo. Malone Thomas is a very sweet lady. She did a great Bobbie Jo.
I also had a great chance to introduce a great Rockabilly band, The Blast Offs, to Mitch for the soundtrack. I'd asked Kevin Lyons and Misty Adams if they could do a version of "Little Red Ridinghood", and send it to me. I've always wanted to get done up as a werewolf and sing that at karaoke sometime. Mitch liked the idea, but we didn't use that for Bubba... someday though!
I played the song for him, and said I know the band, and would he like to use a song for the movie. He loved these guys so much, he had them do the whole soundtrack!
What's your approach to acting actually?
With Biker Bob, I was actually just being me. With puppeteering Shakma, I was much hairier. I guess the best way to act is to try to be yourself in that situation. Just add the aspects of the character that aren't you. I don't want to sound pompous, for me I just do it. Far better actors have made this a career. Way better skills with them.
Any other aspects of your career you'd like to talk about?
I think you about covered it.
Artists, actors, writers, filmmakers, whoever else who inspire you?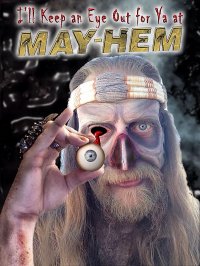 Feeling lucky ?
Want to
search
any of my partnershops yourself
for more, better results ?

The links below
will take you
just there!!!

Find Dan Bedell
at the amazons ...

amazon.com

amazon.co.uk

amazon.de
Looking for imports ?
Find Dan Bedell here ...
Something naughty ?
(Must be over 18 to go there !)

Everyone and everything is an inspiration. You just have to look around, listen. But as for who I admire, Tom Savini, Greg Nicotero, Rick Baker, Dick Smith, Stan Winston. I could keep going. Robin Williams. That was devastating losing him. It's very true that the ones that make us laugh usually need to a laugh the most. Dr. Paul Bearer, Wolfman Mac Kelly, Gravely Macabre. Major inspiration from my Lightwave teacher, Grant Boucher. My writing professor Don McCrumb. Artists? Mark Hadlely does some very killer artwork, Shane Malesky with Chronic Damage, Morgan Willson, Monica Ravenwolf. But my jaw hits the ground with Michael Broom's art!
Your favourite movies?
As much as I'm a horror fan, I'd have to say I'm rather fond of The Great Race. Jack Lemmon is a perfect melodrama villain.
... and of course, films you really deplore?
Can't say. Who am I to judge? Like the stuff I do, some like it some don't. Some movies just don't do it for me, but I'll try never to hurt anyone putting down their work. It's their art, so it speaks to them.
Your website, Facebook, whatever else?
The website is under construction right now, and is bad form to give the address before it's ready.
I'm on Facebook, as is Percy the Hippy Zombie.
Anything else you are dying to mention and I have merely forgotten to ask?
I have a fondness for chocolate chip cookies, Dead Guy Ale, (not together of course) and can usually be found at MayHem in May and Spooky Empire in October if you happen to have an overage you want to get rid of.
And if you do get to those conventions, or see me or Percy (most likely Percy) please come say hi! I like to meet people, and get pix with you!
Thanks for the interview!
Thanks to you! Have a Killer Day!