Your upcoming movie Bad Moon Rising - in a few words, what's it going to be about?
It's a werewolf movie, the title was named after the song from An American Werewolf In London.
It's about a team of girls who have a reality paranormal investigation type show called Scream Team, a bit like TOWIE meets The X Files. The show isn't doing very well and is about to be axed by the network when the producer gets a call from a man in a Bulgarian village asking if the girls will go out and investigate some strange disappearances. The producer thinks this might be an opportunity to save the show but when they get out there things don't go quite to plan .
What were your inspirations when writing Bad Moon Rising?
Well the idea actually came about when I was out in Bulgaria filming Christmas Slay with Jessica Ann Bonner, we had some time off so went out with one of the crew members and filmed some guerrilla-style footage and then the idea developed and the script was kind of written around that. It's a mix of found footage, mockumentary and regular film so I guess found footage films such as The Blair Witch Project obviously inspired me and then Dog Soldiers and An American Werewolf In London.
As Bad Moon Rising tackles reality television - your thoughts on that "genre"?
Some of it can be good, I'm obsessed with Real Housewives Of Beverley Hills and Beverley Hills Pawn and I quite like watching celebs doing nasty tasks on I'm A Celebrity Get Me Out Of Here.
What can you tell us about your film's approach to horror (as in suspense vs sudden shocks, atmosphere vs all-out gore and the like)?
There will be gore, it's light, there are some comedy elements and there will hopefully be some jumps.
You have worked with Bad Moon Rising's director Dan Brownlie [Dan Brownlie interview - click here] before - so what makes him perfect for this movie, what are your collaborations usually like, and how did you first meet, actually?
We met filming celebrity ghost hunts for Gorezone magazine, I was presenting and Dan was on the crew, we got talking horror, I was still at drama school at the time and he was making Three's A Shroud and offered me a role in it and the rest was history.
You will play one of the leads in Bad Moon Rising - so have you written your character with yourself in mind, and how much Dani Thompson can we find in Lucy?
You will find some of me in Lucy, mainly the spider fear because when Jess and I were out filming in Bulgaria the footage has my squealing due to there being spiders quite a few times so I had to factor that in the the script. Other than that though Lucy and I are quite different.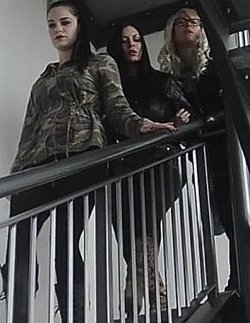 The Scream Team: Jessica Ann Bonner, Dani Thompson, Angela Holmes
Do talk about the rest of your key cast for a bit, and why exactly these people?
Jessica Ann Bonner who I have already mentioned, We have worked together before on Serial Kaller, Christmas Slay and The Undead, the character Jordan was written especially for her and has elements of her personality in there.
Angela Holmes and I have worked together before too on Cute Little Buggers and Rockband Vs Vampires, she came along to the audition and was great, Dan, Jess and I all agreed she was right for the role.
Brad Glen and Shane Salter were both in Serial Kaller and were fantastic, Dan Abrams was in Rockband Vs Vampires and Alasdair Mackay I know from a drama school reunion party so the cast is mainly made up of people we've worked with before.
You of course also have to talk about your werewolves, and how will they be achieved?
Ah well, our werewolves are still being designed, our FX guy Dave Darko is amazing and he's not only creating werewolves but also aliens for this film.
As we speak, Bad Moon Rising is still in its fundraising stages - so what can you tell us about your fundraising efforts?
We have a crowd fund campaign on IndieGoGo at the moment, we've raised 20% of the budget already in only two days so we're hoping to reach our goal.
http://igg.me/p/bad-moon-rising/x/8864682
Once your funds are raised, what's the schedule - andeven though it might be waaayyyy too early to ask, any idea when and where the film might be released yet?
I'm hoping to make the film in February/March 2015 as it needs to be winter to match up with the footage we already have.
Any future projects you'd like to share?
The Tombs: Rise Of The Damned is another film we should be making next year which is about a group of celebrities who get trapped inside The London Tombs [Dan Brownlie interview on The Tombs: Rise Of The Damned - click here].
Another of my very good friends Richard Gladman aka Cyberschizoid is developing a script for Girlforce which is a bit like The Spice Girls meets The Power Rangers which we also hope to film next year.
As far as I know, before becoming an actress you started out as a model - so what can you tell us about that part of your career?
When I was a child I wanted to be an actress, either that or a popstar - but I come from a small village in the countryside so it wasn't really what people did so I kind of forgot about it, when I left school I studied fashion and then kind of fell in to the glamour modelling industry, it was a lot of fun and it moved me to London, I was a bit of a party girl too and I enjoyed myself but after a while I got tired of it and I'd had a couple of small TV and film roles, loved being on set and decided I wanted bigger challenges, which is why I when to drama school. I still like doing photoshoots though but now they tend to be more horror orientated, I'm actually working on a series of horror character pictures with Dave Darko at the moment, so far we've covered Freddy and Beetlejuice and next we're going to be sdoing Pennywise.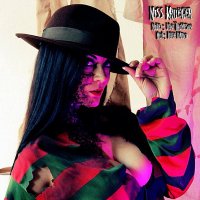 photo by Dave Darko
What got you into acting eventually, and what can you tell us about your training on the subject?
I did a weeks crash course in the Summer at ISSA and it made me realise just how much there was to learn about acting so I auditioned for their full-time course and was accepted, it's a screen acting school so we cover Shakespeare and voice and the methods but there was a lot more emphasis on being in front of the camera than at other schools.
Can you still remember your first time in front of a movie or TV camera, and what was that experience like?
Yes, it was fine, I was use to being in front of a camera from modelling and appeared on various TV shows during that time so the transition wasn't so scary for me.
What can you tell us about your filmwork prior to Bad Moon Rising?
Well originally I didn't set out to do just horror but it's just kind of panned out that way but horror is my favourite genre so I'm happy it's gone that way. So far I've been a zombie in Convention Of The Dead, a vampire in Rockband Vs Vampires, a psychotic female in Banjo, a victim in Axe To Grind and Serial Kaller, a zombie killer in Zombie Women Of Satan 2 and a demon in Forest Of The Damned 2, it's varied, that's what I like, always getting to do different things, I get bored easily so it keeps things exciting.
With Serial Kaller, you also tried your hands at writing for the first time - so what triggered that move, and what can you tell us about the film as such?
I did, I actually wrote the original script based around the modelling industry that I use to work in and then Dan Browlie [Dan Brownlie interview - click here] came along and gored up the death scenes. The final film however wasn't exactly how I'd have envisioned it turning out due to higher powers rewriting the script and losing our creative control so I'd actually already like to remake it with my original script.
Going through your filmography, one can't help but notice you seem to come back to the horror genre again and again - coincidence, or is horror a genre at all dear to you, and why (not)?
I found my love of horror films in the late 90's with movies like Scream, Urban Legend, The Craft and I Know What You Did Last Summer, etc, I'm a big fan of the slasher and I love being able to make movies that I know I'd watch had they been made by somebody else.
How would you describe yourself as an actress and as a writer?
Ooh, I just love to be busy so when I'm not acting I'm writing or thinking up new concepts, I write a lot in the winter when I hibernate out of the cold.
Actresses, writers, filmmakers, whoever else who inspire you?
So many people, Wes Craven, Joss Whedon, Tim Burton, The Soska Sisters [Soska Sisters interview - click here], Jennifer Love Hewitt.
Your favourite movies?
The Wizard Of Oz, Scream, The Craft, Jawbreaker, The Mummy, list is endless.
... and of course, films you really deplore?

Feeling lucky ?
Want to
search
any of my partnershops yourself
for more, better results ?

The links below
will take you
just there!!!

Find Dani Thompson
at the amazons ...

amazon.com

amazon.co.uk

amazon.de
Looking for imports ?
Find Dani Thompson here ...
Something naughty ?
(Must be over 18 to go there !)

Ooh, any British gangster film, they're all the same, so boring.
Your/your movie's website, Facebook, IndieGoGo?
http://igg.me/p/bad-moon-rising/x/8864682
Facebook - badmoonrisingmovie
Twitter - @badmoonmovie
Thanks for the interview!