Your upcoming movie Beyond Fury - in a few words, what is it about?
Beyond Fury, sees the return of Michael Walker of Sudden Fury. Walker, now in his forties, has settled down to civilian life and all is well...
... until Walker and his pregnant girlfriend are brutally attacked by some street thugs. With his girlfriend and unborn child dead, Walker must rely on his previous life as a mercenary to track down and revenge the deaths. Unbeknown to Walker, the thugs work for a UK's most feared import gangster 'Ivan Lenzivitch' (Giovanni Lombardo Radice). What follows is a brutal and uncompromising series of events that ultimately test Walker to the limits.
Beyond Fury is the third in a trilogy of movies that you started back in 1998 - so what can you tell us about the previous movies, and how does Beyond Fury fit in with the other two?
Sudden Fury was released in 1998 and was the last movie to star David Warbeck (Fulci's The Beyond [Lucio Fulci bio - click here], Sergio Leone's A Fistful of Dynamite). Our anti-hero 'Walker' (Nick Rendell), is hired by a drugs baron 'John Randall' to oversee a successful exchange of drugs/money between two rival gangs. 'Randall' however has no intention of paying for Walker's services. Double crossed and betrayed, the underworld had better get ready for Walker!
The film was made for £15,500, and we threw the kitchen sink at it. It is a mashup hommage to so many genres and directors who influenced me over the years (Leone, Peckinpah, Fulci, Argento, John Woo). It is a crimson stained ballet of bullets and gore!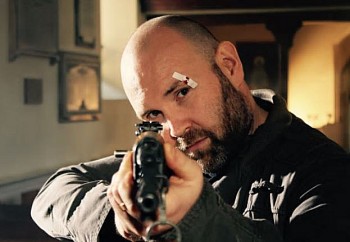 Nick Rendell as Walker
A Day of Violence was released in 2010 and revolves around a debt collector Mitchell (Nick Rendell), who stumbles across £100,000 stashed at a client's house. He kills the guy, steals the money and so starts a vicious journey through the underbelly of a criminal gang as they stop at nothing to get their money back.
I really wanted to make a movie that harked back to the violent British gangster films (The Long Good Friday, The Sweeney) of the 70's and more so to the Italian 'poliziotteschi' genre. I think we did pretty well in all. The film was well received and did well on the festival circuit winning many awards, showing at such festivals as Cannes, Fantasporto, Weekend of Fear and so on.
Beyond Fury is a sequel to Sudden Fury and so, we see the returning character of 'Michael Walker'. This film brings the trilogy full circle in terms of dealing with 'Walker' and his further exploits. It tops and tails the trilogy.
Apart from the previous movies of course, your sources of inspiration when writing Beyond Fury?
I kind of just let my mind go where it wants to when writing. I take in the world around me and then imagine some of the darkest corners and I let my characters grow there. We are daily reminded of what a violent world we live in everyday via the TV, media, internet etc…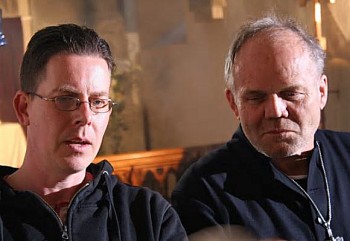 Darren with Dan Van Husen
With Beyond Fury being an action movie, how do you go about/stunting the action aspect of your film?
I am very lucky that on my last two features I have had Dave Judge perform and set up the big stunt scenes (car crashes, full body burns, wire rigging etc), and we hope to get him back for Beyond Fury. Dave has worked on many Hollywood films and is a great guy to have on set.
As for the action sequences I write these scenes and work closely with the actors, gun armourer and special effects guys to make them as big, exciting and brutal as possible.
What can you tell us about the look and feel of Beyond Fury?
The film is looking fucking lovely, if I do say so myself! We are shooting on the Blackmagic camera with film lenses and at 2.5RAW image. The work that Chris Nelthorpe our colourist\grader is producing is amazing. We are really able to push the overall look and feel in any direction…
Having said that, we are going with a 70's vibe again more like The French Connection this time round. We are also using a lot of different gels giving the scenes some really great visual stamps.
With Dan van Husen, Giovanni Lombardo Radice and Bobby Rhodes, Beyond Fury stars a trio of veterans from Italian genre cinema - so why them, what was it like working with them, and how did you get them even?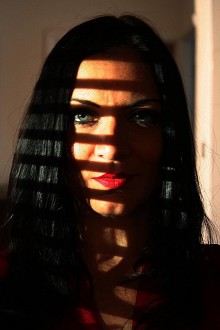 Dani Thompson
I had worked with Giovanni before on the last film A Day of Violence, so we always knew we wanted to do another film together, this time bigger and with Giovanni in a main leading role. As for Dan & Bobby I have been a fan of their films growing up as a teenager in the 80's. I met Bobby at a convention in the UK, we were both there as guests. I told him about my love of Italian movies and we got on well, so I just had to ask and get him involved. We still have to shoot scenes with Bobby.
I am also a huge spaghetti western fan and to work with Dan van Husen was a real treat, the guy has worked with so many great directors (Sergio Corbucci, Fellini, Herzog, Tessari). Dan was a joy to work with and his scenes bring a very powerful presence to the film. He has one of those faces that tell a thousand tales.
What can you tell us about the rest of your cast?
Nick Rendell returns in the role of Walker, marking the sixth film we have done together. We have a lot of new faces in this film also. Jeff Stewart a TV/film actor here in the UK. Ex model Dani Thompson [Dani Thompson interview - click here] who plays Walker's ill-fated girlfriend Claudia. Anthony Straeger as 'Sponge', Ivan Lenzivitch's right hand man.
Coming back for more punishment are some of my regular actors such as Victor D Thorn, Tina Barnes, Chris St. Omer and many more.
As far as I know, one hour of Beyond Fury's already in the can - so do talk about the shoot so far?
Yes, we have an hour of edited footage, leaving just fifteen scenes left to film! We have shot half of Giovanni's scenes and will be bringing him back over from Italy to complete his work after the film campaign has run its course.
We have filmed 90% of all the character driven dialogue scenes, leaving mostly the costly action scenes. The film is shaping up to be the biggest one for me so far! It has so many layers and everyone is having a blast making it.
We have also been playing with 4k drones to capture some amazing aerial shots (something I haven't been able to do before).
I really want Beyond Fury to be the most cinematic looking film I have made so far! Lots of camera movement, dollies, jibes, Steadicam etc.
A few words about the scenes that still need shooting, and where do you see the main challenges there?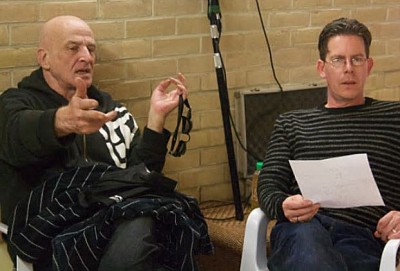 Darren with Giovanni Lombardo Radice
The main challenges are always the action scenes, they involve so many different people and departments. They are nearly always the most costly to shoot as well. I don't believe in fake guns with cgi muzzle flashes, I want the real thing, it just doesn't get or look any better than that.
We have a boat to blow up, a shoot-out in a nightclub to film, a bullet riddled ending set in docklands. It is insane what we have planned.
We also have a lot of gory practical effects left to film and with each movie we go a little bit further pushing the boundaries. We have loads of heavy and violent scenes in Beyond Fury and each one has its own set of challenges.
You're currently running a fundraiser for the remaining Beyond Fury - so do talk about your campaign!
Ok, we have over an hour of the film edited and graded but with 15 scenes still needing to be shot it was time to try and run a crowdfunding campaign. We still have scenes to film with Giovanni Lombardo Radice and Anthony Straeger who need to be flown in from their respective countries (Italy & Germany). The biggest challenge in making any film is MONEY! Let's face it, you can't do much without it.
We are inviting all our friends and family across social media platforms and beyond to get involved with this explosive film and be part of its history. If people like my previous films and want to see the trilogy finished with a bang then please get pledging, as we have a great set of perks available folks!
Get your name immortalised in the films end credits!
Social media shout outs, DVD & script bundles, signed DVDs, posters, extra work with onscreen deaths, product placements, executive producer roles, Skype sessions with director & lunch dates and preview screening of available footage.
www.indiegogo.com/projects/beyond-fury-thriller/x/515604#/
Once the funds are raised, what's the schedule ... and even if it's probably waaay too early to ask, any idea when and where the film might be released onto the general public yet?
We are ready to start filming again from mid-April and if the campaign proves a success, filming will be finished by the end of the summer, ready for an early 2018 release! Which marks exactly 20 years between Sudden & Beyond Fury!
Any future projects beyond Beyond Fury you'd like to share?
After this trilogy of punishing action movies I am ready to make a full blown horror film, also I have an epic 130page zombie script that I wrote in 2000, I would love to see that made. I also have a script for a pure giallo written and waiting, so it will be interesting to see what direction I take… but no more action!!
What got you into filmmaking in the first place, and did you receive any formal education on the subject?
I loved the Hammer films growing up as a child and I was fascinated by the special effects. In fact special make-up effects are what I started out wanting to do, but ultimately fell in love with directing more. I have had no formal film education before, I just picked up a camera aged 16 and learned from my own mistakes. Watching thousands of movies also helps with breaking it down.
What can you tell us about your filmwork prior to Beyond Fury?
I started making short movies with an older group of friends in 1989, and I guess between 89-91 we did about 10 gory as hell crime movies. I made my first short film (45mins) under the Giallo Films banner in 1992 with Paura il Diavolo, then in 1993 Blue Fear & 1994 Bitter Vengeance.
These films were released on VHS in Germany as Darren Ward's Three Tickets to Hell. The company Incredibly Strange Video also part-financed the completion of Sudden Fury, my first feature that was released in 1998.
I then did some 2nd unit work on a couple of features for other directors (action sequences), before making my first film on 'film' Nightmares 2004 (Super16). The film screened in Cannes and was selected for the LA International Short Film Festival in Hollywood! It went on to be repeatedly screened in Sky over the summer of 05'.
I then started work on my second feature A Day of Violence and again was very lucky to score a hero from my love of Italian films, Giovanni Lombardo Radice, who like David Warbeck in Sudden Fury, was/is a complete joy to work with, full of wonderful stories from the days of old and, so so good at his job!
Since the release of A Day of Violence in 2010, I have been busy raising a family and getting the ball rolling on what will be the biggest, baddest film I have done to date, Beyond Fury 2017.
How would you describe yourself as a director?
Easy going, but very very determined and for the most part we set out to have fun on set and make the best movies possible for our budgets! People look at me and can't believe I am the same person who writes these horrible scripts full of blood & thunder!
Filmmakers who inspire you?
Sergio Leone, Sergio Corbucci, Dario Argento, Lucio Fulci [Lucio Fulci bio - click here], Brian de Palma, Martin Scorsese, John Woo, Sam Peckinpah, many many more…
Your favourite movies?
Anything directed by Leone! Argento up to Opera!
... and of course, films you really deplore?

Feeling lucky ?
Want to
search
any of my partnershops yourself
for more, better results ?

The links below
will take you
just there!!!


Shitty comedy horror and buddy movies! Pointless remakes! Musicals!
Your/your movie's website, Facebook, IndieGoGo, whatever else?
www.facebook.com/darren.ward.5
www.indiegogo.com/projects/beyond-fury-thriller/x/515604#/
Anything else you're dying to mention and I have merely forgotten to ask?
Did I mention that we need pledges for Beyond Fury?
Thanks for the interview!
Many thanks Michael.