First of all, why don't you introduce yourself to all of us who don't already know you?
Absolutely! Iím Dave, the onion. Let us pull back a few layers and get to the smelly, eye burning truth of it all, shall we?
What got you into acting in the first place, and did you receive any formal training on the subject?
I have always wanted to perform. Whether it was music, acting, stand-up comedy... I wanted to do it all. Sort of a ďno stone unturnedĒ kind of mentality. I am not happy unless I am busy working on something, so I chase after new experiences like they owe me money. Idle hands are the Devilís workshop, as they say. This holds very true with me. Iíve spent my entire life attempting to create, whether it was designs in art school, a bunch of noise with the bands Iíve been involved in, turning my home into a place I never want to leave, or a character that Iím portraying in a film. Although I have not received formal training per se, life has taught me well, and I have spent time in local theater, with small bit parts and behind the scenes on crews and set designs. I plan on taking advantage of, not only the opportunities that my home town of Pittsburgh offers in education and training, but the vast opportunities that the city has entertained as of late, in network and cable series television and feature films. This region has become a real hotbed of activity in the last few years, and there is no reason I should be ignorant to it.
Can you still remember your first time in front of a camera, and what was that experience like?
Thinking back to my first official, filmed performance, it was a commercial that my band at the time, Sweet Revenge was asked to do. That was fun, but letís skip to my first real attempt to act on film. It was exciting and stressful. I was cold call auditioning for a part in Fist of the Vampire, and my initial take on the character may have been miscalculated just a bit. I think I come off as a little cold, angry and/or cynical sometimes on film, and it didnít transpose well to the character, but that comfort zone is something Iím trying to climb out of to broaden my abilities. This approach did not lend to getting the role of that character, but it did get me cast in the film. In my opinion, cast into a better role, because the initial character meets his demise in the first 15 minutes or so, and I do survive the entire movie. That led to more scenes and more lines. My favorite line of all time rests in this movie and references an old childhood revisit, based on a breakfast cereal. (Hereís your cue to pick up a copy of Fist of the Vampire and see what chocolaty goodness Iím talking about).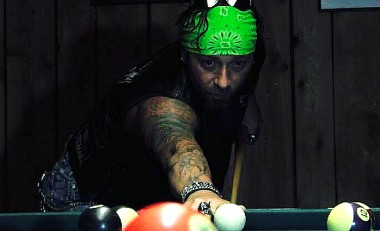 Over the years, you have worked quite extensively with director Len Kabasinski [Len Kabasinski interview - click here] - so what can you tell us about your movies with him, what's working with him like, and where did you two first meet even?
Mr. Kabasinski is awesome! Just an intelligent, creative and overall inspiring guy to work with. We have developed a supportive and respective friendship over the years, and regardless of the 134 miles that separate us, we know we are just a text message, or a phone call, or a video chat and even social media post away from being there for each other. Len has inspired me, not only to become a better actor, but to follow up on my martial arts training, and to start writing and even producing in the very near future. His ability to cast talent is amazing, and his overall vision, script writing and professionalism is top notch. We first met during a midnight premiere of his film Curse of the Wolf, that I had attended with a mutual friend. As I was sitting in the theater, I was watching the screen, then looking around to the those actors near me, thinking ďthis is coolĒ. I then mentioned to my friend that acting is something I always wanted to migrate into from music. That friend (a million thanks, Lisa) then alerted Mr. Kabasinski to that fact. Len and I have since realized that we had some of the same friends over the years. From me frequenting Erie and surrounding areas, touring with my band, to him networking and clubbing in the Pittsburgh area, we had more of a connection than initially anticipated.
You're also in Len Kabasinski's upcoming Hellcat's Revenge - so what can you tell us about that one and your character in it?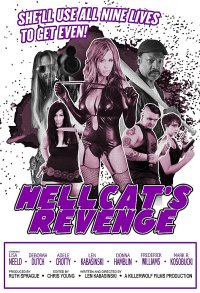 Hellcatís Revenge was an awful lot of fun. I spent a little time in the make-up chair, hanginí with my bud, Monster Mark (Mark Kosobucki) which was a nice change of pace for me. I havenít experienced an awful lot of special effects in the last few years, so the time spent with Mark was sort of an intimate way to catch up with him. In the film I play Lex, a biker dude, and a member of the Vipers Motorcycle Club. A gang really. Involved in some ďnot so niceĒ activities. The character was bad ass, and a change in my typical roles as an agent, detective or officer of some law enforcement agency. It was neat to move to the other side of the law for a change. I aimed for Lex to be a buffer, somewhere in the middle of the laid back demeanor of Snake (Kabasinskiís character), and the absolutely brutally sick and corkscrewed mind of Repo (Kosobuckis character), but still ready to whoop some butt! I ride a motorcycle in real life, so to tap into that expression of freedom and outlaw mentality, for just a bit on screen, was an easy transition, and just plain fun.
Do talk about the shoot as such, and the on-set atmosphere?
Working with Len and the ďKillerwolf KrewĒ is like coming home. When I take the journey north to wherever the shoot location may be, itís bro hugs, handshakes and kisses. Itís ďhowís the familyĒ and ďwhat have you been up to?Ē During this shoot, I had a chance to hang out a little more, giving me the opportunity to be plugged into a few more scenes, doing a little improvisation (which I love!), and really spending some time with some of my costars. Itís always great to get to know new people, and open yourself up a little too. Iíve found Donna Hamblin [Donna Hamblin interview - click here] and Deborah Dutch [Deborah Dutch interview - click here] to be wonderful and supportive people, so thanks for that, ladies! While on set, I pride myself on being the comic relief of sorts, serious about what Iím doing at that moment, but as soon as the camera pauses, Iím acting the fool, always giving them a snippet or two for the blooper reel, or saying something funny to relieve the tension on set. I feel spoiled when working with Len and the bunch, because I am more comfortable in every situation, and can really focus on the tasks at hand. It not only makes for a good time, but also I can give my best performance.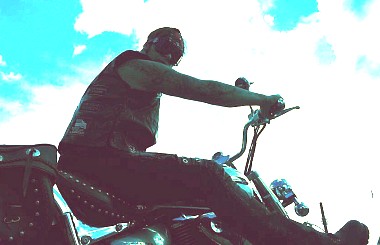 Any other past films of yours you'd like to talk about?
One of the coolest things, that I believe also helped inspire me at an early stage in my acting career, was when we were shooting Wendigo. We were in New York, in the middle of winter, with about a foot of snow on the ground. Literal walls of icicles were hanging off the gutters of the buildings, and touching the ground. Very pristine. Very white. Very majestic. Of course, we went and made a bloody mess of it all, but always thinking on what I can contribute to create the best scene, an idea for how I was to react to getting shot in the chest 3 times entered my mind. A very cold face plant into the snow, with the camera placed at ground level to catch it, was my first creative input that made the cut, and looks awesome. (Thatís you cue to pick up a copy of Wendigo, and slow motion my face plant.) Len was totally open to the input, and said thatís a good idea, so we said, hey! Letís do it. Thank the Lord that we got the shot the first time, because I donít know if another try was possible. It was cold! In addition to working with Len and all involved in his productions to make my experiences unforgettable, Iíve experienced nothing but respect and support when working on or being around major productions, and actually was inspired, again by an unexpected source. While on the set of Perks of Being a Wallflower (my son, Paul, was a featured extra in this flick), I spent time catching (American) football with the writer/director, and even taking in a nice long conversation with a delightful young ďenchantingĒ woman, marveling over her flawless face, her cute little pixie haircut and proper London accent, proving people are people and renewing my sense of humanity. (If you know the movie, then you know of whom I speak, and she was just the sweetest thing). This has only solidified my faith in the general spirit of the thespian. Those are the things I want to embrace.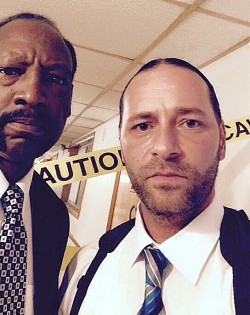 From what I know, you're planning to direct your first short from your own screenplay soon and are in the process of writing a feature - so what prompted you to take that step behind the camera, and what can you tell us about both projects?
Well, at the present time, the short script is finished, actors are cast and Iím putting together the production team, and considering looking to solicit funding. Itís a piece that will yield about 30 minutes at final cut. It focuses on a specific epidemic we are experiencing all over the world, but is having such a devastating effect on individuals and families here in the states. Itís an emotional rollercoaster script that will challenge the actors' ability to happily reflect, while at the same time dealing with dissolution. Iíll leave it at that. The follow up project is in its infancy stage right now. I think the main reason why I am choosing to write and direct is that I have a lot to say about the human emotional response to trauma, and really want to focus on the emotional and psychological human reaction. Plus I feel I have a lot to offer in creativity and how the message gets presented. Again, ďIím not happy unless Iím workingĒ falls into play here. The full length piece in the writing stage is currently a dramatic tragedy, but may end up a feel-good picture. Or a thriller. Or a comedy. As you can see, at this point, I try not to limit where this thing may take us all.
Any other future projects you'd like to share?
Right now, Iím getting ready to shoot some footage that will be included in the website of the car club I belong to, Twisted Metal Car Club. It will be a documentary of sorts, using some footage to include in member profiles on the website, with hopefully enough entertaining material to produce an interesting, full length release. To me, the capture of normal, everyday human behavior is something that was lost as soon reality shows became popular. Things are funnier, when you know they are real, and itís very hard to decipher what is real these days. In addition to that, Iím working with a songwriter out of Orlando, Florida to record some new music. He has some amazing stuff, and I just canít wait to lend my drum tracks to a few of the future hits. Iím always writing lyrics with the hope that my, at this time, unnamed project will consider contributing to them. Being in Pittsburgh, and considering the surge in movie and television opportunities, Iím always keeping my eye out for a chance to lend and hone my skills to any movie or TV production, and I always make myself available for my movie making friends in any capacity.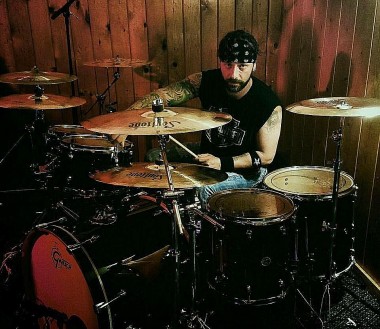 Besides making movies, you're also a musician, right? So do talk about your career in music for a bit!
Iíve spent most of my life, and an awful lot of resources, pursuing my love of music. I play drums in two projects right now, but my focus is on my band Sovereign. Prior to forming Sovereign in 2014, and taking a brief hiatus between the two, I spent 17 years playing and touring with the hard rock band Ashes to Ashes, releasing 8 full length albums in America, and one overseas on the ESCAPEmusic label. We have played with just about every 70ís 80ís and 90ís band worth mentioning from Ted Nugent and Styx to Tesla, Ratt, Slaughter, Kiss and Van Halen. Iím a novice guitar player, hoping to allocate more time to it, to assist in writing better songs.
What can you tell us about your music, and what are your musical influences?
Well, I prefer an aggressive stance when it comes to my playing, but I enjoy a nice laid back groove, every so often, as well. Power, whether itís brute force, or emotionally moving. Iím a huge fan of the 80ís and early 90ís glam or ďhairĒ bands, but my tastes run the gamut. I spent my pre teen years listening to top 40 pop radio, but my teenage years lent strictly to metal and glam. I now prefer something with a bit more aggression, but I also spend a lot of time revisiting music from my early childhood, listening to 70ís top 40 and mixing in a bit of Sevendust, Alice in Chains, and Pop Evil. So basically, my tastes range from the Bee Gees to Slayer. As far as influences, again, it runs deep and far in every direction. At 8 years old, I bruised my chin the first time I saw a KISS poster, it hitting the floor as my eyes focused in pure glamorous awe. Then we played a record, and I was hooked. But now, I can find something and appreciate something in just about every genre and every era of music.
How would you describe yourself as an actor, and some of your techniques to bring your characters to life?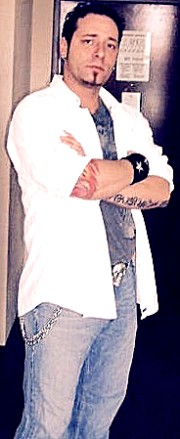 As I mentioned earlier, I believe I have only tapped into a very small part of what I truly feel I am capable of. I try to look into the emotional sense of the character, while retaining a bit of my own perception and personality. ďThe moment we cease to learn and grow, we dieĒ. I truly believe that, and there is no moss growing on my stones! I have an awful lot to learn and experience, and Iím ready for everything and anything. I seek out those opportunities with the hope that I can grab something from those experiences that I can not only use to give the best performance I can, but for lessons that I can apply to my own life. Iíve been lucky to have worked with some really talented and open minded folks, who invite creative input, and have been able to test different approaches to the same situations, without wasting too much time. I feel it gives us the best possible outcome, but I also know that itís rare. So I embrace those situations, and they help me gauge the content of my input. This too has helped me decide to step behind the camera, and see what I have to offer.
Actors, writers, filmmakers who inspire you?
Wow, thatís tough. There are truly so many. I guess just a few of each worth mentioning will not be too painful... and since Iíve been so long winded up until now, Iíll just list them in no particular order. Tom Hanks, John Carpenter, Tom Stoops, Bruce Lee, Quentin Tarantino, Len Kabasinski [Len Kabasinski interview - click here], Norman Lear, Jessica Lange, Paul Junger Witt, Bill Murray, Harrison Ford, George A. Romero, Steven Seagal (ok, Iím just kidding about Steven Seagal).
Your favourite movies?
Being from Pittsburgh, and embedded deep within the zombie culture here, I would have to say ultimately... zombie movies. Slow moving and soft bodied, fast running, super strong zombies. Zombies, caused from some government experiments gone awry or seemingly having no cause at all. I love em! Low budget? Multi million Dollar productions? Bring em all on. Zombie Girl, Zombie Dog, Zombie Grandma, Curse of the Zombies, Fear the Zombies, Zombies from Uranus, Zombies from Down the Street. I believe all of those titles exist, and if they donít, they should. Sprinkle in a little of Forrest Gump, Happy Gilmore, Fried Green Tomatoes, and anything made on the beach in the 80ís where college dorks hook up with the most gorgeous bikini clad (preferably topless) women.
... and of course, films you really deplore?
None, really. Iím a fan of anything that someone had a passion to start and complete, along with all of the work and dedication that goes into it. Creativity and entertainment is relative. What I may find totally useless, is someone elseís Casablanca. Oh, wait, I believe the Blair Witch Project was definitely deplorable. I hated that movie.

Feeling lucky ?
Want to
search
any of my partnershops yourself
for more, better results ?

The links below
will take you
just there!!!


Your website, Facebook, whatever else?
http://www.imdb.com/name/nm2746298/
https://www.facebook.com/dave.campbell.315080
https://www.facebook.com/profile.php?id=100008324024660
Personal website coming soon.
Twisted Metal Car Club website coming soon.
Thanks for the interview!
Thank you, Michael. It has been an absolute pleasure! Now make sure you wash your hands before touching your face.