An old SOV movie of yours, 2005's Deep Undead, is having its re-release these days - so in a few words, what's that movie about?
Deep Undead centers on a group of salvage divers and an investigative reporter who become involved in a federal investigation under mysterious circumstances surrounding a nuclear power plant within a small coastal community. A series of tragic events in the water begin to unfold, and an unearthly force is about to be revealed.
What were your sources of inspiration when writing Deep Undead?
I originally came up with the idea back in 1989 while I worked at the Salem/Hope Creek Nuclear Power Plant in South Jersey. I met a group of commercial scuba divers there who told me some harrowing stories of their diving work at the plant. I was already an advanced wreck diver myself, and I was dying to make a movie. Their story motivated me to write my first underwater screenplay. But I knew it would be a long time before I could make this nautical beast a reality.
Do talk about Deep Undead's approach to horror for a bit!
I originally wrote Deep Undead as an ecological murder mystery. There was nothing supernatural about it. It wasn't until early pre-production in 2000 that I decided to rewrite the screenplay and incorporate the alien-vampire mutant theme into the plot. I was happy with the original story, but it had too many complex action scenes that were beyond my means and budget.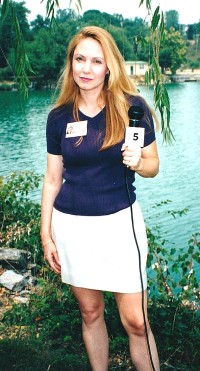 Pamela Sutch
(Spoiler Alert) The new story evolved with the arrival of these otherworldly beings who were dormant under the sea for many years until radiation from the ominous power plant brought them back to the surface. The fact that they are very human-like made the new concept much easier to incorporate into the existing story. I was able to get rid of some of those long action sequences and replace them with more atmospheric sequences. You don't really see much of the mutants until the third act in the film though. I wanted to build the human drama and mystery up first before making that reveal... an approach I had seen in many other horror films I have enjoyed over the years. The mutants are actually humans who have been infected by the "Deep Undead" or otherworldly beings.
What can you tell us about your overall directorial approach to your story at hand?
It was almost like I had to be two different directors - one with the underwater unit and diving actors and one with the topside unit with central characters and surface action. I tried to employ callbacks from classic horror and sci-fi movies that were favorites of mine over the years and sprinkle them vaguely into scenes to help link the two realms (underwater and topside) seamlessly. One example that is not so subtle is the use of radiation as the source of havoc and monstrosity such as in classic horror movies from the 50s and 60s.That was really the recipe that drove me through all phases of the production. But in the end, I had to put my own twist on things. Whether it all works or not, I'm not sure. But hopefully SOV fans will dig it.
You also appear in front of the camera in Deep Undead - so do talk about your character, what did you draw upon to bring him to life, and have you written Dawson with yourself in mind from the get-go?
Dawson was originally a main character who was the head of the dive operation in the first version of the script. After the rewrite, his character was not needed so much. I never intended to play that part. In fact, I had met and spoken with the late Conrad Brooks to play the part. He agreed but became very worried about the wet suit and an apparent allergy he had to certain types of rubber. So I rewrote the part of Dawson for me to play and had to figure out what I could do to make the role more interesting. Of course, Dawson needed to be a victim, and that's how I ended up with that part. It was easy enough for me to do without taking away too much time from behind the camera. Conrad was then cast as the part of plant manager T.J. Radcliff, which would have been great, but he wanted more money, and sadly I couldn't afford him anymore.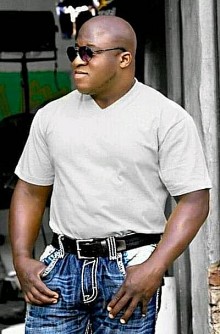 Vince Butler
What can you tell us about the rest of your cast, and why exactly these people?
It was such a huge cast, the largest I have ever worked with. First of all, I knew all along I needed a beautiful scream queen, so I picked Pamela Sutch [Pamela Sutch interview - click here] for the female lead. I felt that her personality and classy looks were a great contrast to the rugged antics of the commercial dive team in the story. Plus, I had worked with Pam quite a few times before, and I was already familiar with her style. Plus, I knew she was okay with working in the water. Pam was perfect for the part I felt. I also picked Dawn Murphy (my wife and Sharkey Video partner at the time). Dawn was another beautiful horror veteran who created Backwoods Marcy for us two years earlier. I had picked her for the diving character of Marlene originally because she was a certified diver. But Dawn became pregnant with our child at the time. So I cast her as the young mother, Ronnie, instead. My two nieces Caitlin Morgan and Christina Rose also joined the cast to play her daughters.
Marlene went to Marian Lane who was a fine actress but had to be trained to work in scuba. The leading male role easily went to theater veteran David Maul who was also an experienced scuba diver. Finding David was a sheer stroke of luck. Vince Butler, a local bodybuilder/actor was the only choice I had in mind for Cujo, a tough yet funny, hardcore diver who you don't want to piss off. Osman Karriem (a good friend and Sharkey veteran) was cast as Agent Hayes, and Allen Richards was cast as T.J.
Another casting wish was to get as many SOV B-movie veterans as possible, and I was also able to snag Debbie D [Debbie D interview - click here], and Phil (Jacker) Herman [Phil Herman interview - click here] among others. Phil did a cool cameo as a TV reporter. Plus, I was lucky to snag Mick McCleery (Addicted Murder) as another member of the dive team. Finally, for the new version, I cast my good friend Laura Giglio [Laura Giglio interview - click here] along with a few of her acting friends from a local theater. The group performed amazingly together, and their scenes gave the story a whole new life. Mostly, all of the other choices were actors who could either dive or who were comfortable working in the water.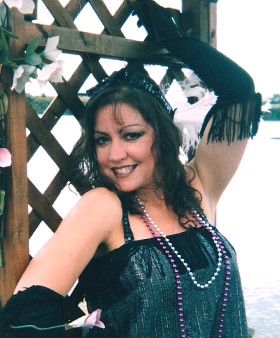 Debbie D
A few words about the shoot as such, and the on-set atmosphere?
Safety, safety, safety... that was what I wanted the most. There was always a concern of hyperthermia because we were shooting so much in the water, and everyone was getting cold. Plus, the underwater scenes had to be rehearsed and planned out very carefully. I chose experienced divers for the work that required extensive action underwater. We shot most of those scenes first. Visibility was often a problem on these sets which were mainly shot in two freshwater quarries. Topside, we used docks adjacent to huge lakes and rivers. We were always on location it seemed. Very few scenes were shot in a studio setting. The only exterior shots that were not on location were done in a 3 foot deep, large Intex pool for close up shots in the finale.
Topside, the group of actors all meshed well with each other. There was never any drama or problems. It all went very smoothly. And thankfully, no one got hurt. The only real problem we had was on our first weekend of shooting which was the opening underwater scene. The quarry was so murky we had to abort diving, and the footage we shot was useless. It took 3 weekends just to complete the opening scene which required a ton of shots of two divers on a wreck. Some of the murky shots would later come in handy for another underwater sequence when one of the diving characters goes missing.
Shooting at the quarry was great because we were able to get both underwater and topside shots on the same day, and this is where the bulk of the movie was shot. The quarry had a huge dock that was perfect for the dive team's topside scenes. A large group of us would spend several weekends camping out in a cabin there right on the water. It saved so much time and travel this way. Plus, we all had a blast. I felt like a kid again.
The $64-question of course, where can your movie be seen?
That certainly is the big one, but I am still working out the distribution currently and waiting to get the movie out there. A couple of deals are brewing but no release date yet. However, we did have a cast screening last October, and plan a public screening later this year, hopefully. I will have my own DVD release ready for a limited engagement as well this year.
Anything you can tell us about audience and critical reception of Deep Undead?
Not much feedback there yet. Not many saw the original version in 2005, so I hope to get some more soon. There were a couple reviews on the movie that were favorable back in the day. But the re-release is an entirely new version with new scenes and much better I think. I do remember one viewer who didn't understand the original version. He said it was confusing. I tried to address that in the new version with a backstory about the origin of the mutants. The new release will also feature an alternative ending, so hopefully people will get it. Yes, buy it and understand it. Ha!
Looking back to Deep Undead after all these years, how does this make you feel, would you have done anything differently, and how would technology available to filmmakers today have impacted your film?
I always wished I had more scenes with the mutant characters underwater, but makeup was such a challenge for us in that regard. Perhaps, we could have used digital effects instead of makeup if shot in today's world. Oh and if only I had at my disposal all the avenues of distribution that we have today. On the other hand, making movies is much more competitive and simple today. People are even using cell phones to shoot with. I don't think this movie would be as special if it was made today. Back then, SOVs were pure, bare bones movie making without all of the digital gadgetry. And I can't think of many SOV productions from that era that featured underwater intensive content. However, I do feel that the high definition technology of today could have greatly enhanced the production, particularly in those underwater scenes.
You originally entered the filmworld as an actor - so what got you into acting in the first place, and did you receive any formal training on the subject?
Up until 1990, I had done very little stage acting. I had auditioned as an extra for a movie that was shooting in Wildwood, NJ when I was a teenager but didn't make the cut. It was for Touched, a movie starring Robert Hayes. Later, I tried unsuccessfully to get another extra audition for Brian DePalma's Blow-Out that was being shot in Philly.
I had some training at film school, but only one drama class, and I had performed in a couple church plays. I honestly didn't even know what an SOV was back then. But in 1990 that all changed after I auditioned for WAVE, an ultra low budget production company based in my home county. It was for the feature slasher SOV Hung Jury, and I was ironically cast as a scuba diver. Suddenly, making movies was no longer a broken dream. All the pieces were there just waiting for me to put them into place. Acting was just a stepping stone for me. I always knew I wanted to make movies ever since I was a kid when my parents bought me my first Super 8 movie camera.
How would you describe yourself as an actor, and some of your techniques to bring your characters to life?
Well I got to play quite a few horny teens, monsters, and psychos, courtesy of WAVE. The more I did, the more I was able to refine my characters and decipher what worked and what didn't after watching my work, As much as I loathed watching myself on screen, I had to in order to improve as an actor. It wasn't until I played the mummy in The Mummy's Dungeon that I started to ease into my roles. Having the special effects makeup on really gave me confidence, and it felt liberating as an actor. I was really able to become the mummy. I suppose I should thank Aven Warren, the talented makeup artist for this transformation. It also transformed me as an actor. For the first time I was able to watch myself on screen and actually feel like I was watching someone else. Immersing myself into a good role was easier after that. Costume and makeup definitely help me to get into the mindset and motivation of a character. Also as a performer, I try to think of someone I know and borrow some of their personality traits for the character I'm portraying.
What got you into filmmaking eventually, and how would you describe yourself as a director?
Going to the movies with my dad as a kid is when the fascination began, and it really took off when I was 15 and made my first Super 8 movie, The House, a 12 minute horror movie. Whenever I direct, I know that I will be editing my own work. So I always try to prepare my shots in a way that will make editing more effective. I always loved the works of Hitchcock and DePalma, and sometimes I even try to adapt a hint of their approach. I'm not sure if that ever comes across on screen to a viewer or not, but it's always fun to try.
Do talk about past movies of yours, in whatever position?
My first full length movie as a producer and director was actually a comedy called An Ex-Hooker's Christmas Carol (1995) which was shot during my days of attending TV/film school. I played 3 different parts in the movie (a cop, an old man, and a drag queen hooker!) alongside stars and fellow WAVE alumni Laura Giglio [Laura Giglio interview - click here] and Dean Demko. It featured a lot of close friends of mine, and it was a real hoot to make. It was also a nice change of pace after having done so many horror movies for WAVE.
Around that time, I also got a part in Pete Jacelone's Psycho Sisters [Pete Jacelone interview - click here], and enjoyed my first time attending a screening premiere. I played one of the sister's victims after meeting in a local bar; the sisters tease and later kill me and my friend.
Backwoods Marcy (1998) came along after I married Dawn who became my Sharkey Video partner. She wrote and directed, while I produced and edited. We both starred in the movie together too. It turned out to be the most popular and critically acclaimed Sharkey title. Marcy is a crazed homeless woman who lives in the Jersey Pine Barrens and preys upon my arrogant city boy character after he gets lost on a business trip there.
Aside from my own productions and the countless roles I played in WAVE movies, I have also worked on some features for Phil Herman's Falcon Video [Phil Herman interview - click here]. Phil and I have shared a unique bond and friendship over the years. Our paths crossed when I started doing WAVE movies. Phil and I have since appeared in each other's movies over years in cameos and such. We also collaborated on his anthology feature, Before I Die. It's funny, although we have never physically met in person, I feel like I have known him all of my life because our backgrounds are so similar and because we have both loved doing SOVs so much. Our work and friendship has spanned 3 decades. Its a common bond that makes us such good friends and fellow producers.
Any future projects you'd like to share?
As of now, I'm working so hard on getting Deep Undead out to a larger audience, I haven't planned anything new yet. However, I may re-release a couple more Sharkey titles such as Love is a Stranger Again and The Little World of Wilbur. I have been working a lot with Ross Snyder and Saturn's Core A&V in recent years to get some of our titles out there again. And it has really paid off. Until I met Ross, I wasn't really working on movies anymore. I didn't even know there was still anyone even interested in these old SOVs. Lucky for me, Ross opened my eyes to it all again. Backwoods Marcy even got it's first screening and it was at The Mahoning Drive In at VHS Fest 2 in 2018. I have to give the credit to Ross and Josh Schafer of Lunchmeat Magazine for this amazing night. Hopefully, there will be more screenings in the future with more re-released titles. I am actually writing my dream project currently, which is sort of an autobiography of my childhood and what it was like making movies on Super 8 as a kid. I'm not sure if I will ever get to turn it into a movie, but I plan to publish it as my first novel.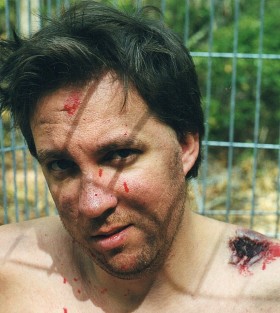 Having been in the indie filmworld for over 30 years now, how have things changed over time, for better or worse?
I think things have gotten much better. The internet, cell phones, and high definition technology have really helped to reinvent the film making process and make it much more possible for people from all walks of life. Still, there is something charming about VHS and old school SOVs that we just can't duplicate with all of the new technology.
Filmmakers, actors, whoever else who inspire you?
Well Hitchcock was the director who most inspired me to make movies, followed by John Carpenter and Brian DePalma. Also the 70s disaster movie era made a huge impact on me, and I absolutely loved Irwin Allen's work.
There are so many actors I admire, I don't know who to list. In the low budget SOV world, however, my favorite actors are Dawn Murphy, Phil Herman [Phil Herman interview - click here], Osman Karriem, and Laura Giglio [Laura Giglio interview - click here], just to name a few, but there are many others I enjoy too.
Your favourite movies?
My favorite movies of all time are Psycho, The Birds, The Poseidon Adventure, Jaws, Titanic and Eddie & the Cruisers. My favorite low budget horror movies are the original Halloween and Wes Craven's Deadly Blessing.
... and of course, films you really deplore?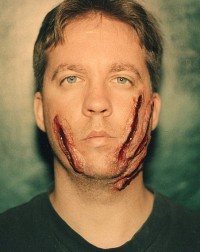 Feeling lucky ?
Want to
search
any of my partnershops yourself
for more, better results ?

The links below
will take you
just there!!!


Hmm that is a long list too, but I first think of two movies I actually walked out on because I was so bored that I fell asleep. Those gems were Mad Max: Beyond the Thunder Dome and The Color of Money.
Your/your movie's website, Facebook, whatever else?
Sharkey Video has a Facebook Page and YouTube channel. I have an IMDb page as well. We celebrated our 25th Anniverary in 2019 and we are generously featured in Richard Mogg's recent books Analog Nightmares and Giftwrapped & Gutted. Ross Snyder also got us a nice spread and interview in a recent issue of Grindhouse Purgatory mag.
Anything else you're dying to mention and I have merely forgotten to ask?
One last note, the new release of Deep Undead has a stellar new soundtrack thanks to the amazingly talented Matt Cannon who scored it. When we had the screening reunion for the cast last October, everyone loved how beautifully haunting the music meshed with the story as it unfolded on the big screen.
I am grateful that a whole new generation is enjoying my SOVs, and it's largely due to people like yourself along with Ross Snyder, Josh Schafer, author/producer Richard Mogg, and of course my long time cohort- Phil Herman who continues to propel support for indies with AVAIL TV. I have not always been good at putting myself out there. But guys like you make it much easier for me. Thank you for all the support.
Thanks for the interview!