Only recently, a quartet of your very early S.O.V. movies, Burglar from Hell, Jacker, Jacker 2: Descent to Hell and Tales till the End, were re-released - so how did that come into being?
Chris Woods [Chris Woods interview - click here] of Icon Film Studios - http://www.thesleazebox.com/Profiles.html - contacted me and wanted to re-release my older titles. He felt they fit into what he was selling on his site - grindhouse favorites. It turned out he was correct. He made new trailers and box work and promoted them like they were new releases. He gave new life to these long forgotten classics. They are selling very well and are also well-received by a new legion of fans.
When you made these movies back in the day, did you ever think they'd have that long of a life in them? And your thoughts about the resurgence of old S.O.V. movies as such?
I thought they would have their run and that would be it. I always had soft spots for these movies but thought they were friends having fun making movies. We all loved making movies and gave our all. When they were released, that was at the beginning of SOV. There was not much competition and they did pretty well.
I should have known because whenever I would be interviewed they would always go back to my classics and be so interested in them.
Let's discuss each movie in a little more detail:
Burglar from Hell - What's it about, and how did it come into being?
Burglar from Hell: A burglar is killed by an old lady who then buries him and takes her secret to the grave when she has a sudden heart attack. Years later a group of kids accidentally disturb his rest and bring him back to life! And the horror begins! Scream queen Debbie D [Debbie D interview - click here] guest stars.
I wanted to do a slasher movie with an Icon. I wanted to create a new Jason/Michael Myers character. We did that with Frank the Tank, a ruthless non stop killer. We had boobs, blood and terror. It was so much fun making and introduced us to scream queen Debbie D in her feature debut. The movie still pleases all new viewers and there are talks about remaking it.
Jacker - do talk about that movie, your character and your director Benjamin Stansky for a bit!
Jacker: Philip Herman stars as Jacker, a troubled man who takes out his frustrations with society on unsuspecting motorists. Hot on his trail is Officer Jackson, whose own sister was a victim of the sadistic killer! Will Jackson triumph or will the Jacker rule the roads. Debbie D [Debbie D interview - click here] again guest stars.
Ben wanted to direct. I let him… he held the camera. Enough said. Jacker was a good movie because it reflected the times. It was when there was a rash of carjackings all over the US. It was the first time we took a real life situation and turned it into a movie.
The movie was a daring psychological trip. The car jacker was the main character who was a killing machine. He was no monster but a regular guy next door that was pissed at society and took his anger out on them. He went after everyone, good or bad. He feared no one even the cops. It was true Falcon Video, we did what we wanted and prevailed with a cult following and very good reviews.
You return in Jacker 2: Descent to Hell - so of course you have to talk about that movie, and what prompted you to make a sequel?
Jacker 2: Produced by Falcon Video. Barry Gaines, the cinematographer from the original Jacker, takes over directing and turns out a superior sequel to the cult classic, Jacker. Mike Rivers (Philip Herman), believed to have been killed in part 1, returns. This time, nothing can stop him as he knocks off anyone in his way! The only persons who can destroy him, James (Barry Gaines) and the Crotch brothers (Ben Stanski), are back to try to do good. They are met with his furious wrath and are brought to hell for a confrontation between good and evil. Will their descent into hell be worth it or will the Jacker continue to rule the roads? Special cameos by Joel Wynkoop (Creep) [Joel D. Wynkoop interview - cklick here] and Marilyn Ghigliotti (Clerks).
The success of the original Jacker had us thinking let's do it again. Barry Gaines stepped up to direct and visioned a new tale. He made a tour de force of hell and made the Jacker almost supernatural. He was bad in the first one - this one there was no one stopping him. Hell didn't even want him.
We went to hell and back on this one and it was grueling. The first movie was made in a record breaking pace in about 14 days. This took almost 3 months. There was a lot of on-location in very dangerous settings that the crew had to go to. Barry was a tough cookie but knew what he wanted and made sure before the day ended everything was correct.
At the end we had one of our best movies with many memorable actors and actesses. Joel D. Wynkoop, Debbie D [Debbie D interview - click here] and Marilyn Ghigliotti. It has our most impressive cast and story. We pushed the limits and in the end it paid off. It was one of our best received and most profitable movies.
Tales till the End: What's that one about, and how did it come into being?
When Armageddon is upon us, the only way to keep safe is to find shelter. When three friends hide out underground and wait until the end, they decide to tell reach other tales from their past. Tales that include murder, sex, maniacs, nymphos, sexy women and crazed men.
Phil Herman (Burglar From Hell) again to bring his 1996 shot-on-video cult classic Tales till the End to DVD for the first time!
Three insane tales directed and starring Herman, Barry Gaines, and Ben Stanski. The film also features some genre favorites such as Joel D. Wynkoop (Rot, Creep, Make Them Die Sleazy) [Joel D. Wynkoop interview - cklick here] and scream queen Debbie D (Burglar From Hell, Kill the Scream Queen, Sickened) [Debbie D interview - click here].
This was the beginning of making anthologies. These were a lot easier and faster to do. We were able to get a lot done in a fraction of time. We all wanted to direct so this was the way to go. We all took a story and tackled it. It was the best tome of our lives and was so much fun. The end result showed when the movie came out everyone loved it.
One can't help but notice that even in these early movies, many people you have worked with time and again during your career pop up - so do talk about them for a bit?
I lost touch with almost everyone. With the exception of Joel D. Wynkoop [Joel D. Wynkoop interview - cklick here], Debbie D [Debbie D interview - click here] and Barry Gaines everyone else dropped out of making movies. It was fun while it lasted but it is a hard unrewarding life making these movies. Unless you're really dedicated and want to pursue this as a career people get bored and drift away. I have been blessed and able to continue doing this and tackle a fulltime job. The three that I mentioned Barry, Joel and Debbie, I still work with and we're still all in it together and will drop everything to help each other out.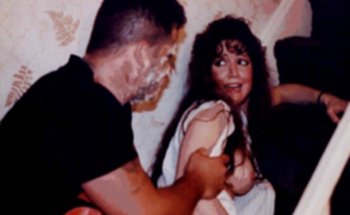 Burglar from Hell
Looking back at those movies now, how do they make you feel, and what can you tell us about your evolution as an actor and filmmaker since?
I wore so many hats in those days and did everything. I scaled back now for the last 4 years and have just been writing. I have been shopping around new scripts and have a few bites but nothing solid as of this writing.
I would not give anything up and would do it again to go back to those care-free crazy days. It was so different, we lived, breathed and all we did was make movies. Any free time and more was dedicated to doing this. We made so many friends, met so many people and really thought we were big time filmmakers. We were greeted at shows and premiers with kid gloves. But we never really made that big score. But maybe we did. I have been making movies since I was 14. I will be 50 this year and am still doing this and still getting feedback.
My resurfacing of my older features and the greeting and applauses I have received have given me new light on the movies. I will not stop, I will keep trying.
The $64-question of course, where are these films available from?
Icon Film Studios: http://www.thesleazebox.com/Shop.html
Having made indie movies for quite so many years, how has the filmworld changed, both in terms of business/business models and technology?
You have to know somebody in the business and have a lot of money to back your project. There are so many people running around with cameras that there is so much competition. It gets harder and harder. It seems you still have to do everything yourself to get these movies out there. There is a lot of blood, sweat and tears and a little in terms of royalties paid back. But we keep on going because we love making movies.
Any future projects you'd like to share?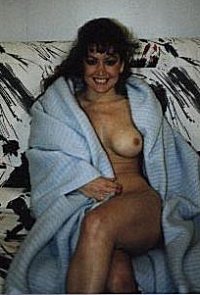 Tales till the End


Feeling lucky ?
Want to
search
any of my partnershops yourself
for more, better results ?

The links below
will take you
just there!!!

Find Phil Herman
at the amazons ...

amazon.com

amazon.co.uk

amazon.de
Looking for imports ?
Find Phil Herman here ...
Something naughty ?
(Must be over 18 to go there !)

I am trying to get a remake of Burlgar From Hell from a new script starring Joel D. Wynkoop [Joel D. Wynkoop interview - cklick here] in the lead. I would love to get as many of the original actors involved but that will be hard. I believe that a new version of Burlgar From Hell will do very well. There is a shortage of really good slasher movies out. Once again we need an original script and will stand on top again.I am also shopping around The Usher.
Logline: People come from all around to see the grindhouse features playing at an independent theater in Northern Pennsylvania … not everyone gets to go home.
Synopsis: An ancient theater in Northern Pennsylvania features contemporary grindhouse movies every weekend. Patrons who travel the miles to witness these celluloid excessive extravaganza of blood, carnage and mayhem have no idea that within those walls life does indeed imitate art. Lurking in the darkness, one man bears witness to the atrocities of youth as they pursue their sinful desires within his hallowed hall. When the end credits roll, most people will go home with their appetite for cinema's dark side fulfilled. Not so those who have the misfortune of coming in contact with… The Usher.
A fast paced throwback to the classic slasher movies of the eighties. Filled with violence, debauchery and creative kills, The Usher is sure to please fans of slice'n'dice entertainment.
Your/your movies' website, Facebook, whatever else?
https://www.facebook.com/phil.herman.969
I had great news on a friend of mine that is going to re-re-release my classics on VHS. All new artwork and masters will be made. Many fans have been asking for the original VHS copies . They will be released in glorious VHS soon. Tiltes will be announced in the near future.
Their company page on Facebook: https://www.facebook.com/saturnscoreaudiovideo7
And on the web: http://www.storenvy.com/stores/717456-saturn-s-core-audio-video
You can find out all about it there!
Anything else you are dying to mention and I have merely forgotten to ask?
I just want to thank everyone who helps me keep on going. Chris Woods [Chris Woods interview - click here], Franklin E. Wales, Barry Gaines, Joel D. Wynkoop [Joel D. Wynkoop interview - cklick here], Ryan Cavalline [Ryan Cavalline interview - click here], Debbie D [Debbie D interview - click here], Gary Whitson [Gary Whitson interview - click here], Joe Sherlock, Dustin Hubbard [Dustin Hubbard interview - click here], Ross Snyder and Chris Kahler [Christopher Kahler interview - click here], and of course you!
Thanks for the interview!